Former Biggest Loser Host Fiona Falkiner reveals her amazing results with The Healthy Mummy!
Fiona Falkiner has revealed that since following the Healthy Mummy's 28 Day Weighy Loss Challenge she has lost 10 kilos!
Australian TV personality Fiona Falkiner has revealed her incredible 12 kilo weight loss since following the Healthy Mummy's 28 Day Weight Loss Challenge program!
New Mum Fiona was determined to get in shape following the birth of her son Hunter with finance Hayley Willis in March this year. While the star was hoping to lose weight ahead of her wedding scheduled this October, due to the pandemic  they've had to postpone their nuptials until next year.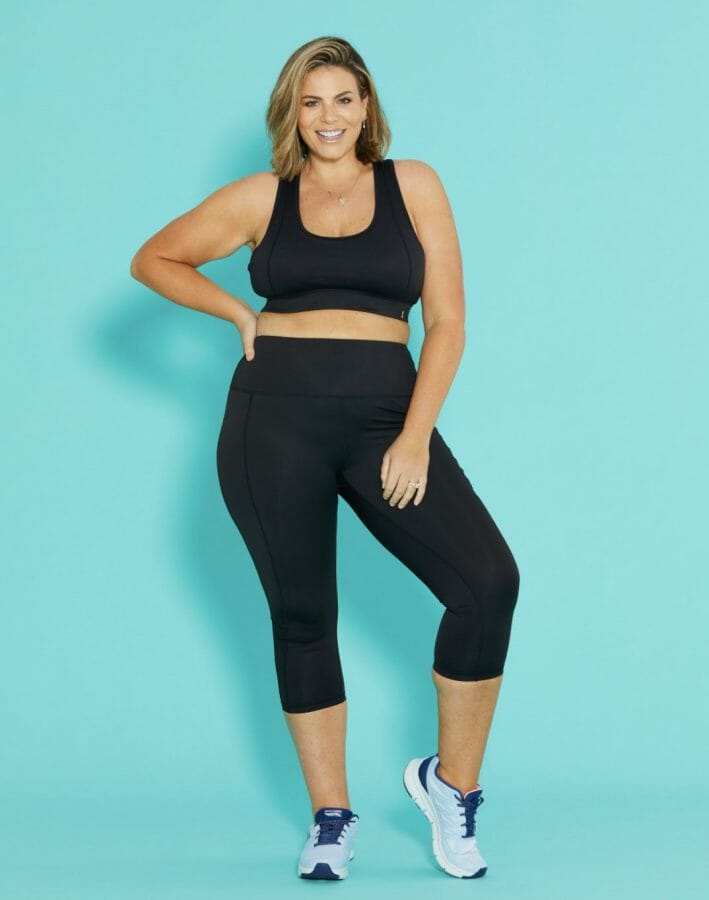 But despite the delay, Fiona shares that she is loving her health and weight loss journey with the Healthy Mummy and in the 5 months since following the program is thrilled with her result so far!
Well done Fiona!!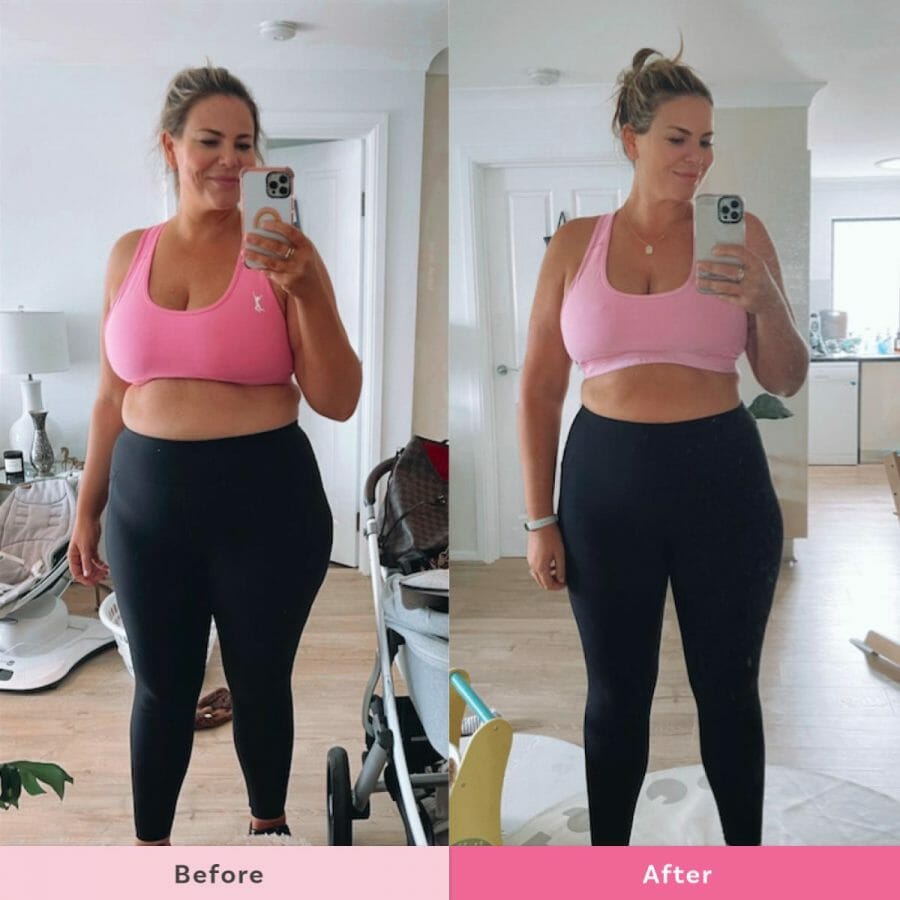 Fiona's Health And Weight Loss Journey
In June of this year, Fiona started her post baby weight loss and health journey on The Healthy Mummy program – as well as becoming a global ambassador for The Healthy Mummy.
Fiona's philosophy has been very sensible and she has been focusing on the health of her and her baby and taking things slowly and steady without putting pressure on herself.
She is enjoying having the Healthy Mummy App in hand, with its recipes, workouts and mind set support, the 28 Day Weight Loss Challenge has given her all the tools she needs.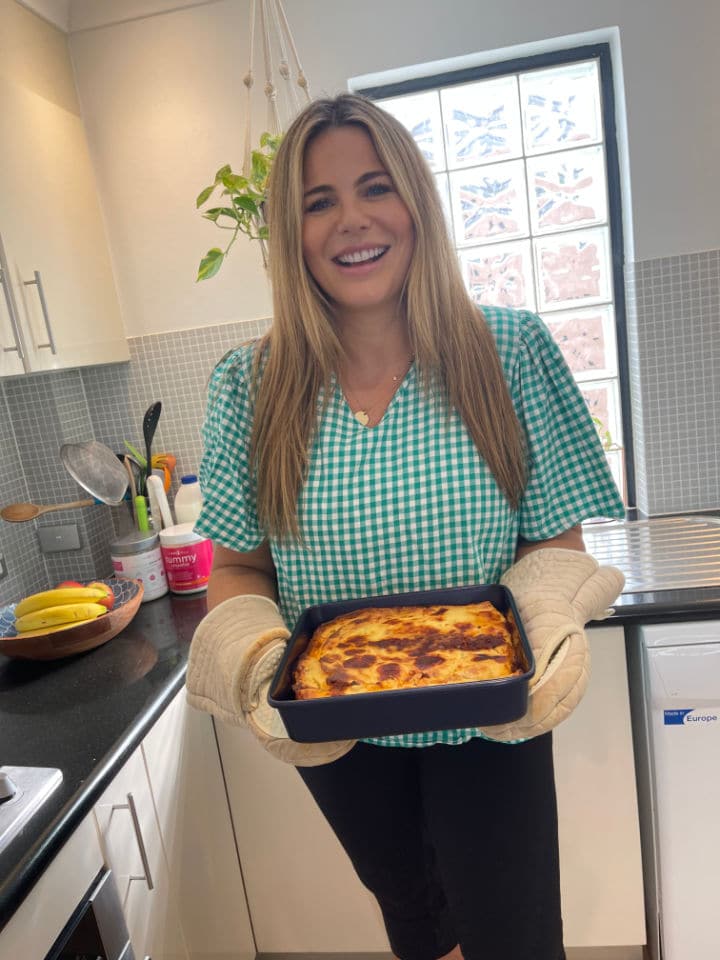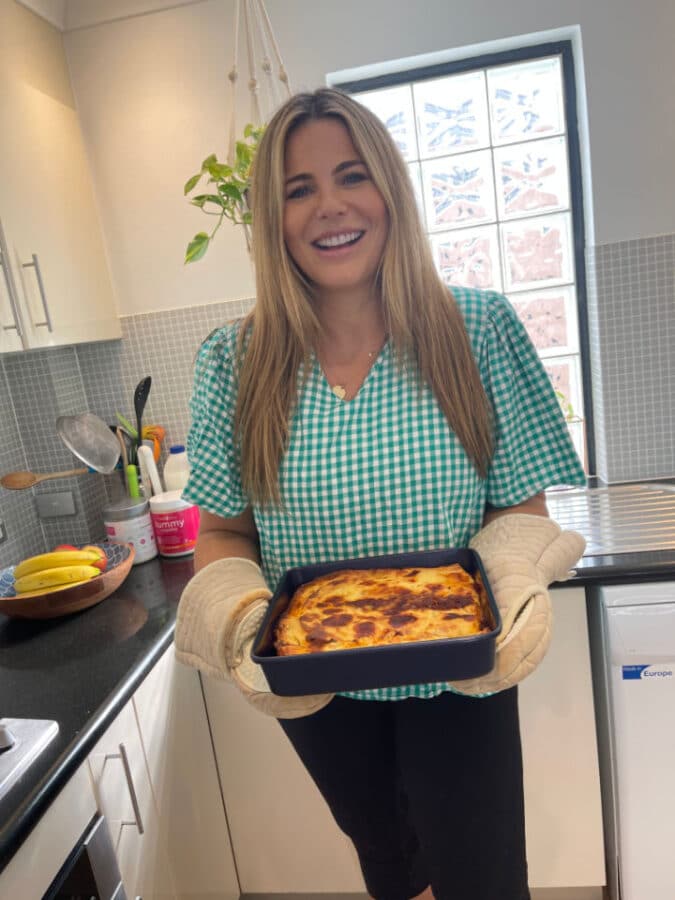 Fiona says, "It's so convenient to follow. I don't need any extra equipment or need make separate meals. I can be at home – or anywhere! I don't really need anything else but the app, as you don't need to pay for expensive gym membership or equipment.
I love that I can access everything so quickly and that there are soooo many options! For both exercise and for recipes.
Plus, The Healthy Mummy just understands the challenges of being a mum. It has everything I need to get back in shape and keep me motivated while also juggling everything else as a busy mum.
I'm excited for hitting my future goals and also for getting back to being 'me' again."
Fiona's weight loss – 10 Kilos in 5 months!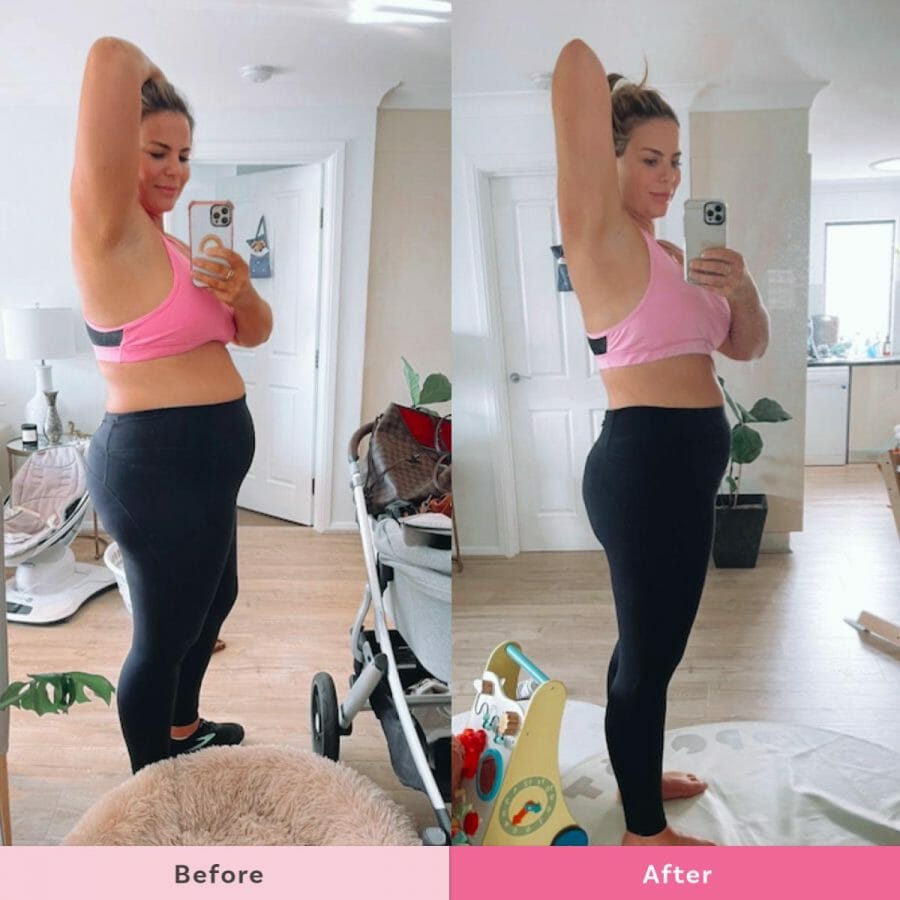 Fiona shares her incredible result
While Fiona reveals that she's never been a big fan of the scales, but has been feeling so good that she wanted to know how her weight loss was tracking.
She reveals "I haven't put pressure on myself about losing weight, nor do I look at the numbers on the scales. Instead, I'm focusing on my clothes and how good I feel putting my jeans on without having to spend 5 minutes squeezing into them!
I am loving following the Healthy Mummy program and feeling more energised and in control!" 
View this post on Instagram
The Healthy Mummy App has helped Fiona get organised
Fiona says one of the best thing she's found since starting The Healthy Mummy, is just how much more organised she is with meal time for the week.
As a new mum, she's tired and hungry from breastfeeding and Hunter takes up a lot of her time. But with the help of The Healthy Mummy app, she reveals it's taking the pressure away from what she needs to make for dinner.
"It's been good, I feel great! I realised that being organised is the key to succeed," she says. "However, for the first shop of stocking up my pantry, I should've done it online and picked it up rather than run around the store with a newborn!"
But once Fiona had all the pantry essentials and everything in her cupboards, she says that picking meals off the app helped her stay on top of everything for the week.
"I did a couple of hours of prep on the Sunday, when Hayley was home to help watch Hunter, and I found that by doing this, it helped me save time in the rest of the week," she says.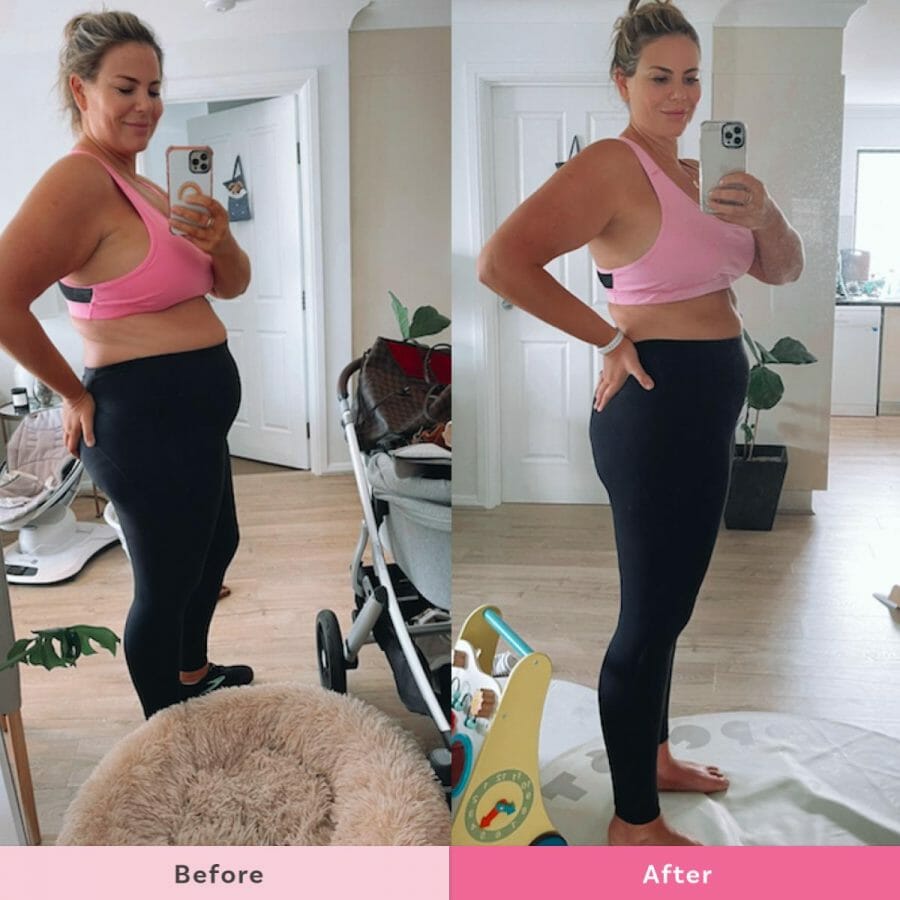 Fiona Falkiner is a HUGE fan of the Challenge meals
Recently, Fiona took part in a massive meal prep with Healthy Mummy founder cooking up 62 meals for under $185! Meal Prepping is a big part of the Healthy Mummy lifestyle so Rhian showed Fiona all the tips and tricks in a  massive meal prep session.

Fiona was blown away by what they were able to make in one afternoon.
Fiona said, "It's was so nice cooking with Rhian as she just knows all the tips and tricks for making everything come out perfectly! 
The meals are yummy, Hayley and I can't wait to get stuck in! 
I love a bulk cook as it just makes the program so easy and at dinner time you don't have to think and with a 6 month old that is perfect!" 
Read more about Fiona's MASSIVE meal prep here
Fiona loves The Healthy Mummy Smoothies
And that's not all Fiona loves about The Healthy Mummy! "I am obsessed," she says about them.
"I've always been a big fan of smoothies and I add spinach or frozen banana to them," she says. "I love The Healthy Mummy smoothies because they are so quick and easy. They're packed full of nutrients and I just love the flavours!"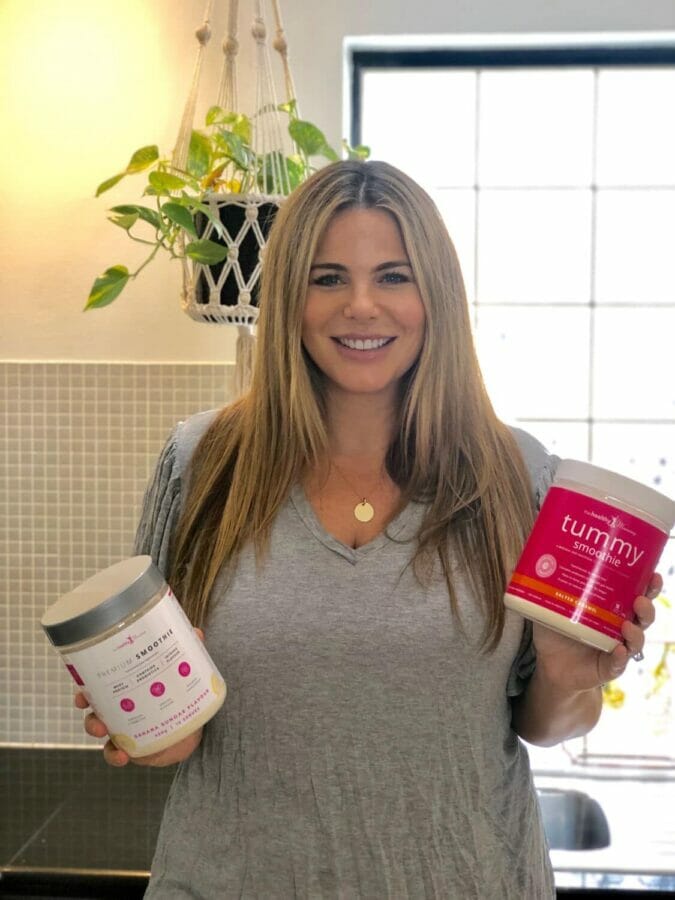 Fiona shares her weight loss success after signing up to The Healthy Mummy
The Australian beauty has been sharing her weight loss journey on her social media accounts.  Not long ago she revealed her progress on The Healthy Mummy program after just over two and a half months!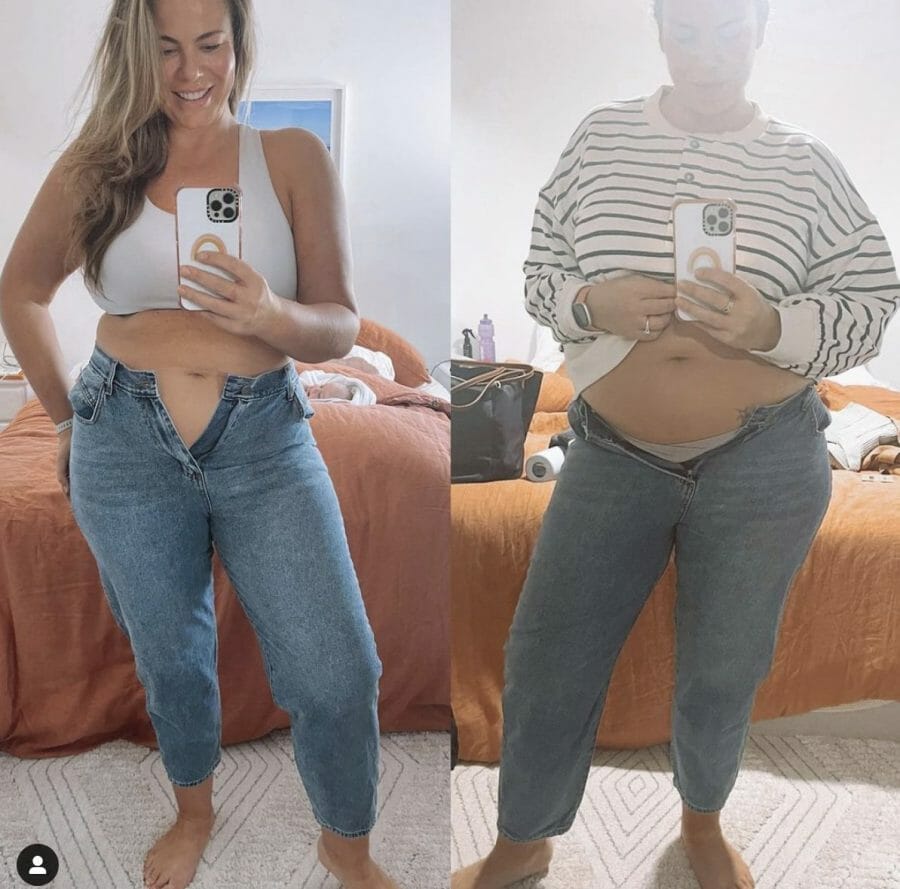 She said in the snap,"Look who nearly fits in to her mum jeans! 🙌🏻 Being away from home and living in hotels for the past 6 weeks has been a bit of a challenge.
"I set myself some personal fitness goals using the @thehealthymummy app and I have to say firstly it helped keep me sane and I'm now a big fan of working out at home!
"I also really like the structure of the Healthy Mummy program as it makes me feel in control, especially during these somewhat crazy times!
"And the food is so easy to make and delicious as well! I'm not really one for weigh-ins these days but I can see all my hard work has paid off not just in my mood and energy levels.
Fiona also shared a snap of herself on her Instagram stories, revealing her tummy is now shrinking.
"My muffin top is getting smaller," she captioned the snap. "Off to do a @thehealthymummy workout whilst H is sleeping."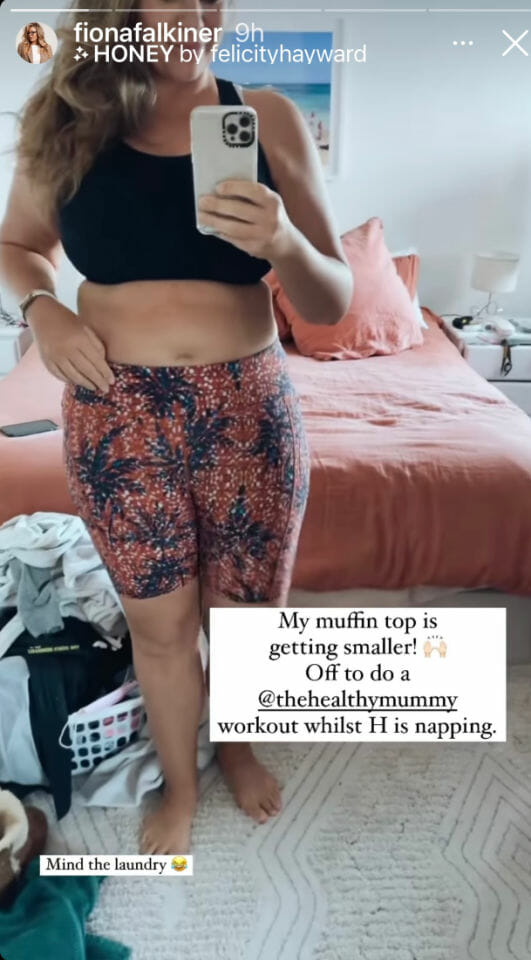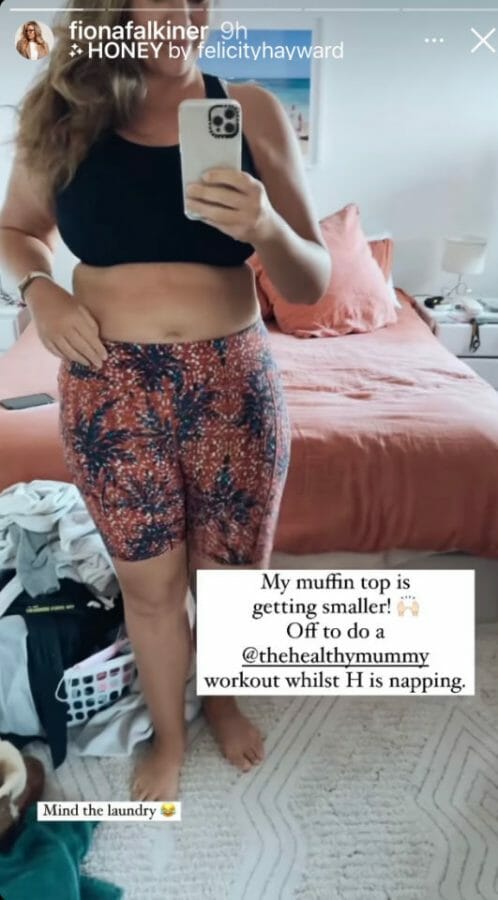 Fiona takes part in New Mums Boxing Workouts in the Healthy Mummy APP
Fiona also recently took part in BRAND NEW workouts in the APP this November! She teams up with our Boxing Fitness Trainer Laura in 6 new Beginner Boxing Workouts! If you are a new mum just like Fiona, these 10 minute workout are designed just for you!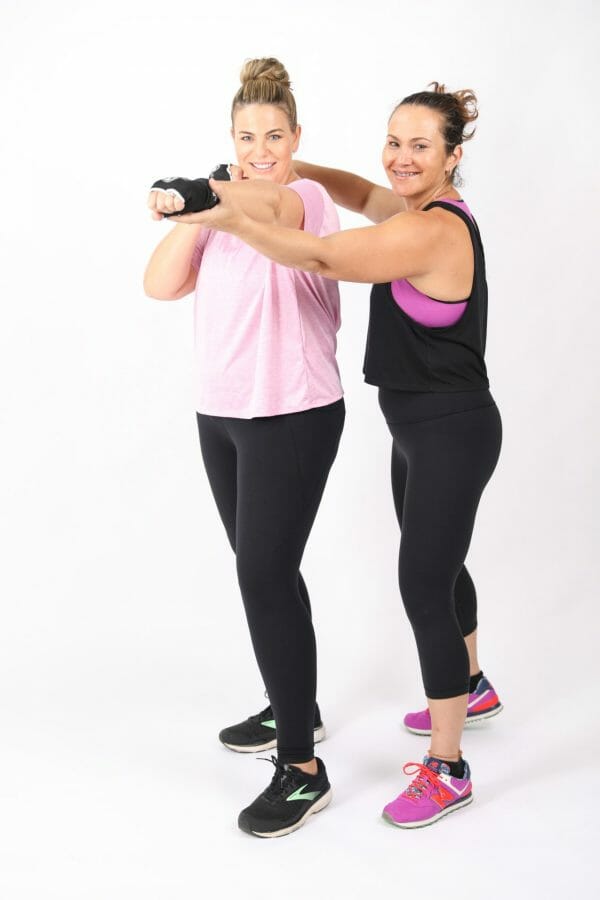 She LOVED taking part in the workouts with Laura and said they the exact length and intensity she needed.
Fiona said, "I felt pretty hot I definitely got my sweat on lol but it felt really good! And what I always focus on to motivate myself to train is that incredible feeling you get after a work out is done, your body is flooded with endorphins, for me it clears the fog, I feel so energised and ready to face the day!!! So yes after the session I felt amazing!!! And I loved training with Laura she has such a great energy about her!"
Get a Sneak Peek Here!
AMAZING FIONA!!!!
We can't wait to hear more about her  journey!
You can find more of Fiona Falkiner's incredible story in our new Healthy Mummy magazine, which is out NOW!
Fiona Falkiner on her first month with The Healthy Mummy: 'I feel great!'
Fiona Falkiner commits to doing a Healthy Mummy workout EVERYDAY she's in lockdown