Former Biggest Loser Host, Fiona Falkiner, shares weight loss progress: 'My muffin top is getting smaller'
Fiona Falkiner has shared her weight loss success on The Healthy Mummy as her muffin top is now smaller.
Australian TV personality Fiona Falkiner, who is a former Biggest Loser contestant, signed up to The Healthy Mummy to help her get in shape after the birth of her son Hunter in May this year.
Amazingly, it looks like all her hard work has really paid off in just a few months of being on the 28 Day Weight Loss Challenge!
Fiona has shared a snap of herself on her Instagram stories, revealing her tummy is now shrinking.
"My muffin top is getting smaller," she captioned the snap. "Off to do a @thehealthymummy workout whilst H is sleeping."
Well done, Fiona!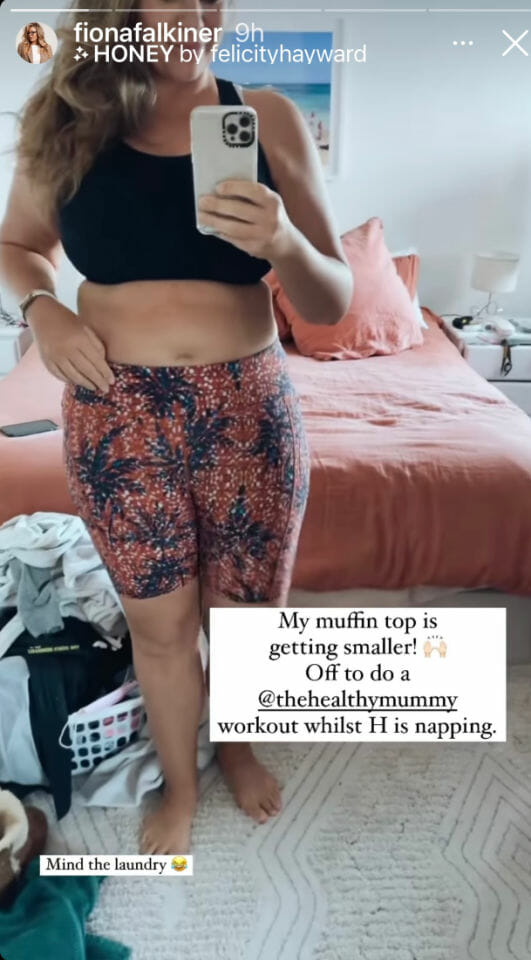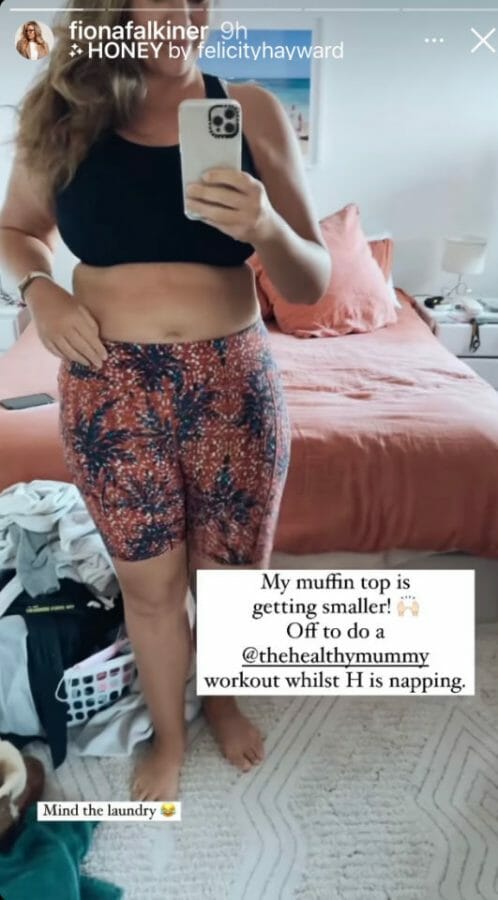 Fiona shares her weight loss success after signing up to The Healthy Mummy
It's not the first time the Australian beauty has posted a pic of her weight loss. A couple of weeks ago, she revealed her progress on The Healthy Mummy program after just over two and a half months!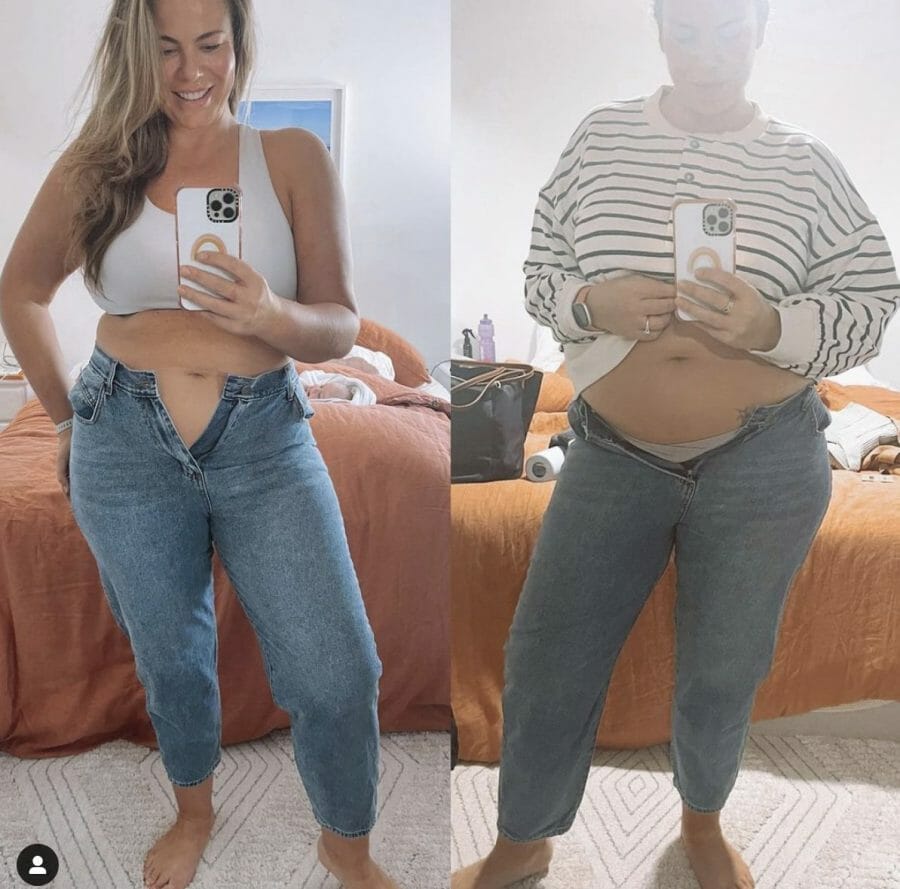 She said in the snap,"Look who nearly fits in to her mum jeans! 🙌🏻 Being away from home and living in hotels for the past 6 weeks has been a bit of a challenge.
"I set myself some personal fitness goals using the @thehealthymummy app and I have to say firstly it helped keep me sane and I'm now a big fan of working out at home!
"I also really like the structure of the Healthy Mummy program as it makes me feel in control, especially during these somewhat crazy times!
"And the food is so easy to make and delicious as well! I'm not really one for weigh-ins these days but I can see all my hard work has paid off not just in my mood and energy levels but now I'm almost in to my mum jeans!"
Fiona has come a long way in such a short amount of time
This is an amazing achievement, as it wasn't that long ago the 38-year-old star revealed she couldn't fit into her favourite jeans!
Captioning a selfie on Instagram, she wrote, "Thought I was size 18 but I guess not."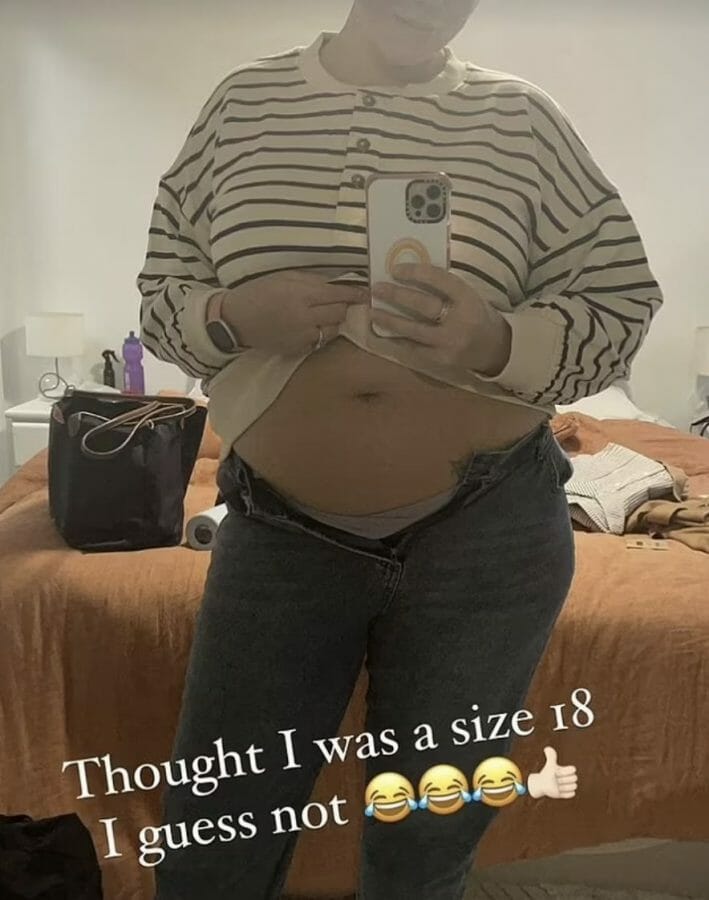 In June of this year, Fiona started her post baby weight loss and health journey on The Healthy Mummy program – as well as becoming a global ambassador for The Healthy Mummy.
The star was hoping to lose weight ahead of her wedding to fiancee Hayley Willis, which was originally scheduled for October. But due to the pandemic, they've had to postpone their nuptials until next year.
**Please note that we are very strong believers that no one should ever start to change their diet or fitness routine until they feel 110% ready and until they have consulted with their doctor.
Fiona Falkiner discusses her first month with The Healthy Mummy's 28 Day Weight Loss Challenge
Incredibly, Fiona says the best thing she's found since starting The Healthy Mummy, is just how much more organised she is with meal time for the week.
View this post on Instagram
As a new mum, she's tired and hungry from breastfeeding and Hunter takes up a lot of her time. But with the help of The Healthy Mummy app, she reveals it's taking the pressure away from what she needs to make for dinner.
"It's been good, I feel great! I realised that being organised is the key to succeed," she says. "However, for the first shop of stocking up my pantry, I should've done it online and picked it up rather than run around the store with a newborn!"
But once Fiona had all the pantry essentials and everything in her cupboards, she says that picking meals off the app helped her stay on top of everything for the week.
"I did a couple of hours of prep on the Sunday, when Hayley was home to help watch Hunter, and I found that by doing this, it helped me save time in the rest of the week," she says.
"The schedule really takes out the stress of what to have for dinner. I don't have to wait until 4pm to decide what to do for dinner, when I'm feeling exhausted. I've already pre-made it and it's healthy and nutritious."
View this post on Instagram
Fiona's goals for next month
When it comes to goals for the next month, Fiona says she wants to start logging her water intake.
"I've had a few headaches and I'm aiming to up my water intake, as I need to be drinking more, especially as I'm breastfeeding," she says.
"I also want to get out and walk more. I'm looking forward to getting out and about and trying more meals and exercises on The Healthy Mummy app."
Fiona's verdict so far on The Healthy Mummy
"It's so convenient to follow. I don't need any extra equipment or need make separate meals. I can be at home – or anywhere! I don't really need anything else but the app, as you don't need to pay for expensive gym membership or equipment.

"I love that I can access everything so quickly and that there are soooo many options! For both exercise and for recipes.

"Plus, The Healthy Mummy just understands the challenges of being a mum. It has everything I need to get back in shape and keep me motivated while also juggling everything else as a busy mum.

"I'm excited for hitting my future goals and also for getting back to being 'me' again."

You can find more of Fiona Falkiner's incredible story in our new Healthy Mummy magazine, which is out NOW!

Fiona Falkiner on her first month with The Healthy Mummy: 'I feel great!'

Fiona Falkiner commits to doing a Healthy Mummy workout EVERYDAY she's in lockdown