How this mum made 88 serves of main meals and snacks – and it cost her under $1.60 per serve
Kira made 88 serves and will make a further 29 serves with the food she has left over. It cost her $182.29 for the full grocery shop.
Kira Poliseno is a 31-year-old mum-of-two from Melbourne's eastern suburbs and works as a pharmacy assistant. 
She has lost 19kg since following The Healthy Mummy's 28 Day Weight Loss Challenge.
Amazingly, she's also shared how she made this Budget Meal Prep which is part of the Gap Week Meal plan, consisting of healthy recipes from The Healthy Mummy app. 
Now, she saves $5,000 a year on shopping!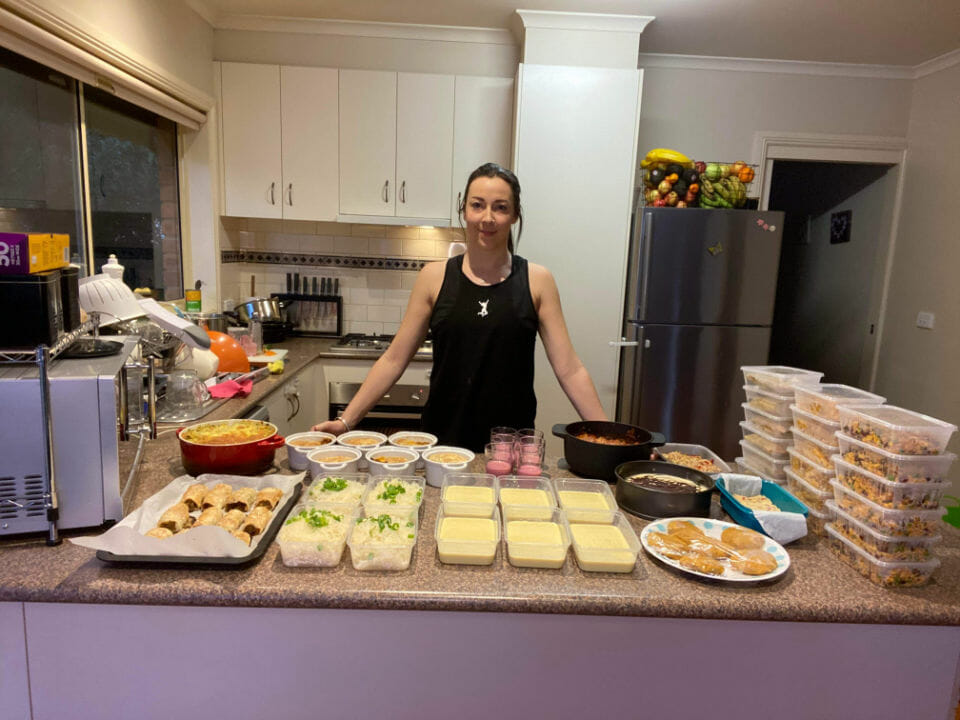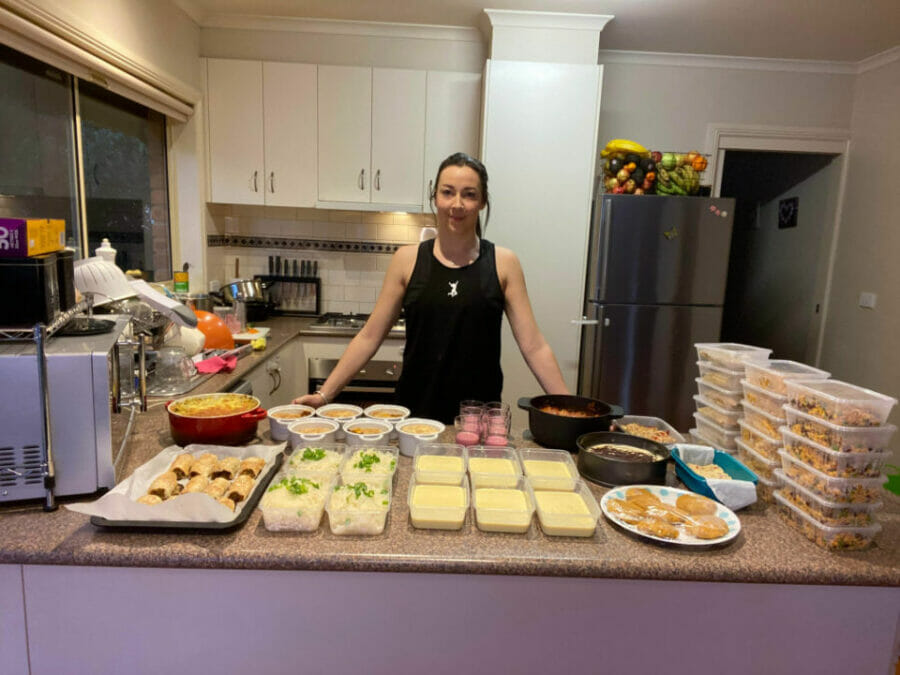 Kira shares her amazing meal prep and how she saves $5,000 a year on her food shop!
In total, Kira made 88 serves and will make a further 29 serves with the food she has left over.
This consisted of 13 different dishes consisting of 52 serves of main meals and 36 serves of snacks. It cost her $182.29 for the full grocery shop and took five hours to cook everything. **These prices are based off grocery costs in July 2022.
If you include the food she will make with the food she's already made, it works out to be just over $1.55 per serve!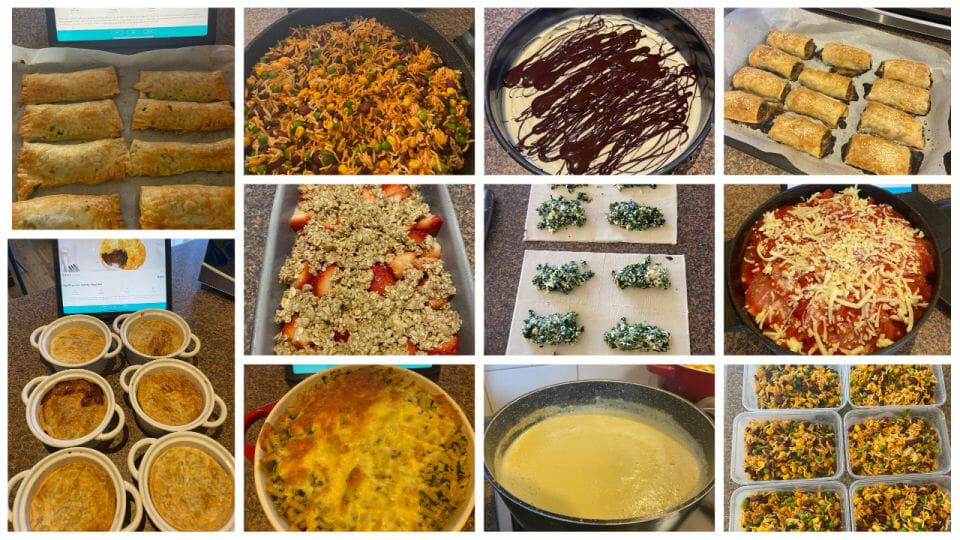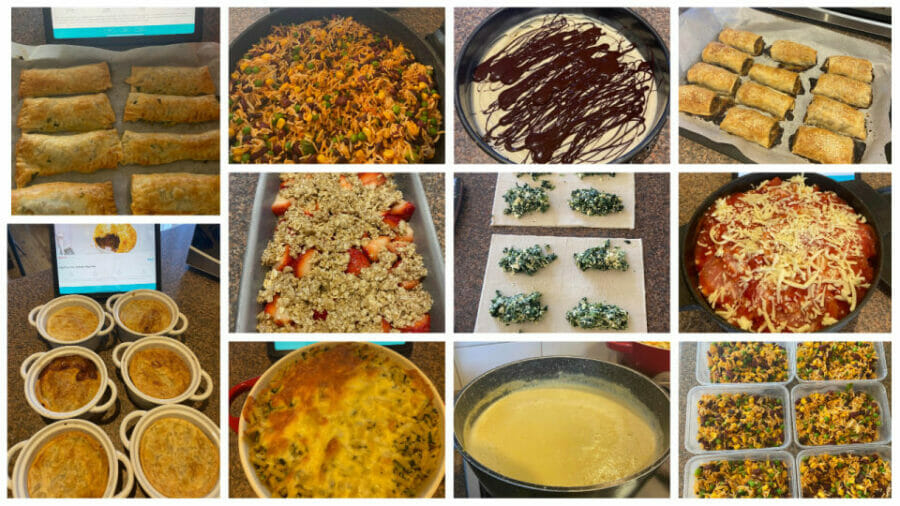 What Kira made:
6 serves of Spinach and Feta Puffs

4 serves of Strawberry Oatmeal Breakfast Bars

12 serves of Turkey and Cranberry Sausage Rolls

6 serves of White Chocolate and Goji Fudge

4 serves of Spinach and Ricotta Pasta Bake

6 serves of Pumpkin and Pine Nut Pasta

6 serves of Tasty Mexican Fried Rice

6 serves of Creamy Corn Soup

6 serves of Pepperoni Potato Pizza Bake

6 serves of Pumpkin and Chickpea Burger patties

6 serves of Kid Friendly Healthy Meat Pie

12 serves of Peanut Butter Pie

6 serves of Simple Panna Cotta
"Plus, I will get another 30 serves from my shopping to make the following recipes on the day," she says.
"I made some recipes in bulk to freeze for future meals. I had the app open the whole time on my iPad, reading the recipes as I went."
"It was super easy having all the recipes I needed right there, without having to flip pages or hunt for any recipes!"
"I easily save upwards of $100 a week by meal planning, prepping, being organised and buying cheaper brand products."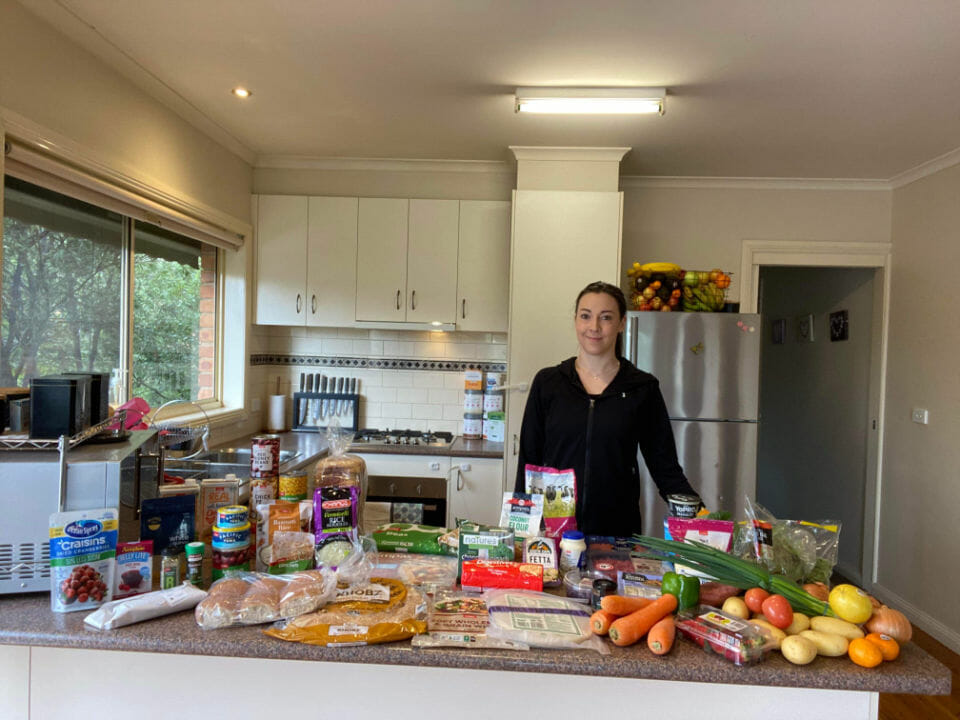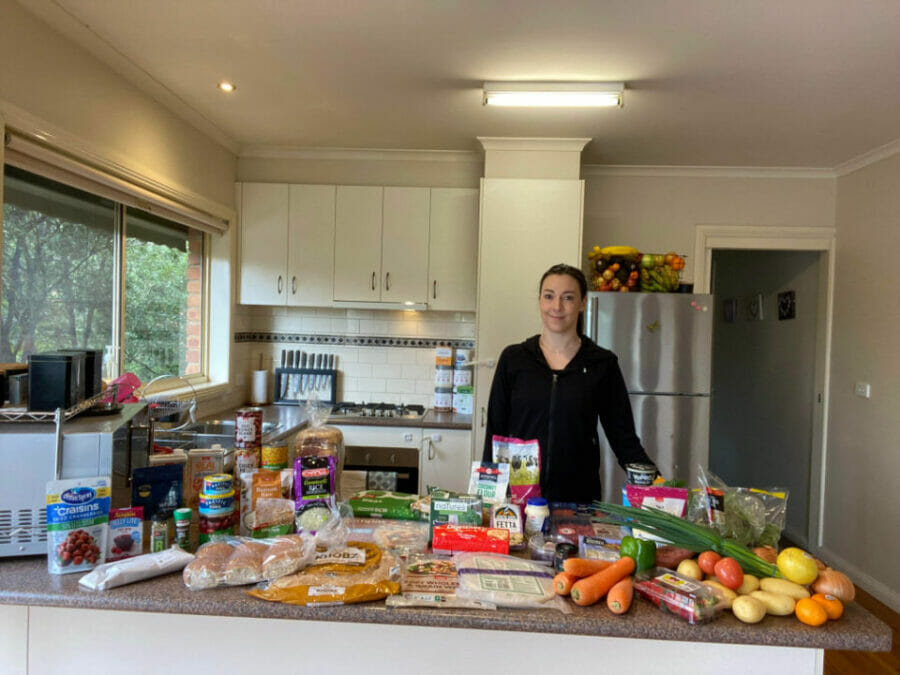 On the day recipes Kira will make:
2 serves of Pancakes

6 serves of Apple slices

1 serve of Toast with smashed avo

1 serve of Veg pizza mug

6 serves of Spicy corn nachos 

1 serve of Tuna wrap

2 serves of Spring rolls

2 serves of Fruit salad and rice paper rolls

2 serves of Double Chocolate Overnight Weet-Bix

2 serves of Cleansing Chia Pudding 

2 serves of Tuna & Sweet Potato Cakes 

2 serves of Pumpkin and Beetroot Quinoa 
This works out to be an extra 29 serves!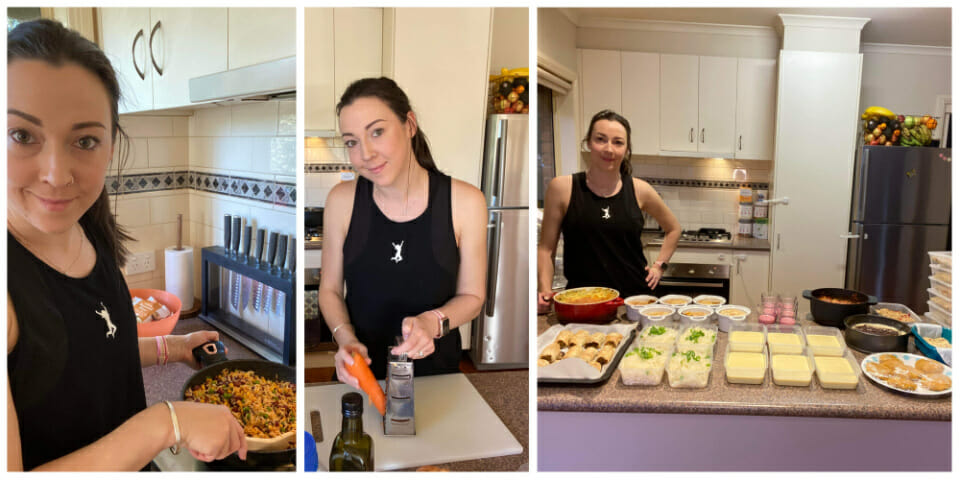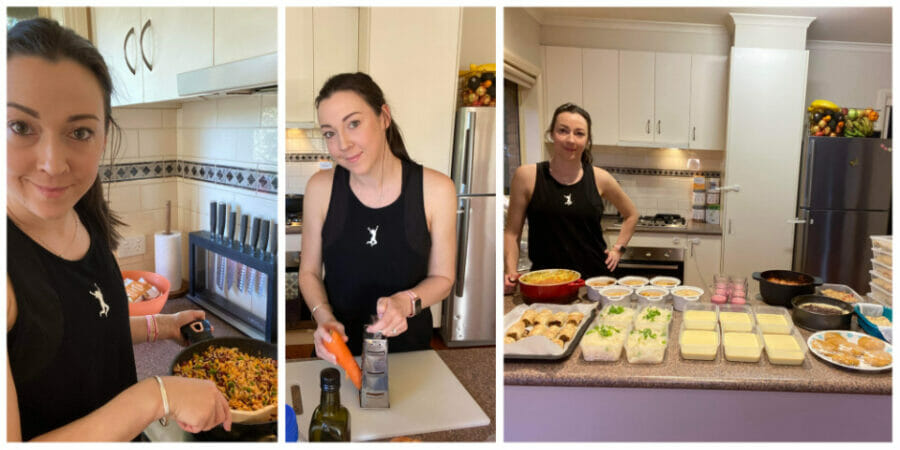 Kira's top tips for spectacular meal prep:
1. Clean as you go! It can get messy cooking so much food all at once 
2. Plan and create a checklist and an order of what foods you should be making first. I tried to plan it so I didn't make everything that needed to go in the oven at once, instead, I alternated dishes that needed to go in the oven with ones that didn't.
3. Put ingredients away as you go so you don't end up with a cluttered bench-top! I left a few things out at times and then I couldn't find them when I needed them!
4. I did a click and collect so I saved time doing the actual shopping, this gave me so much more extra time on the day! I could also see the total cost before I checked out
5. Clean your kitchen beforehand and start with an empty dishwasher and/or dish rack 
"I love the budget meal plan because it means I always have healthy, nutritious meals for my family while shopping on a budget," she says.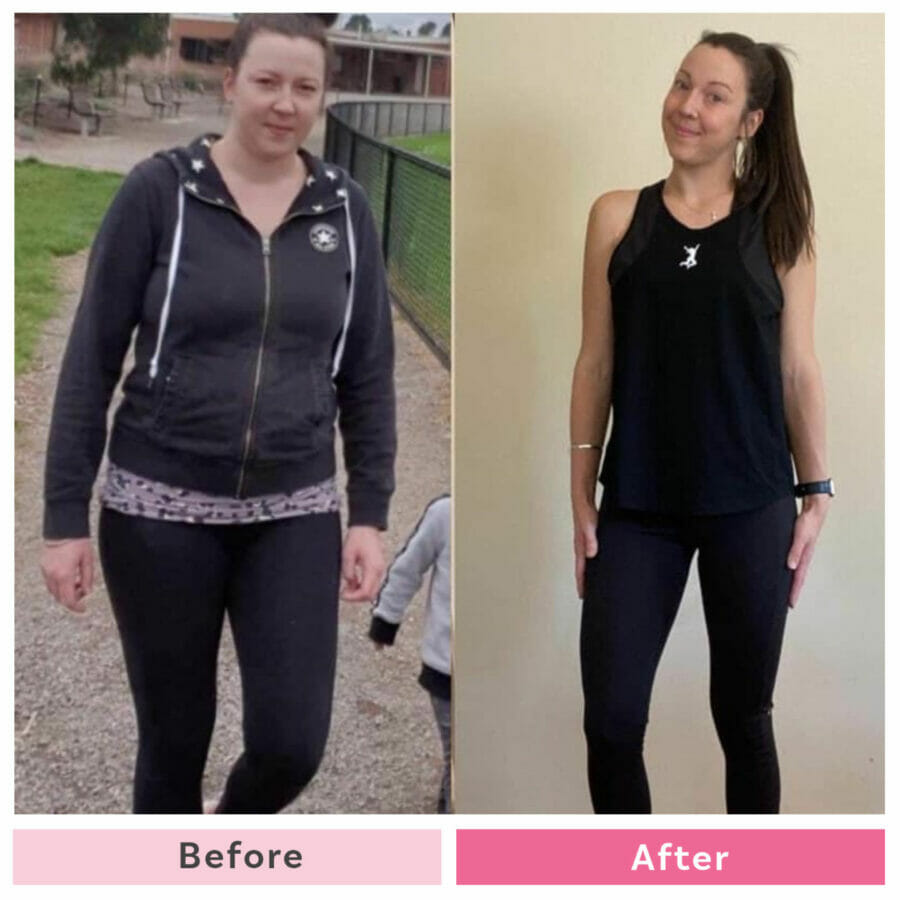 Kira's top tips for keeping to a budget and saving money:
1. Shop in-season fruit and vegetables, for example, in winter we eat more citrus fruits and in summer we buy lots of fresh berries! 
2. I have been buying a lot of frozen fruit and vegetables as these are a lot cheaper and you don't have to worry about them spoiling if you don't use them in time 
3. Be prepared, have a weekly list and only buy what you will use. I used to be really unorganised and throw so much away at the end of the week, now I use up everything as I'm only buying what I'll need! 
4. Don't shop hungry – you're more likely to buy more than you need
5. Sign up for Woolworths Rewards and Flybuys for Coles. You'll gain points on your shopping. I get over $600 a year worth of points doing this!
6. Go to Aldi at least once a month and stock up on some of the cheaper items. Aldi is usually a much better price than other supermarkets 
"I will now be sticking to my meal plan for the week this week as almost everything is already made and ready to eat," she says.
"All I have to do is heat it up, and I will have to spend minimal time in the kitchen."
Kira says she has saved $5,000 a YEAR by being organised
"I think I have saved up to $5,000 a year by being organised with my weeks and meal prepping," she says.
"By preparing my own snacks I save a lot too as the cost per serve is usually much cheaper than pre-packaged snacks."
"I have saved a lot of time! I will have to spend barely any time in the kitchen this week now as I already have all my meals cooked!" 
"Even on my usual weeks where I do my small prep on a Sunday, I save so much time getting everything done at once."
Check out some of Kira's previous meal preps and weight loss results:
4 mums have saved almost $35,000 between them since they joined The Healthy Mummy
5 mums reveal how they were able to move the scales down after hitting a plateau
Mum loses baby weight for the second time and is back to herself!