Have a Healthy Mummy Halloween with some inspiration from our mums!
Have a Healthy Mummy Halloween with these scary and spooky twists to some Healthy Mummy favourite recipes. Need some spooky inspiration look no further.
We asked our community to share some of their Healthy Mummy Halloween treats with us and did they deliver!
If you are looking for a way to have a healthy Halloween check out some of these amazing treats.
Best of all, they're all HEALTHY! Which makes a change at Halloween!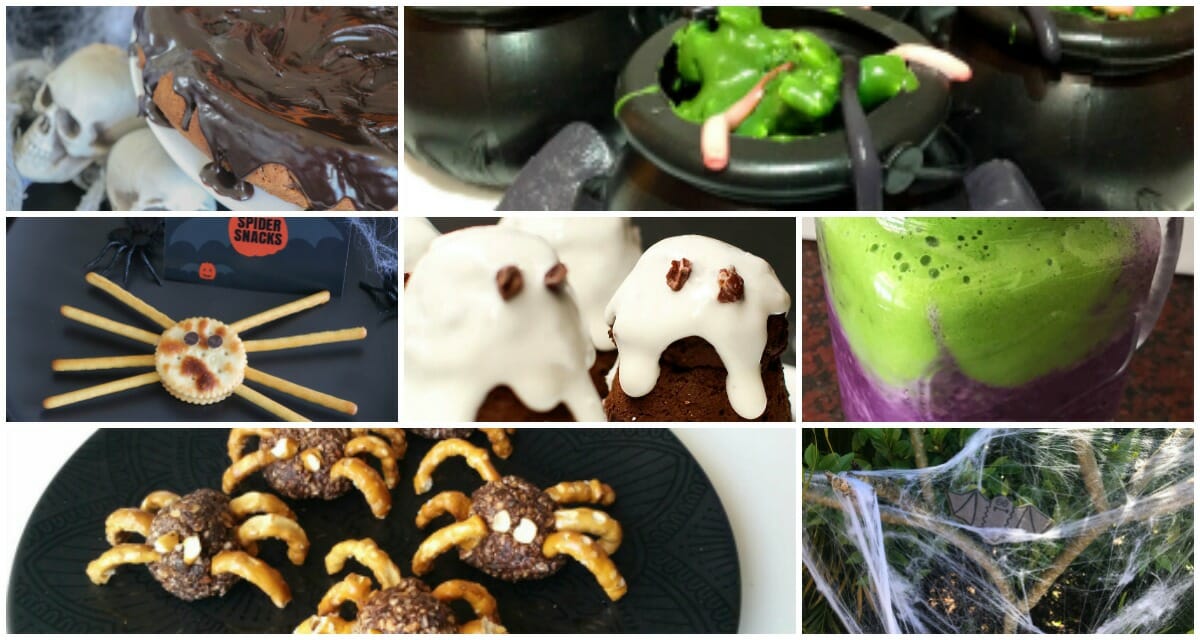 Healthy Mummy Halloween recipes
Pumpkin twist to our protein ball mix and ginger bats – Choc Spookypops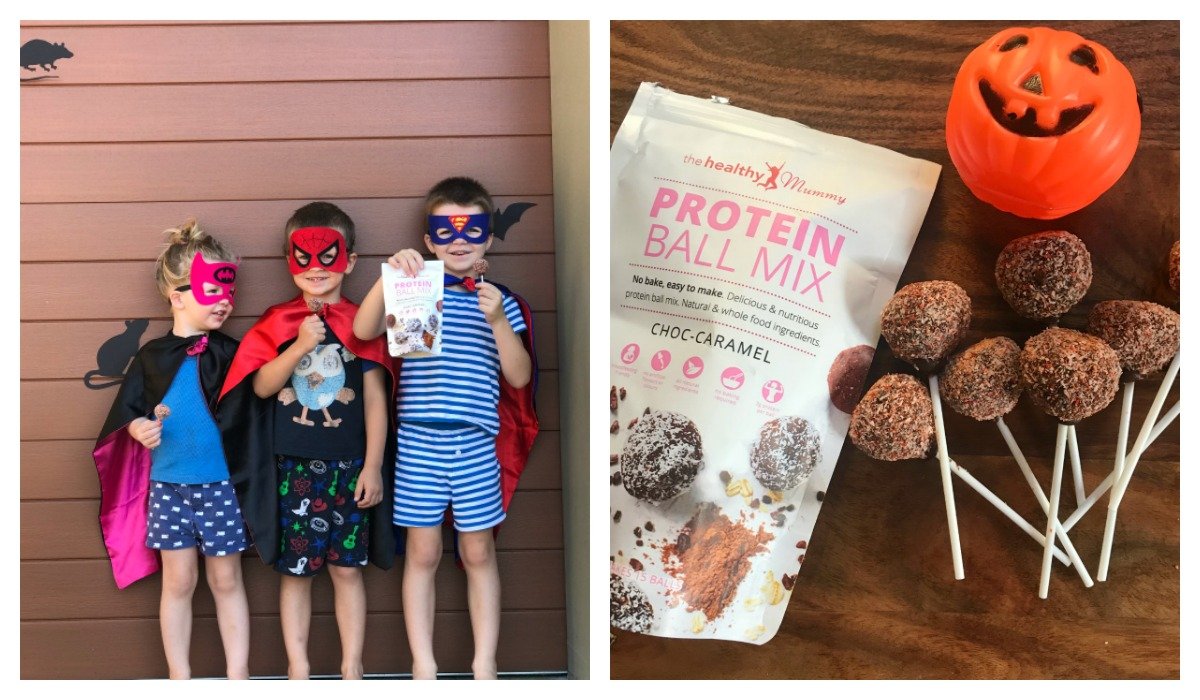 Healthy Mummy Steph Marriott shared two Halloween ready Healthy Mummy treats that her kids love.
Follow Choc Caramel Protein Balls packet directions but only use 1/3 cup of boiling water.
Colour coconut with a few drops of orange food colouring.
Dip lollipop sticks into some melted dark chocolate and poke into bliss balls.
Refrigerate until set.
Spicy Ginger Bats

Follow the Spicy Ginger Cookies recipe in the 28 Day Weight Loss Challenge App.
Add 4 drops of black food colouring to wet mixture.
Add extra flour until dough is firm enough to roll. Roll thinly and refrigerate for 20-30 minutes.
Cut bats out with a cookie cutter ($2.95 at Spotlight) and bake at 160degrees for 12 minutes.
If bats lose too much shape, recut with cookie cutter while still hot.
Use an edible food pen (available at spotlight) to decorate your bats.
Mummy Wraps / Apples From the Crypt (serves 9)
Mum Libby Butler said that her kids love this mummy looking twist on the Healthy Mummy Apple Sultana Wraps.
Follow recipe up until pastry/wrapping.
Cut pastry into 9 pieces.
Using a knife, carefully make several slices along two sides of each pastry square. (leaving 1-2cm gap in the middle)
Place filling in the middle, and randomly wrap the "bandages" around the "mummy".
Use 2 sultanas as eyes and attach firmly.
Continue to prepare and cook as per instructions
Also, check out these amazing BOOnanas that Libby also sent in, your kids will scream!
A ghostly strawberry snack
Check out mum Tegan Blake's simple strawberry snack with a ghostly twist.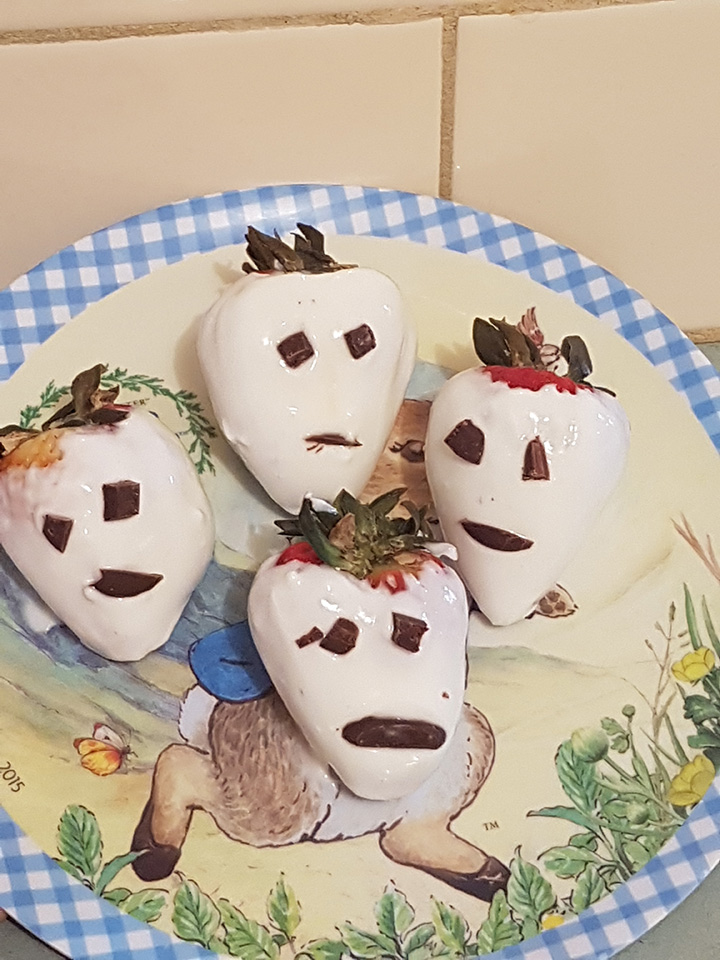 Ingredients:
4 large strawberries (24cals)
1 tbsp honey (64cals)
70g high protein greek yogurt from Aldi ( 40cals)
2 dark choc melts Cadbury (21 cals)
Method:
Place yogurt and honey in a bowl and mix together, put cling wrap over a plate to prevent strawberries sticking
Dip strawberries in yogurt, place on the plate and freeze for 5-10 mins to set yogurt.
Dip strawberries in yogurt again and place back on the plate.
Cut up choc melts into little pieces for eyes and longer pieces for the mouth.
Place back in the freezer to set yogurt for 10 minutes.
Serve on a plate for morning or afternoon tea.
Calories: 149
Turning a chocolate cake into little ghouly ghosts – Chocolate Zucchini Ghosts
Dani Dunstan decided to use our healthy Zucchini Chocolate recipe but turned them into bite-sized ghosts.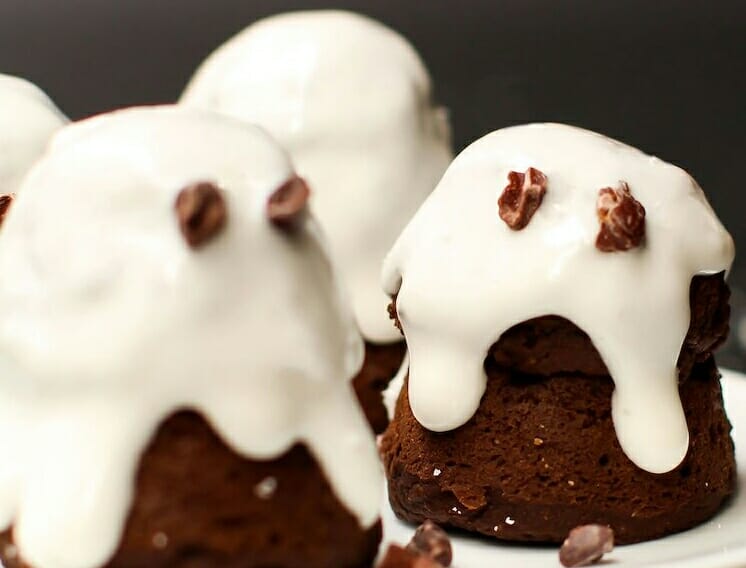 Makes 24 – 30.
Method:
I used everything as per The Healthy Mummy Chocolate Zucchini Cake recipe as if I was making a whole cake except I used 1/4 cup of Cacao instead of Cocoa.
I put the batter into cupcake tins and cooked for 20 mins on 180° until just cooked (checking with a skewer or knife).
I let the tin cool then took the cupcakes out, cut them how I wanted and used the chocolate icing to hold their new form and put into the freezer for 30 mins so I could work on getting the white frosting perfect.
I used cacao nibs for the ghosts eyes
Frosting:
Half a cup of coconut milk
1tbs and 1tsp water
1tbsp powdered sugar
140 cals per serve.
Roasted Almond Chocolate Spiders
Healthy Mummy Sue Hixson sent through this sweet snack with a few extra additions.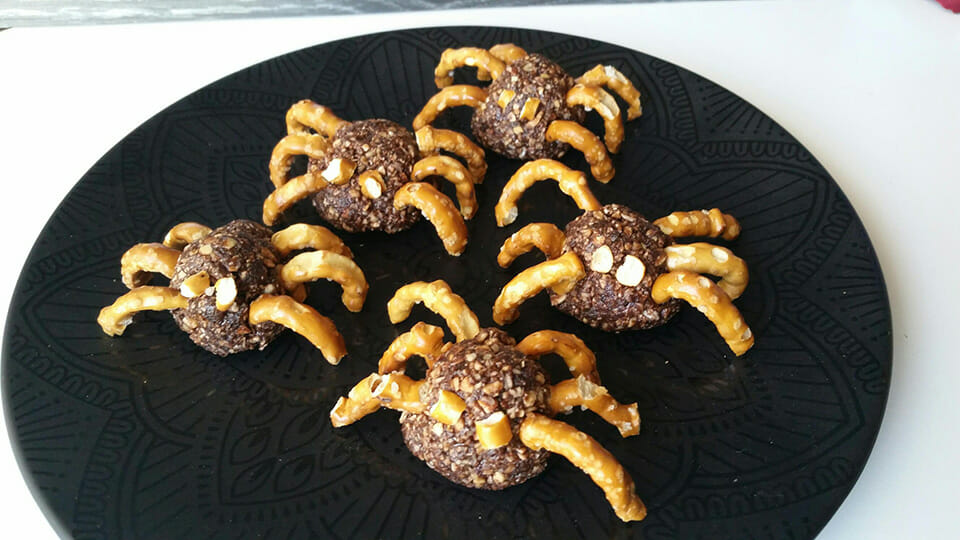 Makes 14 serves
Ingredients:
50g unsalted raw almonds
90g rolled oats
75g sultanas
2 tbsp cocoa
1tbsp coconut oil
1tbsp water
60g pretzels
Method:
Roast almonds till brown.
In a food processor blitz almonds and oats to a fine mixture (not powder).
Add cocoa, sultanas, coconut oil and blitz again well. Add water as needed to make into rollable consistency.
Roll into 14 balls
Break pretzels into leg shapes and add to make spiders.
(Yes… spiders do have eight legs but six fitted nicely and eight were too squishy)
89 calories per serve
Check out this delicious Pumpkin Pie Smoothie recipe Sue also sent through.
Gooey Halloween Witches Brew
Jinjamrda McGonigal has brought out the inner witch in all of us with her healthy witches brew full of green gooey goodness and yummy treats.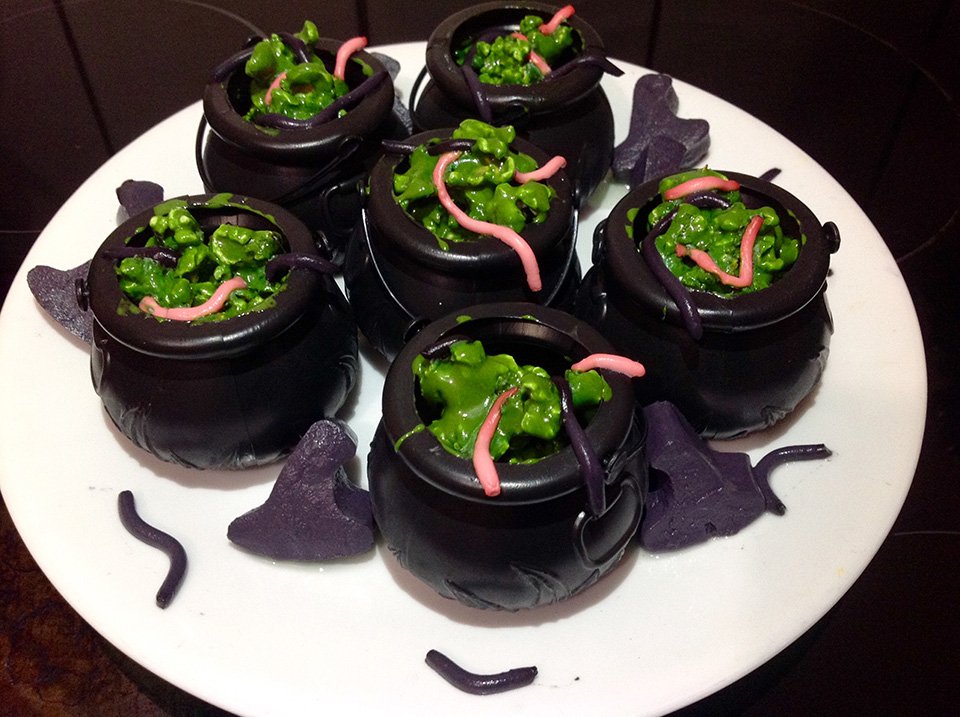 Slimy green popcorn with worms and snakes bubbling in the cauldron awaiting the Witches Halloween party!
Slimy popcorn ingredients:
1/4 cup popcorn kernels air popped
1tbsp butter
1tbsp rice malt syrup
1/2 cup of sugar-free marshmallows
Yellow, green and black food colouring
Method:
Pop the corn kernels and set aside
In a microwave safe bowl add the butter, rice malt syrup and marshmallows and heat for 20 seconds. Stir and heat further in 10-second increments if necessary until all melted
Stir until smooth
Add the three food colourings until desired colour is achieved
Add the marshmallow mix to the popcorn and stir through until all coated, it will be really sticky!
Place into the cauldrons to serve and chill while organising the decorations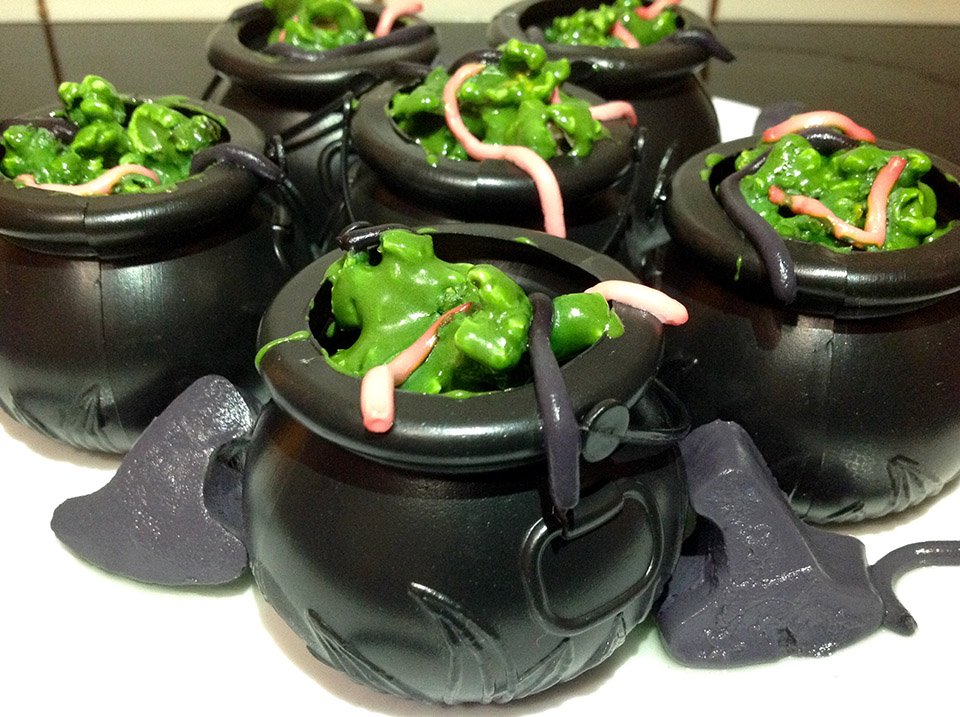 Snakes and worms and witches hat decorations ingredients
One packet of Aeroplane Jellylite low sugar jelly, I've used strawberry flavour
3/4 cup Greek yoghurt
Method:
Dissolve the jelly crystals in one cup of boiling water and let cool
Add the Greek yoghurt and whisk until smooth
Grab a handful of straws (around 8) and using an elastic band bunch them together and place in a cup. Pour the mix into the straws until the cup is at least half full and let stand.
Grab another bunch of straws fastened with an elastic band and put in a different cup. Add black food colouring to the jelly and yoghurt mix and stir through. Pour the black mix through the straws again until the cup is at least half full and then place both lots into the fridge to set, around 4hrs
Pour remaining mixture into with the witches hat silicon moulds, or moulds of your choice and place in the fridge to set, around 4hrs
To remove the snakes and worms from the straws, pinch and squeeze the straw then run down the length of it to the end, it'll squeeze out like toothpaste from a tube. Then decorate your cauldrons with the snakes and worms and add the witches hats to your platter
Eat your jack-o-lantern and get some vitamin c
If you aren't a fan of cutting out a whole pumpkin why not follow Sabrina James recipe below and have your own personal capsicum jack-o-lanterns that you can eat as well.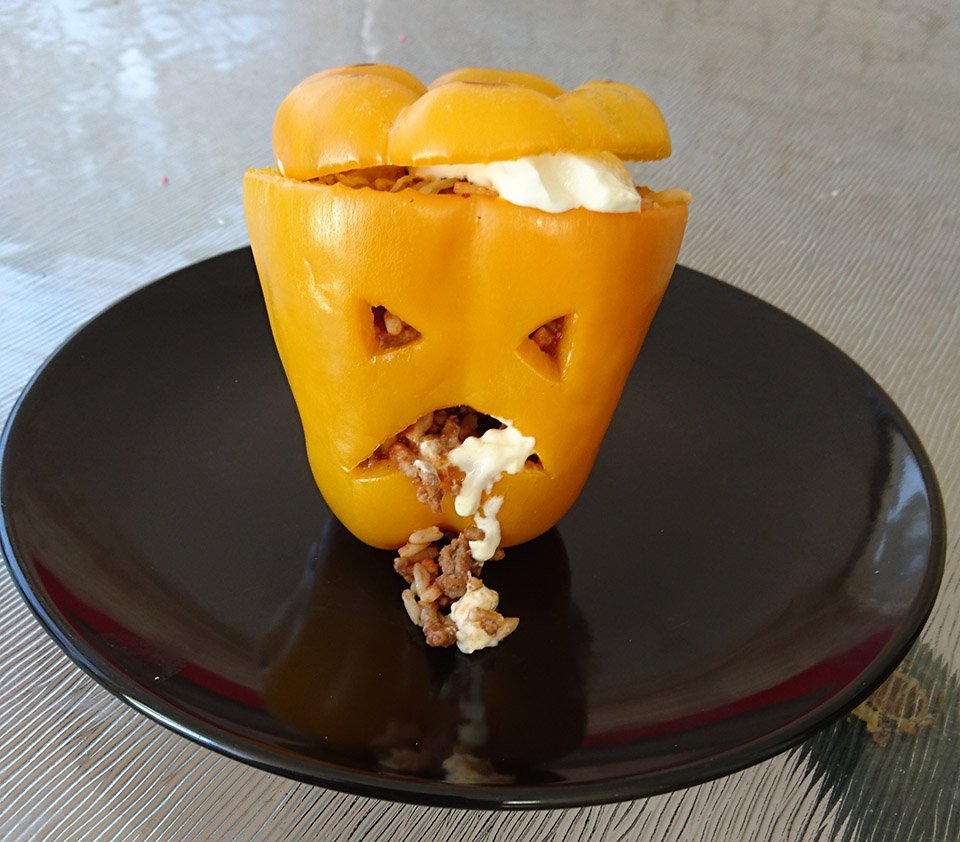 Serves 1.
Recipe:
1 yellow capsicum
90g lean beef Mince
1/4 cup cooked brown rice
1/4 small onion – diced
1/2 clove of garlic – minced
1 teaspoon olive oil – for frying
2 tablespoons passata
1 teaspoon tacos seasoning
15g Grated light cheese
Salt and pepper to taste
1 tablespoon light sour cream to serve
Method:
Present oven to 200 degrees
Cut top off capsicum and discard seems, care face with a small knife.
In a frypan fry onion and garlic until fragrant and the beef mince.
When Mince is browned, add tacos seasoning to coat, then stir through passata. (add a tablespoon of water if it's too thick)
Add in your brown rice and stir to combine.
Fill your capsicum with the beef Mince, top with cheese and bake in the oven for 15 minutes
Serve with sour cream
370 calories per serve.
Fruity Tutti Halloween inspired Smoothie
We can't get enough of mum Janis Grimshaw's ghoulish looking smoothie concoction.
Purple Layer:
Blueberries
Organic shaved coconut
Almond milk,
The Healthy Mummy Vanilla Smoothie Mix
Ice
Green Layer:
Baby spinach
Banana, almond milk
The Healthy Mummy Vanilla Mix
Ice
Method:
Blend each layers mixture separately
Layer each colour as you wish
362 calories
My Super Greens Pretzel Monsters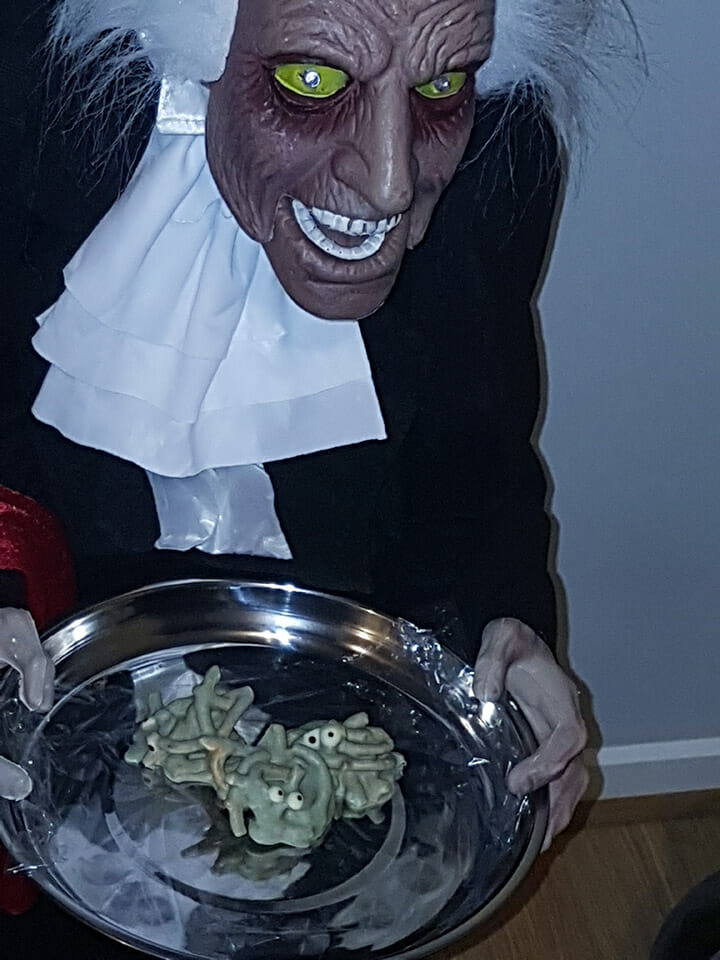 Naomi Rajamanickam
Ingredients:
70% dark choc 5g
White Chocolate 200g
100g of Pretzels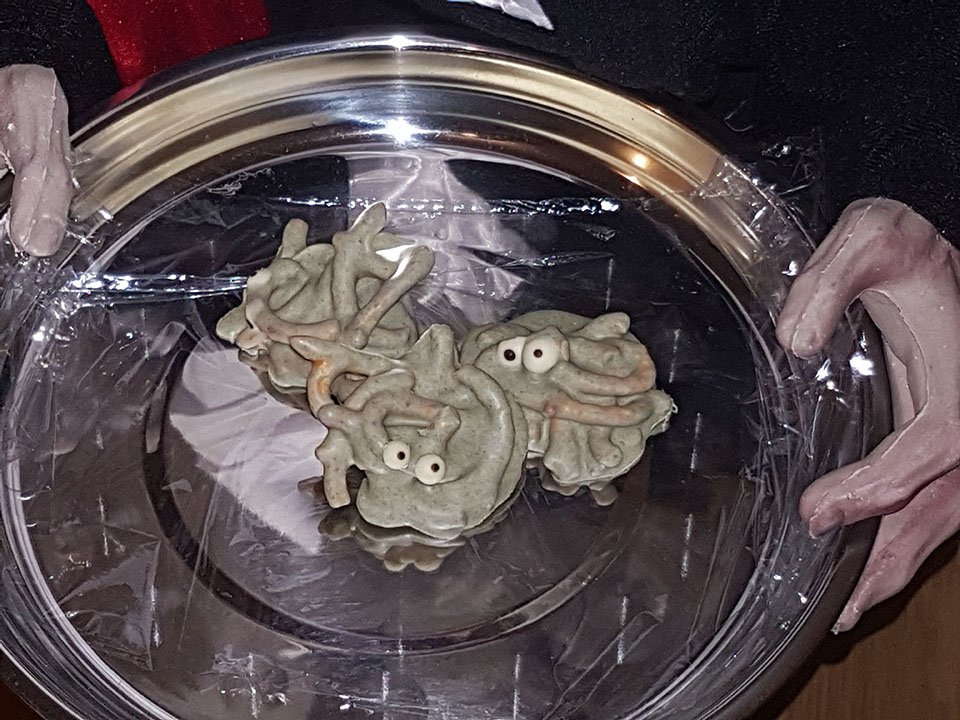 Method:
Melt 1 row (20g) of white chocolate and pipe eyeballs using 2nd smallest round tip (wilton 5) aiming for at least 20 you are happy with
Melt dark chocolate and using smallest tip (wilton 3) make pupils on eyeballs
Put in fridge to set
Melt remaining white chocolate and add 1tsp of Super Greens powder to get a green tinge.
Break up 100 grams of pretzels roughly to get varied shapes and mix in chocolate.
Spoon out into 16 blobs (messy monsters are the goal).
Put in fridge for 5 minutes then add eyes to avoid eyes melting into the monster.
Put back in the fridge for 30 minutes to set.
Makes 16 at 97 calories each
Store in the fridge.
Alternate colouring option is to mix in a tsp of peanut butter and 1/2 tsp of turmeric for yellow monsters or a tsp of acai powder for pink ones.
Watermelon monster
Healthy Mummy Amy Atkinson is always up for making new things from existing Healthy Mummy recipes, just check out her delicious Strawberry Crush Smoothie recipe.
She was more than happy to send through some Healthy Mummy Halloween treats.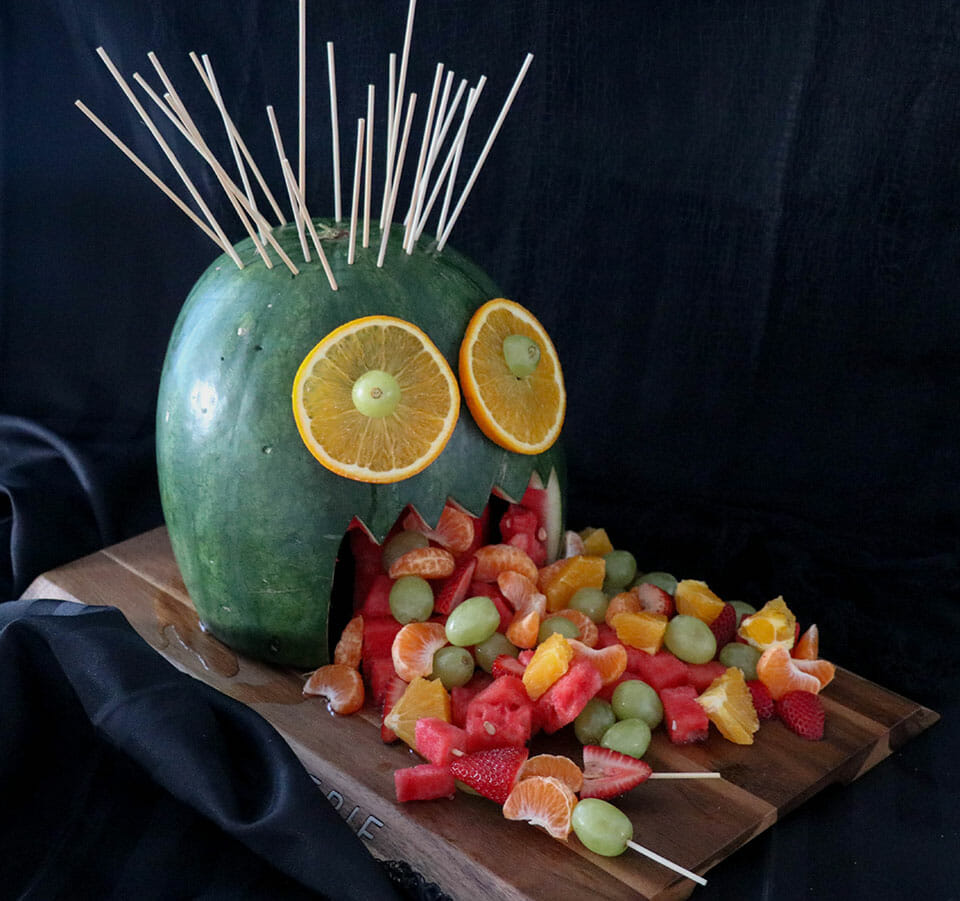 What you need:
1 full watermelon or half depending on how big you want it
Packet of skewers
Any fruit of choice.
Method:
Cut the bottom of your watermelon and scoop the contents out so it is hollow.
Set aside as you'll need to dice it for the platter.
Draw where you want to cut for teeth and carefully cut out.
Stick the skewers in the head as this is what your guests will use to pick the fruit up with and make a kebab stick.
Use the ends of 2 skewers to stick the eyes on.
Dice up the fruit you want to use and mix it up and lay it on the tray.
Last minute Halloween Spider Snack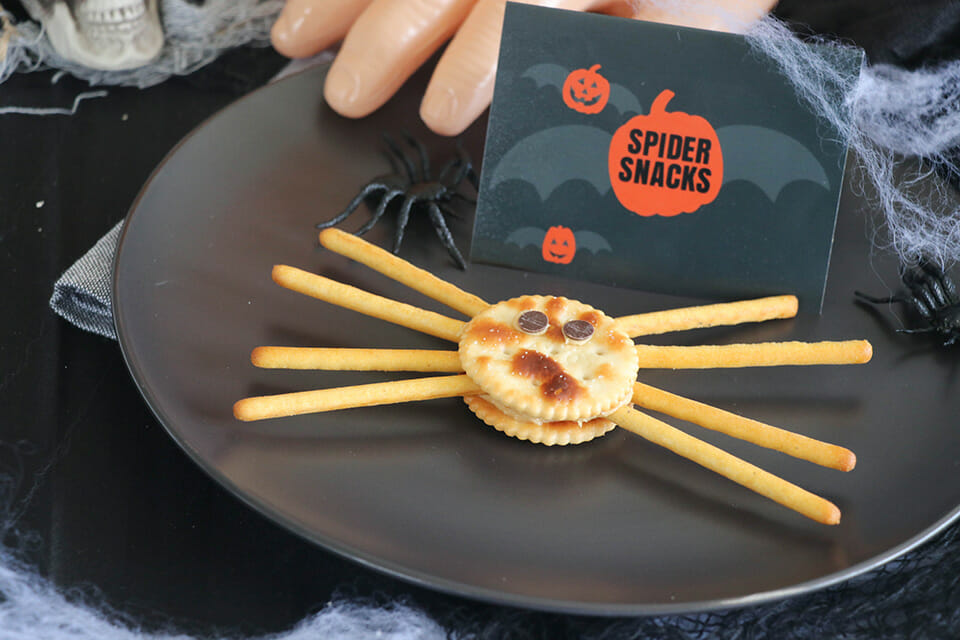 What you need:
Round Snack Crackers
Creamy Peanut Butter
Pretzel Snacks
Dark Choc Chip bits (optional for eyes)
Method:
Simply spread peanut butter on a round cracker.
Arrange eight pretzel sticks to look like spider's legs.
Sandwich another round cracker on top.
Stick the eyes on with a dab of peanut butter.
BOOM!! There's your spider!
Spooky Pumpkin Pizza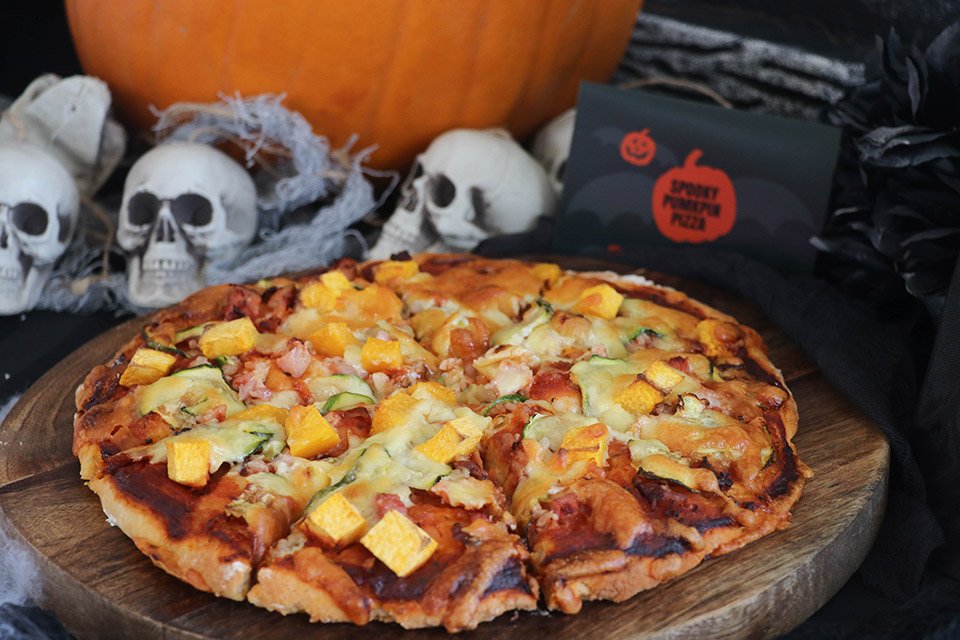 Use The Healthy Mummy 2 Ingredient Pizza dough recipe as the base.
Halloween fillings:
2tbsp Tomato Paste
1dicedup died bacon
1 cup butternut pumpkin
1/2 zucchini thinly sliced
1/2 cup grated cheese
Crunchy Monster Eyes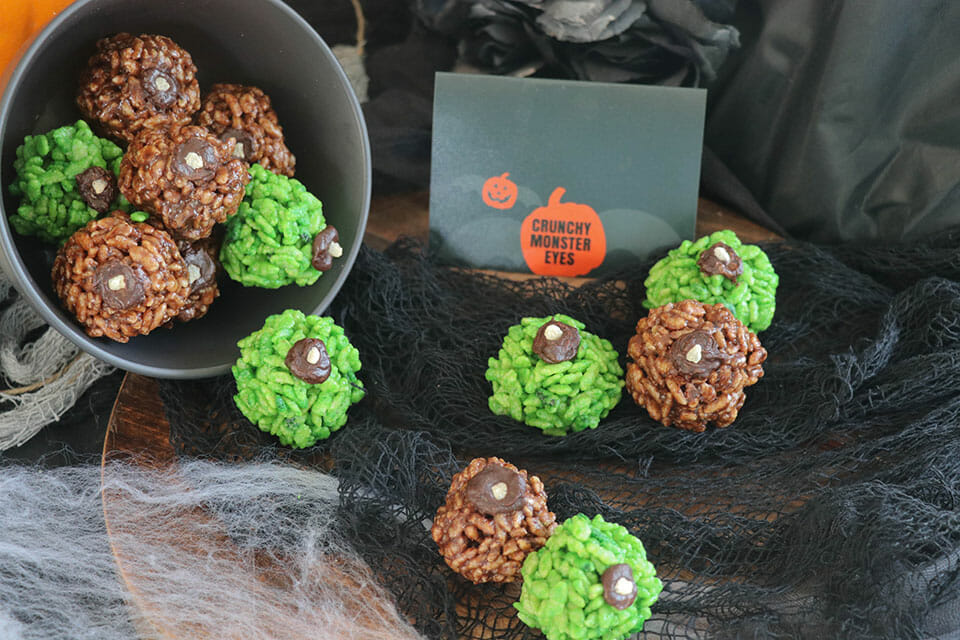 How to Halloweenify The Healthy Mummy Peanut Bubble Crunch recipe?
Add food colouring to the half mix that doesn't have any cocoa in it.
Melt 1tbsp of dark choc bits to stick a single puff rice for the centre.
TIP: Let the mix sit for 10 mins before rolling. I found having wet hands made it easier to roll the balls.
Ghoulish Chocolate Pumpkin Mud Cake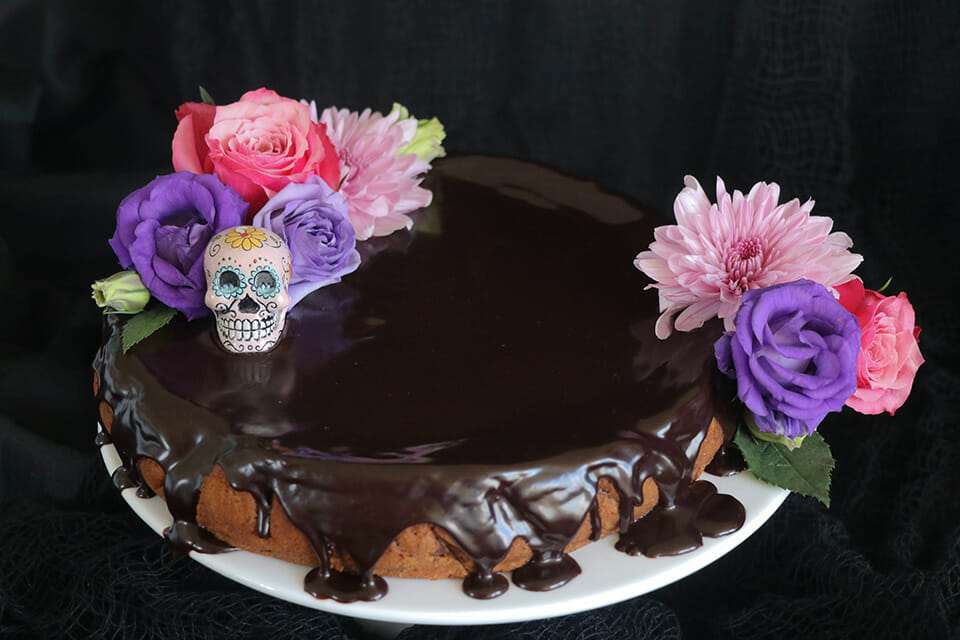 Totally creepy Roasted Pumpkin Dip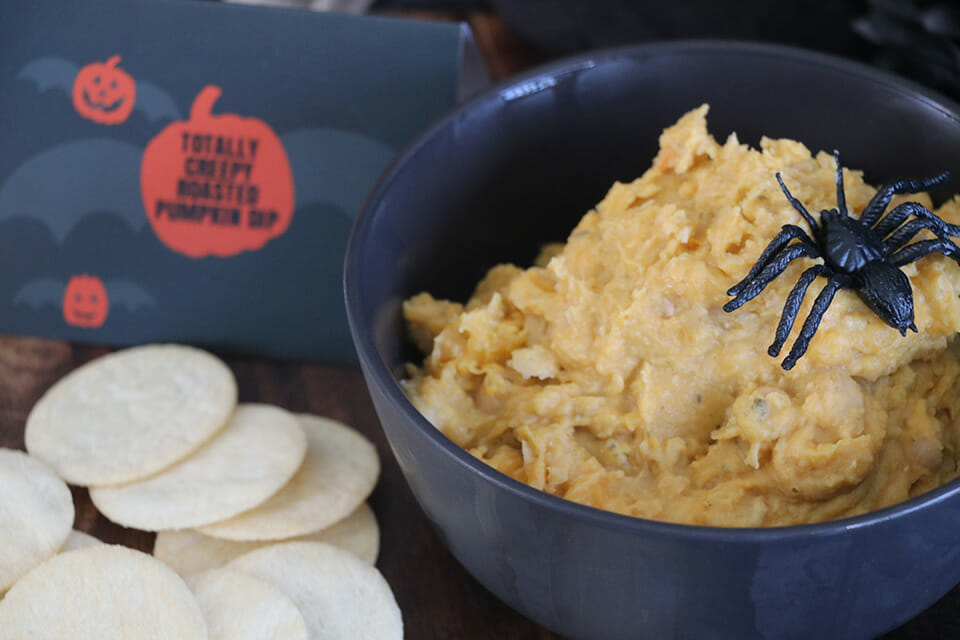 Tired of wondering what to cook?
Now you can easily meal plan with our personalised plans & over 6,000 family & budget friendly recipes catering to a wide range of dietary requirements.
The Healthy Mummy is a holistic program to nourish your body with nutritious food and help you stay active in your busy, everyday life. Yours and your families well being should be a priority so let us take the hassle out of it.
Unlock the key to sustainable life changes that will leave you feeling your absolute best.