Delicious Banana and Blueberry breakfast smoothie
Looking for a delicious and healthy breakfast option? Try this banana and blueberry breakfast smoothie made with fresh fruit! Grab the recipe here.
Our research shows that over 50% of mums skip breakfast due to being too tired or not having enough time to make it. Needless to say, this can wreak havoc with the metabolism, which can scupper your weight loss plans.
But we have the solution! You only need two minutes to make this delicious and healthy Banana and Blueberry Breakfast Smoothie.
It not only tastes great, but will give you a nutritious boost to start your day. This is a great breakfast choice and works perfectly with our 28 Day Weight Loss Challenge.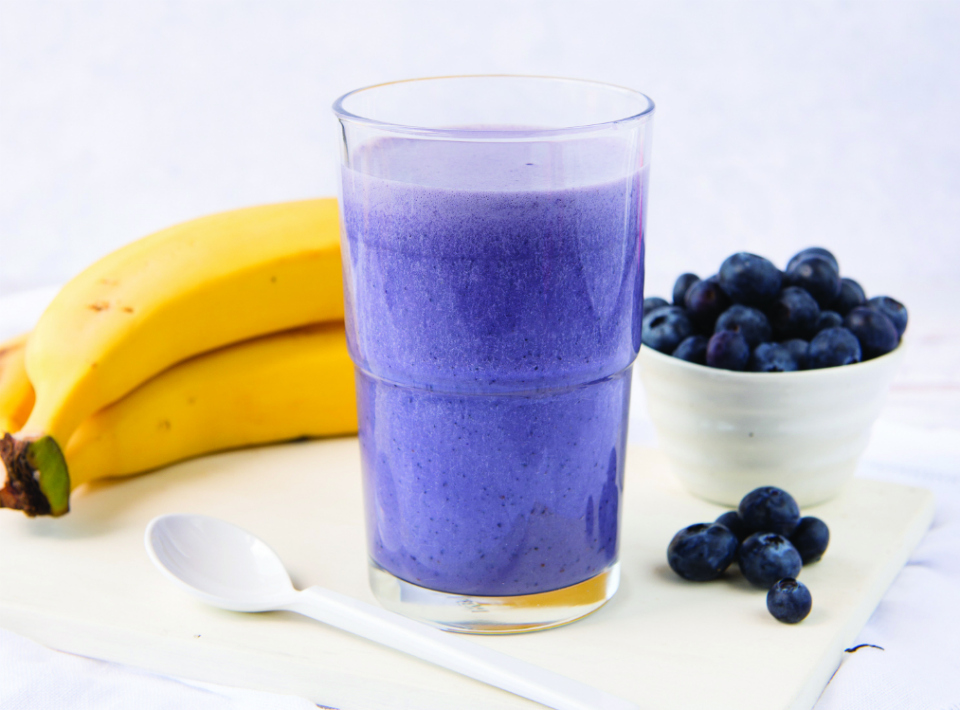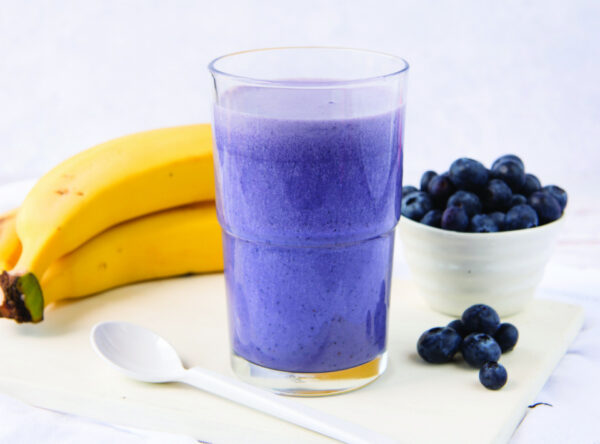 2

tbsp

Vanilla Healthy Mummy Smoothie mix

1

cup

unsweetened almond milk

1/2

frozen banana

1/3

cup

frozen blueberries

1

tbsp

rolled oats

5

cubes

ice
2

tbsp

Vanilla Healthy Mummy Smoothie mix

1

cup

unsweetened almond milk

1/2

frozen banana

1/3

cup

frozen blueberries

1

tbsp

rolled oats

5

cubes

ice
Tip: using frozen fruit gives it more of a thick-shake consistency
Makes 1 smoothie at 238 calories per serve
Smoothies are the perfect quick breakfast option for busy mums and are ideal if you're watching your weight.
No matter your flavour preference or nutritional need, we have a smoothie to suit everyone, including the popular Coconut Banana and Oat Lactation Smoothie to boost your milk supply if you are breastfeeding.
Why is this Banana Blueberry Smoothie so good for you?
The Healthy Mummy Smoothie range, whether Premium, Tummy or Original are complete meal replacements full of key vitamins and minerals.
But by adding some other nutritious ingredients, you are ensuring you're packing a huge flavour and nutritious punch to kick off your day.
Bananas, blueberries and oats
Bananas, blueberries and oats are all budget and staple ingredients that are easy to keep on hand. We like to use frozen fruit in this smoothie as it's not only easy to store but it also gives the smoothie a lovely thick shake consistency.
Bananas are a great ingredient in smoothies. They are high in potassium and have a lot of healthy fibres that can help curb appetite as well as burning fat.
Blueberries are packed with nutrients and antioxidants that can protect you against several diseases and help you slim down naturally. Numerous studies have linked berries with a wide range of health benefits, including weight loss and cancer prevention.
There's a very good reason so many people include oats in their breakfast! Aside from the vitamins, minerals, fibre and antioxidants, this gluten-free grain also can lower blood sugar levels to make you feel fuller for longer.
This recipe calls for unsweetened almond milk but you can use any low-fat milk of choice. Unsweetened almond milk is particularly low in calories, with one cup coming in at around 60 calories.
More banana smoothie recipes
We have hundreds of smoothie recipes on the 28 Day Weight Loss Challenge and if you are a big fan of bananas, why not try these delicious recipes.
Banana Energy Smoothie
Banana and Caramel are a flavour match made in breakfast heaven! This Banana Energy Smoothie is just 310 calories and uses the Premium Caramel Smoothie mix.
This healthy recipe also includes chia seeds that are loaded with nutrients but have very few calories.
Choc Banana Bliss Smoothie
Chocolate for breakfast? Oh yes you can. In fact you can keep your chocolate cravings at bay at any time of the day with this healthy smoothie recipe.
Adding frozen banana to the Chocolate Smoothie mix makes this takes just like a thick shake when you were a kid.
Skip the guilty shakes. This is a better way to Smoothie