These amazing and inspirational mums have tips to motivate you!
These mums have come together to support you on your weight loss journey this October, so you can be better versions of yourself.
To help you through your weight loss journey this October, some of our very inspirational mums have come together to motivate and inspire you to be better versions of yourself.
Introducing our motivational mums
Lacey Joan says she has struggled with her weight most of her life.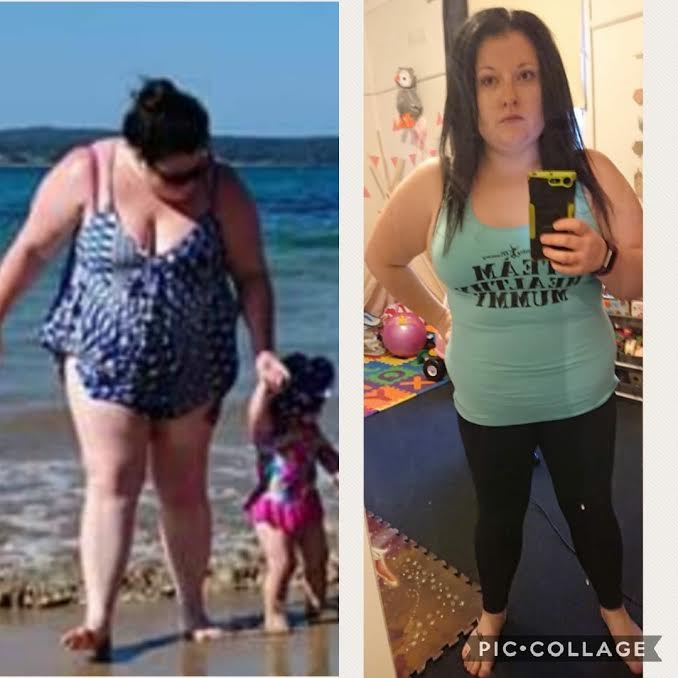 "Heya! I'm Lacey and I'm 24 years old and I have one gorgeous two and a half your old princess.
A little bit about me. 
I have struggled with my weight most of my adult life and tried so many quick fixes that would leave me feeling depressed when they didn't work. Then I found The Healthy Mummy. By this stage, my little one was about 18 months and I had a ton of weight to lose.
I have been following The Healthy Mummy since November 2017 and became a 28 Day Weight Loss Challenge member March 2018.
Since November I have lost 15kg and 34CM from my tummy alone. 

Majority of that was after starting the 28 Day Weight Loss Challenges.
I absolutely hated looking in full-length mirrors or catching a glimpse in shop windows, I was so uncomfortable about how I looked.
But the weight affected more than just the way I looked, it affected the way I saw myself and the way I felt others saw me. I wouldn't leave the house without a face full of makeup. I was miserable. 

I am not yet at my first big goal but I am getting closer every week! I am a much more happy, confident and my Biggest NSV is I can buy clothes and KNOW they will fit when I get them home. 

And I save so much money on makeup as I barely wear it now. 

I owe so much of this to The Healthy Mummy lifestyle change.
Before The Healthy Mummy, I had a mild allergy to egg yolk. Now I'm able to eat it any/every way, bake with it and even have the flu shot.
The Healthy Mummy gave me the courage and motivation to make a massive career change from Administration to Nursing and I start my Work placement in a couple of weeks, I couldn't be more excited. 

I am so grateful to this program. There's no looking back now. 

My October goal – to lose 3-4kg
My summer goal – to keep getting closer to my ultimate goal weight so I can feel confident to wear shorts this summer and tone my tummy. 
My 5 budget tips are:
Meal plan
Always make a shopping list and sticking to it
Aim for recipes that make a bulk amount of servings
Use leftovers for lunches
Keep an eye on the specials"
Dominique East says she has gained so much confidence since joining The Healthy Mummy
"I signed up to The Healthy Mummy 28 Day Weight Loss Challenge after having baby #2 in October 2017. My journey had started with myself weighing 93kgs and wearing size 18, having no self-confidence, no self-esteem and no energy. 
I hated seeing photos of myself, hated seeing my figure and especially in full-length mirrors. It took ages and multiple outfits each time I got ready to go out because I hated how I looked in everything. 
Fast forward nearly 12 months later I've lost 25kgs and lost 4 dress sizes! But with all my losses The Healthy Mummy has given me so much more to gain. 
I gained friends for life, I gained self-confidence, I gained self-love but most of all I gained the confidence to be in any photo with anyone, especially my children and husband. The Healthy Mummy gave my life back, I get ready for anything in 5 minutes now and it's one outfit only, NO MORE CRYING AT DIFFERENT OUTFITS THAT I THOUGHT LOOKED AWFUL ON ME! 
My summer goals are simple and I know I can smash them. Although I have gained so much self-confidence with myself in clothes, tight clothes, fitted clothes I still have a bit to go to feel 100% confident to wear a bikini! 
My summer goal is to feel confident in a bikini and rock that confidence this summer all summer long! So to keep motivated I've bought myself a bikini that I will hopefully feel fabulous in at summertime after some slight toning to my body. 
Whilst being with The Healthy Mummy for 12 months, I've learnt how to meal prep and save on those $$$. 
My biggest tips to stay healthy on a budget are: 
utilise what is in your pantry. All those hidden cans of tomatoes will save you $$
when cooking your dinner for yourself and the family, make a double batch this will save on wastage of vegetable and create more meals for the week saving $$
only buy what you need, avoid walking down every isle browsing on what you might need, have a list! Stick to it and only use the isles at the shops you need. 
when making your meal plan, make a lunch during the week you have extra serves of a dinner. This saves making more meals and spending more money. 
most of all, always utilise what you have left each week before buying more the coming week!"
Courtney Thursfield says her whole family is involved in her journey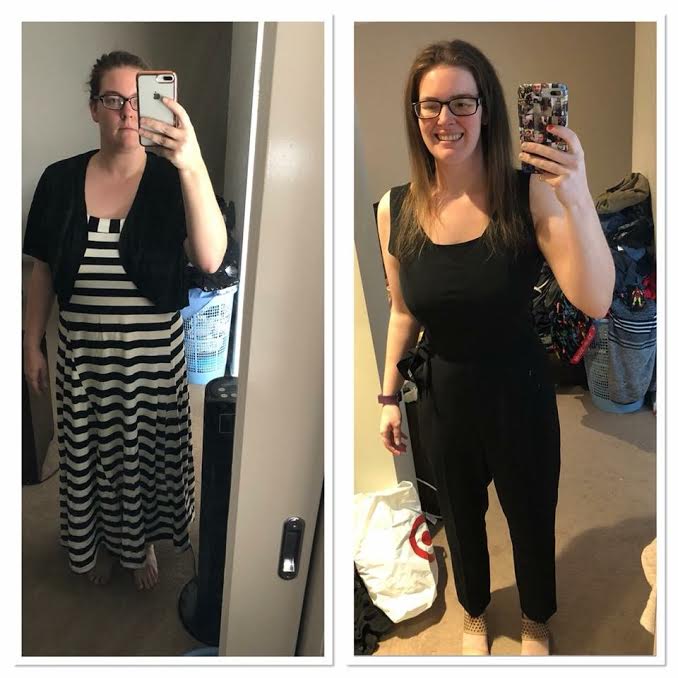 "A little bit about me:
I signed up for The Healthy Mummy 28 Day Weight Loss Challenge in February and haven't looked back. I snooped around the support groups for a couple of months and saw all of the amazing results ladies were achieving. I made the decision that I had to do something and decided to make the jump.
I started my Healthy Mummy lifestyle at 87kgs. I was a size 16-18, I hid in everything I wore. I had a great start and noticed the weight slowly dropping. I lost about 5kgs in the first month and from there I've averaged 2-3kg per month. I had a set back in April when I came down with a nasty bout of tonsillitis and ended up in the hospital for 5 days on hospital food and very little exercise. I got back on track in May, had my tonsils out so another night in the hospital, and continued towards my goal of 70kg.
I have our whole family involved, hubby does shakes and he and our 4-year-old are benefiting from all of our extra movement.
Flash to now and I'm sitting at about 68kgs and my next goal is 65kgs and then maintain. The losses have slowed over the last couple of months so no big numbers but no increase so I am very happy.
My summer goal is to get to 65kgs and maintain – this has changed from my initial 70kg goal as there is still some flab around that I would love to shift!
My budget tips:
shop what's on special and in bulk. Make sure you choose meals with the same proteins so you're not buying 200g of this and 200g of that. Buy a kg of chicken breast or mince and divide it up between the meals. 
Head to the fruit shop or local orchard for your fruit and veg. It's half the price of the supermarket and will last double the time.
Shop your cupboard. We all buy stuff that never gets used (I am terrible for this). Have a good poke through the fridge and cupboard before heading to the shops. 
Buy pantry items in bulk. Cacao, coconut oil, flour, etc. These items all last for ages in the pantry so don't be afraid to store them. 
Bulk up meals with veggies. Leafy greens, sweet potato and pumpkin can bulk up meals with very little expense."
Tegan Palmer finally realised it was do something for herself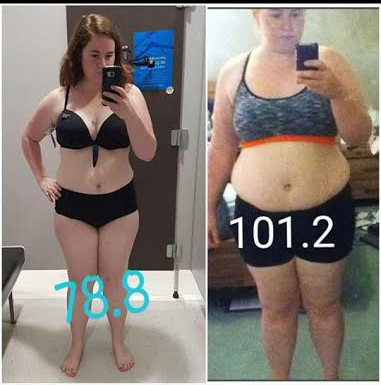 "After having two kids I reached the heaviest I had been of 102kg, I got down to 94kg but hit a plateau and decided I needed help reaching my final goal of 75kg. I continued to go it alone until I hit 90kg, I then signed up to The Healthy Mummy in October 2017 when my son was 7 months old. I finally realised it was time for me to do something for me – I was a size 18-20, unhappy and hated how I looked.
Since joining The Healthy Mummy in October 2017 almost 12 months ago, I have lost 11kgs and have gotten down to 12-14 depending on what type of clothing or brand it is. It has been a slow journey but slow and steady wins the race. I've been able to use the shakes and protein powder from The Healthy Mummy to also help me with my journey along with following The Healthy Mummy app exercises, and doing between 4-5km walks daily this has been the easiest way for me to work out with the two kids.
The Healthy Mummy has shown me that healthy nutritious food doesn't have to blow the budget and can be so family-friendly for the kids with a little bit of time and planning following the app. I can feel within myself how much fitter and stronger I am.
My October goal is to reach my original goal of 75kgs which is 4kgs.and my 2018 summer goal is to finally be comfortable and wear a bikini which will involve me toning my legs and stomach and to also reach 70kgs by Christmas.
My 5 budgeting tips are
plan meals and snacks with minimal ingredients that will last for a few days in the fridge If prepared in bulk like veggie sticks, boiled eggs, etc.
double the recipes and freeze meals for the following week. I have found that this has helped me keep my budget down the following week
check the cupboards and freezers and plan around what you already have
change the meat in lunches and dinners based around what meats on special or go meat-free one or two nights a week and then bulk those meals with leafy greens and vegetables
if going to the gym will push the budget, then don't go. There are plenty of ways to exercise without having to spend money on gym memberships. The Healthy Mummy app has been my go to when I want to work in certain areas of my body or if I'm energised and want to do some HIIT or Tabata workouts along with walking.
I'm so excited to be a motivating mummy for October with all you other wonderful ladies. I can't wait to show everyone my way of budgeting. Here is my goal bikini for Christmas."
Laura Lilley says that The Healthy Mummy has been so easy too!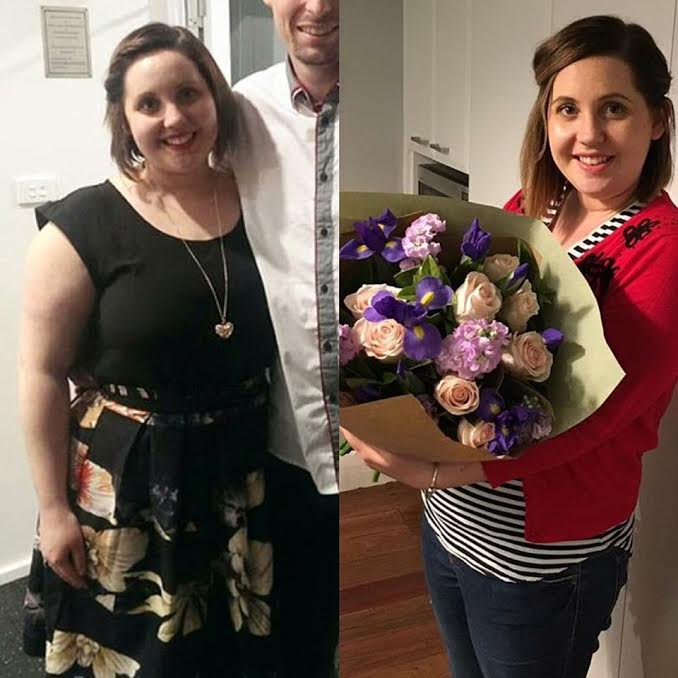 "My weight loss journey has been going on for a really long time, and nothing has been as successful and easy to stick to as The Healthy Mummy!
The before picture is me at my heaviest day, my rock bottom. I was asked to be the MC at my friend's wedding, and on the morning of the wedding, I had to go out and buy a new outfit as NOTHING in my wardrobe fitted me. It was a devastating low. As a teacher, I am someone who spends their days up in front of people, constantly being watched, and the confidence that was distinctly mine was starting to fade.
Not long after, I fell pregnant and discovered I had gestational diabetes. I worked really hard to stay well without the use of insulin and am now a huge advocate for women who've had gestational diabetes, as we are now seven times more likely to develop type 2 diabetes.
I joined The Healthy Mummy this year after the birth of my son Harry in October 2017. Since May, I have lost 6kg, I am learning to love my body (most days) and the money we have saved with The Healthy Mummy meal plans have saved us while I've been on maternity leave.
My budget tips!
Cook in bulk!
Freeze meals and shop in your freezer first.
Shop the specials, even if it means going to more than one place.
Grow your own! It's so satisfying, and it gives us such fun family time in the garden.
Integrate more vegetarian meals into family meal plans. If my husband can do it, ANYONE can do it.
With The Healthy Mummy by my side, I am excited to SMASH my summer goals.
This October I am working towards losing another 2-3kg.
This Summer I would LOVE to be 75kg by Christmas. Only 5kg to go!"
Emma Mirams loves how adaptable the plans are!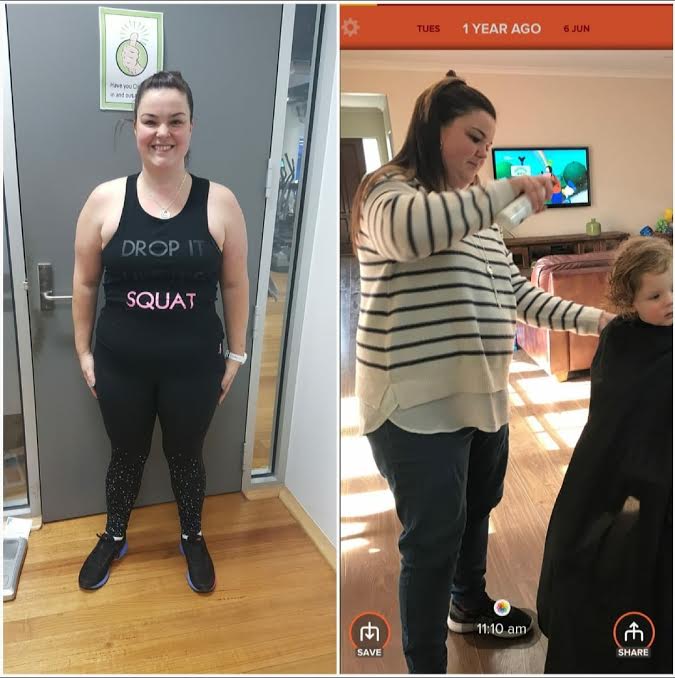 "After plodding along like most mums trying my best to be healthy and lose the baby weight after baby number 2, I found The Healthy Mummy. I'm 36 and mum to my gorgeous 18yr old stepdaughter and my 4yr old girl and 2yr old boy.
I dabbled for the first few months using the free recipes before fully committing and using the smoothies and 28 Day Weight Loss Challenge meal plans. I have lost an amazing 14kgs following the challenges. I generally am dairy free and love how adaptable the plans are and how much more fresh food and variety me and my family eat now.
I have 10kgs to get to my first goal and 17kgs to ultimate goal weight.
My goals for the 100day countdown:
lose 8.5kgs. 
To drink a minimum of two litres of water a day.
To stop after dinner/night time snacking
To do three gym workouts a week as I enjoy weight training.
5 budget tips.
Cook in bulk, its generally cheaper to buy meat in bulk, so by then cooking it in bulk you always have meals on hand for those busy days that would lead to expensive takeaway.
Shop the catalogues or price check online before you head out to see who has the best deals on your bigger items like cleaning products/ coffee/pet food/nappies etc.
Use loyalty programs – between Flybuys and Everyday Rewards both regularly email bonus offers if you spend xxx each week over four weeks get $50 off your shopping. If you're going to shop anyway make it worth your while.
Look for in season produce.. it's generally cheaper and fresher
Stock up on specials. Especially household items like cleaning products or non-perishables. A little each week means not paying full price when you run out."
Sara Klose says she has gone from strength to strength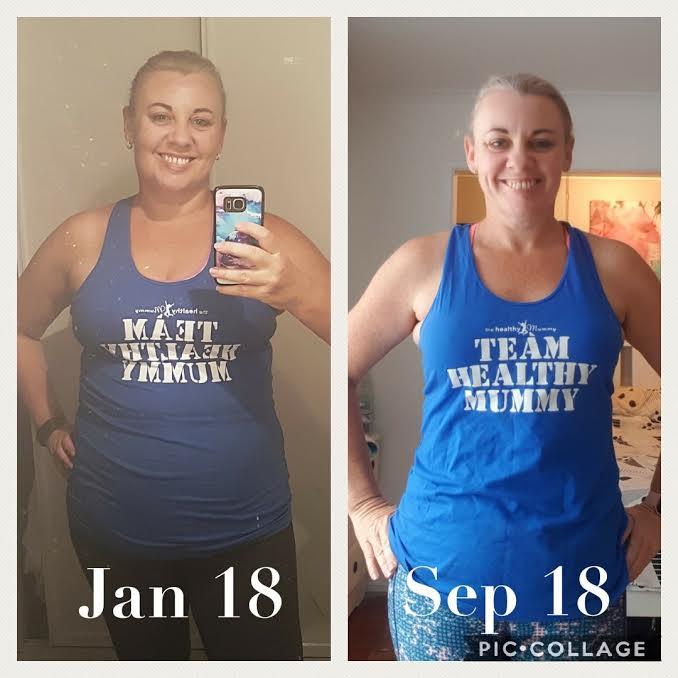 "Hey all! I'm Sara, 37 years old, mum to four amazing kids, wife to an awesome guy! I started out 2018 weighing 98.6kg and I was pretty miserable, hating the way I looked and felt. I signed up to the 28 Day Weight Loss Challenge on the 7th of January and have gone from strength to strength ever since. I now weigh 76.1kg, which is a 22.5kg loss in nine months. I've also lost 92.5cms (20cms from my tummy alone!!) and four dress sizes. I've gone from a couch potato to competing in triathlons, half marathons and I'm training for a full marathon next year!!
My Summer goal is to drop another few kg to get to 68.6 which will put me in the normal BMI weight range for the first time in 17 years, since before I was pregnant with my first!! It's so close I can taste it!!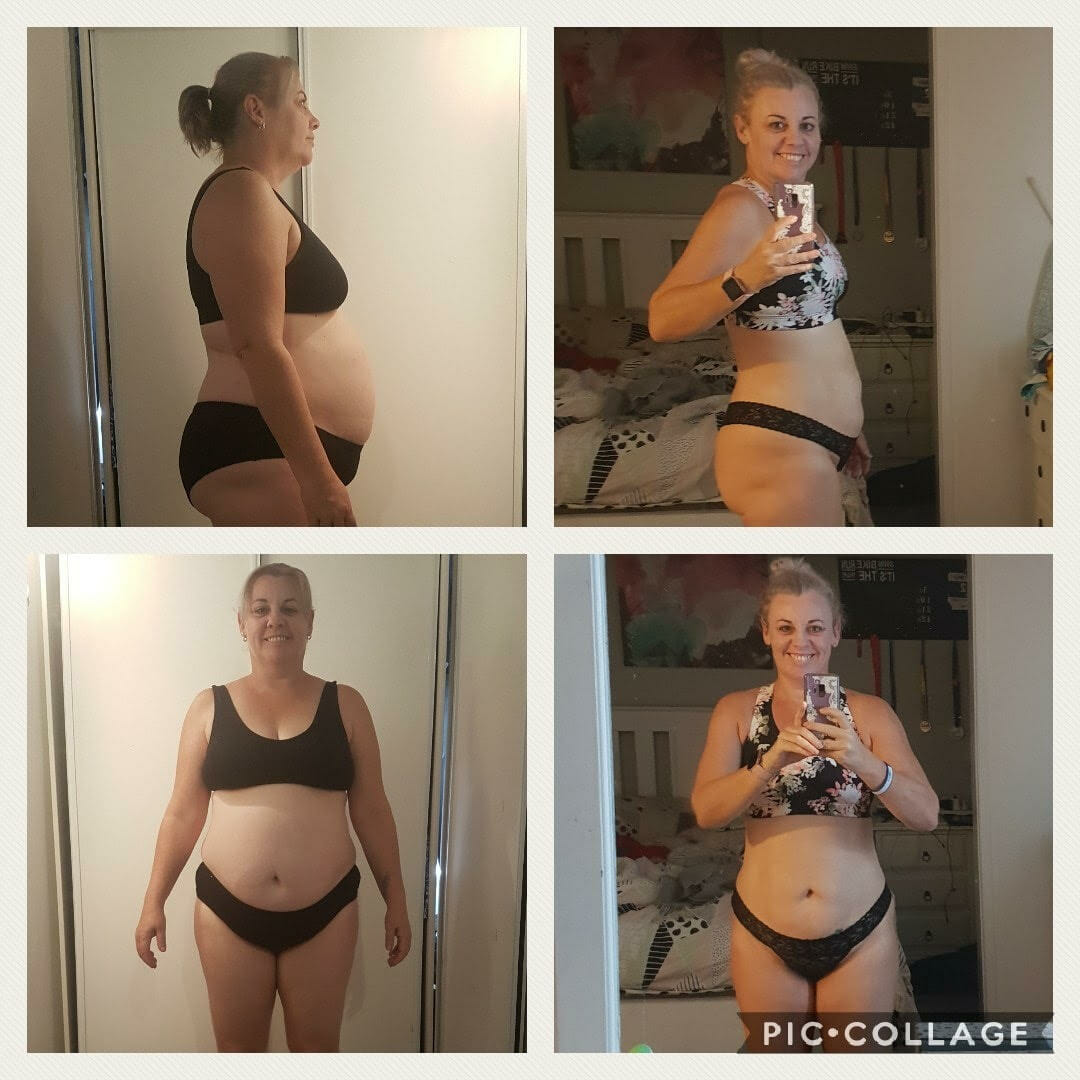 My top tips for budgeting 
Buy in bulk and freeze/store what you can
Repeat snacks on your meal plan so you only have to prep one or two for the week, then freeze/store
Double recipes when cooking so you can freeze extra – a freezer stash is a girls best friend!!
Eat any leftovers for lunch the next day (or again, freeze for your stash)
Shop online and shop from your list – this keeps the cost down as well as keeping temptraction to throw those chips or chocolates into your trolley
So looking forward to being an October Budget 28 Day Weight Loss Challenge Motivating Mum!!!
LET'S DO THIS!!!"
Amy Sidiropoulus says it is the results that have kept her going!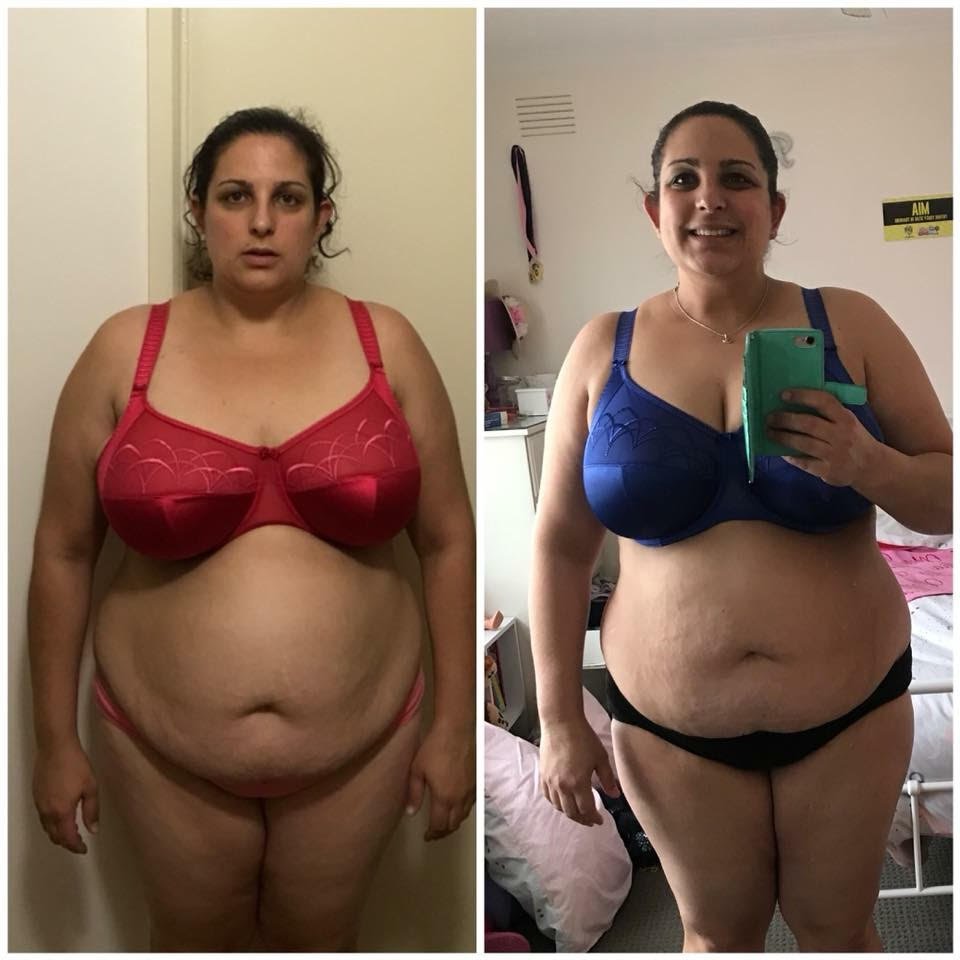 "Hi I'm Amy 30 years old, Mum to two girls 5 & 3 years.  I joined The Healthy Mummy about two years ago and sat on the sidelines for a while watching everyone reach their goals while I was still unhappy. Then one day it just clicked and I started using the smoothies for breakfast and slowly changed all our dinners to The Healthy Mummy ones, I soon saw results and that gave me the drive to keep going. I have lost nearly 10kgs and so many cm. I have so much more confidence now and I love to get to the gym and work out. I'm still not at my goal weight but I know I can get there. 
100 day count down is to lose 10kgs (2kgs down so far) , and try at least 1 new recipe a week. 
Budget tip. 
Write a list and stick to it, I try to adapt the menu so they have like items and can buy/prep in bulk. 
I find making a few extra serves of dinner and keeping for lunches saves time and money too!
Rotate the same snacks for two weeks and pre portion all snacks too."
Well done with your amazing results, mums – keep up the amazing work!
Are you ready to become a Healthy Mummy?
If you are wanting to lose weight and improve your energy – not to mention – help improve your overall health and wellbeing – our 28 Day Weight Loss Challenge is an awesome program to check out.
Our 28 Day Weight Loss Challenge includes:
28 days of at home exercise routines (no gym needed) – with video instruction
Customisable and breastfeeding friendly meal plans (including 7 Day Cleanse)
Time-efficient exercises for busy mums – under 30 mins
Challenge combines Pilates exercises with interval and circuit training (HIIT)
Suitable for basic to advanced fitness levels
Home to thousands of EASY-TO-MAKE recipes!
To learn more about our 28 DAY WEIGHT LOSS CHALLENGE CLICK HERE or purchase our Smoothies.