The 28 Day Challenge App IS HERE
We are SUPER excited to say that our 28 Day Weight Loss Challenge app is now launched.
We can't wait for you to be able to see it and use it!!!
Check out some FAB information about our App.
We hope you LOVE LOVE LOVE the App as it has been created based on customer feedback to be as user friendly to busy mums as possible!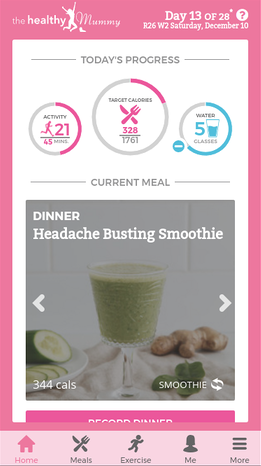 Some of the app features include:
* Home page
– showing new tracking devices at the top i.e. tracking activity, calories consumed 
compared to target and glasses of water drunk.  
Easy to see what next meal is and can swap and customise a meal direct from Hub.

* Meal plan page – can easily see the whole week's meals in different views. Can customise more easily. Can download a pdf of whole week's recipes or an overview of the weekly meal and print out for the fridge.
* Exercise plan page – easily view and complete daily workouts and record what you've done in your activity tracker for the day.

* Your goal weight – when first signing in, the app takes you through questions to work out what your goal weight is/what your BMI and BMR is.

* Serve size – set your chosen serve sizes to be the default serve size settings on all meals to save you time – for e.g. – breakfast 1, lunch 1, dinner 4

* Your challenge plan – when first signing in, the app shows you your target calories for the day, depending on how much weight you are wanting to lose. And you can choose from a selection of meal plans i.e. standard/budget/higher calorie/vegetarian etc.

* Record activity – record whether you completed the Challenge workouts or did something on top of or instead of. You will be able to synch in FitBit steps and workout minutes here too if you have one.

* Record meal – record whether you ate the meal in the meal plan or you ate something completely different or on top of the meal plan recipe e.g. you ate an apple with your morning snack etc.

* Easier filter for searching recipes when customising – can choose between meal types, dietary requirements, Challenge themes etc.