10 Healthy Snacks To Fight Sugar Cravings
You know following a healthy pregnancy eating plan or enjoying healthy snacks like The Healthy Mummy Pregnancy Smoothies are a good idea when you're pregnant, to get the nutrients you and your baby need for development and energy. Sometimes those strange cravings come to play and all you want to eat are unhealthy options.
Sugar is often a craving many pregnant women feel like. How do you satisfy these sugar cravings without opting for a packet of lollies, too many squares of chocolate or a couple of slices of cake?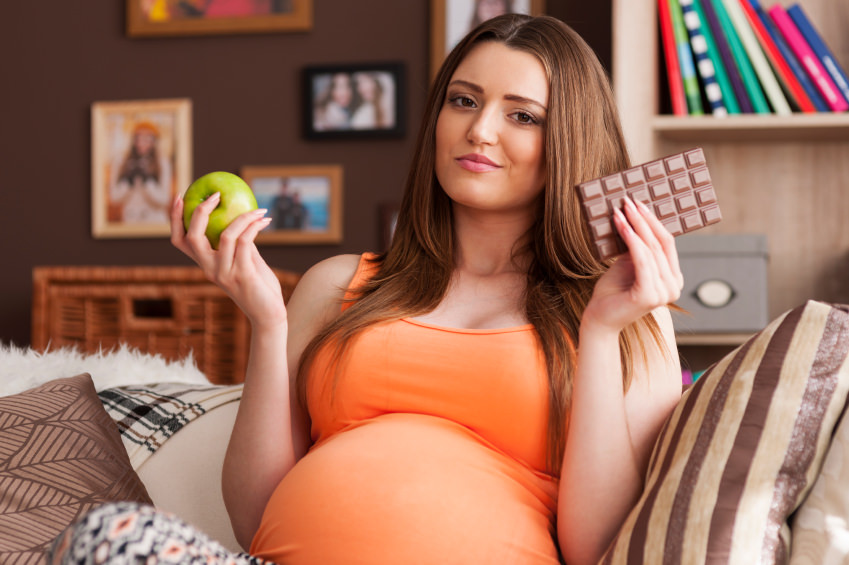 Here are our top 10 healthy sugar craving busters
Chromium is an important mineral to help maintain blood sugar levels. Grapes are naturally high in chromium so have a ½ a cup serving to help diminish cravings for processed sugar. ½ cup green seedless grapes = 53 calories
Cacao fudge – Cacao is high in iron and magnesium – extremely important nutrients in pregnancy. You can make your own home made fudge using 1/4 cup of raw cacao, 30ml coconut oil, 1 tbsp of almond butter and 1tbsp vegetable oil. Combine cacao, coconut oil and almond butter in a heavy bottomed pan and stir until melted. Remove from heat and then add the vegetable oil after the mixture has slightly cooled. Press in a shallow cake tin. Cover and refrigerate for 2 hours. Makes 4 serves. 140 calories per serve.
Cinnamon Toast – Cinnamon has been shown to help lower blood glucose levels – which can be helpful in curbing sugar cravings . Toast a slice of whole-grain bread and top with ½ teaspoon of butter (or substitute), ¼ teaspoon of stevia, and a sprinkle of cinnamon. 1 slice = 114 calories
Banana Ice cream – Bananas contain a high amount of fibre which will keep you full and keep cravings away. Chop up one ripe banana, place in an airtight container and freeze overnight. Blend in a food processor until smooth by using a variation of high and low speeds. Scrape sides regularly. Once you have reached a smoothie consistency, freeze for approx. 2 hours and serve. 1 serve = approx. 116 calories
A Green apple will temporarily give you a good boost of energy, provide a good amount of fibre and is a great portable snack. It will take you through to your next main meal and take your mind off processed sweets. 100g serving of apple = 50 calories
Date balls – Dates are naturally sweet and full of nutrients for your unborn bub. You can try this simple recipe for a healthy treat: 4 x pitted medjool dates (raw), ½ tsp cacao powder and ½ tsp flaxseed meal. Process ingredients until combined. Roll into bite sized balls and dip in melted coconut oil. Finish them off by rolling in some unsweetened shredded coconut. 2 Balls = 132 calories.
Hot chocolate – A healthier version of hot chocolate uses raw cacao, almond milk and stevia. This creamy dessert drink will satisfy your sugar cravings guaranteed. 250ml mug = 115 calories.
Home Made Protein Bar – Raw honey is wonderful as it contains many natural antibacterial properties. To make home made protein bars, heat 1 tbsp of almond butter & 1 tbsp of honey in a saucepan on low heat until melted. Stir & remove from heat, pour mixture over 1/2 cup of oats in a large bowl. Stir thoroughly. Pour & press batter into a lined square baking dish and bake at 180 degrees for 15 minutes. Remove & let cool. Makes 2 serves = 188 calories per serve.
Coconut oil by the spoonful. Coconut oil is a medium chain fatty acid and it helps keep you full – kicking sugar cravings to the curb. It contains a high percentage of lauric acid – which will help build baby's immune system. It contains antibiotic properties and is also great for your teeth. During pregnancy we tend to get sensitive gums so it is beneficial to incorporate coconut oil by the spoonful a few times per week. 1 tablespoon has 119 calories.
A smoothie containing fresh fruit and yoghurt is perfect to banish sugar cravings. Try the new Healthy Mummy Pregnancy Smoothie with some yoghurt (to increase calcium), diced pineapple – which contains bromelains to help improve digestion and 200ml juicy Valencia oranges for that extra citrus tang = 360 calorie per serve.
Click here to visit our pregnancy products shop.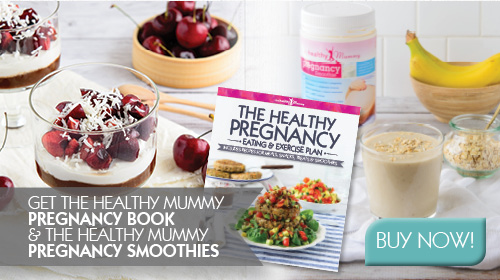 Disclaimer: Always speak to your doctor before changing your diet,taking any supplements or undertaking any exercise program in pregnancy. The information on this site is for reference only and is not medical advice and should not be treated as such, and is not intended in any way as a substitute for professional medical advice..
Our plans promote a health weight gain in pregnancy to benefit the mother & baby and you can read more on this here 
The owners of The Healthy Mummy do not make any representations or warranties, express or implied and shall have no liability or responsibility to any person or entity with respect to any loss or damage caused or alleged to be caused directly or indirectly by the information contained herein and nothing in this disclaimer will limit or exclude any liability for death or personal injury resulting from negligence, limit or exclude any liability for fraud or fraudulent misrepresentation, limit any liabilities in any way that is not permitted under applicable law or exclude any liabilities that may not be excluded under applicable law.