Chinese Chicken Noodle Soup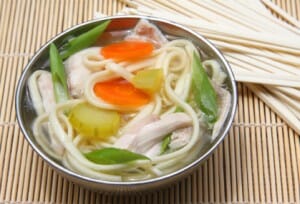 This Chinese Chicken Noodle Soup is cleansing and invigorating and could be part of your healthy eating plan.
It is also very quick if you have some leftover BBQ chook in the fridge. Enjoy our delicious Chinese chicken recipe!
Chinese Chicken Noodle Soup Recipe
Serves 4 people
Prep time: 5 minutes
Cook time: 10 minutes
Ingredients
1 tbs of peanut or sesame oil
4 spring onions (or 6 small ones)
2 cloves of garlic
2 chicken breast (either from a BBQ chook or poached in soup and shredded. If fresh this will take a bit longer)
2 carrots sliced finely
1 bunch of bok choy
4 mushrooms (your choice of style)
1 tbs of oyster sauce
1 tbs of fish sauce
8 cups of water or stock
2 portions of rice noodles
Directions
Sautee the chopped garlic, and spring onions for a few moments
Add in the mushrooms, bok choy and carrot.
Then add in the water/stock, sauces and chicken and bring to boil
Cook for around 3 minutes then add in the noodles and cook for a further 5 minutes. Another delicious Chinese Recipe!
Calories 250 per serve
If you are ready to lose weight then The Healthy Mummy plans offer a healthy and safe exercise and diet routine that are safe if you are breastfeeding