Beautiful bride says "One of the best things about The Healthy Mummy is the friendships I've made".
BEAUTIFUL bride Kate Jacklin (now Kate Kernan) is walking proof of the INCREDIBLE things that can happen when you become part of the Healthy Mummy weight loss community.
Not only has she transformed her body and mind to become the confident mum she is today, she recently married her soulmate while being surrounded by many AMAZING and SUPPORTIVE friends she met through the Healthy Mummy community.
Read her heart-warming story below.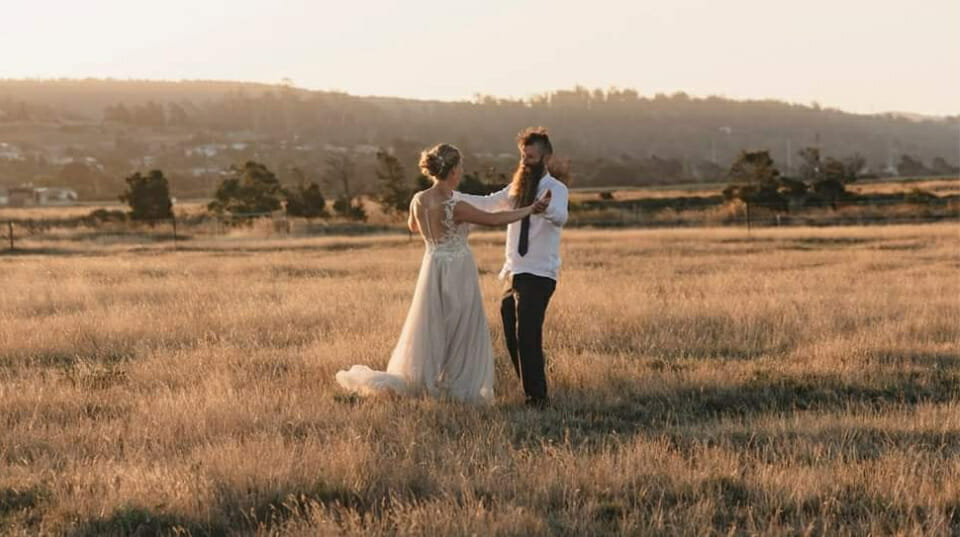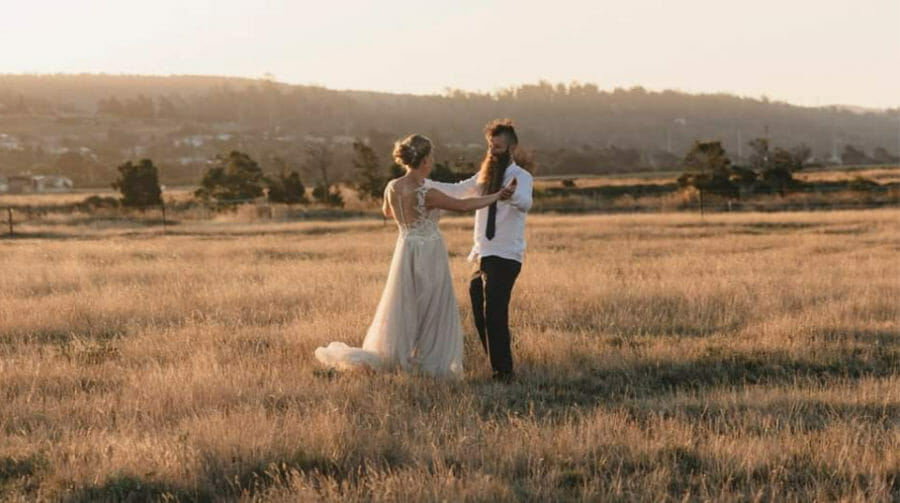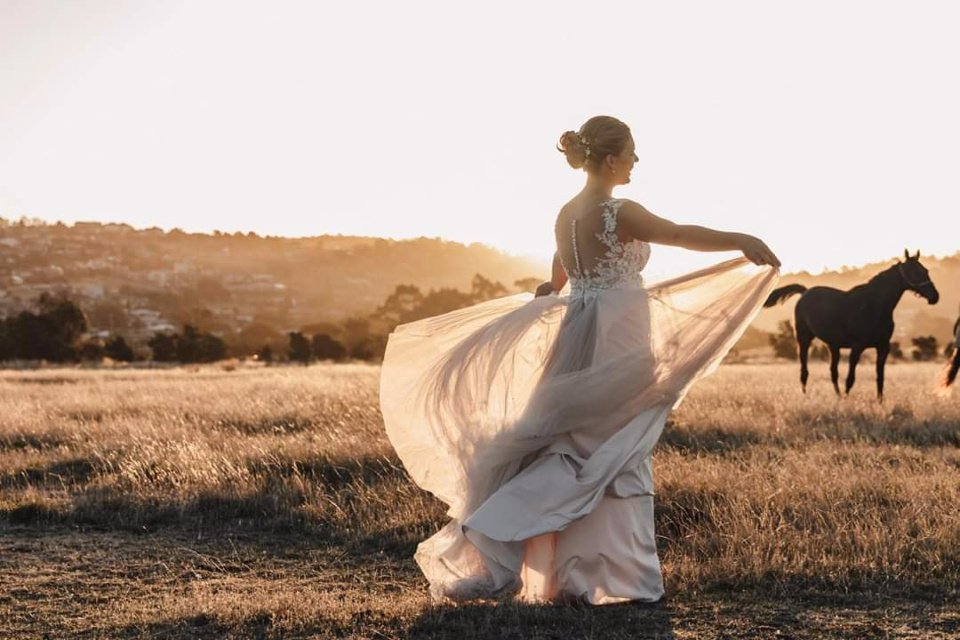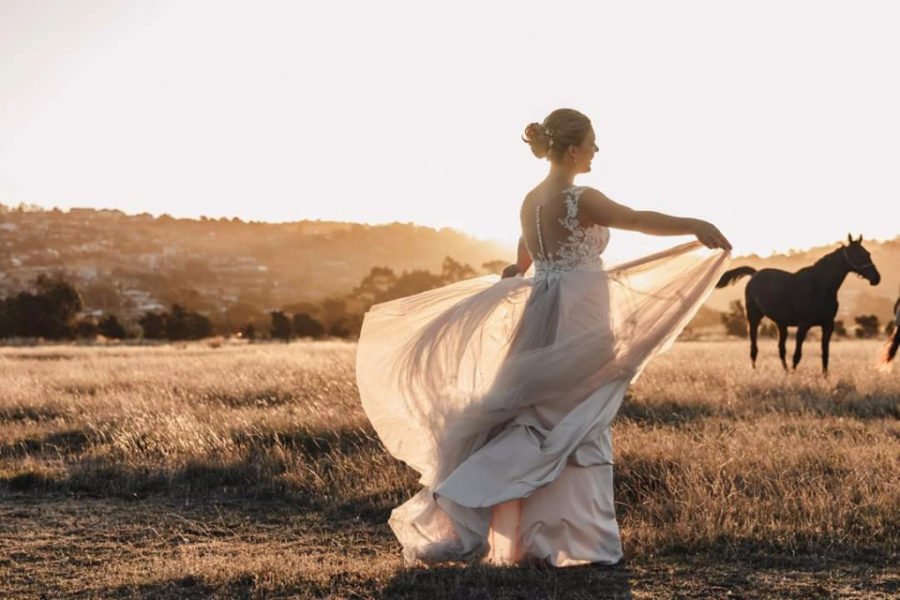 Looking at Kate's wedding photos it is hard to believe this STUNNING bride ever lacked confidence but she says "before The Healthy Mummy I was unbelievably shy. I would barely leave my house or attend events. The Healthy Mummy has helped me find a side of me that I never knew existed".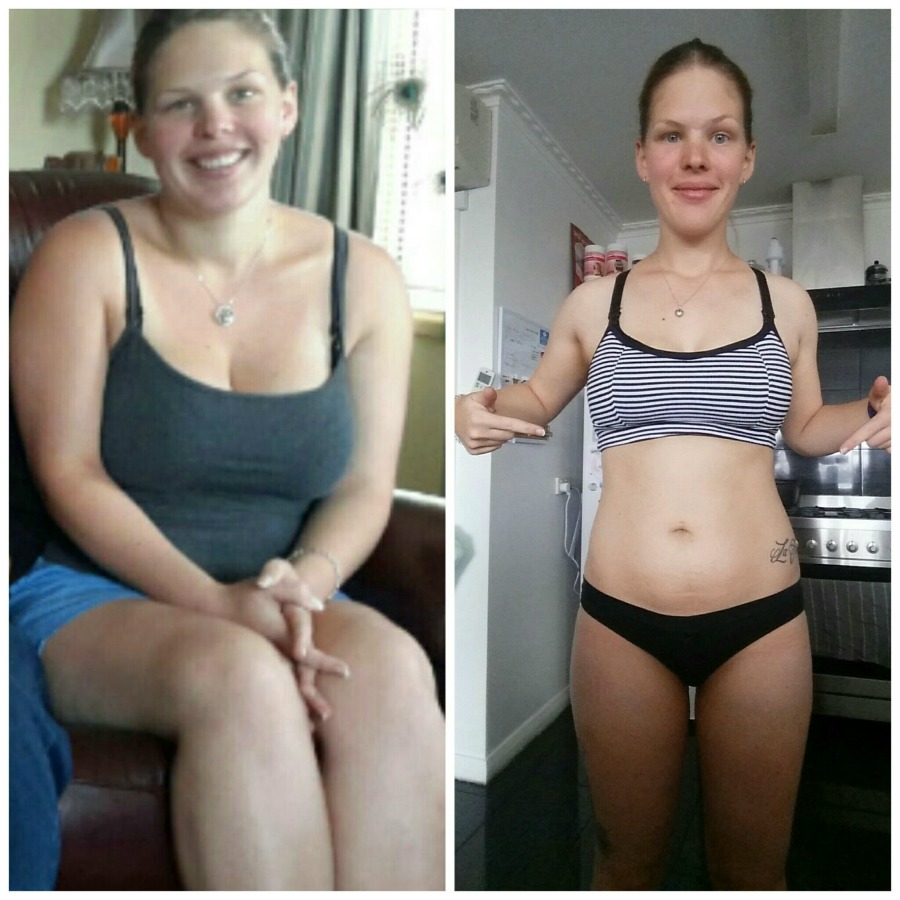 Kate discovered The Healthy Mummy in 2015. By following the Healthy Mummy 28 Day Weight Loss Challenges and Smoothies she was able to lose 12kg following the birth of her daughter and subsequently 14kg following the birth of her son.
Read more about Kate's weight loss journey here.
To this day she continues to maintain her weight by following the Healthy Mummy recipes on the Challenge App and enjoying the Smoothies, supplements and in the lead up to her wedding, with The Healthy Mummy Meals to You.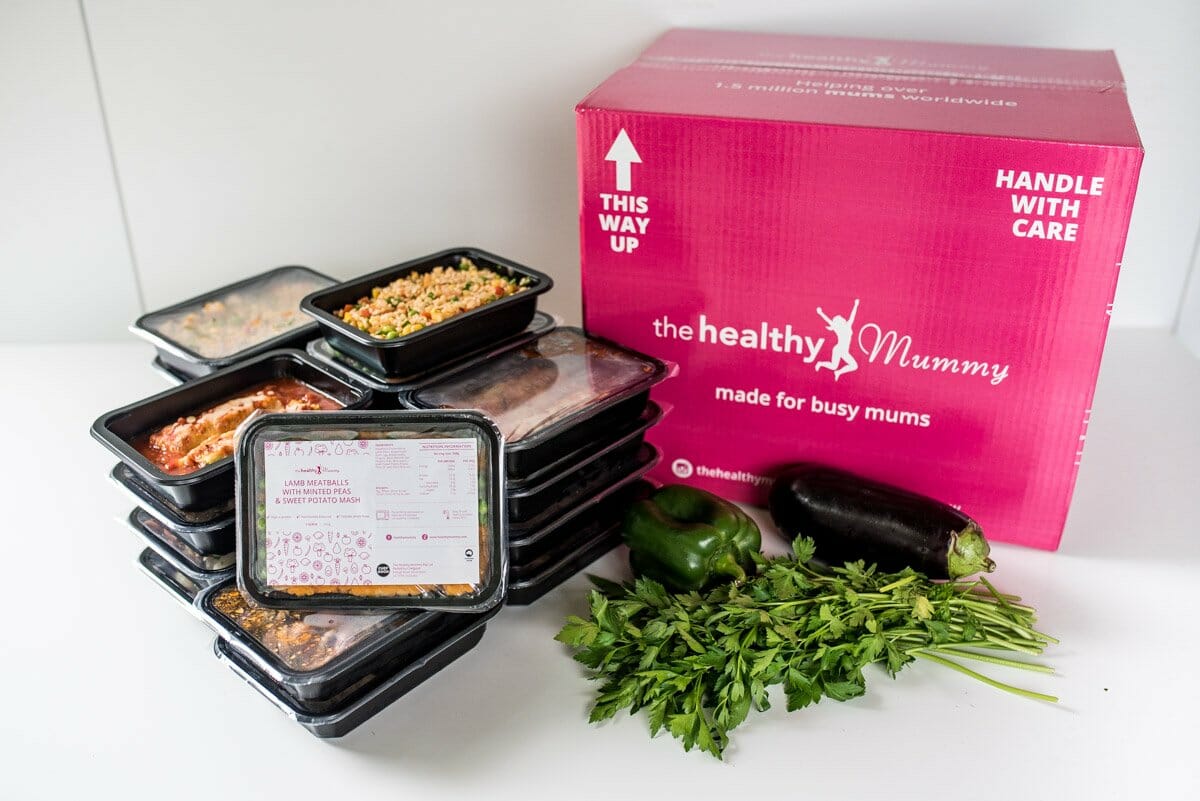 She says "These ready made meals that were delivered to my house made the busy weeks leading up to my wedding so much easier!".
Becoming body confident "I felt amazing"
Kate says "If it wasn't for The Healthy Mummy there would be no way I would have had the confidence I did on my wedding day. I felt absolutely amazing!. The most confident I have ever felt.
The Healthy Mummy has taught me to love my body, even if I am not at a particular size.
From following The Healthy Mummy and learning from all the gorgeous women in the community I have learnt when my I am the happiest, my body is at it's healthiest and that is right now!".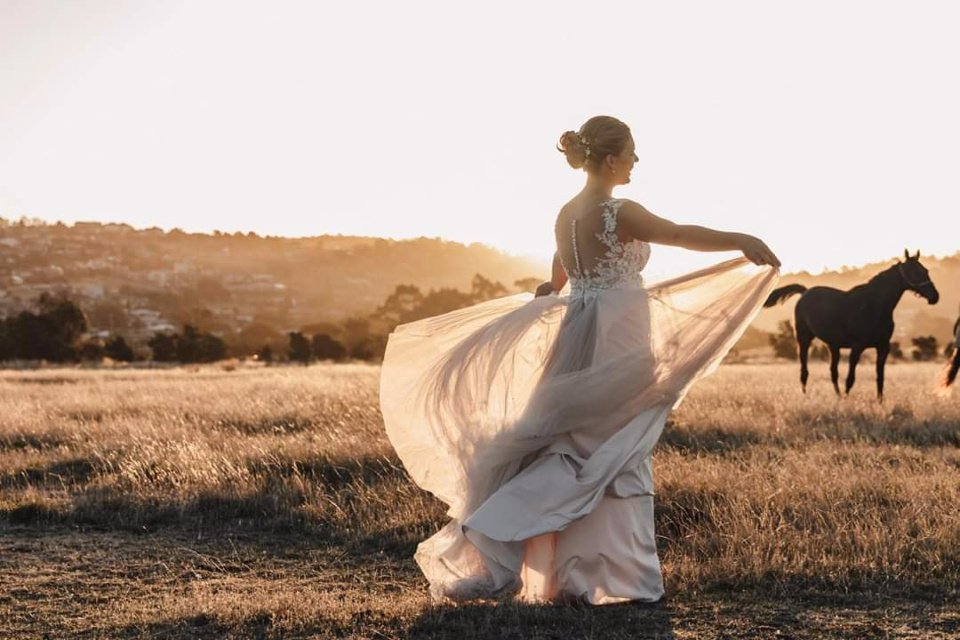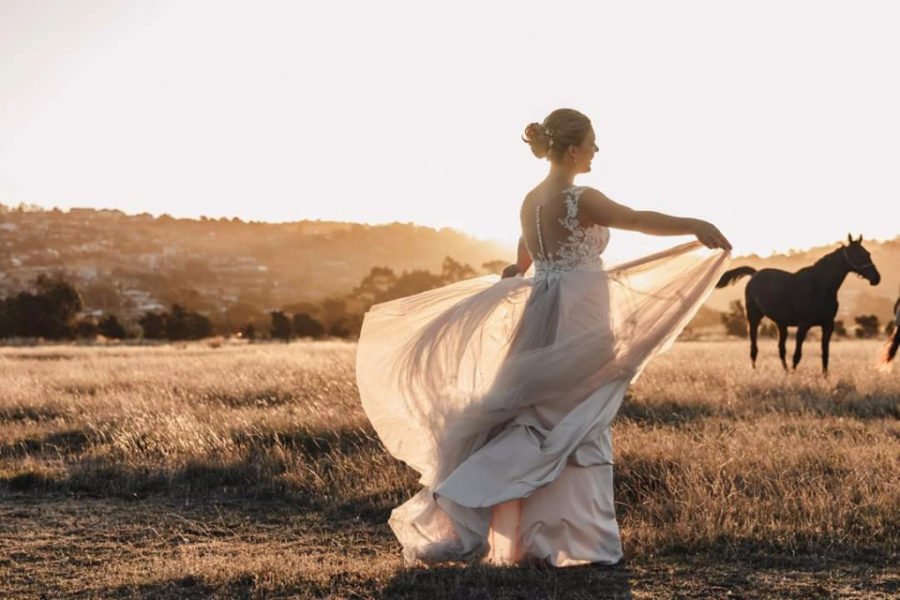 So many INCREDIBLE friendships
When Kate joined The Healthy Mummy her goal was to lose her baby weight, but what she didn't anticipate is all the INCREDIBLE friendships she would make along the way.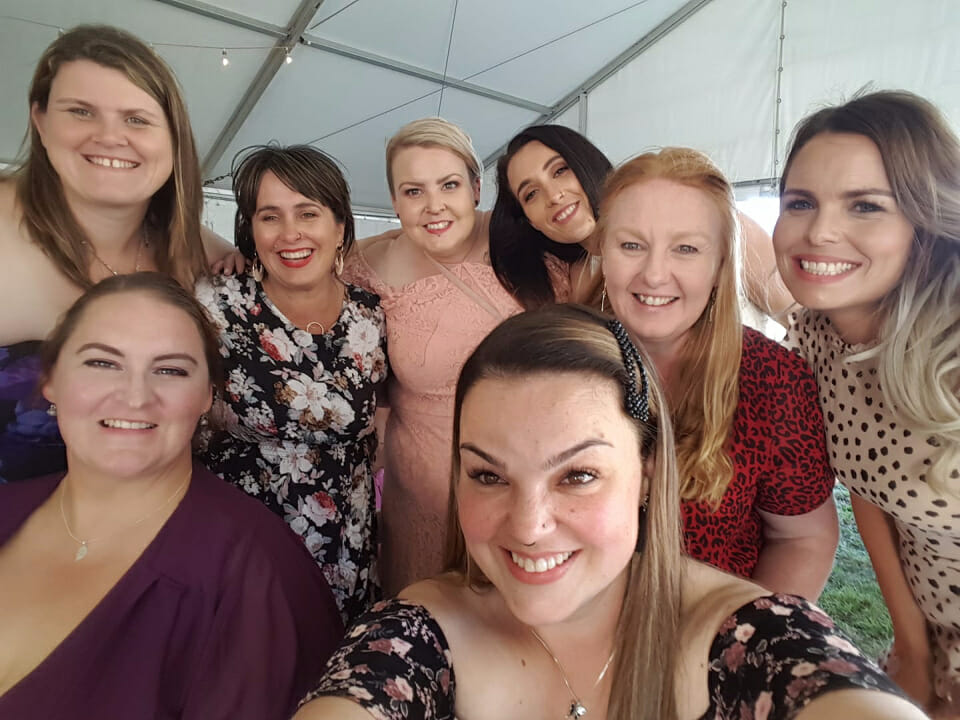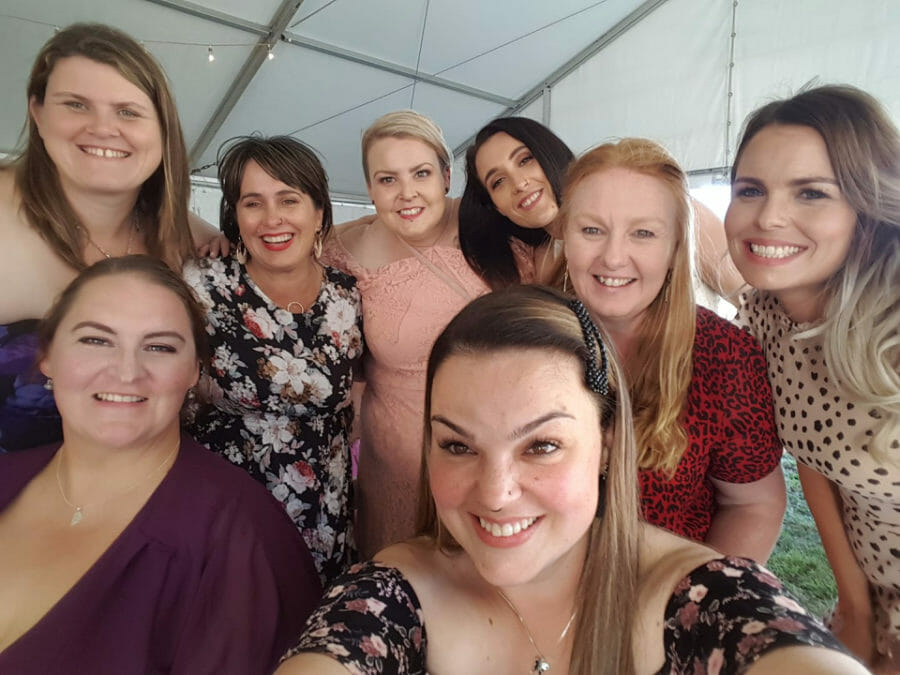 So much so, that many of her friends who she met through The Healthy Mummy community were there to support Kate on her BIG DAY (left to right back row: Tegan Dennis, Michelle Knight, Amy Atkinson, Melanie Arnold-Stemm, Melanie Toman, Cassie McKay (front row) Stephanie Payne and Emma Mirams.
Kate says "I got married on the weekend and guess what? I had a large portion of my gorgeous Healthy Mummy tribe right there celebrating with me!"
I have been following The Healthy Mummy 28 Day Weight Loss Challenges for almost 5 years now and in this time I have had great achievements, met goals and made SO many incredible friendships.
I'm so thankful for everything The Healthy Mummy has done for me".
"I invited as many as I could"
Kate has been involved in the local Healthy Mummy Support Groups for a number of years now and has enjoyed several catch ups with other Healthy Mummy mums throughout the years.
She says "We had a group of Healthy Mummy mums from across Australia come over to Launceston for a weekend in June 2018, then another different group of Healthy Mummy mums came over in July 2019.
We have all grown so close I invited as many as I could to celebrate my special day with me!".
"It was an honour to have them at my wedding"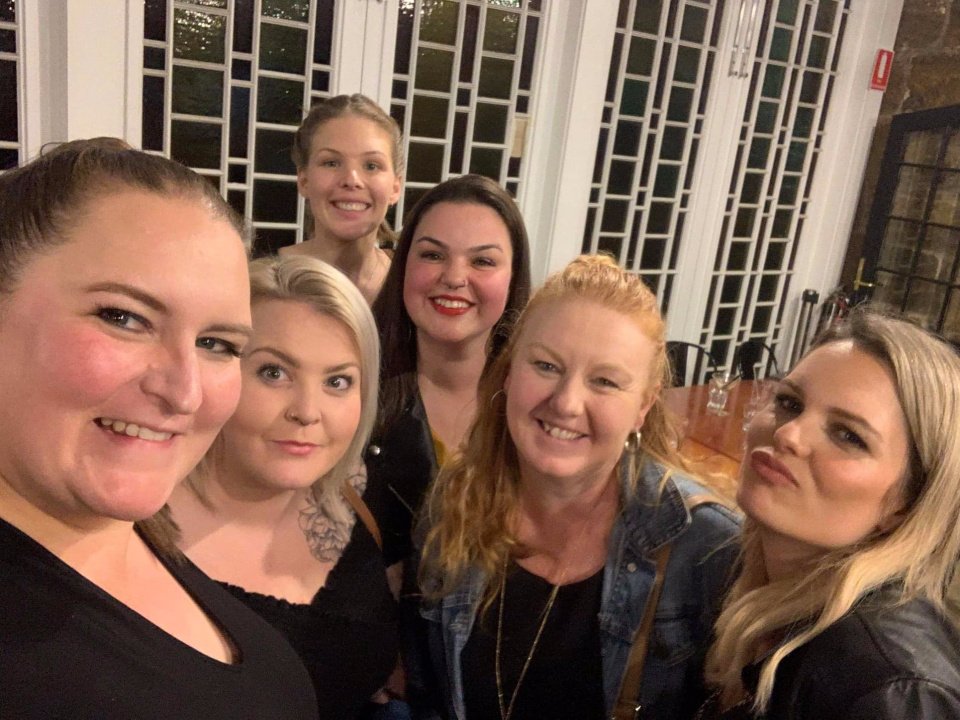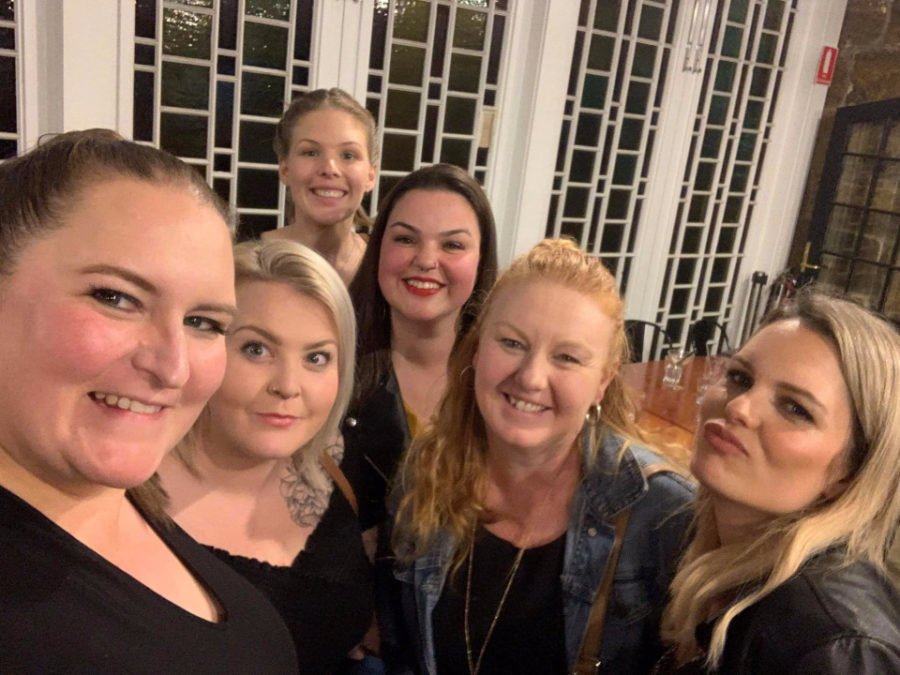 "Having all the amazing Healthy Mummy mums from across Australia here on my special day and supporting me was the most AMAZING feeling. So hard to describe! It was an absolute honour" says Kate.
"Who knew a company such as this could create so many amazingly unbelievable friendships and moments in life".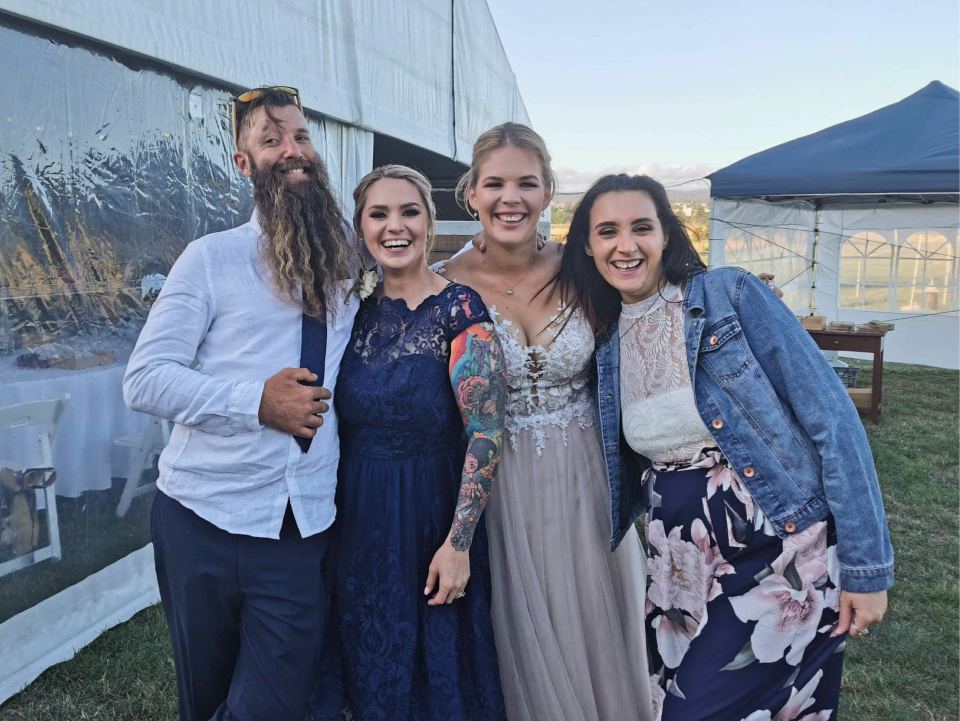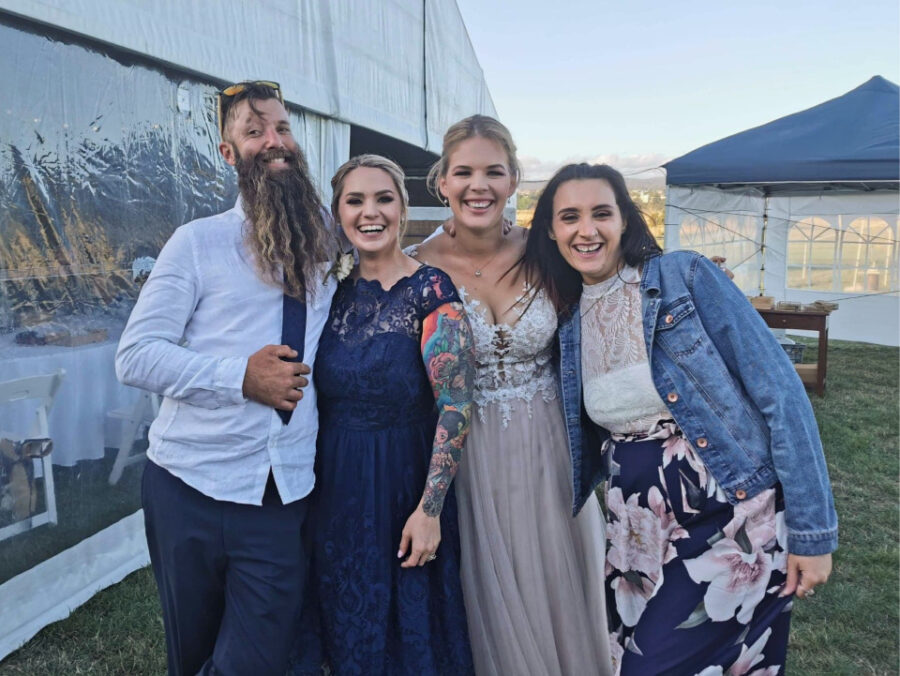 "In fact, one of my Bridesmaids, Alicia Whitbread was in the first group of Healthy Mummy mums to visit in 2018.
We were in almost daily contact before and have been in daily contact almost every day since.
I am so lucky and so so thankful!"
The Ultimate Wedding Gifts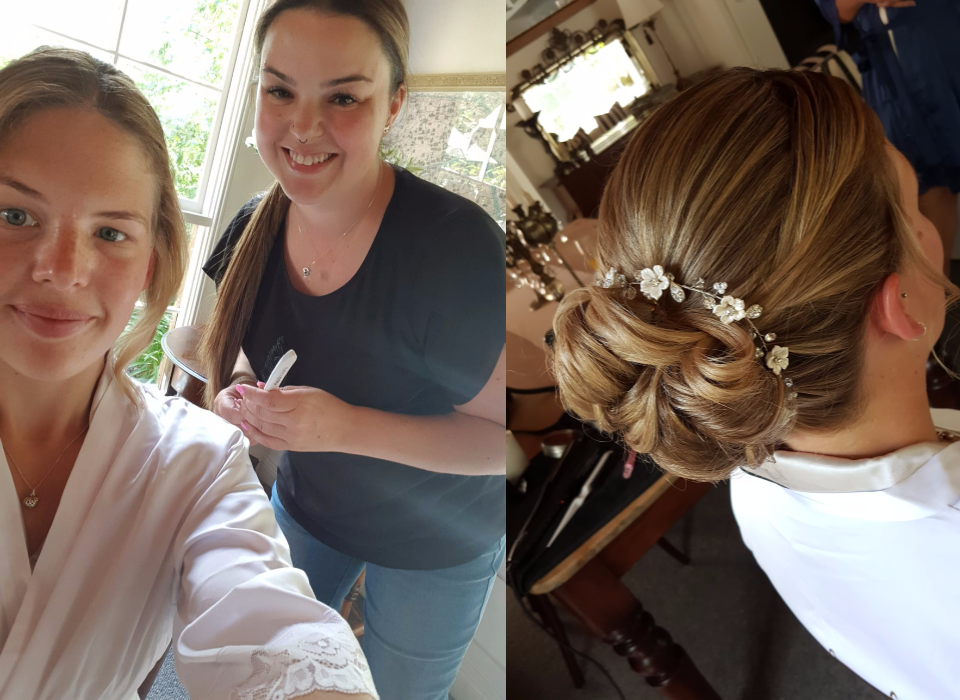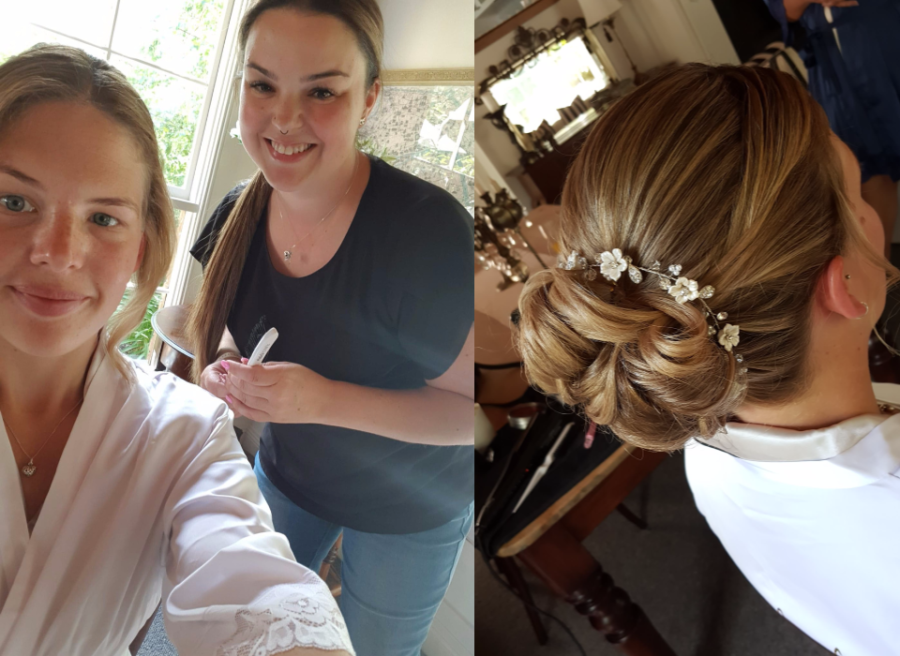 As a wedding gift, Kate's friend, Healthy Mummy Consultant Emma Mirams flew in to do the hair for the entire bridal party, including Kate and her children. Wow!.
Emma Mirams was thrilled to be part of Kate's big day. She says "All of us have travelled from near and far to celebrate in the joy, that is the marriage of the incredible Kate Kernan today. She made the most beautiful bride.
The community we have here at Healthy Mummy is beyond special and we are all privileged to be a part of it".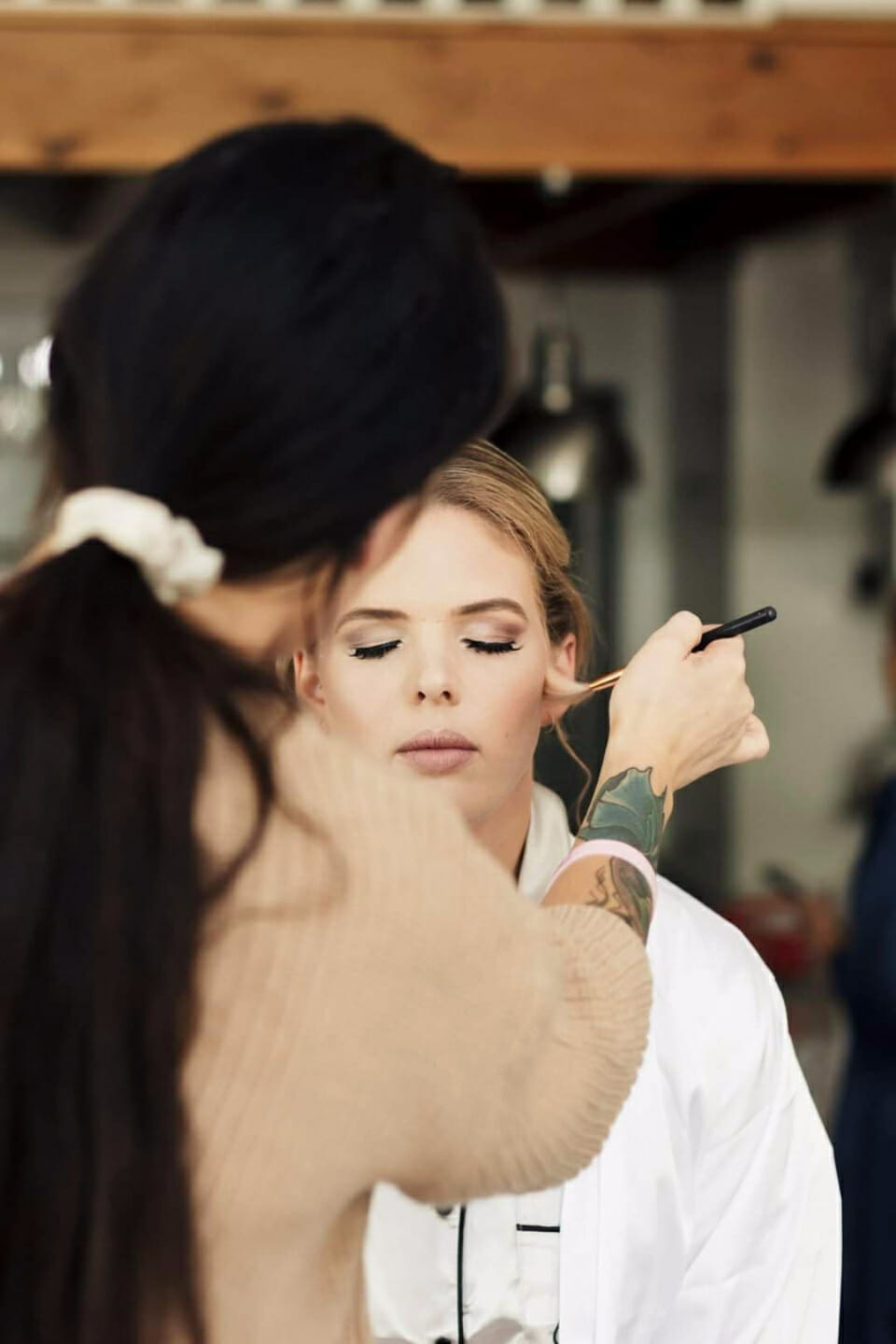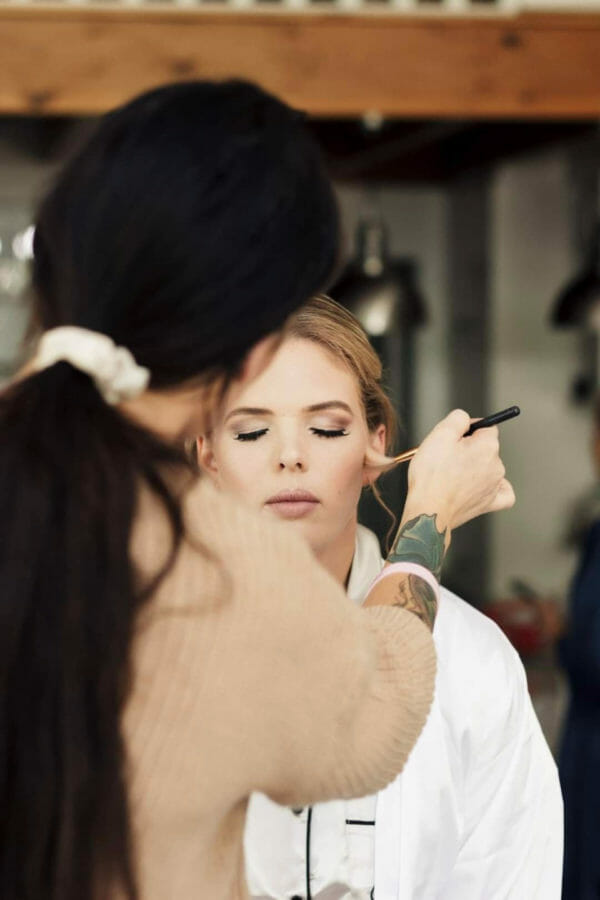 And Healthy Mummy Consultant Michelle Knight flew her daughter Danae in to do makeup for the whole bridal party and Kate's mum as her wedding gift.
What an incredibly generous and thoughtful thing for these ladies to do!
Our Healthy Mummy community really are the BEST!
Congratulations Kate and Justin! Thank you for sharing your photos with us. We wish you a long, healthy and happy future together. From the Healthy Mummy team.
If you would like to be part of the Healthy Mummy community you can join the free Private Healthy Mummy Facebook Support Group.
The Healthy Mummy is all about helping mums transform themselves both physically and mentally and so that they can live their happiest and healthiest lives.
If you are ready to get in the best shape of your life, check out our 28 Day Weight Loss Challenges.
Join the 28 Day Weight Loss Challenges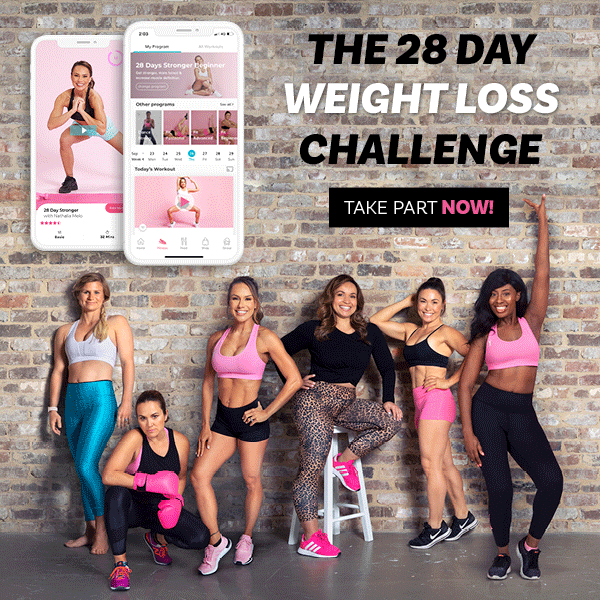 Real mums. Real results!
We've proudly helped millions of mums transform their health. Mums just like you completely transforming their health and bodies. You can do it too (and it's easy!)
The 28 Day Weight Loss Challenge is the mums only 5 star rated app with over 1.6k reviews in 8 weeks!!
You get unrestricted access to :
● Nutritionist & chef designed weekly meal plans
● Personal Trainer crafted At-home workouts- 28 minutes and under
● Daily Motivation from My Coach
● Personalised Shopping lists to make life easy
● Over 4,000 healthy and delicious recipes at your fingertips
● REAL TIME support from The Healthy Mummy Team and OVER 200,000 other mums
Want more? Read 5 mums motivate each other and lose 200kg. Now they finally meet.
Mum slims down 45kg for wedding and shocks guests
Mum reached her wedding day weight loss goals by A LOT