10 Delicious and Healthy Egg Recipes
Sunny side up, hard boiled, baked, or mixed into your fried rice– whatever way you like your eggs, it's important to note just how good they are for your body!
Sunny side up, hard boiled, baked, or mixed into your fried rice– whatever way you like your eggs, it's important to note just how good they are for your body!
Eggs are an amazing! They are inexpensive, versatile, a pantry staple and can be enjoyed in many ways. Whether it's for breakfast, lunch or dinner.
While yolks often have had a bad wrap, often being blamed for pushing cholesterol levels up, they are in fact not all bad for you.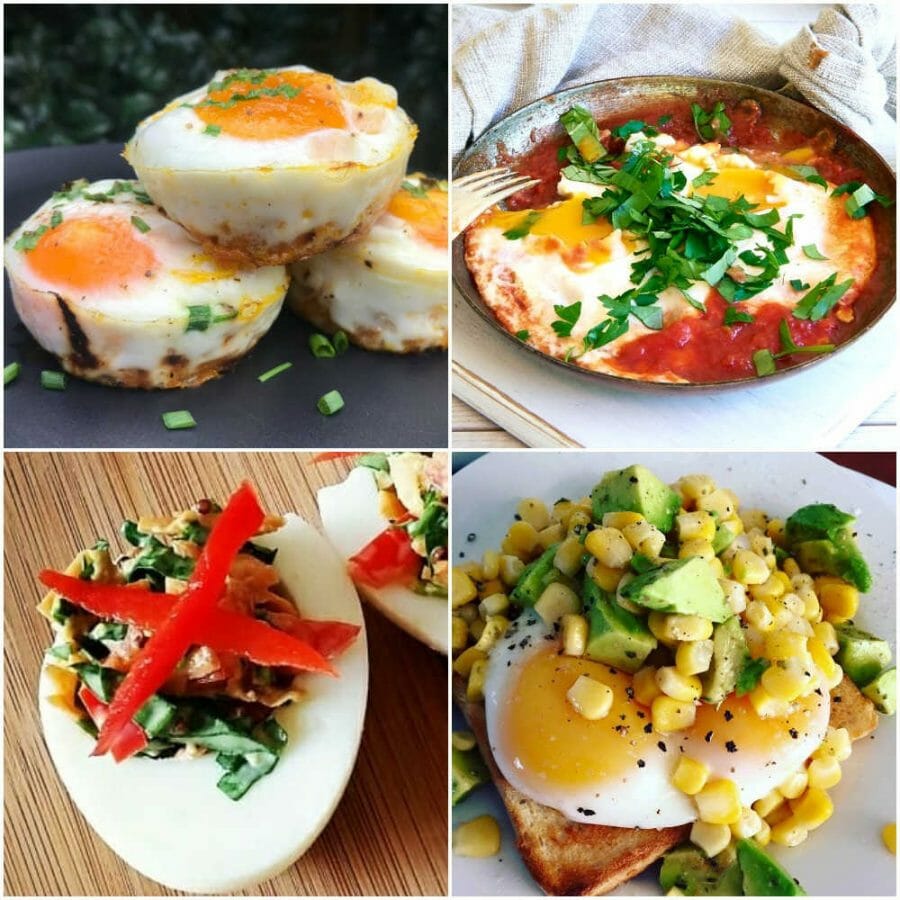 Research states that eating an egg – not just the whites – a day can help reduce your risk of stroke as they are low in saturated fat.
What's more, eggs are rich sources of vitamin D, B6, B12, selenium and omega fatty acids, plus they also contain minerals such as zinc and iron.
A medium egg contains: 11g of fat, 1.1g of carbs, 124mg of sodium and 13g of protein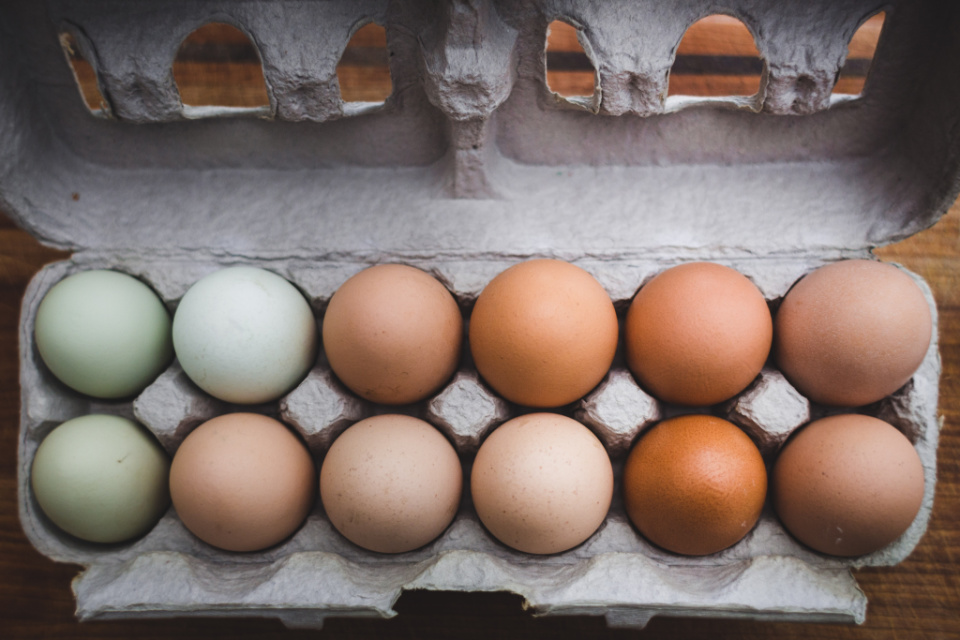 Read more:
How to cook the perfect boiled egg
Research reveals the health benefit of a daily egg
10 delicious and healthy egg recipes
Eggs are a cheap and nutritious meal option. You can serve scrambled or poached with a slice or two of wholegrain toast and a side of spinach, mushrooms or tomato, or make an omelette, using whatever veggies you have needing to use up. The 28 Day Weight Loss Challenge has heaps of amazing healthy egg recipes just like these.
1. Mexican Breakfast Wrap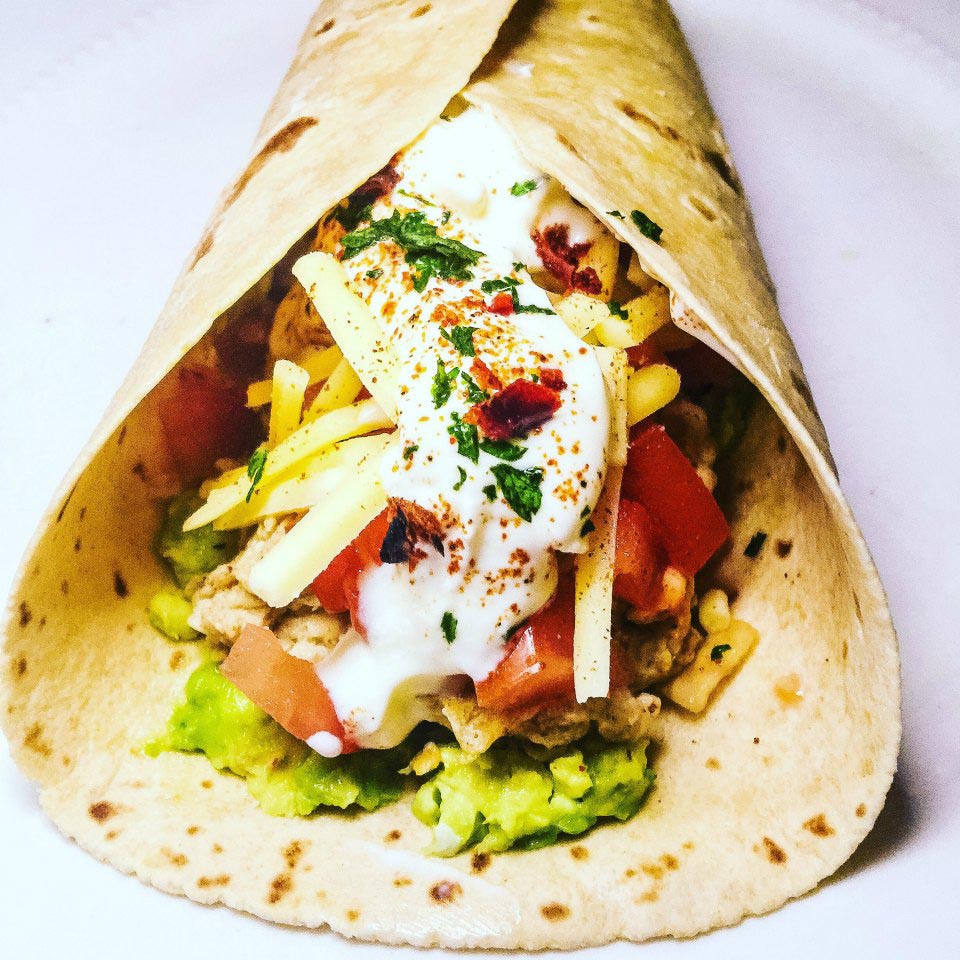 Ideal for a weekend breakfast or a busy breakfast-for-dinner weeknight. They're quick, easy and highly nutritious – A perfect addition to your 28 Day Weight Loss Challenge healthy eating plan. Another delicious  Vegetarian Mexican Recipes
345 calories per serve
2. Egg with corn salsa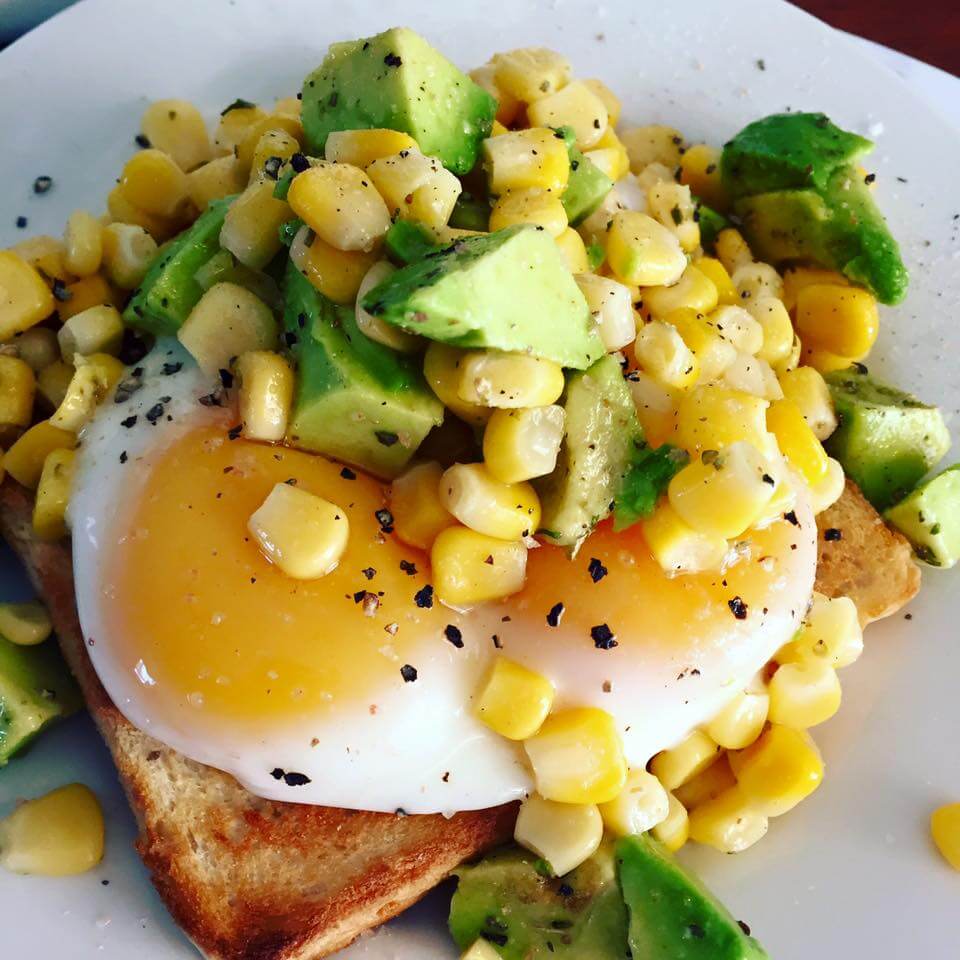 A delicious, budget friendly breakfast that can be made for one or for the whole family.
You could prepare a larger batch of the salsa to enjoy throughout the week and save time in the morning with food prep.
This recipe comes from our 28 Day Weight Loss Challenge and is very BUDGET FRIENDLY, coming in at just $1.90 per serve.
Get the egg and corn salsa recipe here.
3. Egg Cup Salad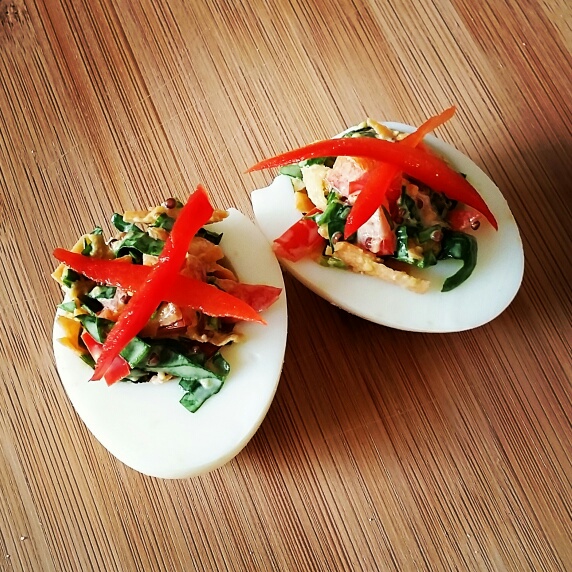 Any salad combination can be used- the options are endless! Don't throw away the egg yolks, they can be enjoyed as a separate snack, sprinkle over vegetables or spread over wholegrain toast.
Get the recipe for our Egg Salad Cups here!
4. Egg, bacon and kale salad
Bacon and eggs in a salad? Yes please! This delicious bacon, egg and kale salad makes for an easy lunch or dinner with a breakfast twist.
5. Scrambled eggs with kale in miso broth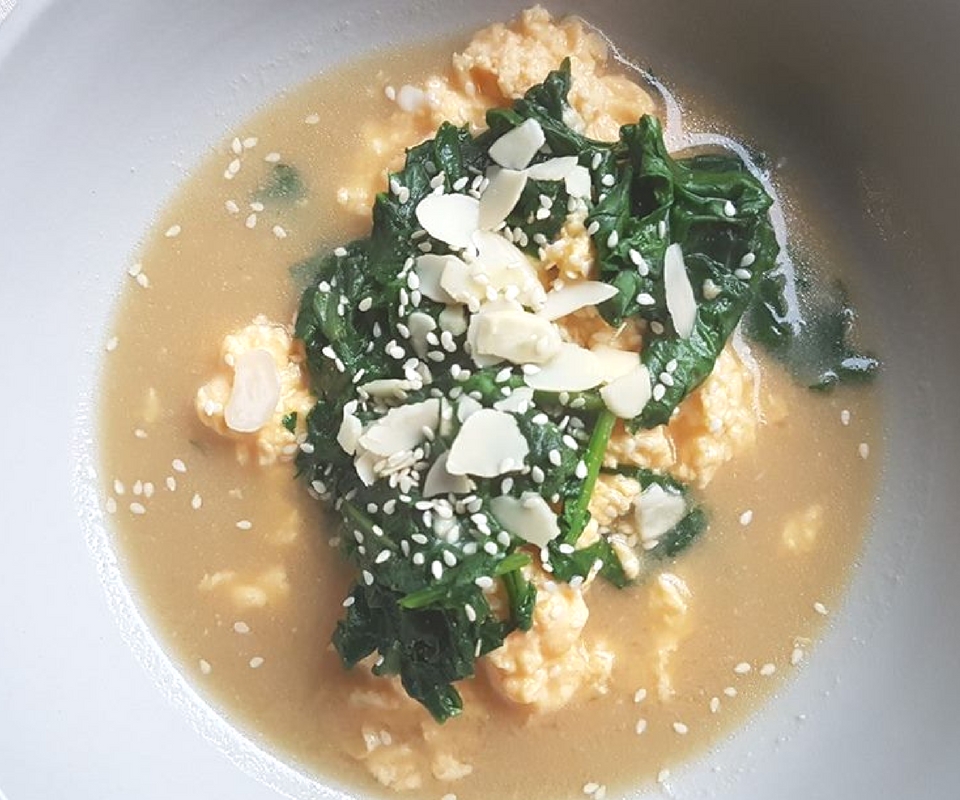 It's a simple budget friendly Japanese inspired breakfast broth that's packed with protein to get your day started with a boost.
6. Sweet Potato and Baked Egg Hash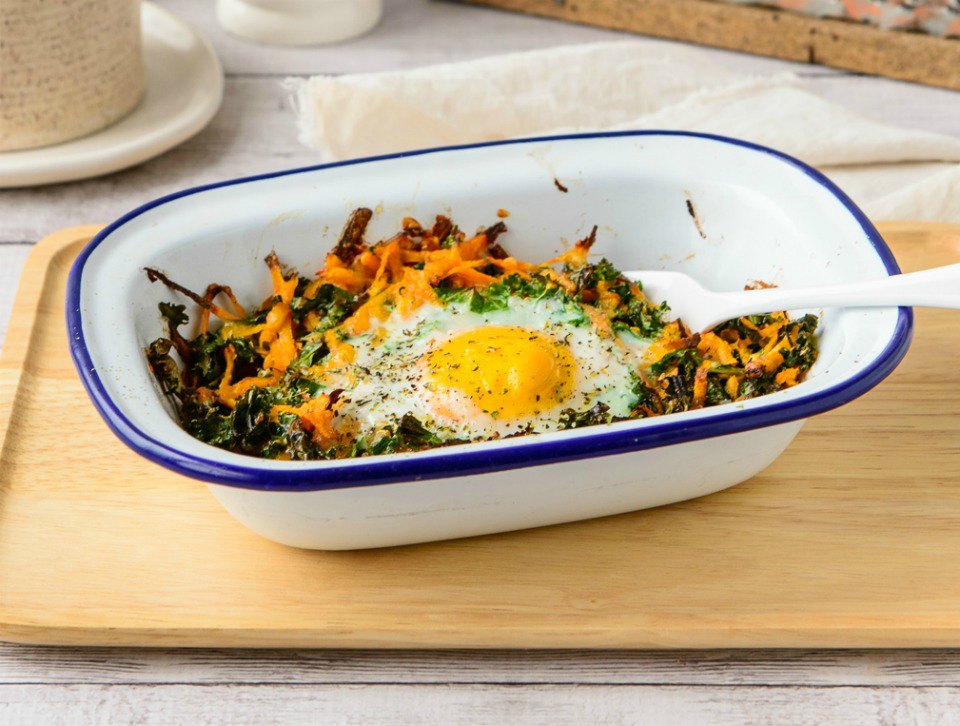 290 calories per serve
Start your day with a healthy dose of vegetables and the goodness of egg. Perfect for those days when you know you need lots of energy.
7. Baked eggs with chorizo and beans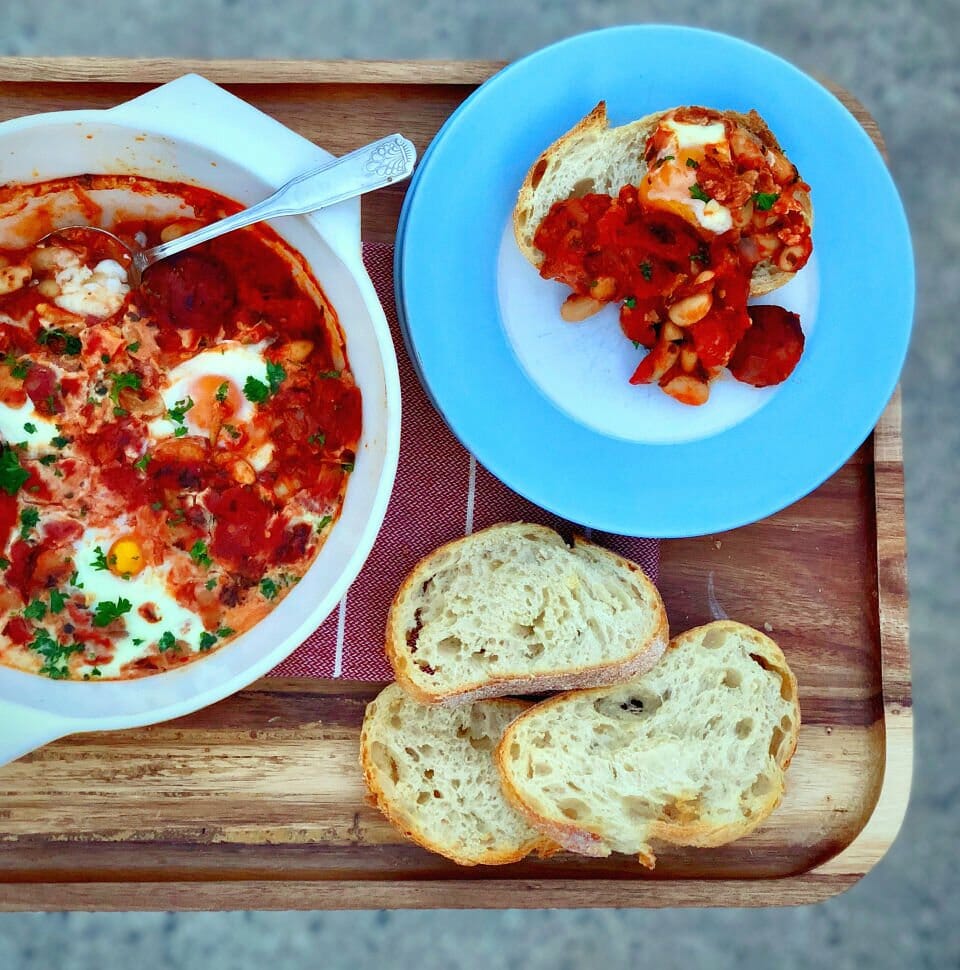 If you haven't been introduced to the idea of having breakfast-style meals for dinner, let this one be your first (here are some more breakfast for dinner ideas from other real mums).
With flavoursome chorizo, loads of veggies, and the protein of legumes, it's such a satisfying dish.