See what important tips these mums have for you and your weight loss journey
See how this group of Motivational Mums have lost their weight and their budget tips to help you.
To help you on your weight loss journey, some of our October Motivation Mums have come together to motive and inspire you to become better versions of yourself. 
Introducing our Motivational Mums
Stacey Webb says her pregnancy as a Healthy Mummy was the healthiest pregnancy
"I am one of your October Motivating mummies. I am a Mum to four children who are 6 years, 4 years and 8 week old twins. 
I found The Healthy Mummy 2 years ago. I used free recipes and along with The Healthy Mummy exercises and gym and CrossFit where I lost 10 kilos. 
In October 2017 I joined the 28 Day Weight Loss Challenge subscription and a few weeks later I found out I was four weeks pregnant with twins. 
I maintained a healthy twin pregnancy and did the challenges, exercises on the app, gym and CrossFit training. I had my twins at 39 weeks by Caesarian (my 2nd Caesarian). I gained 25 kilos throughout the twin pregnancy (reaching 100kilos) compared to the 20 kilos I gained with each of my Singleton pregnancies. My fittest and healthiest pregnancy and my first pregnancy as a healthy mummy. 
I am now approaching nine weeks postpartum and have clearance to exercise. I'm slowly back at the gym, Crossfit and doing The Healthy Mummy 28 Day Weight Loss Challenge as well as exercises from the hub. Some of the exercise I modify and that's ok. It's important to modify exercises if needed and being postpartum I need to make sure with certain exercises I modify or change if needed. The exercises I am doing through the exercise hub, in particular, are the stomach separation, postpartum and babywearing exercises. 
I didn't bounce back to my pre-pregnancy body after having the twins. The stomach is stretched, more stretch marks, have the stomach overhang and still added weight. I lost 15 kilos after delivering the twins with 10 kilos to go. Since resuming my Healthy Mummy exercise, I have lost another two kilos and 20cm.
The Healthy Mummy has allowed me to resume my exercise being postpartum. The great thing about the exercise hub is that the exercises cater to all levels. 
In all of these pictures, I love my body and what it has achieved. I'm not ashamed of my postpartum body. I'm on my journey to not only to lose the baby weight but be fitter after having the twins. This will take time and that's ok. It took nine months to grow these babies, my body needs time to recover. I'm enjoying the journey on the way to reach that goal. 
I'm so excited to be a Motivating Mum for the first time. I would love to help and inspire other ladies to love their body as they are on their journey. 
Summer goal – to get back into wearing all of my pre pregnancy clothes. I can wear some of my pre pregnancy clothes but not all of them. 
5 budget tips
Write a shopping list and stick to it. I love writing a list and ticking them off as I go. All the little thing you add in that aren't on the list all add up
Don't shop hungry. It just makes you want to buy more and you start putting more things in your trolley that you may not necessarily need
Buy in bulk. Cheaper to buy in bulk and separate and freeze at home
Don't get takeaway. Cheaper and much more fun to make the food at home than get takeaway
Check your prices per unit. Prices can vary a lot between prepackaged and unpackaged fruits and vegetables when they weigh the same."
Phoebe Phillips says she is feeling the healthiest and happiest she has ever been!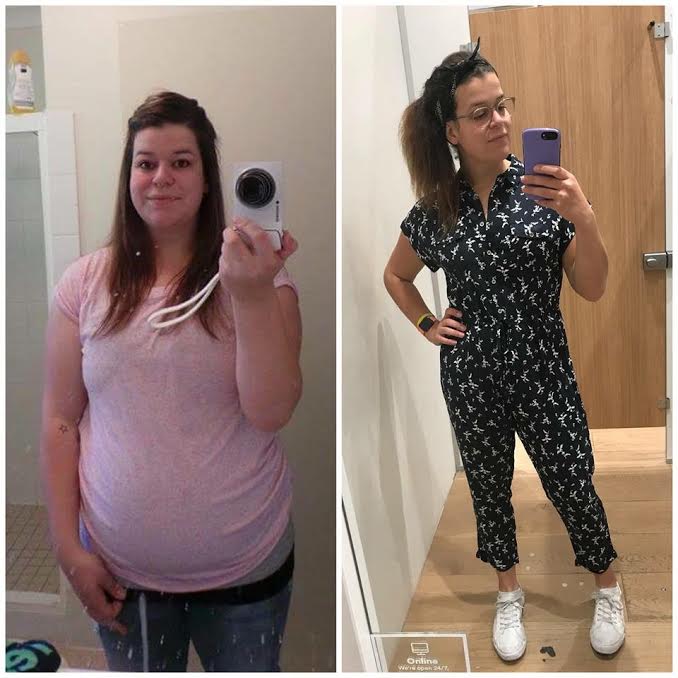 "Hello! I'm 26 years old and mum to four beautiful children (7,4,3,1) I found The Healthy Mummy when I was pregnant with my fourth baby and started the smoothies and using the free recipes in my last month before she was born and set up a good routine to continue once she was here!
My little one was born in July 2017, I joined the 28 Day Weight Loss Challenge pretty soon after and in the 12 months after she was born I lost 30 kilos following the 28 Day Weight Loss Challenge and having the Smoothies. I started out only walking for exercise which is when I lost most of my weight and once most of it was gone I joined the gym and try and go everyday! I've gone from 110kgs to 77kgs and lost over 120cm from all over my body. I'm currently sitting at my pre-pregnancy weight and feeling the healthiest and happiest I've ever been. 
My summer goals are to hopefully lose the last dreaded five kilos! to stay consistent with my exercise and eating and to continue to set a good example to my young children. 
My 5 tips for budget saving are: 
Make sure you use what you already have available, there is no point stocking up on extra food and spending extra money if you've got options available in your house already.
Write shopping list with what you really need to stop buying unnecessary items that will ruin your budget. 
Meal plan, meal plan, meal plan… this is fail proof. 
Eat left overs, freeze them for quick meals later on (again meal plan)
I always find sticking to meals I know my family will actually eat (Remember the meal plan is easy to customise) to save on food wastage and wasting money on food that won't get eaten."
Stephanie Payne says she decided to give losing weight one last push and that is when she found The Healthy Mummy.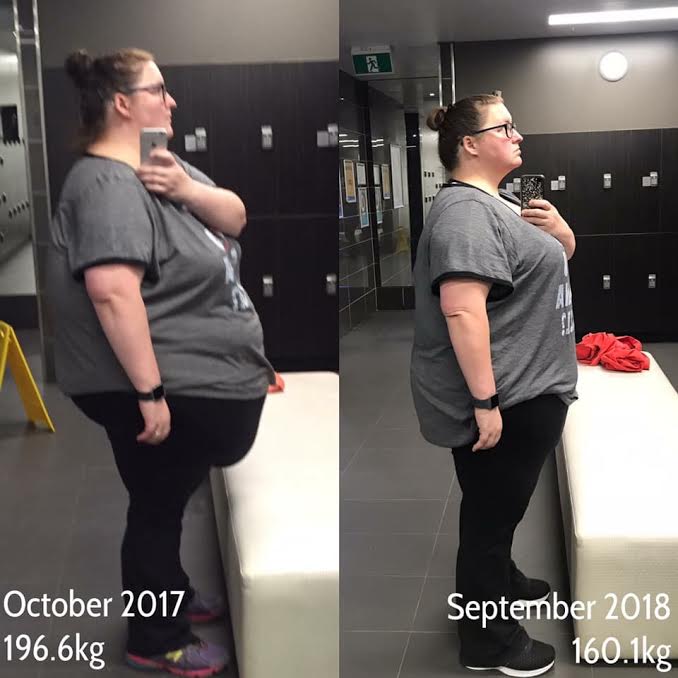 "I'm 38, have four children (19, 17 and 10 year old twins). I work part time in Admin and am studying Social Work. 
My first The Healthy Mummy 28 Day Weight Loss Challenge was 11 months ago. I had given up hope when it came to my weight loss journey. I thought I was at the end of the road and I was almost ready to accept the fact that I was going to be big for the rest of my life. My weight issues had been a life long struggle and I had even gone as far as having weight loss surgery back in 2010 when I was 243kg to beat what seemed to be a never ending battle.
I had initial success after my weight loss surgery as I weighed in at 165kg in 2011 but after complications and another lot of surgery, I found myself at 211kg in 2013. I hovered anywhere between 190kg and 200kg between 2013 and October 2017. That's when I decided to give losing weight one last push and that is when I found The Healthy Mummy.
Eleven months on and I've gone from 196.6kg to 160.1kg. I've lost a total of 36.5kg with the help of The Healthy Mummy and I'm not turning back. I'd love to get down to 85kg which means I have 75kg to go. I take it day by day and I KNOW I'll get there. 
My goal heading into summer is to continue being consistent and accountable. I no longer focus on losing a certain number of kilograms as this isn't always in my control. I like to focus on things I can do and keep track of. I'll continue working out 5 days a week, watching my water intake and keeping a food diary. I also look forward to a summer where I'm not going to feel the heat as much! Afternoon walks, games of cricket and bike rides with the kids are on my to do list.
My top 5 budget tips are:
If you're a 'see it, buy it' shopper – shop online using a list. This will save you seeing the things that you don't need! 
When working out your meal plan, make sure you're using things you have in the fridge, freezer and pantry. There are some weeks where I haven't had to buy meat at all as I've managed to stockpile some from the week before!
Check out the prices at your butcher and local fruit shop. You'll often find that they are a lot cheaper than the big supermarkets and will help save you a small fortune!
Stop buying bottled water! Invest in a good water bottle and a water filter. 
Try and shop only once a week. You're likely to spend more if you shop daily or several times a week."
Bec Jackson says she is ready to rocktober with you -Woohoo!!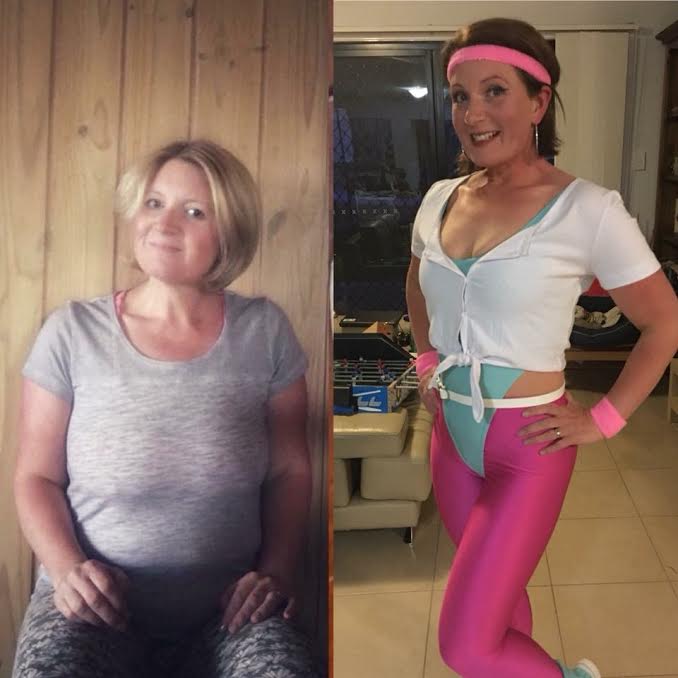 "I'm 39 and mum of four – two boys aged 12 & 6 and two girls, aged 4 and 1! I work part time running my own company, I'm a psychologist and coach! I also teach meditation and mindfulness to kids! 
I have been following The Healthy Mummy since 31st October 2017 so this is my 12th 28 Day Weight Loss Challenge! 
In that time I've lost 22kg and over 125cm from my body! I've gained lots of muscle tone from following the challenge exercises and my fitness has continued to improve each month! I've breastfed through all 11 challenges and have had no problems with supply. 
I have struggled with weight my whole adult life due to PCOS and a bad pattern of strict weight-loss diets which have been unsustainable! Not anymore! The Healthy Mummy has taught me balance, lifestyle change and consistency. Meaning, I no longer diet and my whole family follows the same healthy eating patterns. 
My top 5 budget tips –
Meal plan. Buy only what is on the plan and don't waste anything. 
Customise your plan around specials and seasonal produce. 
Learn to substitute less expensive ingredients or what you have on hand.
Shop from your fridge, freezer and pantry first. 
Buy one of the more expensive pantry staples in bulk each week to keep your pantry stocked (eg, coconut oil, almond meal, chia seeds, majool dates).
Bonus tip: grow your own herbs. It's easy, great to teach the kids and you save heaps of money and don't waste any! 
I've got heaps more budget tips I can't wait to share!"
Naomi Rajamanickam says she feels more energised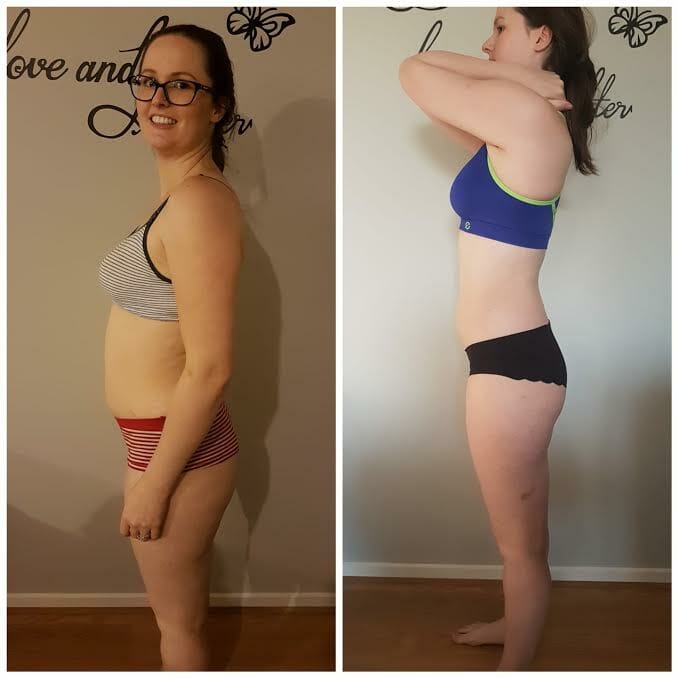 "Hi all you healthy mummies
I am a 29 year old mum to two boys (7 and 1). I work as a surgical scrub nurse, I run my boys to sports and therapy (oldest is ASD/ADHD and youngest has feeding issues) so life is busy! 
I started The Healthy Mummy in July this year after losing the baby weight but struggling to drop the IVF weight that preceded the baby weight. Since joining though I threw away the scales and focused on photos and measurements as I am still breastfeeding so it is more accurate. I immediately felt more energy and practiced healthier habits from exercise to drinking more water.
My Summer goals are to tone and build a nice booty and get out and moving with the kids
5 budget tips 
Buy up on special the basic long life items you use regularly (tinned tomatoes, passata, canned corn ect).
Meal prep in bulk especially as meats are cheaper in bulk packs
If you don't want to add your shopping up while out, work it out using online shopping then go or even just click and collect to avoid those tempting isles in the store
Don't shop hungry!!
Keep snacks in your bag to prevent the need to buy food when out."
Beth Azzopardi says she has learnt that weight loss is a journey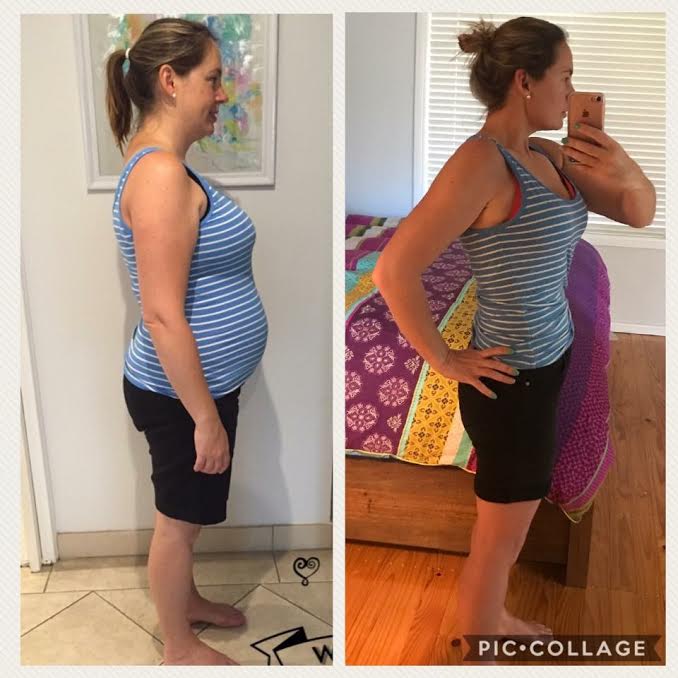 "I have struggled with my weight my entire adult life and always been classified as obese. Whilst I have lost weight in the past I had never been able to keep it off. That was until I found The Heathy Mummy. The Healthy Mummy has taught me weight loss is a journey and can't be achieved through a fad diet.
After my second child, I reached 90kg, I was so unfit and struggled to push my double pram up the slightest incline. I would get to the park and have to rest before I played with my eldest. 
This is when I knew things had to change. I was introduced to The Healthy Mummy two years ago and haven't ever looked back. 
I am currently 68kg but more importantly, I am fit, happy and healthy. 
Summer Goals: 
Reach my goal weight (only 3kg to go) 
Complete my The Healthy Mummy fitness tests and complete one set of challenge exercise every second day! 
Run 160km in October 
I have signed up for a virtual run- RunforDignity
5 budget tips 
Grocery shop online – it stops you impulse buying and you can search products by what's on special. 
Buy in bulk and cook in bulk. I double most recipes and freeze them. On my work days, I reheat pre-cooked meals. 
Buy the Odd Bunch of vegetables and fruits, this supports our farmers and saves money. 
Meal plan and stick to it. Avoid all those little extra purchases during the week. 
Pack your lunch even if just at home with the kids, it will not only ensure you don't over eat but you won't be tempted to splurge when out."
Sally Stepniewski says she is feeling a confidence she never knew she had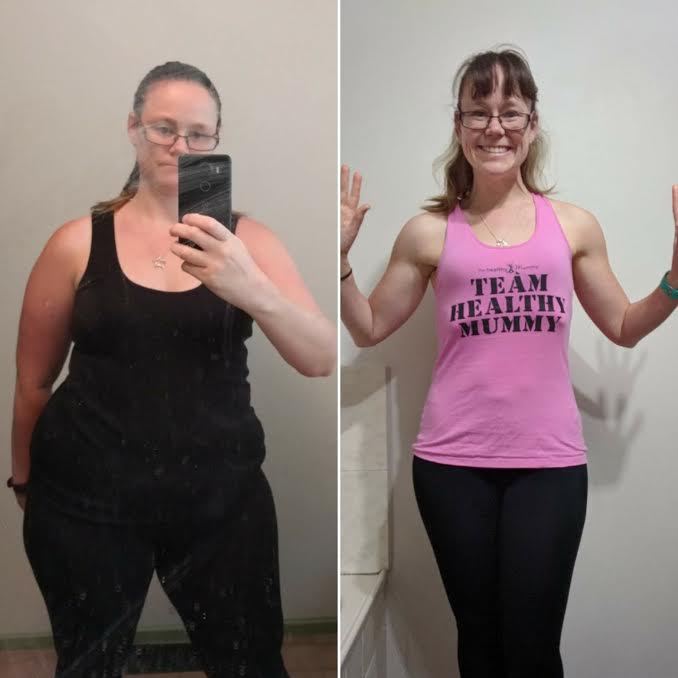 "I'm a 35 year old mum to three – 5 year old boy/girl twins and little miss almost 2. I work full-time as a science and dance teacher, so organisation is incredibly important to surviving and succeeding each day.
I first joined The Healthy Mummy in April 2017 when I realised how unhappy and unhealthy I had become; I was wearing size 20 maternity clothing and weighed 110kgs. It took a photo on a day surrounded by my best friends for me to actually realise how dark a place I'd found myself. Anxiety levels were out of control, and IBS was getting out of control, but I was so lost. It had been a long road to having a family with me going through menopause at 29, battling infertility and all the stresses attached to that – our littlest was the most amazing blessing and finally I felt complete, but realised how far I'd strayed from healthy and knew it was time to find ME once more.
In my first 12 months, I said goodbye to 37kgs and smashed my goal weight. Over the last six months, I've been focusing on my fitness and toning and have said goodbye to a further 4 kgs bringing my total weight loss to 41kgs and 178cms!!! I'm now happily rocking size 8-10 clothes and am feeling a confidence I never knew I had!
The Healthy Mummy has taught me so much, from understanding food and the value of water, to the importance of exercise, to friendships made and confidence discovered, even self-love. Stepping outside my comfort zone is one of the things I'm most proud of along my journey. October marks one year since I started running and I'm currently working towards my first half-marathon at Melbourne Mara in two weeks!
My Summer Goal:
To go on a beach holiday with my family and actually get involved – no longer will I hide in the beach tent, I WILL go in the water, wear my bikini and shorts with confidence, and run around with my kids, I'll even be in the photos!!
My top 5 budget tips:
MEAL PLAN! It sounds crazy, but knowing exactly what you're making and the quantities required stops you straying at the shops.
GROW YOUR OWN VEGIES! We have a vegie patch out back that the kids love to water and maintain, it's always full of seasonal vegetables to eat.
COOK EXTRAS FOR DINNER! We don't have much freezer space to mass cook up meals, so each night I prepare an extra serve or two for lunches the next day.
USE THE SAME SIMPLE SNACKS EACH DAY! It not only saves on time and prep, but simple snacks like fruit and veg sticks are quite cost efficient.
IF YOU FIND A STAPLE ITEM ON SPECIAL, BUY A FEW! I know initially it sounds expensive, but in the long run you'll thank yourself for buying almond milk, peanut butter or frozen fruit at half price.
I am so excited to smash October with you gorgeous ladies! I'm here to hopefully inspire and show you girls how to make The Healthy Mummy work for you, even us working mummas can do this. Let's make this the best month EVER!!!!"
Kate Jacklin says she is able to adjust The Healthy Mummy workouts to suit her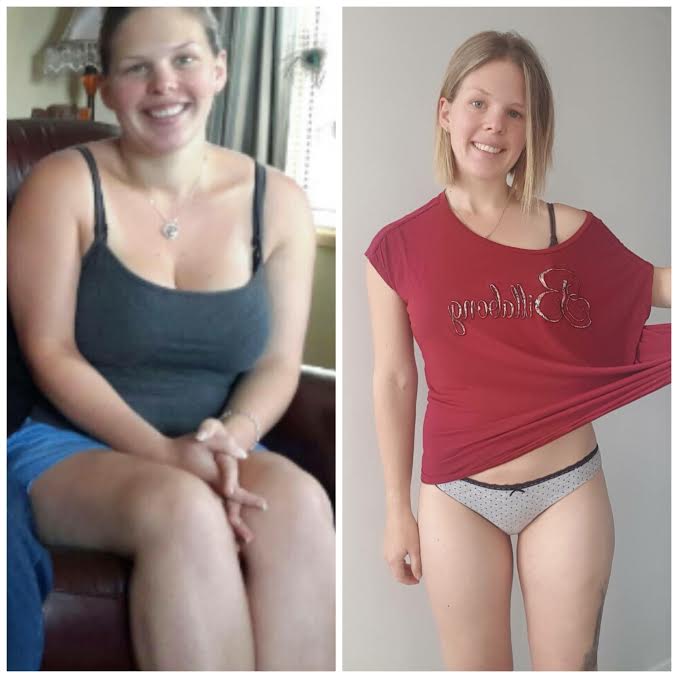 "Hii, I am 24 year old Mum of two littlies. 
I was introduced to The Healthy Mummy in 2015 while pregnant with my daughter Alice, I soon signed up to the 28 Day Weight Loss Challenges and started using the smoothies, I lost 12kg and reached my goal weight before falling pregnant with my second baby in 2017, after having Arlo I continued doing the same and lost another 13kg getting below my goal. 
Since then I have had multiple health issues including Severe Psoriatic Arthritis, a Mirena floating around my body and ovarian cyst. My Arthritis was crippling to the point I struggled to walk for a while – thank goodness for The Healthy Mummy workouts, I could adjust them to make them work for me! 
After having surgery for the other two issues I surprisingly recovered quickly, I thank The Healthy Mummy for this. Teaching me to live a healthy lifestyle and giving me the tools to become the healthiest I have ever been, I would not have felt this amazing so soon after if I was still my old self. 
Due to medication and the above I have put back on a couple of kilos which is where my October Goals come in, I WILL get to 64kg & fit back into last year's shorts! 
Budget Tips 
Meal plan with the ingredients you have on hand. 
Choose a recipe with similar ingredients
Shop the specials! 
Repeat meal and snacks throughout the week
Shop online to save temptations and unnecessary purchases"
Steph McCullock says she hasn't looked back!
"For the majority of my adult life, I sat around 140kgs. After falling pregnant with my son, I fell victim to a host of obesity related pregnancy complications which resulted in delivering my little man 2 months early at 172kgs. I was told before being rushed in for surgery that I may not make it due to being severely sick and in multiple organ failure. From the moment I laid eyes on my son I knew it was time to look after myself because I was someone's entire world now.
I tried crash dieting and exercising afterwards but I couldn't sustain it and ended up tipping the scales back at 141.3kgs in early 2017. After seeing a horrible photo of myself in May 2017 and receiving potentially life threatening medical results, I started on my journey to lose weight. It was slow, challenging and I didn't have a support network to help keep me motivated.
At the end of 2017, I said enough is enough and made a plan to change everything come 1st January 2018. I researched, learnt to understand how my body works, made a plan to meal prep and returned to bootcamp. 1st January came and I put my plan into action and I haven't looked back! 
Down nearly 45kgs, over 150cms, six dress sizes and having recently completed the 8km Raw obstacle course, I'm loving life! 
The Healthy Mummy gave me an unconditional support network and I'm backed by thousands of warrior women who are all on the same journey to be a Healthy Mummy. I love inspiring other mums now to show it can be done! 
I love a challenge so I like to juggle it all! I'm a mum to a 2 year old boy, a solicitor running my own department at a law firm, a wife and a self-confessed exercise enthusiast. 
My summer goal is to buy and rock my first ever two piece swimsuit and to lose another 10kgs 
My top five budget tips:
Shop online. This saves buying unnecessary items.
And always shop after you've eaten! Never shop hungry.
Meal prep. 
Buy in bulk
Always look for specials!"
Well done mums on your amazing accomplishments we can't wait to see you kick all your goals!
Are you ready to become a Healthy Mummy?
If you are wanting to lose weight and improve your energy – not to mention – help improve your overall health and wellbeing – our 28 Day Weight Loss Challenge is an awesome program to check out.
Our 28 Day Weight Loss Challenge includes:
28 days of at home exercise routines (no gym needed) – with video instruction
Customisable and breastfeeding friendly meal plans (including 7 Day Cleanse)
Time-efficient exercises for busy mums – under 30 mins
Challenge combines Pilates exercises with interval and circuit training (HIIT)
Suitable for basic to advanced fitness levels
Home to thousands of EASY-TO-MAKE recipes!
To learn more about our 28 DAY WEIGHT LOSS CHALLENGE CLICK HERE or purchase our Smoothies.