Mum completes her own personal triathlon after losing 25 kilos!
After losing 25 kilos, Mum Beth completed her own personal triathlon after the organised event was cancelled due to Covid.
Being a busy mum and running around after little kids can sometimes feel like you're competing in a triathlon but for this Mum, she actually completed her own personal triathlon after the organised event was cancelled!
Having lost 25 kilos with the Healthy Mummy, Beth was determined that the cancelled event was not going to stop her!
Read about her weight loss and personal triathlon below!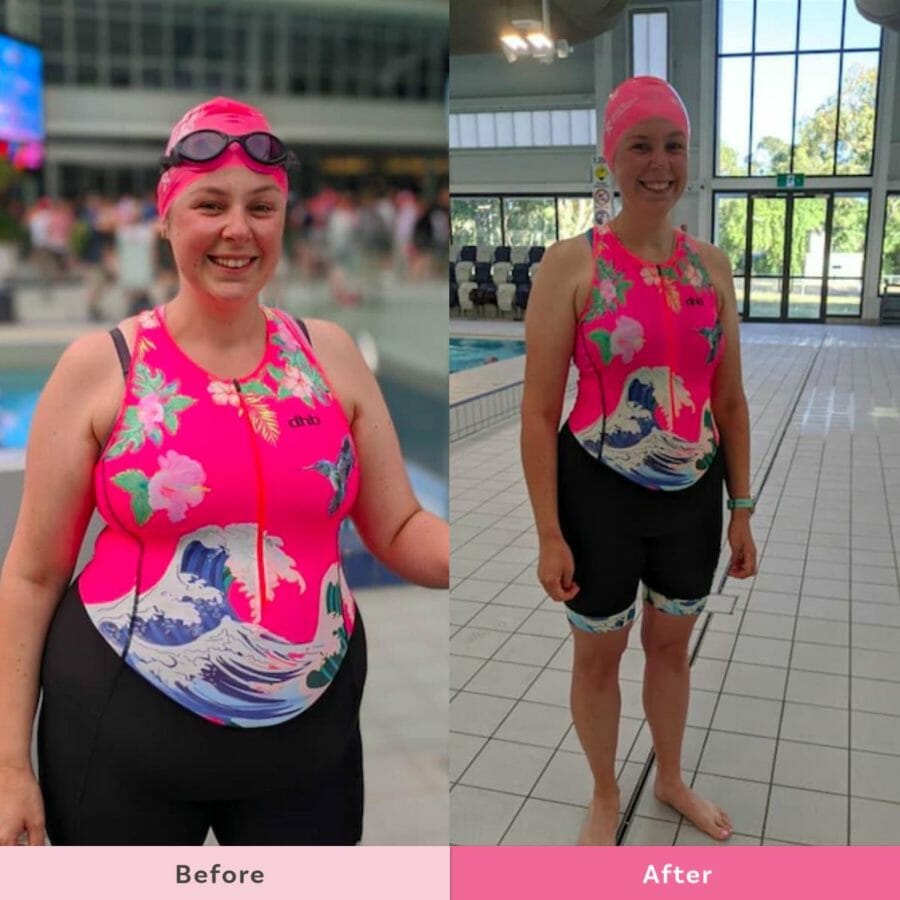 Beth's Weight Loss
Beth Jones is a 32 year old mum of two little ones age 3 and a half and 18 months from Bendigo in Victora. After putting on some excess pregnancy weight in both her pregnancies, she was determined to lose that weight again safely after her second baby was born.
By using the Healthy Mummy Smoothies, following the 28 Day Weight Loss Challenges and by following the workouts in the Healthy App, Beth has managed to lose all the baby weight, and some!
"The first time round I lost about 25kg from the weight I was when I got home from the hospital. Since having my second I've lost about 25kgs again, but I'm now the lightest I've been since high school.
Since losing the weight and being fitter I've found my mental health to be so much better, my anxiety has gotten so much better and overall I feel happier."
Beth's own Personal Triathlon!
Beth has always loved her fitness and enjoys the butt and thigh workouts in the Healthy Mummy App. But last January, Beth challenged herself even further by taking part in her first triathlon!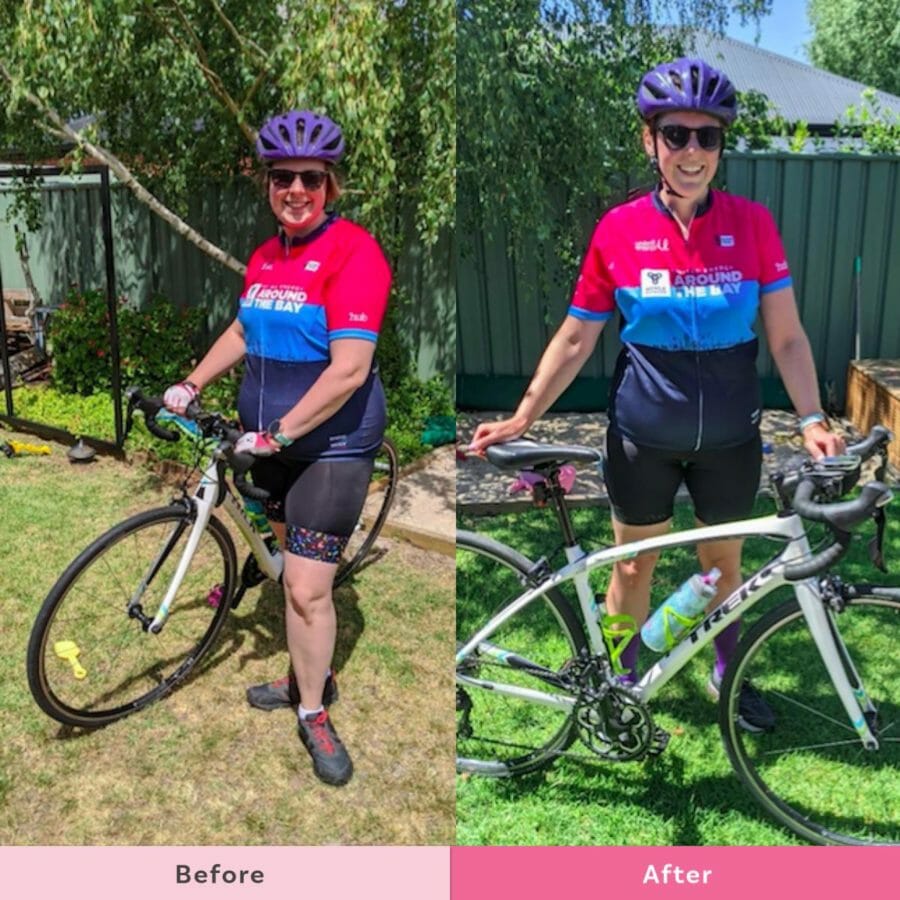 "I was so excited that I could do it 5 months after the birth of my second. A year later I booked into the same triathlon but because of covid it got cancelled, so I decided to not make it being cancelled as an excuse not to do it, so I mapped out the ride and run and found a pool and did it by myself.
This time it was double the distance that I did the previous year."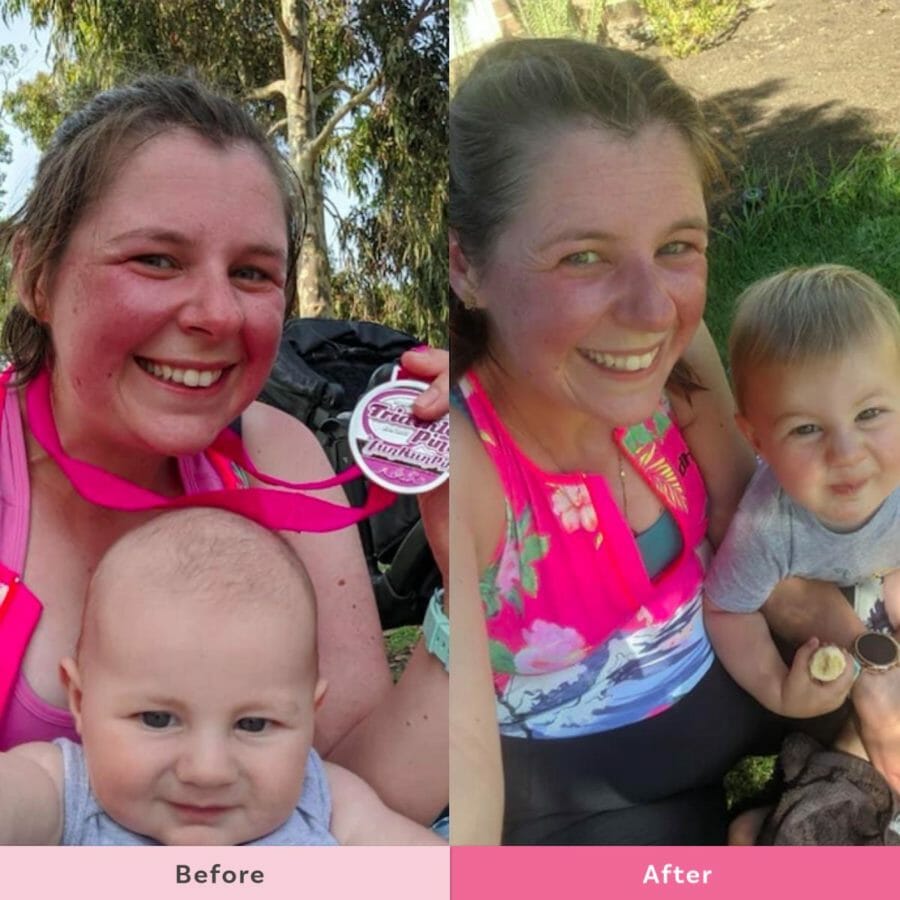 Healthy Mummy Smoothies
Beth has found using the Healthy Mummy Smoothies a big part of her weight loss success.
"I love the Healthy Mummy Smoothies, they are so quick and easy to grab and have, I have one every morning for breakfast. My favourite is the Choc Fudge one."

Beth's Day on a Plate
Along with her smoothie every morning, Beth uses snacks from the Healthy Mummy App.
"Snacks throughout the day typically are the Mint Choc Bubble crunch, (pictured) White Chocolate and Apricot slice (available on the 28 Day Weight Loss Challenge), popcorn, apples, cruskits and cheese."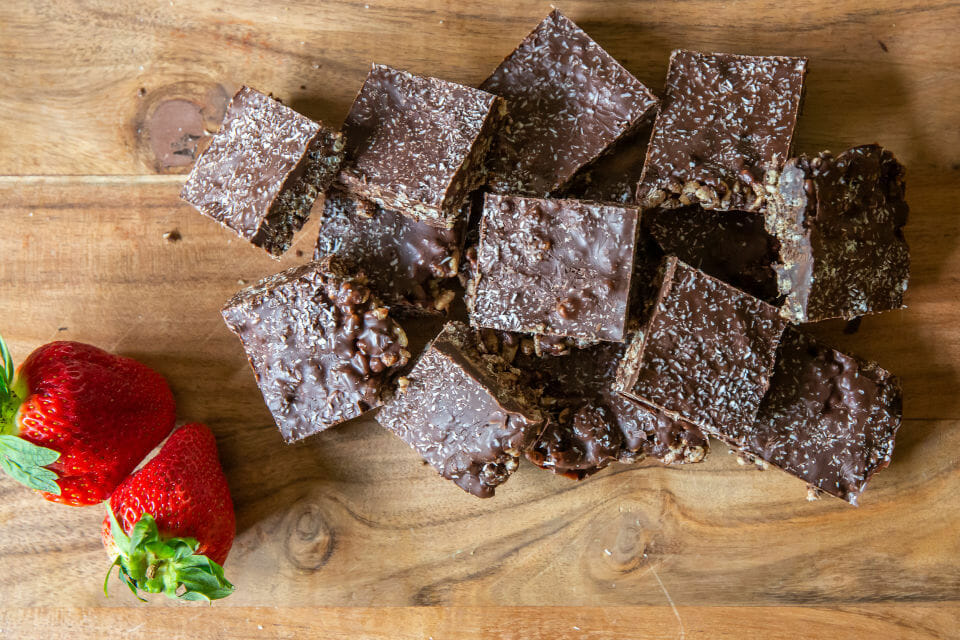 "Lunch is typically either a Ham Cheese and Pineapple quesadilla, or a sandwich or a salad.
Dinner the majority of the time are meals from the Healthy Mummy App. Family favourites at the moment are the Mongolian Beef stir fry, Baked Chicken Spaghetti (pictured) and Bacon Spinach and Tomato Risotto."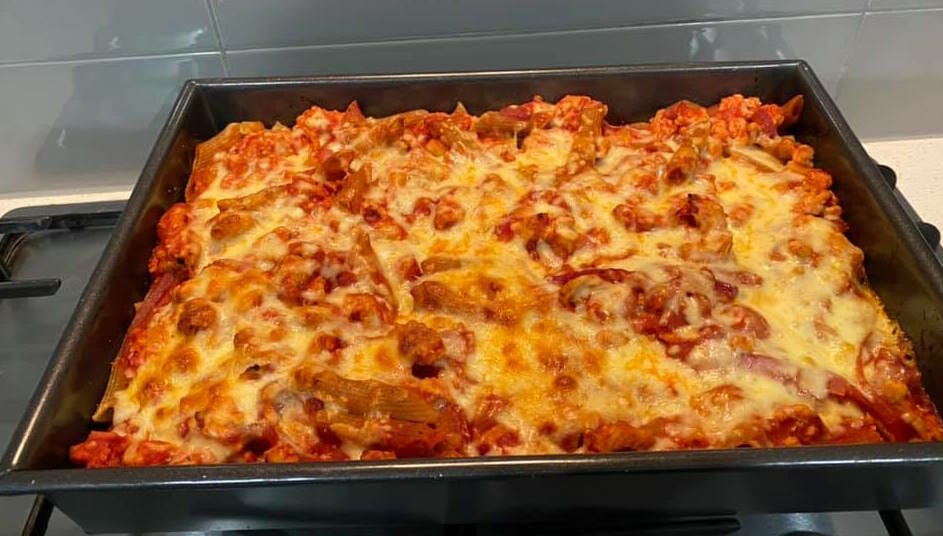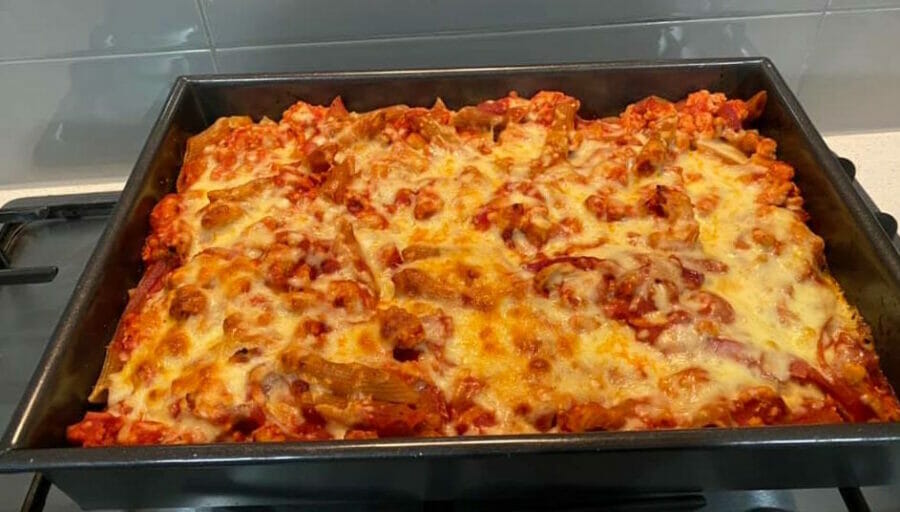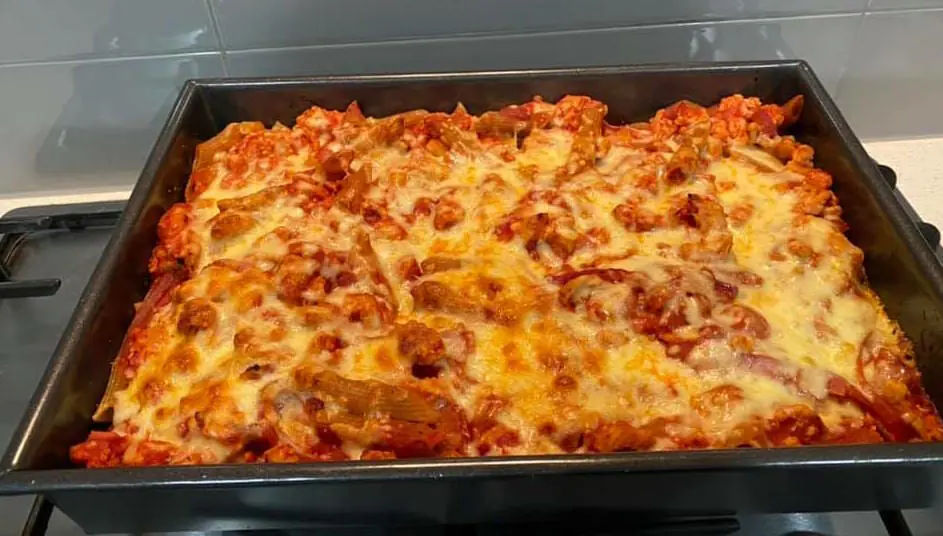 "Desserts lately have typically been luscious Lemon Pudding, and Best Brownie Mug Cake."
Workouts in the Healthy Mummy App
Along with the butt and thigh workouts, Beth enjoys trying out different types of workouts in the Healthy Mummy App.
"I loved the fit postnatal workouts from the app post having my babies while I was gradually getting my strength and fitness back, I love workouts with Wendy."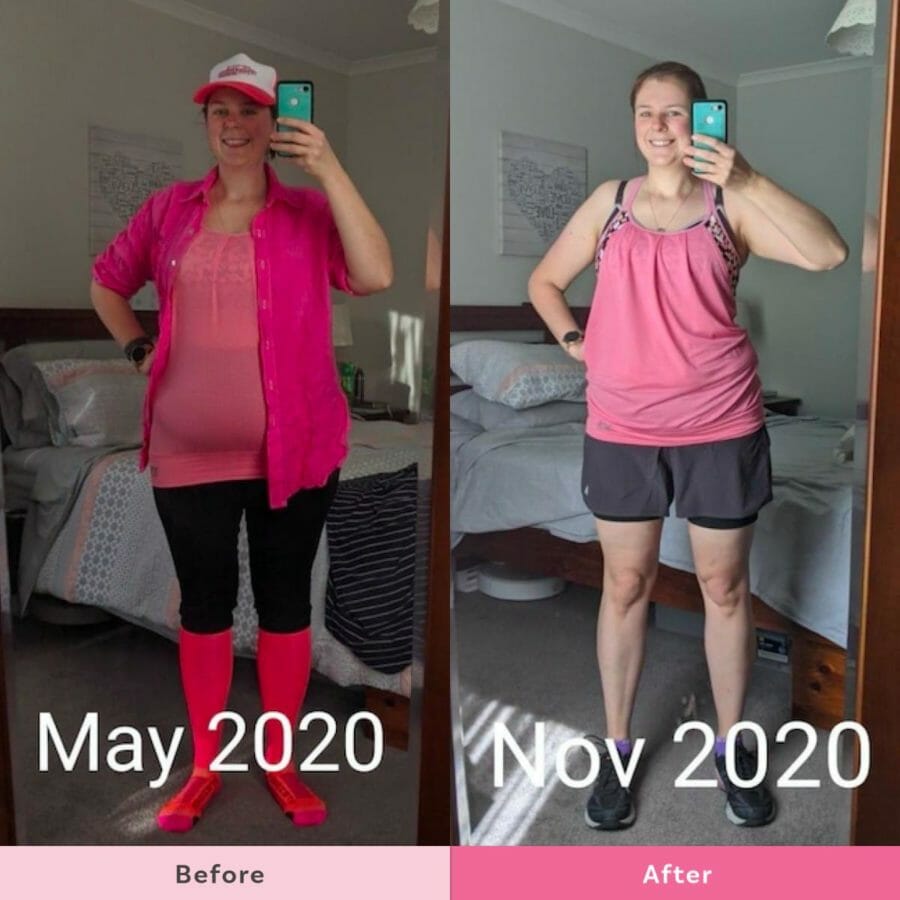 Beth's 3 tips for success
Don't focus on the scales
Make small changes, focus on one thing at a time to change
I don't have any off limit foods, I just eat in moderation and to my calories
"My advice would be start off slow, pick one thing to change. Calculate your BMR and eat to your calories. I've found small changes and having the weight come off slowly is making it more maintainable for me.
"It's a lifestyle change, not a diet."
Congratulations Beth on your incredible triathlon and weight loss results!
Ready to get in the best shape of your life?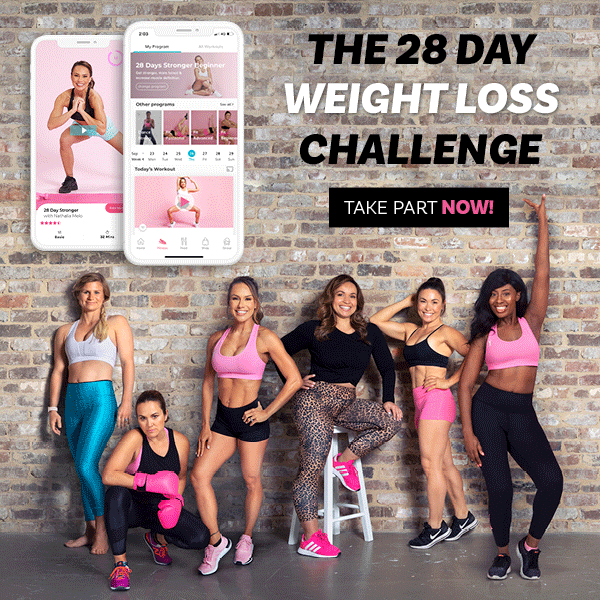 Real mums. Real results!
We've proudly helped millions of mums transform their health. Mums just like you completely transforming their health and bodies. You can do it too (and it's easy!)
The 28 Day Weight Loss Challenge is the mums only 5 star rated app with over 1.6k reviews in 8 weeks!!
You get unrestricted access to :
● Nutritionist & chef designed weekly meal plans
● Personal Trainer crafted At-home workouts- 28 minutes and under
● Daily Motivation from My Coach
● Personalised Shopping lists to make life easy
● Over 4,500 healthy and delicious recipes at your fingertips
● REAL TIME support from The Healthy Mummy Team and OVER 200,000 other mums