Mums share their tips to create the perfect fridge "snack" station
Create your own fridge snack station for you and the kids so you always have a healthy snack at hand!
It is also a great way to say goodbye to the constant requests to grab the kids a snack because they will be able to help themselves much easier. And you will also be thankful for the healthy choices within your reach so you don't wander from your 28 Day Weight Loss Challenge motivation.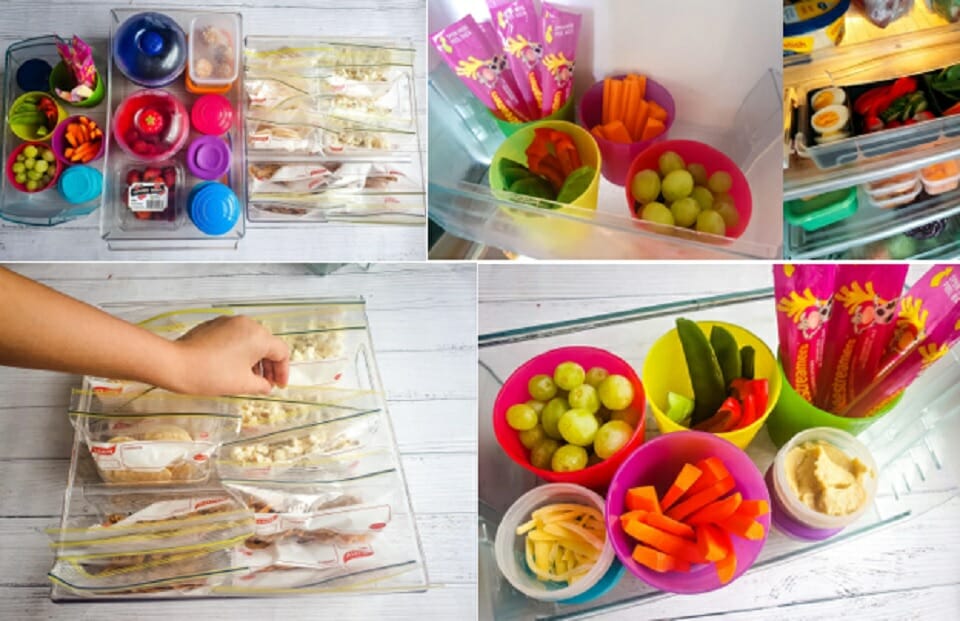 What exactly is a Fridge Snack Station?
Simply put, it is a section in the fridge for ready prepped snacks for yourself and the kids to grab at any time of the day.
Set up in advance with a variety of healthy choices, allowing you to just open the fridge and grab a healthy snack without reaching for a biscuit or other unhealthy choices.
Any medium-sized container will do the trick, or even clear some room in the door of the fridge and pop in some small containers with easy to grab snacks.
What to include in your Fridge Snack Station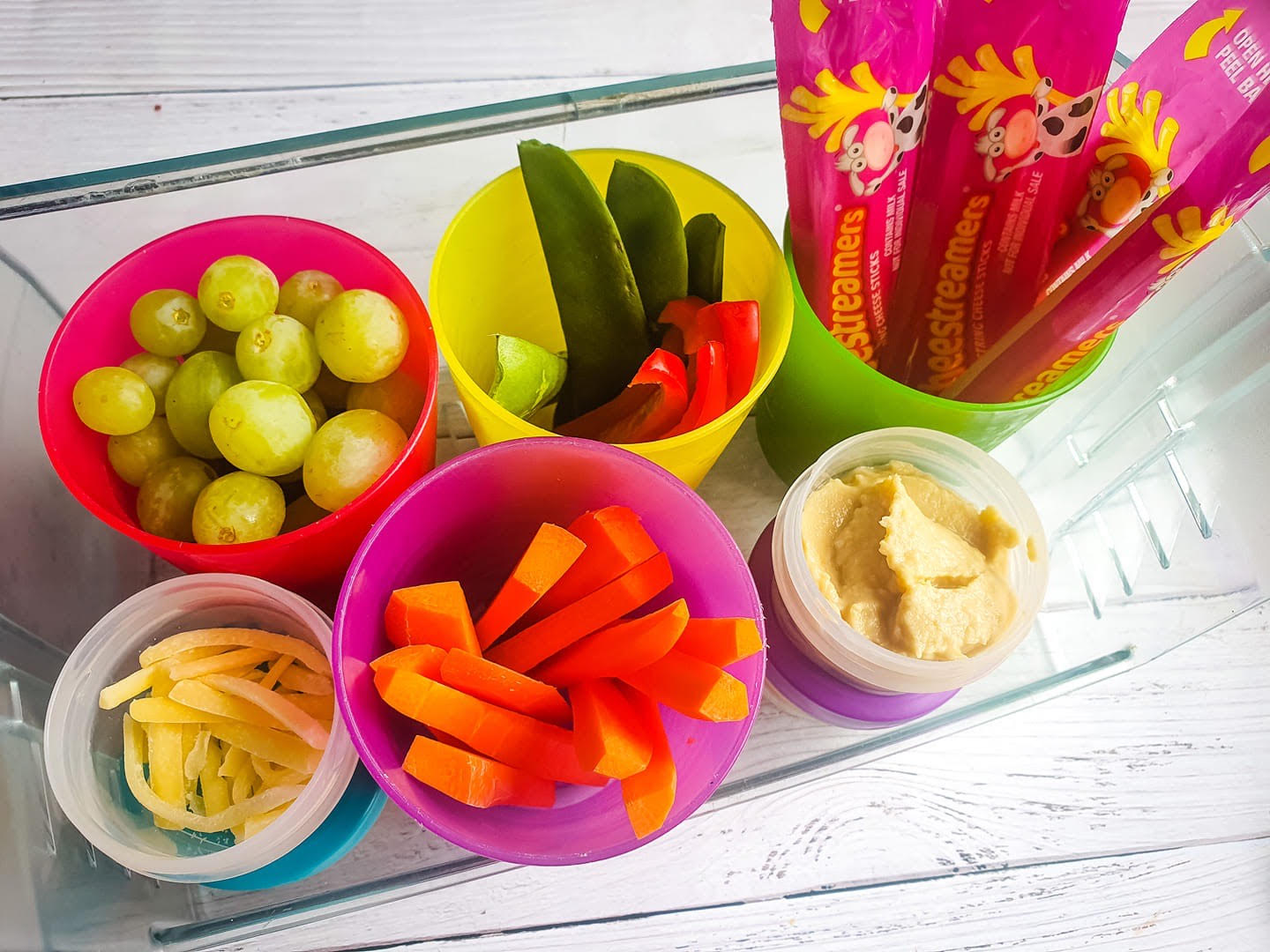 The choices really are unlimited and totally up to your personal preference and dietary requirements but here are a few suggestions for you:
Fruit – bananas, grapes, berries, apples, orange, pear or watermelon
Fruit kebabs
Vegetables – peeled carrots, cucumber, capsicum, snow peas or celery
Yogurt and dips (hommus, greek yogurt, beetroot dip)
Cheese slices or sticks
Boiled eggs
Cheese and crackers, popcorn, pretzels
What our Healthy Mummy's have in their fridge snack stations
Cassie McKay
"Muuuuuuuuuuum, I'm huuuuuuuungggrrryyyyyy" would have to be the catch phrase of the summer holidays here. I have 2 growing kids who happen to be quite fussy about what they will eat. I saw some mums in the Healthy Mummy community had snack stations for their family and I thought I'd give it a go.
"Today is our first day trialing it and both kids are very excited"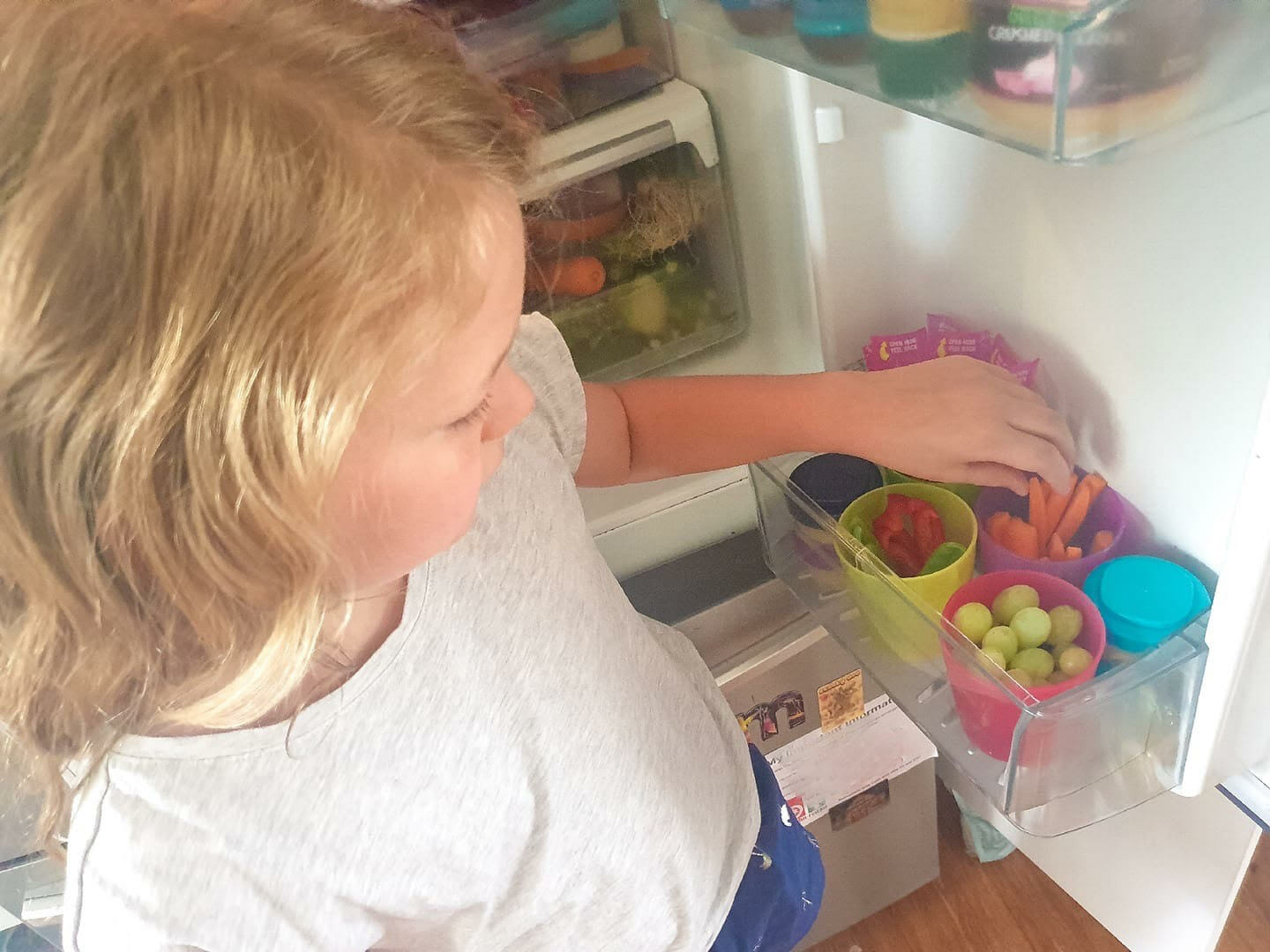 "I've shown them through everything and while they still have to ask if they can get something to eat, it gives them a sense of independence over what they get to eat.
"I'm sure the veggies will be their last choice, so whatever isn't eaten by the end of the day will be added to their dinner.
"I can see this being handy for heading out for a few hours or even a whole day as we can just grab a few things and go."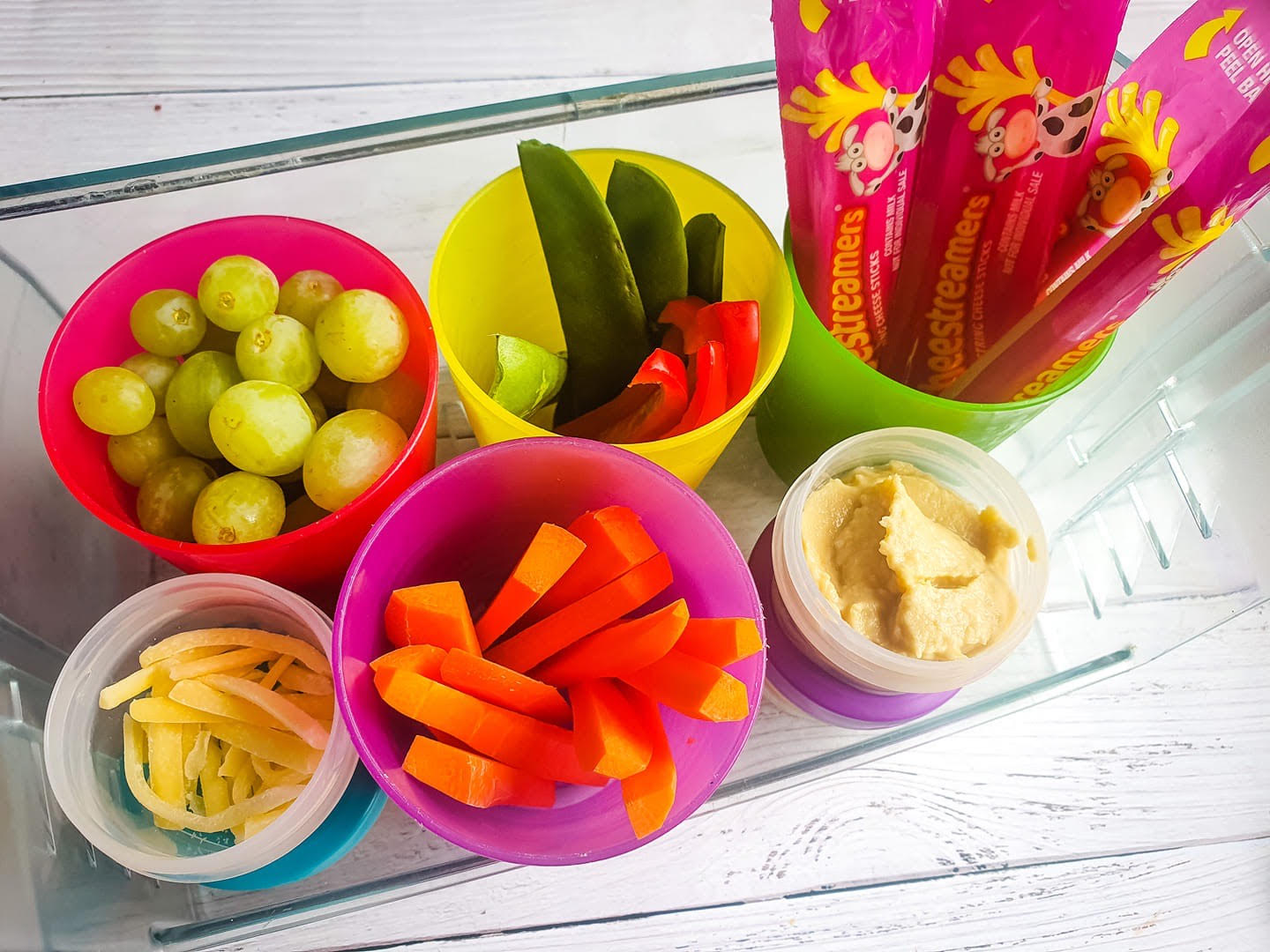 Cassie shares in the fridge there is:
Fridge door: Cheese sticks, snow peas, capsicum, carrot sticks, grapes, hommus, and shredded cheese.
Fridge drawer: Berries, sliced cheese, yoghurt, snack mix (m&ms, sultanas, dried blueberries, pepitas) and Apricot & Oat bliss balls that the kids made together.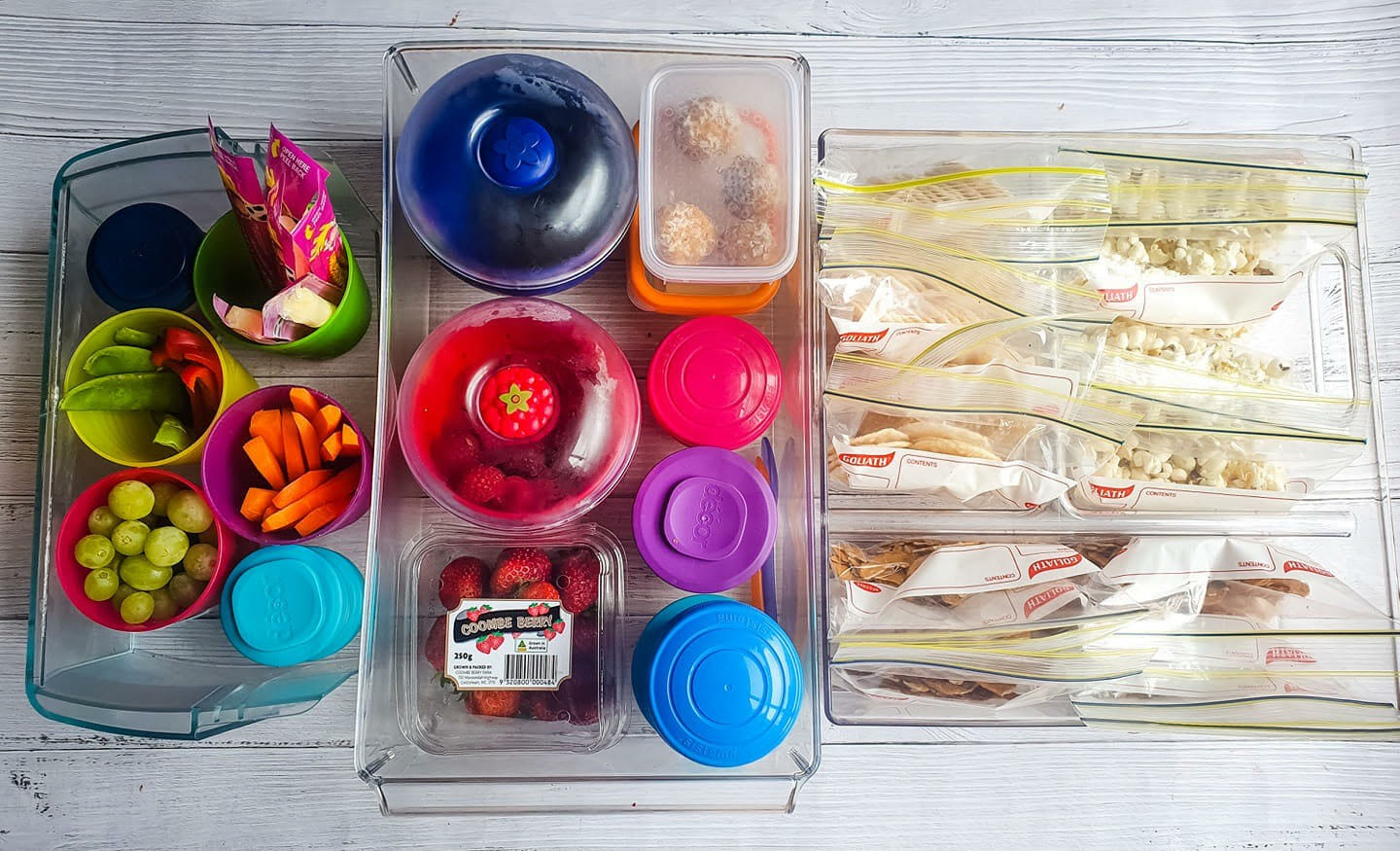 In the pantry there is a selection of rice crackers, pretzel chips, homemade popcorn (the bags will be reused and will eventually be replaced with heavy-duty reusable bags).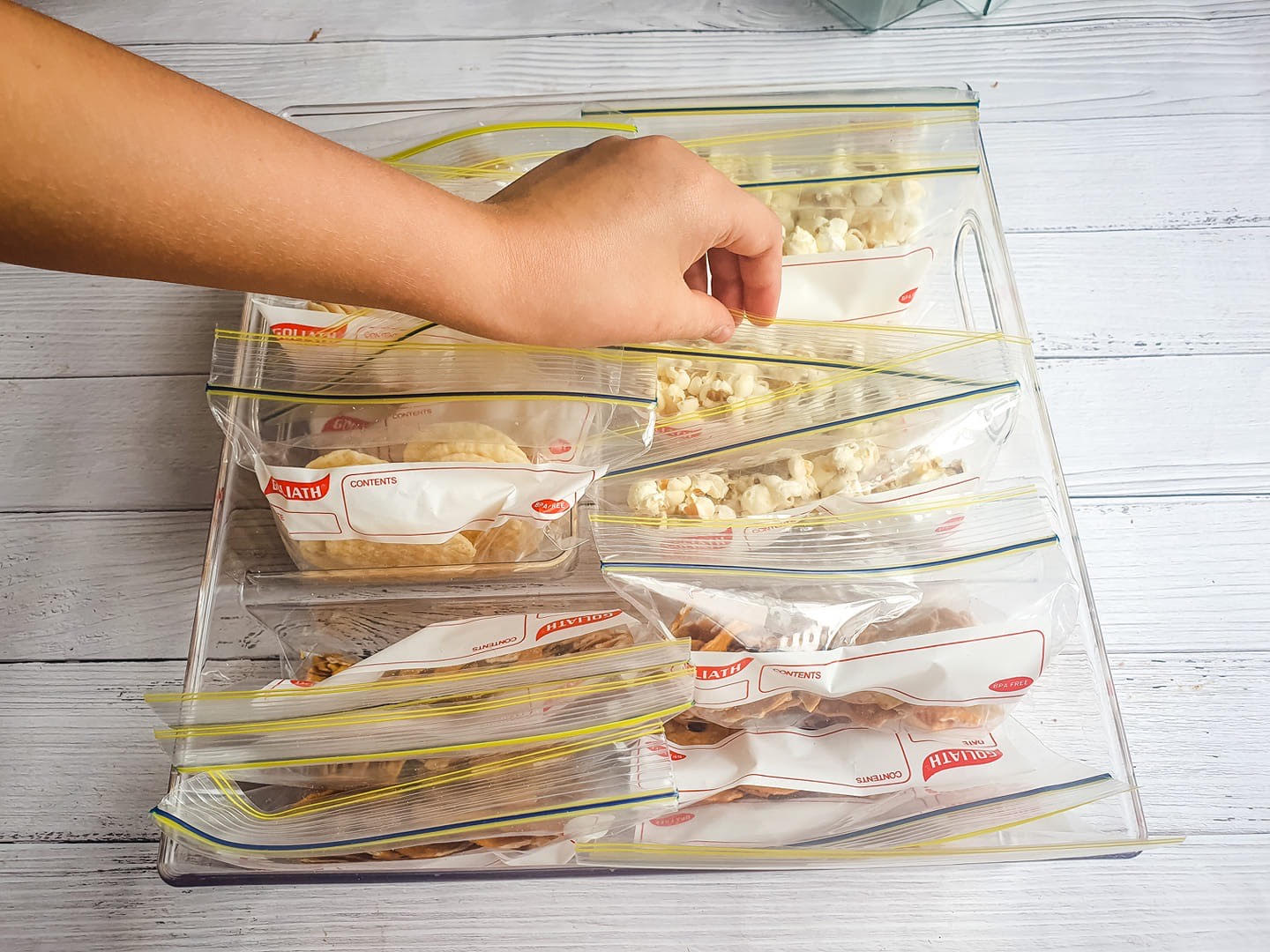 Bec Ashford
Bec shares, "We don't eat any pre-packed snacks in our house, so as a mum to 5, it is essential that all the yummy whole foods, I expect my little people to snack on are washed chopped and ready to go. I always buy a little extra fruit and veggie so they can pick what they want! Super easy."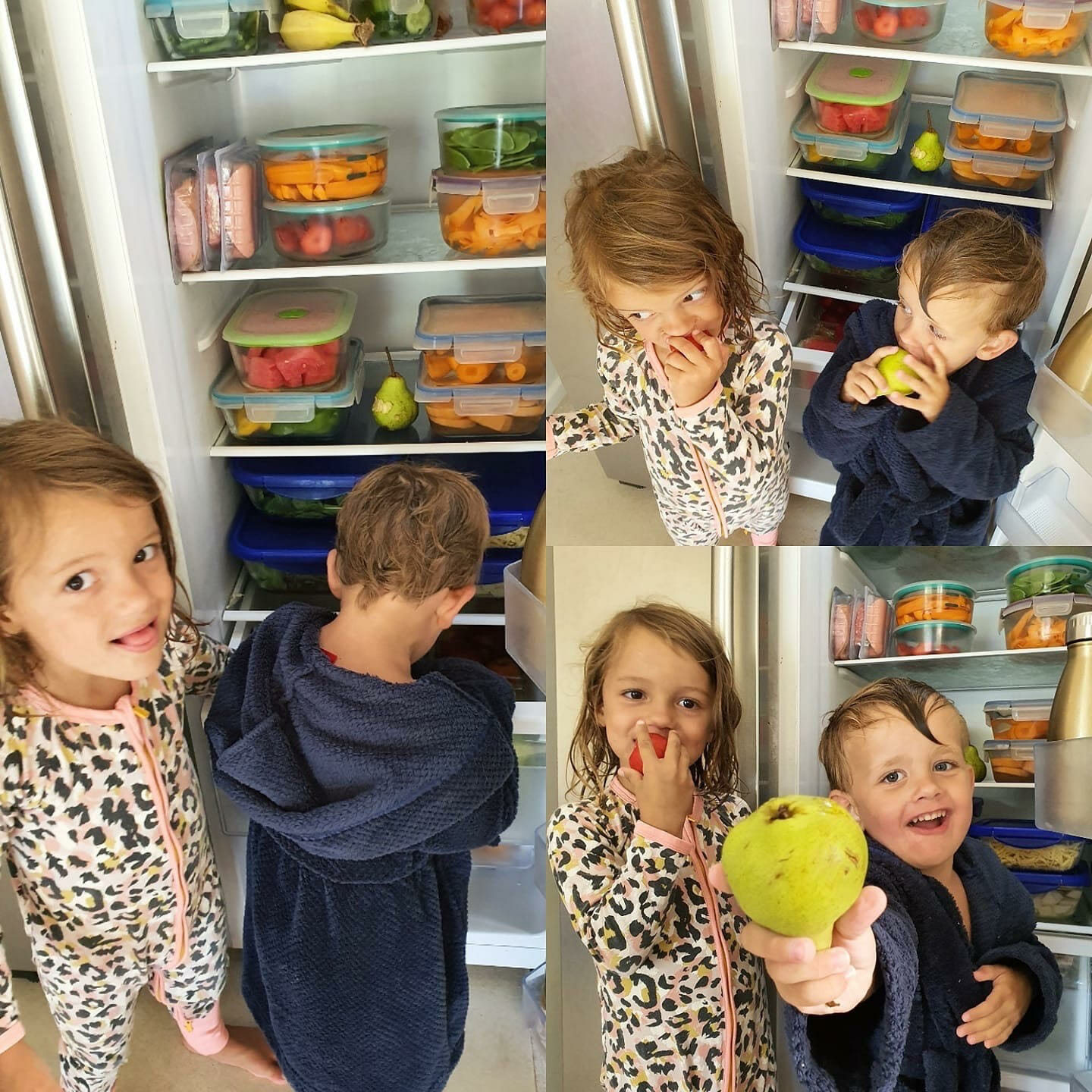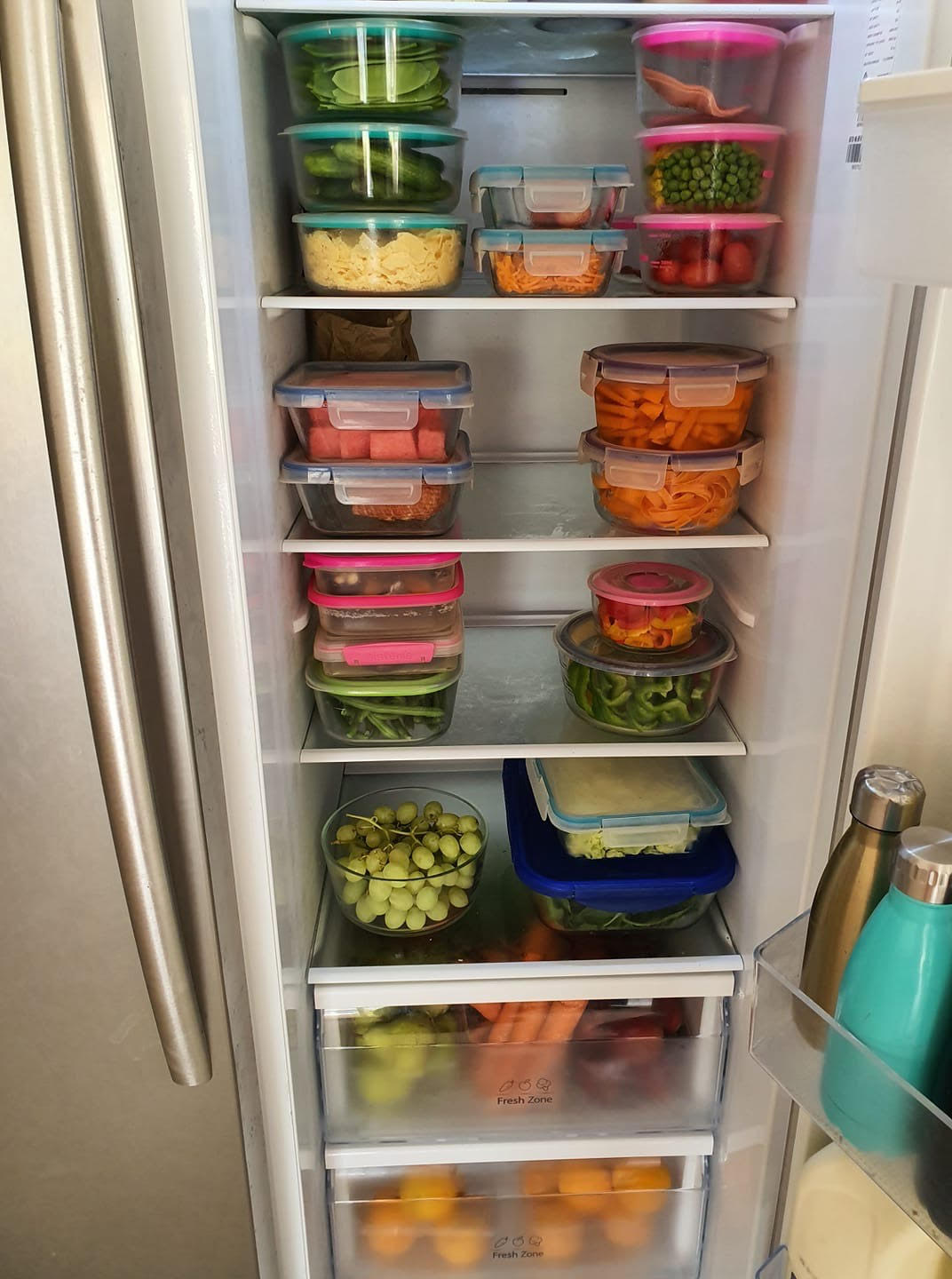 Sally Stepniewski
"Let's talk kids snacks, especially as the school holidays are in full force! You've probably all seen my OCD fridge before, but if not I'll introduce you to the middle of my fridge.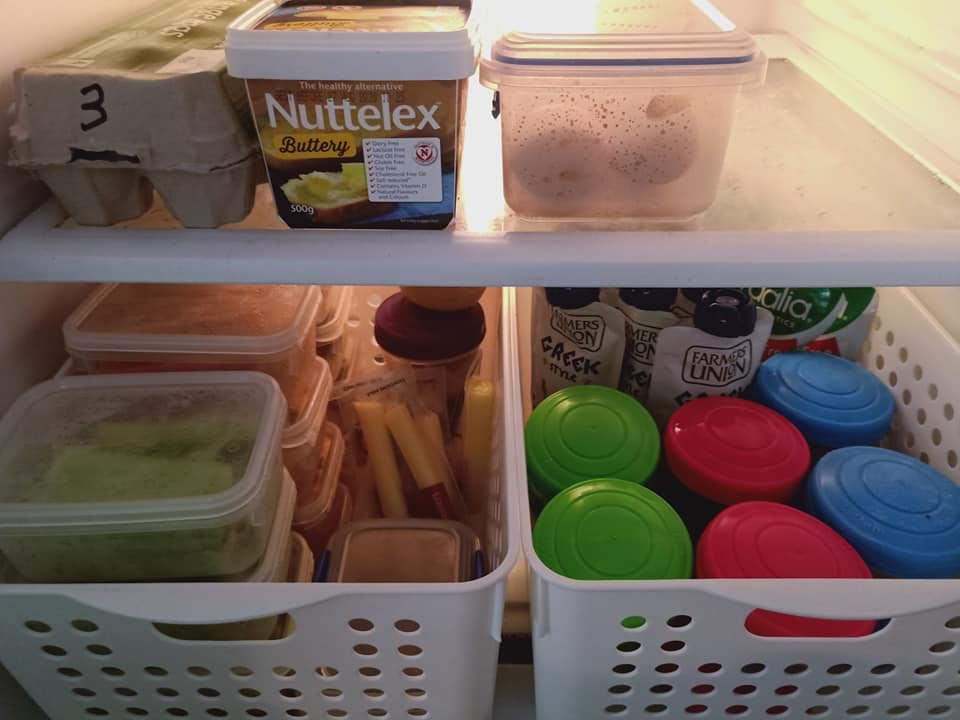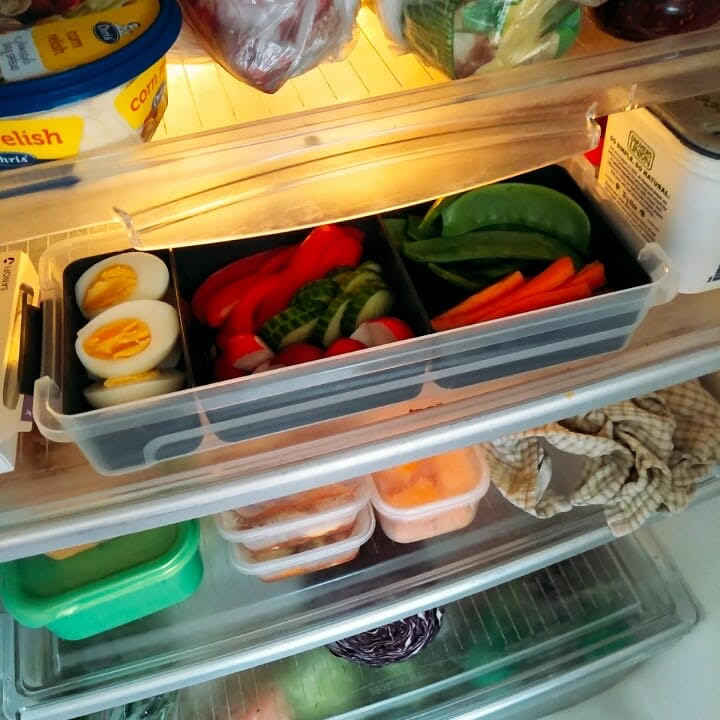 Sally shares, "I have three kids, miss 6, master 6 and miss 4. This is how we do snacks in our place. Everything is within reach for the kids to grab whenever they want a snack. From fruit to veg sticks, yoghurt, cheese sticks and fruit muffins to boiled eggs and dip pots – all the Healthy options without nagging us every time they're hungry!!!
"We also have a similar one in our cupboard with rice crackers, fruit, and nuts. I can't emphasise how incredibly handy this is, and the best thing is, I know they're eating healthy snacks!!"
Stacey Webb
I have 4 kids aged 7 years, 5 years and 17-month-old twins.
"The fruits and vegetables change depending on what we have in the fridge. But if the older girls are a little hungry they know they can go to the fridge, get this lunch box, and pick some things to eat.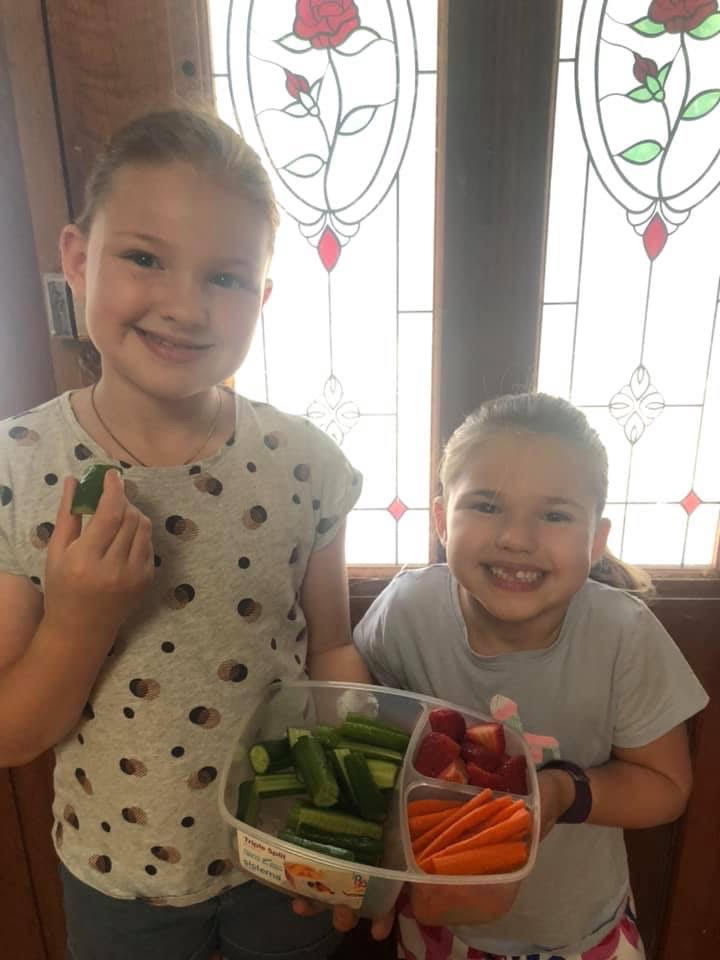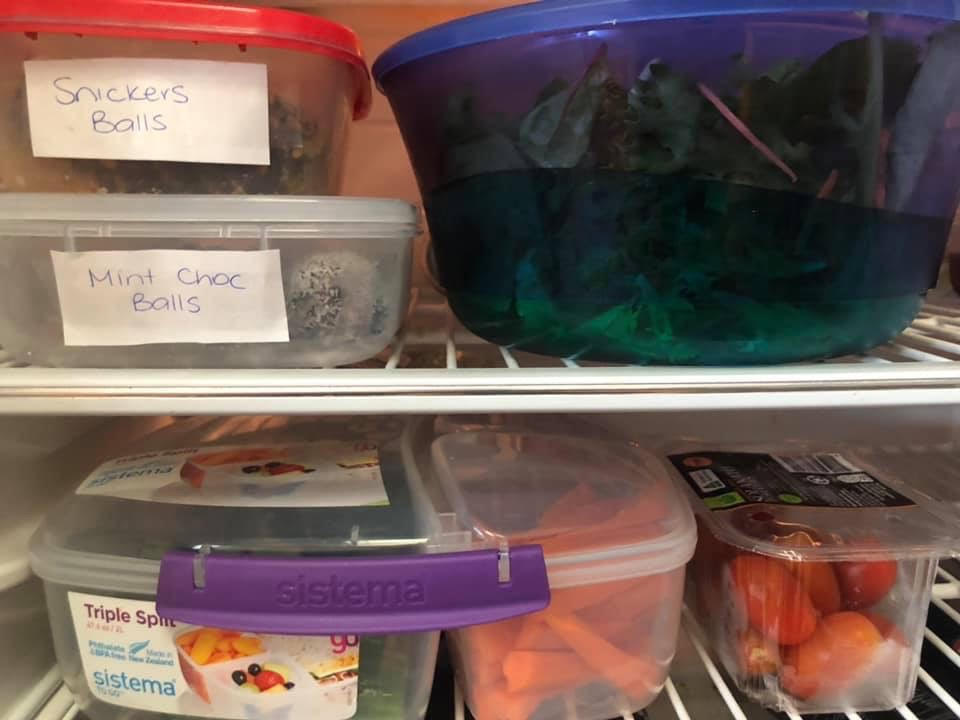 "The girls always ask before they go to the fridge but it's handy for them because I may busy with the twins and this makes things easier for us all at home.
"The girls love it because it's 'their special snack lunch box for kids only – no babies' they love having independence whilst still eating healthy."
Bernie Fanning
Bernie shares, "I have one daughter who is 4. I used 1 apple, banana and a carrot. So quick and easy and helps my daughter as she can open the fridge for a healthy snack."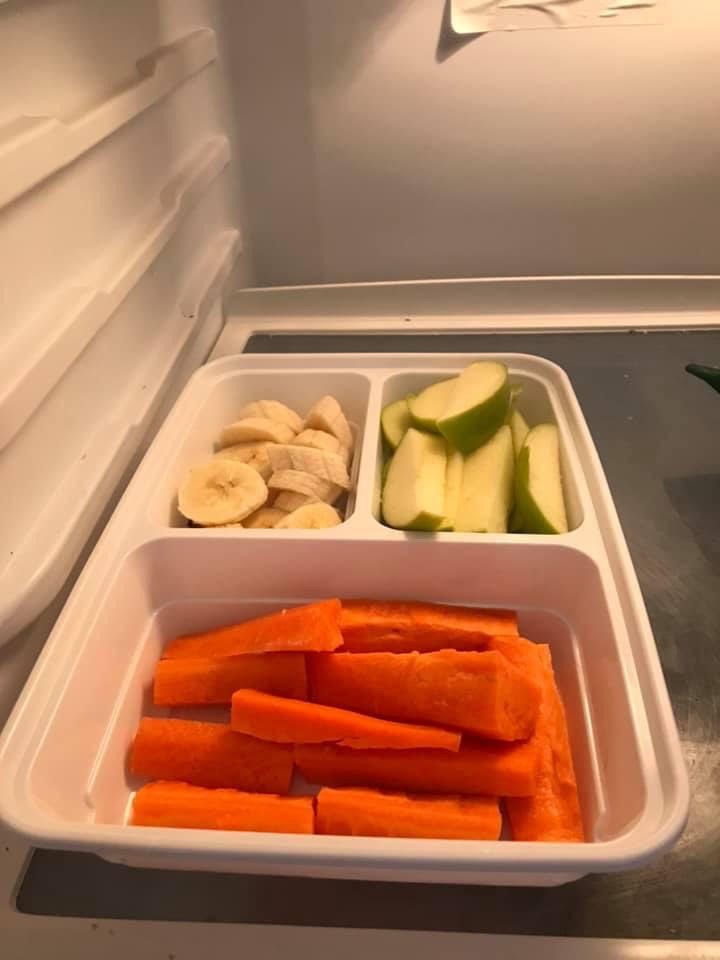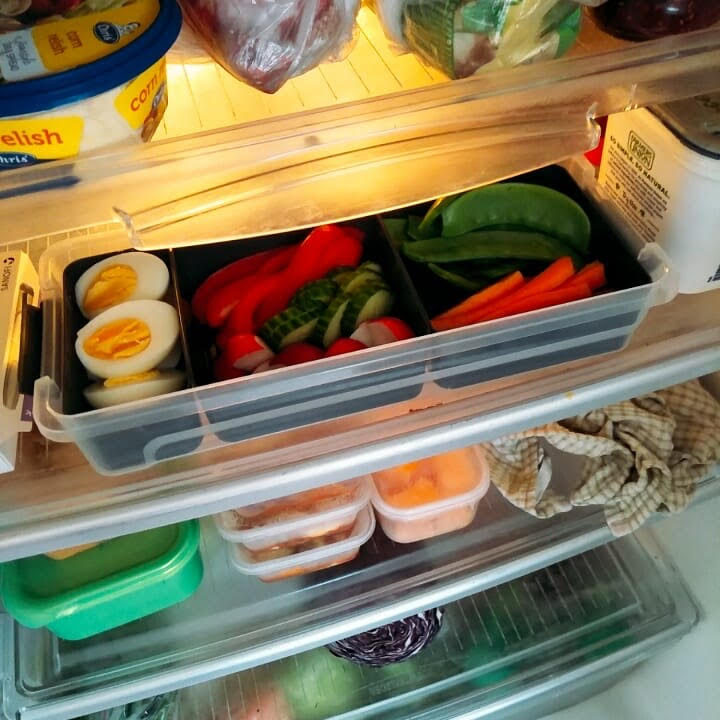 There is absolutely no reason why adults can't have snack stations either! These are perfect for the mum on the go to help her keep on track and not reach for any unhealthy snack choices.
More great snacks on the 28 Day Weight Loss Challenge: