10 healthy bliss ball recipes we LOVE!
Are you looking for Bliss Balls Recipes? Find the best and healthy recipes for the whole family. Delicious Bliss Balls Recipes.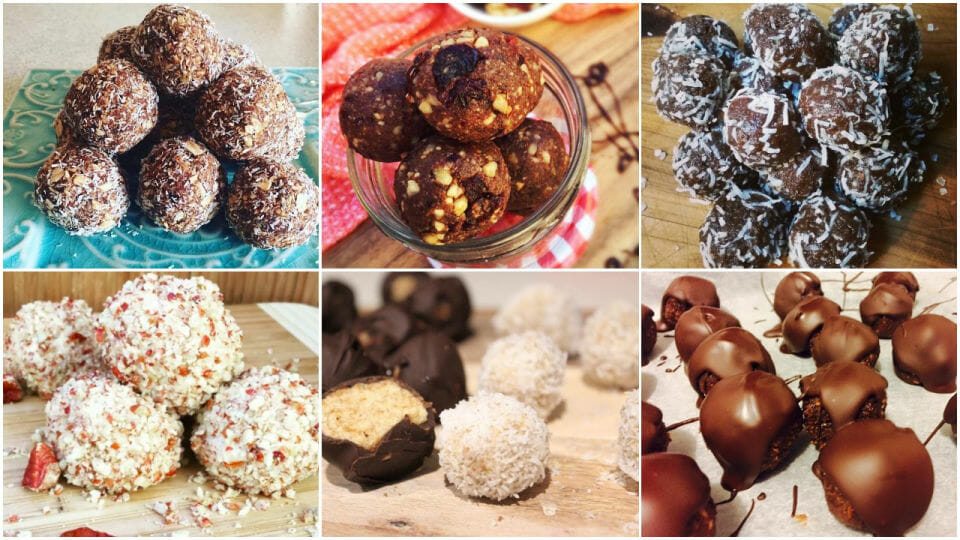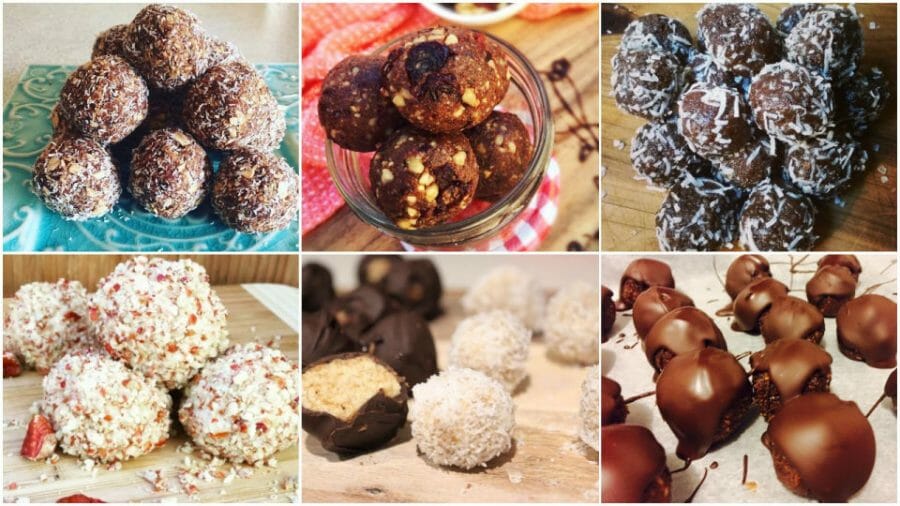 Bliss balls are a great snack that you can prepare in advance and store in the freezer making them the ultimate "grab & go" snack when you are craving something naughty and they will NOT ruin your hard work while following a healthy eating plan.
But what exactly are bliss balls? They are made with a simple concoction of whole or raw ingredients, such as dates, oats and nuts, blended together and then rolled into a convenient ball and often sprinkled with desiccated coconut or crushed nuts.
Best of all, these little yummy balls contain a combination of carbs, protein, healthy fats and lots of fibre as well!
10 healthy bliss ball recipes
If you love the idea of a FAST, TASTY SNACK that's sure to give you an ENERGY BOOST, you're going to love our collection of bliss ball recipes.
Packed full of ingredients like nuts, oats and fresh or dried fruit, these tasty little treats will SATISFY a SWEET CRAVING or give you enough oomph to get through a busy afternoon.
Why is protein great for shredding fat
In a nutshell, bliss balls (also known as protein balls) are a simple healthy treat. And having protein incorporated into your meal plans is pivotal for shredding fat!
Protein is an essential macronutrient that we basically cannot live without, and can be incorporated into many meals. This is how you can use protein for shredding fat and losing weight.
Healthy fat, protein, carb, and fibre breakdown
Not only are many recipes under 100 calories, but healthy fats and protein can also be found in nuts or coconut oil and complex carbs in dried fruit!
Many gym goers opt for bliss balls because they often contain energy-boosting ingredients and are light to eat.
Read more:
10 healthy bliss balls we LOVE!
1. Raspberry bombs bliss balls

Raspberries have so much to offer and in these delicious bliss balls, they come bringing all their antioxidant-y goodness. This four-ingredient bliss ball recipe is only 56 calories each.
Grab the recipe for these Raspberry Bomb Bliss Balls here.
2. Chocolate heaven bliss balls

YUM! We can never get enough of the chocolatey decadence of these balls! We love finding a way to fit more chocolate into a healthy eating plan, and with dates, walnuts and cacao, these balls of bliss will keep your body happy while keeping your tastebuds happy too!
Grab the recipe for Chocolate Heaven Balls here.
3. Lemon and coconut bliss balls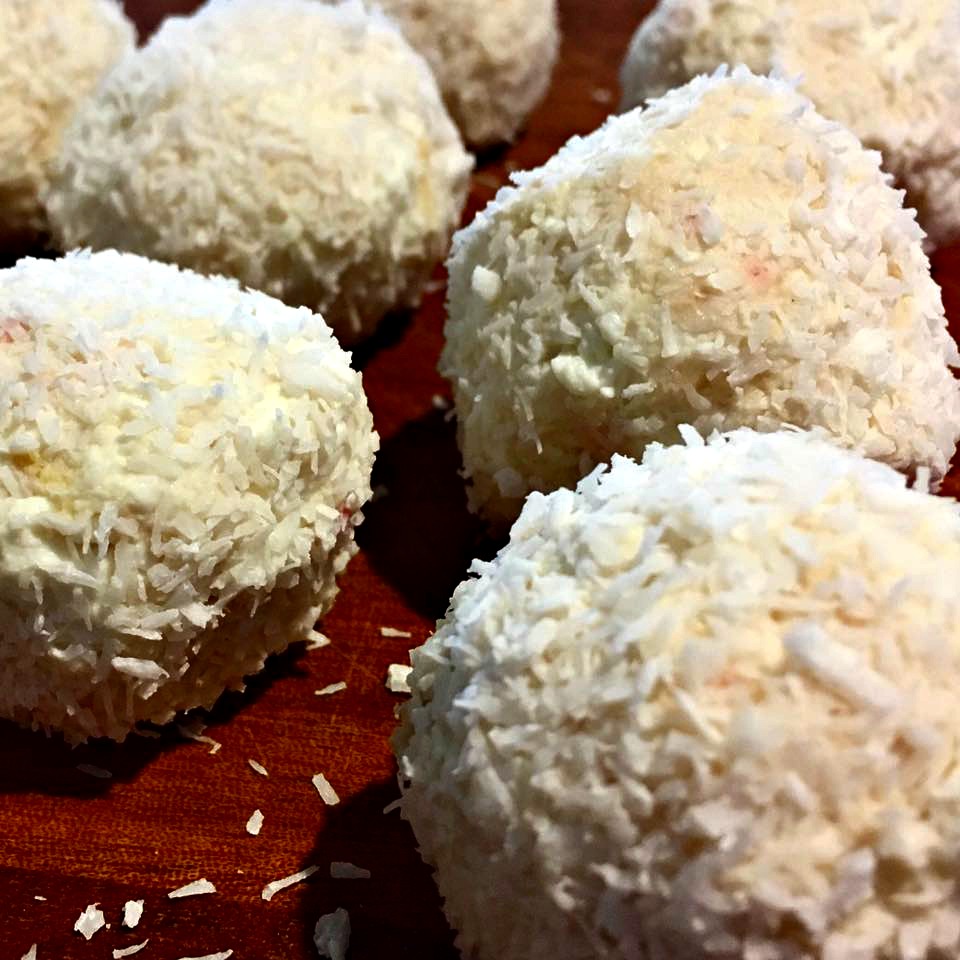 Fill yourself up with the healthy fats found in this fabulous healthy eating snack idea that is packed with heart-healthy coconut and the goodness of almonds.
Grab the Lemon and coconut bliss balls recipe here.
4. Healthy caramel cheesecake bliss balls

Transform traditional not-so-healthy cheesecake into these bite-size healthy mouthfuls of bliss. Only 57 calories in them.
Give the Healthy caramel cheesecake bliss balls recipe a try.
5. Date and oat bliss balls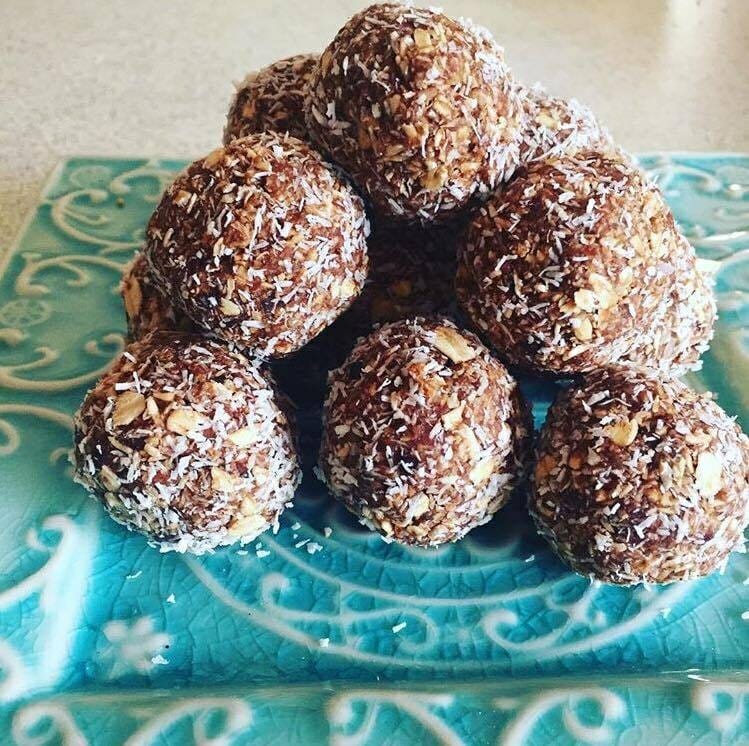 Freeze a batch of these so you have an energy boost on hand at all times. With coconut and cacao as well as dates and oats, they will give you a stack of wholesome treats to get you through a busy week.
You can find the Date and oat bliss balls recipe here.
6. Banana bread Bliss balls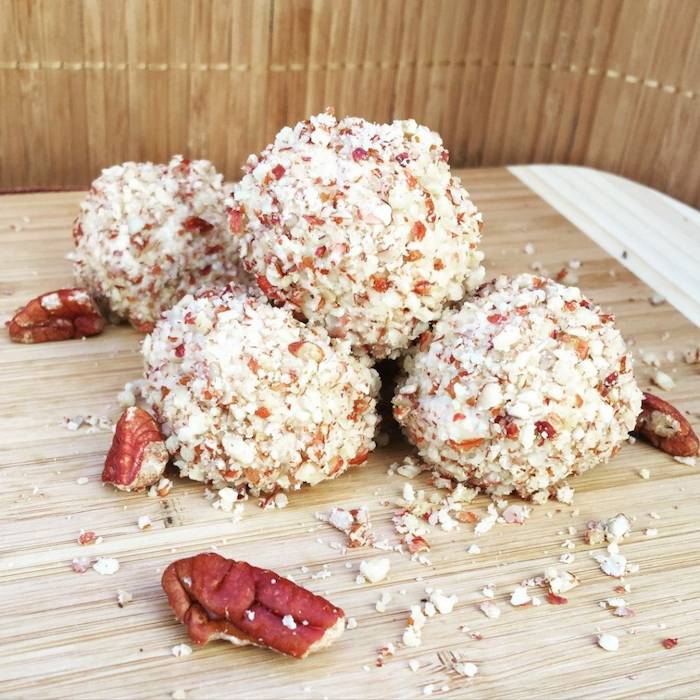 All the deliciousness of banana bread, rolled into these yummy little balls and only 89 calories each!!
Give this Banana bread Bliss balls recipe a try.
7. Healthy chocolate coconut salted bliss balls

These recipes are a bit special, filled with plenty of chocolate nutty goodness thanks to the Chocolate Healthy Mummy Smoothie Mix and a dash of cacao.
INGREDIENTS
2 tsp coconut oil
2 tbsp tahini
1 tbsp 100% peanuts peanut butter
1 tbsp Choc Healthy Mummy Smoothie Mix
1 tbsp almond meal
10 Medijool dates pitted
1 tbsp cocao
1 tsp vanilla extract
1/2 tsp mixed spice
1/4-1/2 tsp Himalayan salt or rock salt or both
1/4 cup shredded coconut to roll balls in
INSTRUCTIONS
Pop all ingredients into a food processor until well combined
Roll the mixture into around 18 balls
Roll in coconut and more salt if you need to
Best kept in the fridge or freezer.
8. Healthy rocky road bliss balls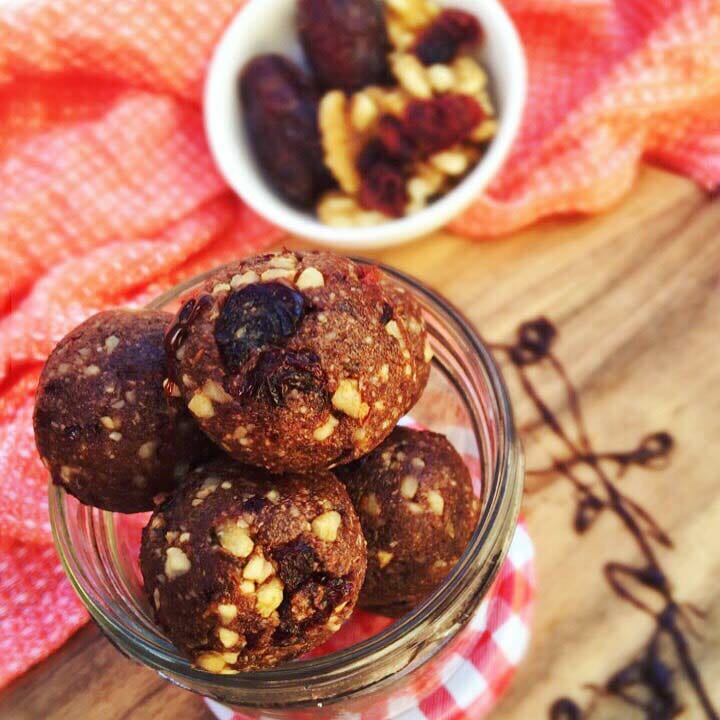 Only 63 calories per ball! This is the way to do a healthy eating plan! Enjoy this delicious combination of chocolate, cranberries and walnuts and keep on track to nutrition.
INGREDIENTS
2 weetbix
¼ cup almond meal
¼ cup desiccated coconut
2 Medjool dates or pitted dates
2 tbsp Coco2 chocolate spread
¼ cup walnuts
¼ cup dried cranberries
INSTRUCTIONS
Whizz everything (except the walnuts and cranberries) in the food processor until well combined.
Then add the cranberries and walnuts and blitz until roughly chopped, I left mine a little chunky to get the rocky road effect.
Roll into teaspoon-sized balls and keep stored in the fridge or freezer.
9. Healthy mint cream bliss balls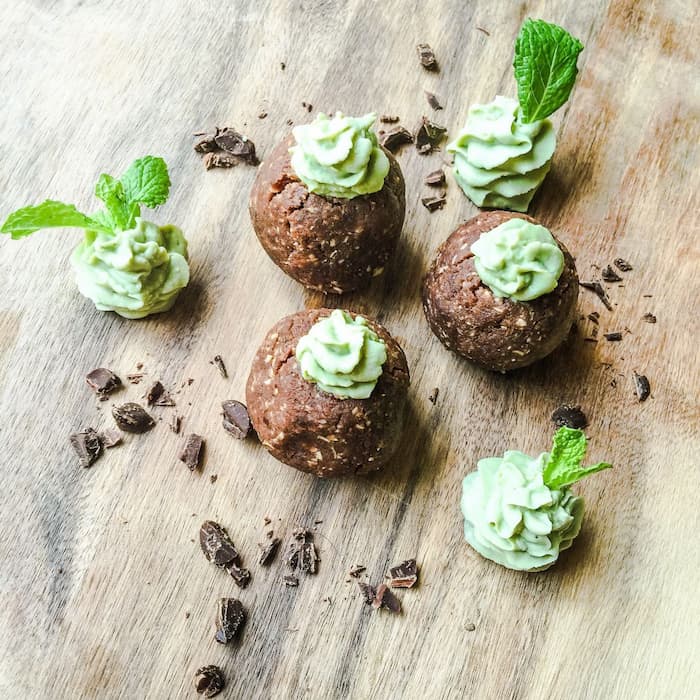 These are FANCY recipes! Don't hide these in the cupboard. They're a masterpiece using the Healthy Mummy Smoothie Mix, and they deserve to be shown off.
Find the Healthy mint cream bliss balls recipe here.
10. Passionfruit bliss balls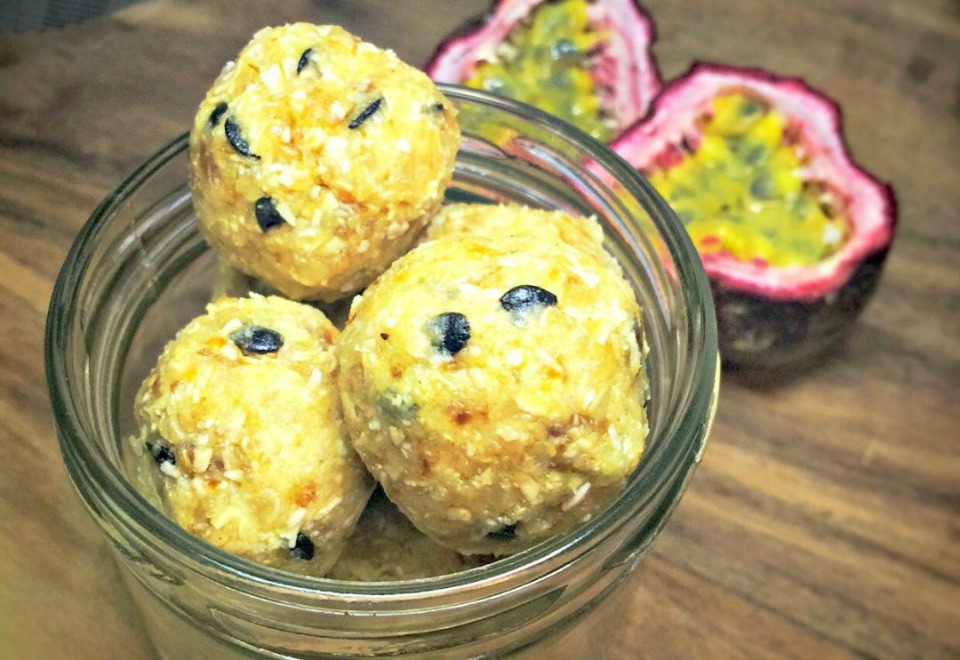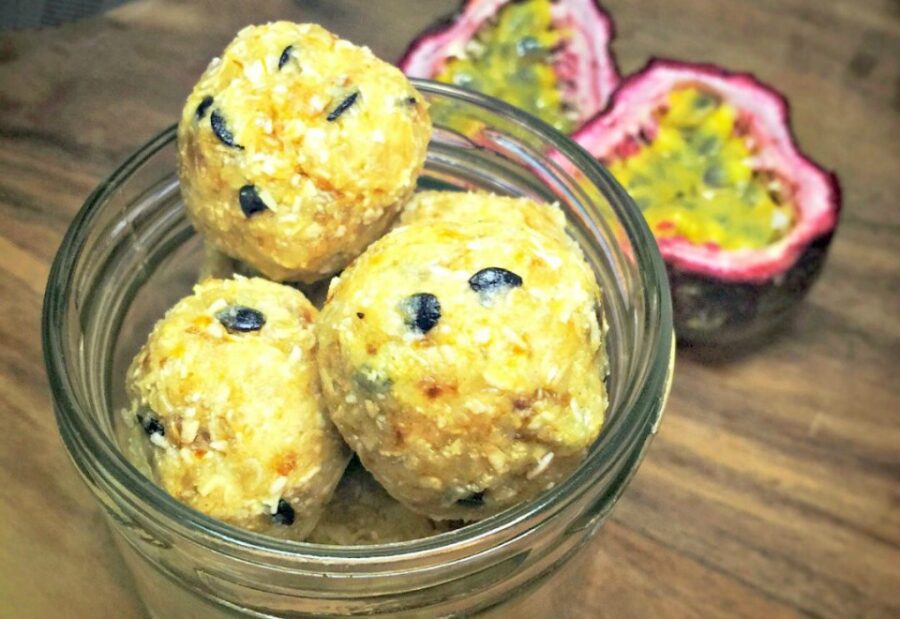 With the zing of fresh passionfruit and a mere 55 calories, these healthy recipes are ideal for when you're losing baby weight. And with their pretty yellow colour, they will be popular in the kids' lunch boxes too.
Find the Passionfruit bliss balls recipe here.
Tired of wondering what to cook?
Now you can easily meal plan with our personalised plans & over 6,000 family & budget friendly recipes catering to a wide range of dietary requirements.
The Healthy Mummy is a holistic program to nourish your body with nutritious food and help you stay active in your busy, everyday life. Yours and your families well being should be a priority so let us take the hassle out of it.
Unlock the key to sustainable life changes that will leave you feeling your absolute best.