As the end of the year approaches there are a lot of social occasions on. So we at the healthy mummy have a Quick And Easy Meals For You and your  Family.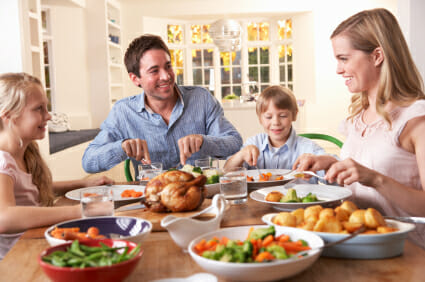 We talked last week about some tips to help you cope with the onslaught of food and how you could survive the festivity and still remain on your healthy eating or weight loss diet.
But what about the kids?
When we are out and about or off to an event or dinner we are in such a rush that we do not think about their dinner or lunch and resort to quick packaged meals which are not part of a healthy eating plan.
Below are four suggestions of some quick and healthy meals for your children. Of course they could be for you too!
Tuna pasta. Seriously, this will take you 10 minutes. Canned tuna, canned tomatoes, pasta and a few diced up leftover vegetables
 Homemade pizzas. If you are having a babysitter, prep the ingredients and have plain pita bread available for the kids to top themselves. They can do this after you have left and it is easy to clean up. Try to avoid all the high fat processed meats and use ingredients like vegetables, thinly sliced ham or shredded chicken. We have a yummy recipe for homemade pizza on the site
Frittata. This is probably my favourite Tuesday night style dinner and can be easily whipped up with whatever is in the fridge. Have a look at our great veggie frittata. Of course you could add or change this to include lots of delicious ingredients too
Tasting plate. This could be done with leftovers or just with random ingredients in the fridge. Use cold meats, cheeses, chopped up vegetables, finely sliced up bread for dip sticks, dips, yoghurt and fruit. Use little containers and cute accessories to make it all fun
And then of course you can make it fun for everyone by eating it differently. This will give the children an opportunity for some festive excitement too. Here are five ideas to spice up a nightly dinner. Of course you could do this any night!
Have a picnic in the living room. Spread out a rug and pillows and all eat on the floor together or let them eat there by themselves while you are getting ready
Eat in a cubby house. This could be inside or outside or under a table
Dress the table. Make place settings with the kid's names (they can do this too), set it with lovely cutlery, napkins and candles. The children can design and draw some paper place mats and bring a favourite toy to dinner to join them
Eat with oversized or different utensils. This is so fun and actually a great way for children to eat foods that they would normally not eat. Try chopsticks, large soup ladles, straws, salad servers and tongs. I am pretty certain there will be mess, but at least you know the children are happy while you walk out the door
Eat blindfolded. There are top restaurants which do this as by eliminating the sense of sight, your sense of taste is heightened. As above it might lead to your children eating something they wouldn't normally
By starting your own healthy eating journey, your family will be introduced to it as well. It is important to keep your health and your families' health a priority and by teaching them to love and enjoy food will stand them in good stead.
If you are ready to lose weight then The Healthy Mummy plans offer a healthy and safe exercise and diet routine that are safe if you are breastfeeding.
And don't forget to check out our current promotions and discounts page to see what specials we have on this week on our Healthy Mummy product range.