Salads can get boring sometimes. This Moroccan Inspired Beetroot Salad will excite and it can be eaten warm or cooler!
Similarly, it can be eaten in the warmer sticky months like it is today or as the weather starts to change.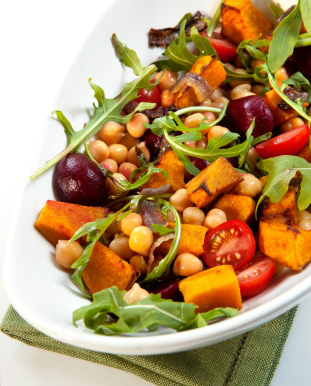 Who knew, healthy eating is so versatile!
This healthy eating meal will be not only flavoursome but also filling as it is a good source of protein and fibre.
Moroccan inspired Beetroot Salad
Prep time: 10 minutes
Cook time: 10 minutes
Serves 4
Ingredients
4 whole baby beetroots (not 4 cans, just 4 whole baby beetroots. If from can, rinse.)
1 x 400gram can of chickpeas (rinsed)
2 carrots peeled
2 cups of cooked cous cous (or around ¾ cup of cous cous grain raw) cold or warm
2 cups of rocket
½ cup of sultanas
½ cup of slivered almonds
1 tbs of oil
1 tbs of white wine vinegar
Directions
1.       Rinse the canned items under cold water to remove excess salt and/or brine.
2.       Cook the cous cous as per packet instructions or if prepared earlier remove from the fridge.
3.       Grate the baby beetroots and carrot (you could also roast them in chunks like the photo).
4.       Place all the ingredients in a bowl and lightly toss together. For more delicious salad recipes try this healthy beetroot and feta salad recipe!
Around 300 calories per serve
If you are ready to lose weight then The Healthy Mummy plans offer a healthy and safe exercise and diet routine that is safe if you are breastfeeding