Midwife explains the benefits of babywearing for you and your baby
Babywearing helps modern day parents achieve the biological norm of keeping their baby close and can assist in the transition to extrauterine life.
Midwife, Lactation consultant (IBCLC), Child and Family Health Nurse, baby wearing consultant and mum of two, Bel Moore, explains the benefits of babywearing.
Babywearing is the practice of keeping your infant, baby or toddler close and connected to you as you engage in daily activities through the use of one of a variety of types of baby carriers.
It is a traditional practice in many cultures and has many benefits for both children and their caregivers. Newborn infants are classified as a "parent clinger" or tragling, which is basically an offspring that is not able to function without a caretaker and needs to be in close body contact with their caretaker to feel safe.

How babywearing mimics the womb
Babywearing helps modern-day parents achieve the biological norm of keeping their baby close and can assist in the transition to extrauterine life by recreating a womb-like environment.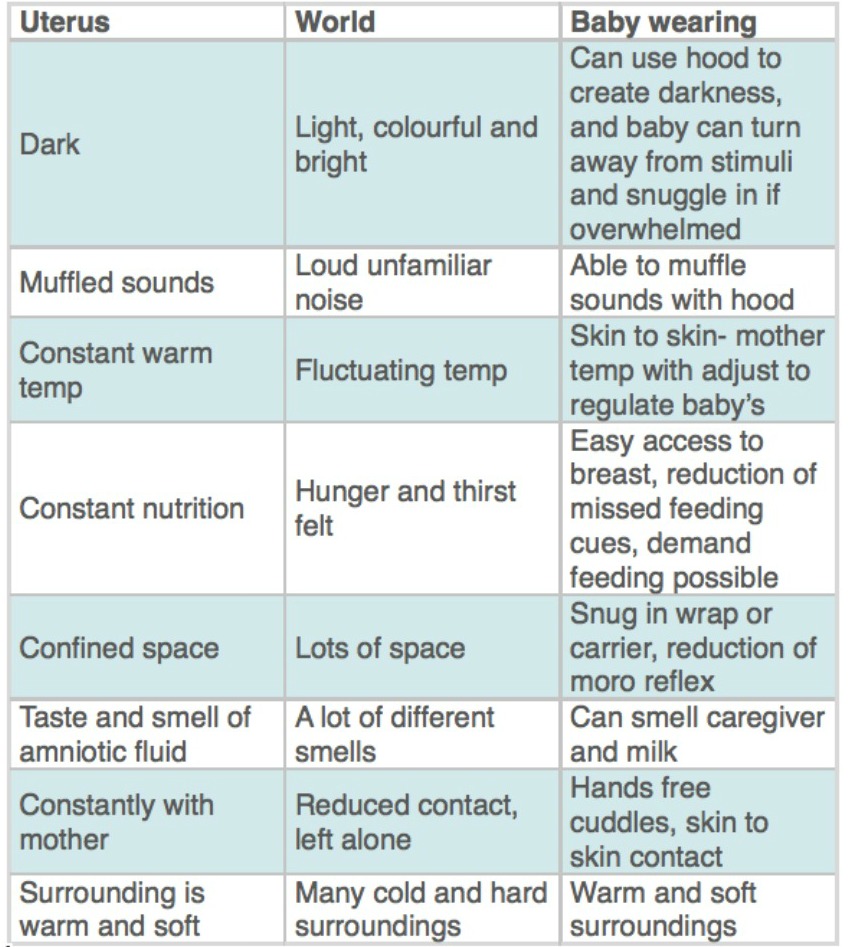 Benefits of Babywearing 
Babies are happier– a study found that 6-week-olds who were worn in a carrier/sling cried 43% less than other children!
Convenient– Walk around freely without having to worry about negotiating elevators, escalators, steps, crowds or narrow aisles with a pram.
Increase breastfeeding success– Able to be skin-to-skin easily, which can increase milk supply. Ability to demand feed, which can maintain supply. A sling, wrap or carrier can block out excess stimuli for older babies who may be fussy when feeding and can even allow for 'discreet' nursing for those wanting it. Hands-free, on-the-go feeding can also be perfect for subsequent babies when there isn't time for long leisurely feeds as there are other siblings to attend to.
Great for travelling– Able to use on public transport, no need to take prams etc., as baby can sit, sleep and eat in the carrier.
Hands-free– for typing, writing, shopping, eating, and playing with siblings!
Promotes baby's physical development– The stimulation experienced when being worn helps a baby to regulate their own physical responses to stimuli. They are able to see nonverbal communication, have their cues read easier, and even exercise their vestibular system, which controls balance. Babywearing can also help prevent plagiocephaly (flat head syndrome).
Healthy for you! You can easily exercise when baby-wearing (walking, bush walking, kanga training, personal training) and lose any extra weight you may have put on during pregnancy. A happy baby also can improve your mood, increase your confidence and reduce the risk of developing PND.
Helps you and your baby to bond and communicate with each other– Able to read babies' cues, gestures and facial expressions.
Other caregivers, such as fathers and grandparents, are also able to experience the baby-wearing benefits.
Safety- Babywearing not only ensures the physical safety of your baby (crowded or dangerous places, can monitor breathing etc.) but also emotional safety.
Cost-effective and environmentally friendly– there is a carrier or sling to suit any budget.
More on safety 
To ensure the baby is safe in the sling/carrier/wrap the wearer should follow the TICKS guidelines, and the infant or child should always remain visible and kissable.
Safety Tips:
Check the integrity of your carrier, wrap, sling before you use it. Do not use if has any damage.
Ensure that baby's airway is not blocked. Ensure that baby's head is facing to the side and that the chin is not tucked into the chest. Do not place blankets over your babies head, use only shade hood provided.
Check baby's temperature on the torso, not extremities. Remove some layers if baby is too hot or add some layers if baby is too cold. Remember that your carrier is considered a layer of clothing.
Don't do anything that would put your baby in danger while wearing her such a driving, cycling or drinking boiling hot drinks while wearing.
Ensure you are using an ergonomic carrier or sling to ensure healthy hip positioning.
Basic baby-wearing options available: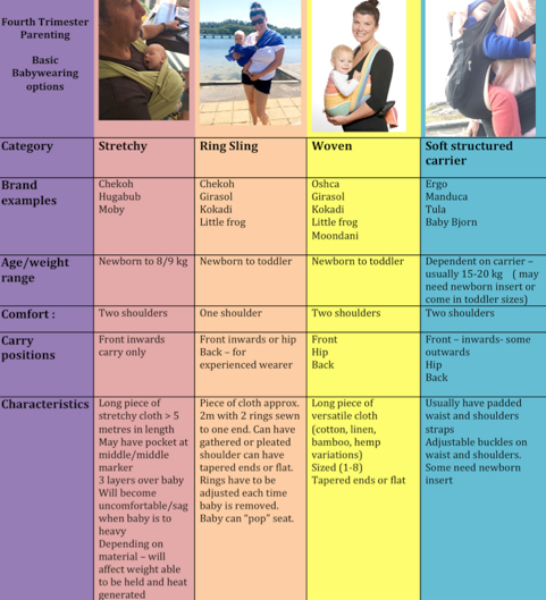 Great tips, thanks Bel!
For more of Bel's articles visit our pregnancy archives and our breastfeeding archives. 
If you are looking for support from other new mums, who may be having the same anxieties – be sure to check out our NEW MUMS FACEBOOK SUPPORT GROUP.
The Healthy Mummy has multiple private and JUDGEMENT-FREE groups you can access (for free) and exchange tips, tricks and experiences with other new mums.
You can learn more about our other Private Facebook Support Groups and Facebook Pages to follow HERE.