Healthy Easter treats the whole family will love!
Whether you are looking for healthy Easter treats for you, the kids or the Easter bunny these delicious recipes our mums have been whipping up are likely to get you in the kitchen quick!
Just because you're trying to lose weight doesn't mean you have to deny yourself treats especially when there are so many amazing healthy versions of classic recipes available with the 28 Day Weight Loss Challenge.
Some of our mums have shared the delicious creations they have  made for their family this Easter, if you are looking to be inspired check them out below.
Easter treats that the family will love that are actually healthy!
New recipe alert! Collagen filled chocolate eggs!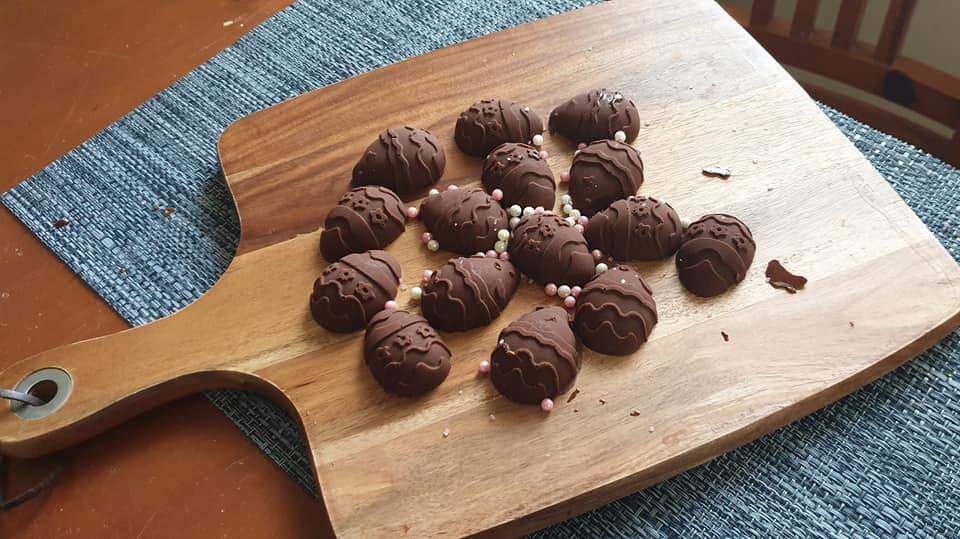 Mum Krissy Galbraith loves to whip up new creations in the kitchen which is why she decided to try her own mix on the classic Easter egg with the addition of some Healthy Mummy SKIN Beauty Collagen Powder.
Krissy says, "One thing I love to do in the kitchen is cook Healthy Mummy recipes! But I also love experimenting to create them!!
I created a yummy healthy Easter recipe using the Healthy Mummy SKIN Beauty Collagen Powder and would love to share with you all."
Collagen Easter delights!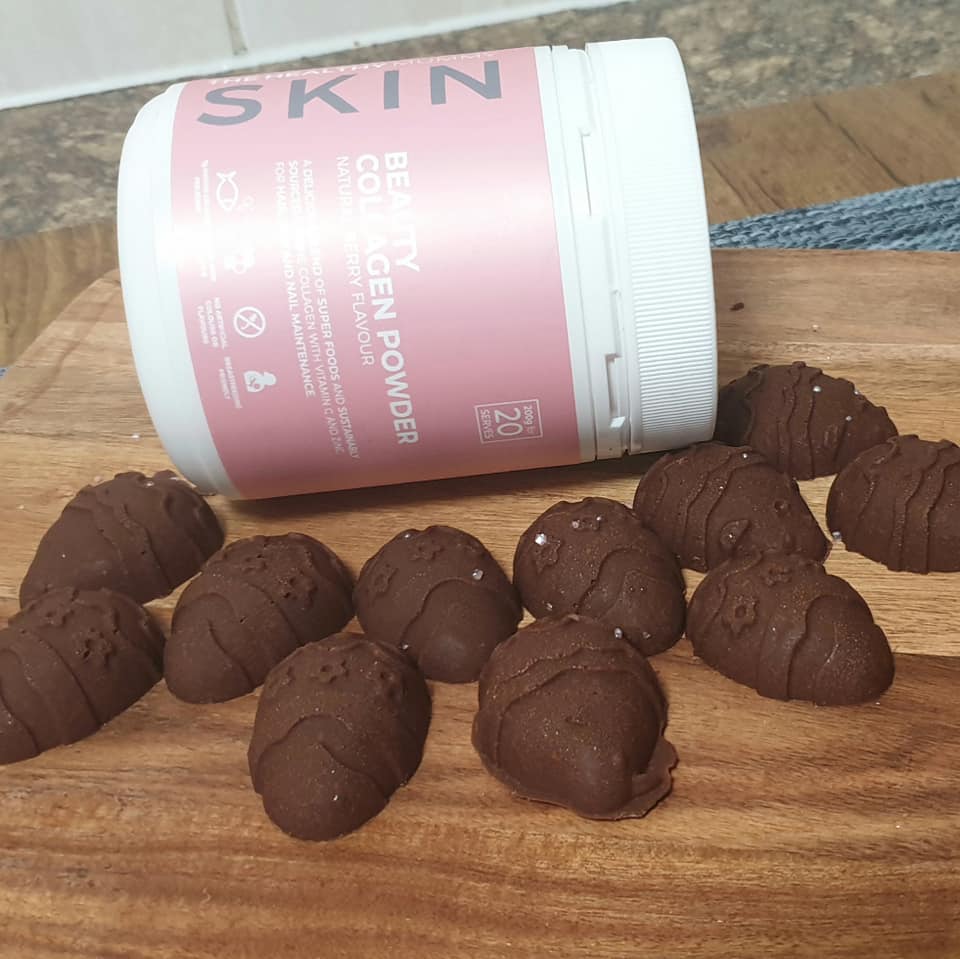 Ingredients:
125g dark chocolate
1 tablespoon of coconut oil
30g fine coconut
Instructions:
Melt the dark chocolate and oil together until smooth.
Add the coconut (you can make with out If you don't like coconut I have and it's also delicious! )
Once all mixed add the 4 tsp of collagen powder.
Mix again then pour into chocolate moulds then pop in the fridge or freezer to set!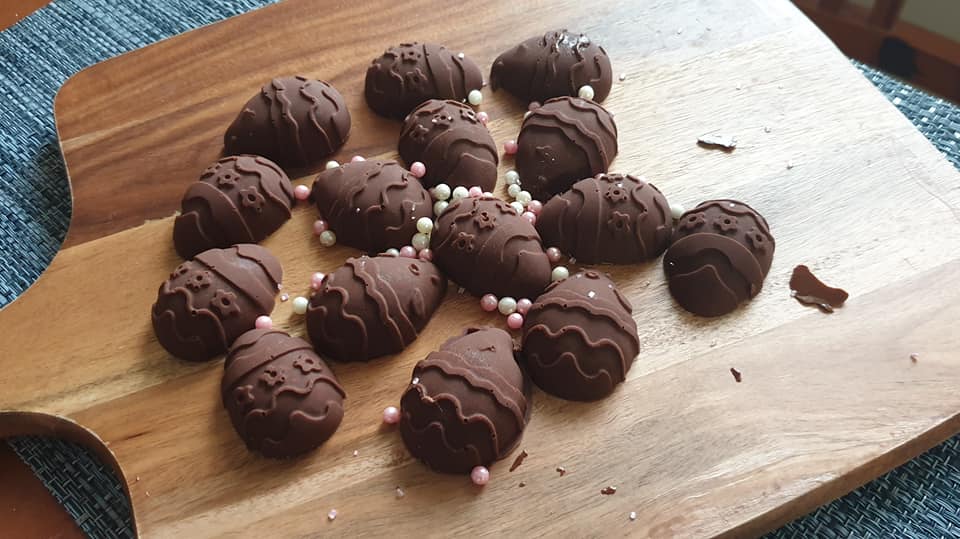 "My recipe made 15 so the total calories for each one is 62.8cal
They taste lovely with a hint or berry tingle through them!
You will love them!!! Happy Easter!"
Guilt free healthy Hot Cross Buns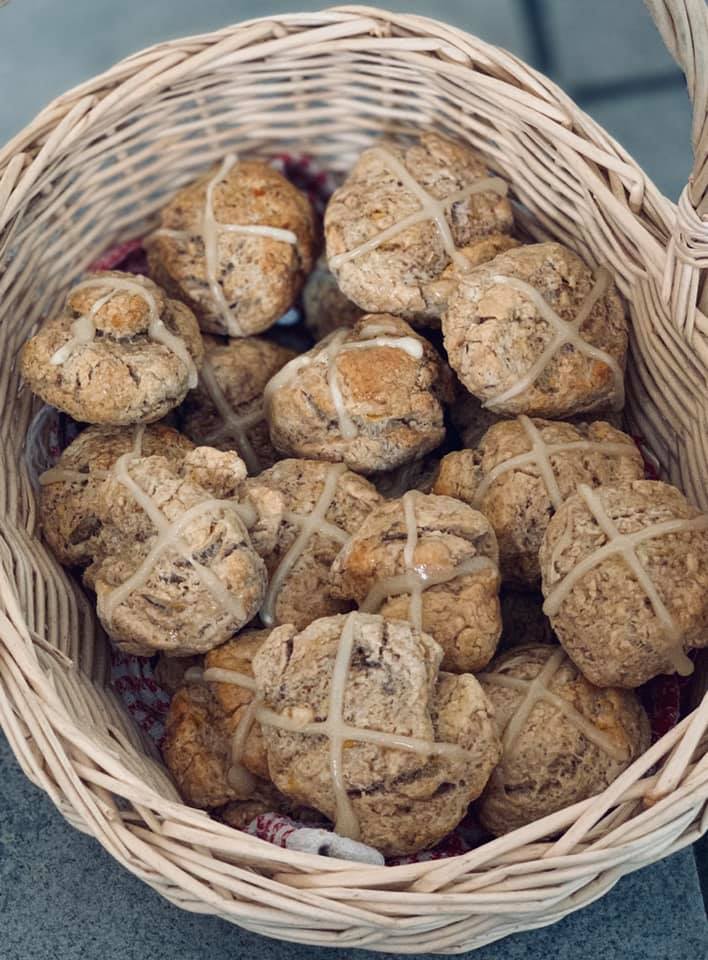 Hot Cross Buns are a staple of any Australian Easter table served toasted with a little butter they are hard to resist, but when you are trying to stick to a healthy eating plan you do your best.
Mum Jess Smith whipped up our delicious Quick and Clean Hot Cross Buns for a guilt free Easter treat.
She said, "Quick and clean hot cross buns. A guilt free treat for Easter. They smell and taste delish."
Easter eggs that won't bust the belt with a peppermint twist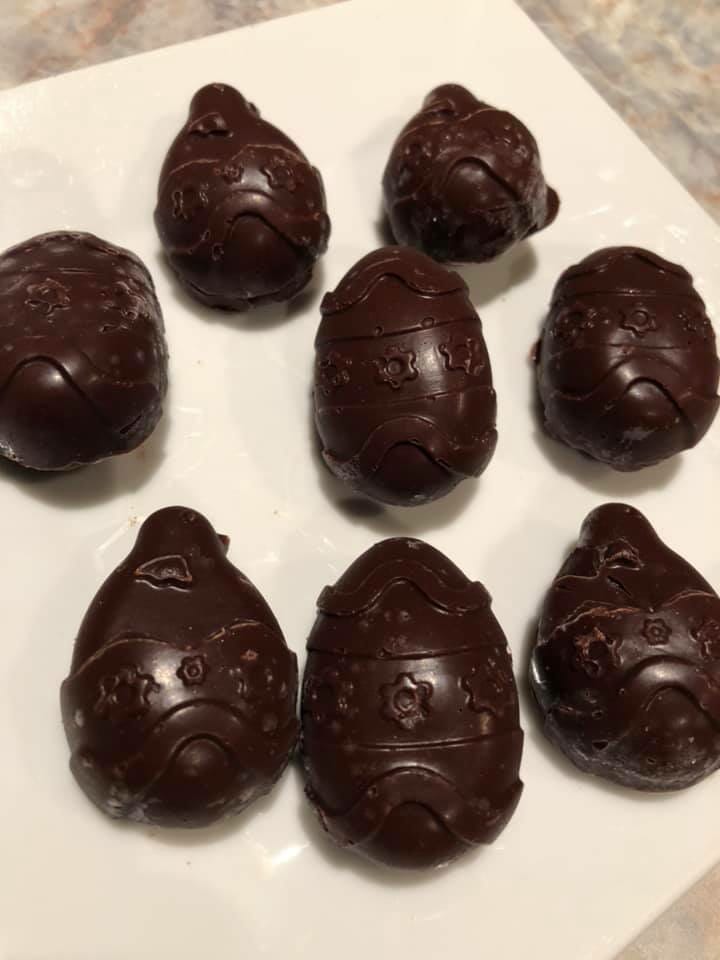 Mum Michelle Zanussi was wanting a sweet Easter treat but has a love for peppermint so decided to tweak our Homemade Chocolate Easter Egg recipe to add a dash of peppermint.
Michelle added one teaspoon of peppermint to her eggs for that minty flavour but if you aren't as big a fan of peppermint as she is you could try 1/2 teaspoon.
She said, "Omg these home made chocolate Easter eggs taste amazing.
With a little twist I added peppermint essence it really tastes like an after dinner mint."
Hot Cross Buns, Hot Cross Buns! More Hot Cross Buns!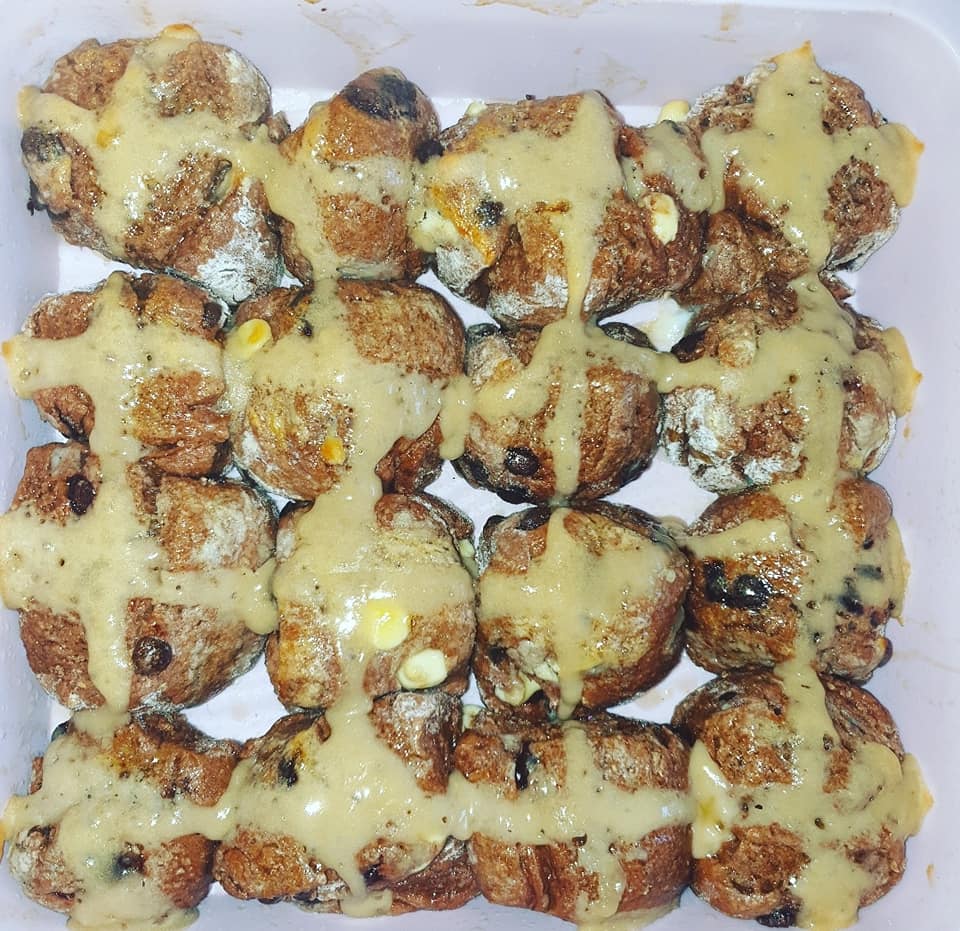 Mum Nicole McClelland whipped up some delicious Healthy Mummy Healthy Hot Cross Buns for her and her family.
She even made tweaks to the recipe making up a batch with chocolate for the kids and a fruitier option for herself!
She said, "Fresh outta the oven!!!  Healthy Mummy Hot 'cross' buns (can't do crosses) with a twist…
Kids (above image): triple chocolate
Me (below image): Cranberry and white chocolate…
Both taste delish and are super soft"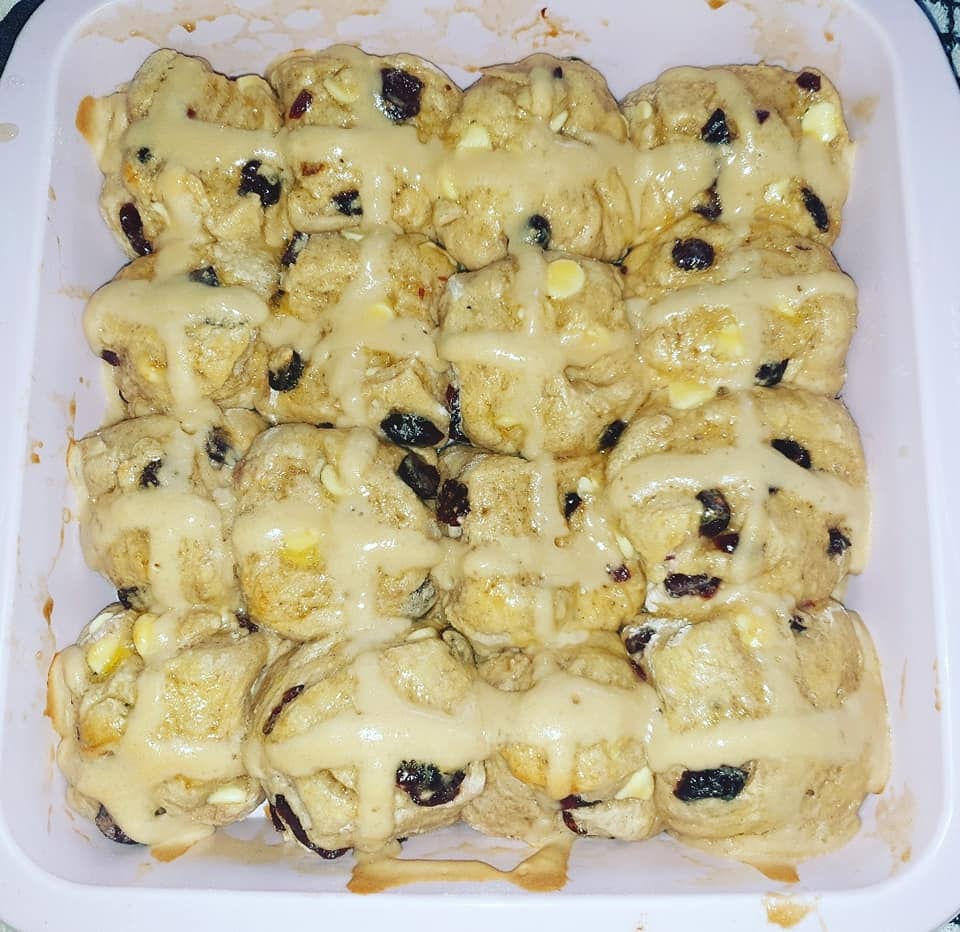 Morning tea with a healthy Easter treat!
When mum Heather Connan sat down for her morning tea she decided to add some flash to her photo to share with The Healthy Mummy Community and man it worked her Hot Cross Bun Bliss Balls look amazing!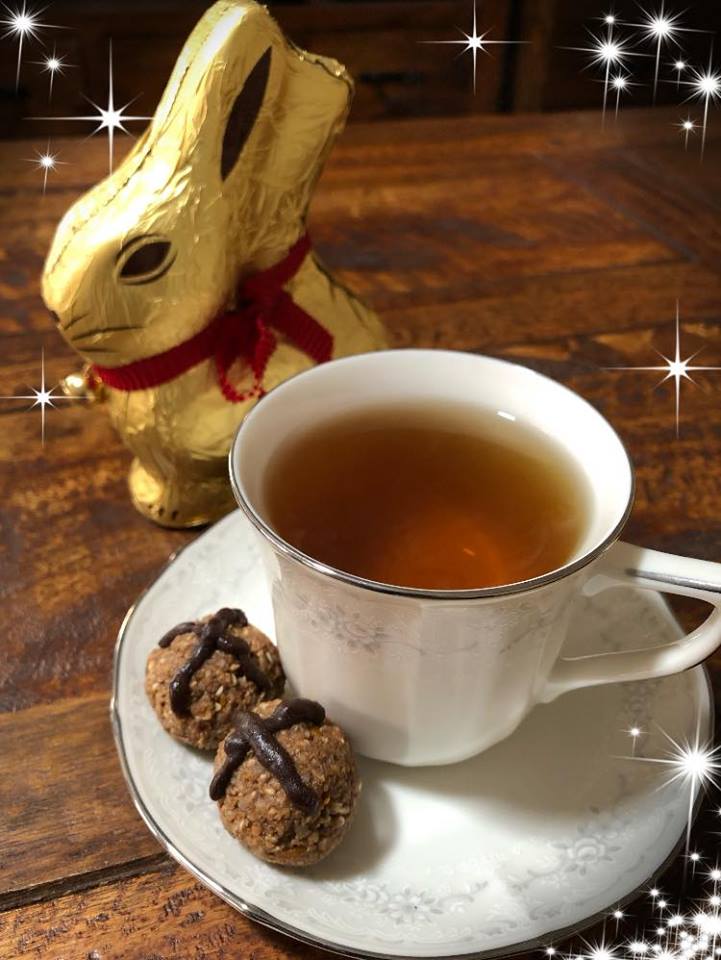 She captioned the picture, "Because sometimes presentation is important. It can really feel quite decadent when presenting a simple morning tea this way. I decided it was time to get out the good china and really go all out!"
And we couldn't agree more! We love seeing what our mums are creating in our community and these creations just make us want to get into the kitchen ourselves.