How mum-of-3 makes the Healthy Mummy weight loss plan work for her entire family
Want to lose weight but don't want to have to make different meals for the rest of your family? No problem. Mum shares how The Healthy Mummy plan can work.
Getting started with The Healthy Mummy 28 Day Weight Loss Challenges and want to know how best to stick to your healthy eating meal plan while accommodating the needs of your partner and children? Look no further.
Mum of 3 Leah Romity shows exactly how she makes the Challenge meal plan work for her entire family (including husband and kids aged 6, 4 and 9 months).
There is no cooking of separate meals for the rest of the family. Just some minor modifications in how she serves up the same nutritious meals.
Lead by example when it comes of healthy eating
Leah says "When I joined The Healthy Mummy, my husband was on board 100%.
This made life so much easier as we were eating the same meals and snacks.
I then started giving my eldest son (almost 3 years old at the time) a lot of The Healthy Mummy food too. He loved it and still does today (age 7).
The best way for you to encourage healthy eating is to eat well yourself.
I have always hoped that my three boys will follow my lead, watching the healthy food they see me eat every day".
Results with The Healthy Mummy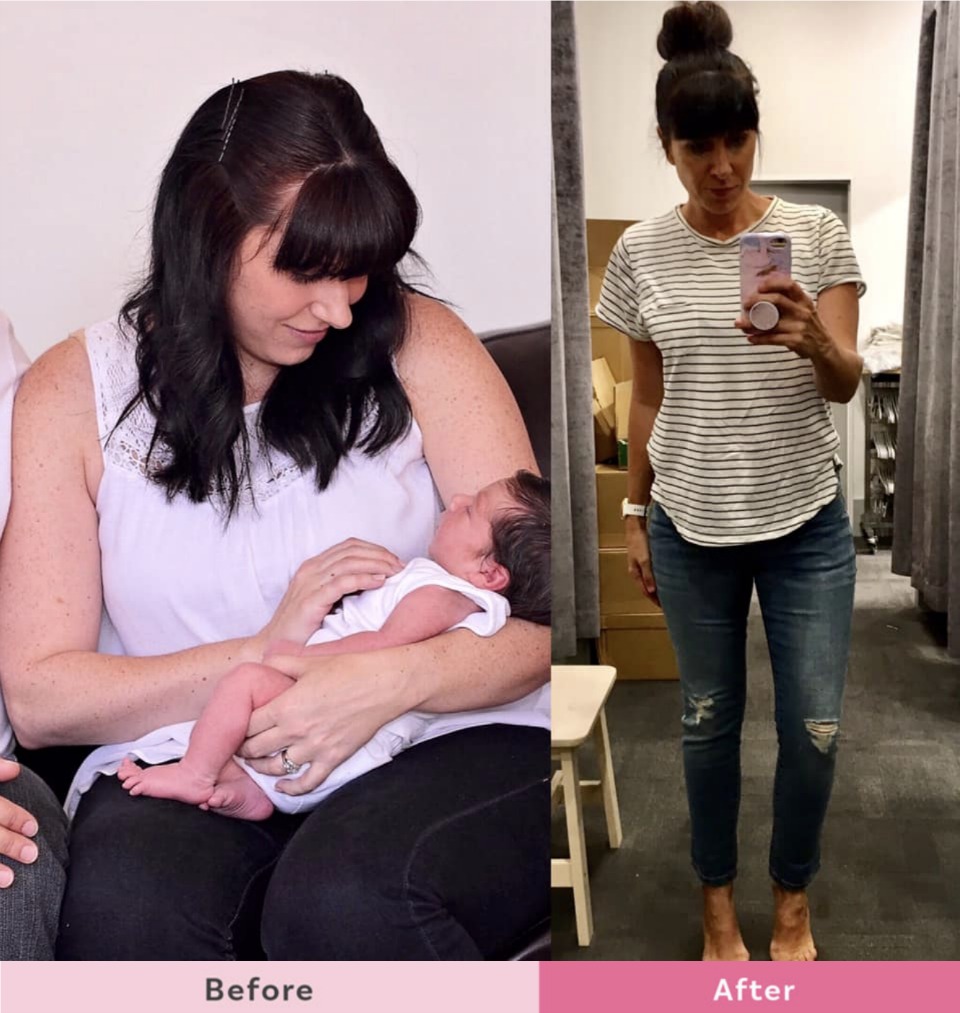 Leah began her Healthy Mummy journey in 2015 and lost 15kgs. She has been maintaining her weight loss ever since by cooking up delicious meals from the Healthy Mummy Challenge meal plan.  Read more about Leah's weight loss journey here.
"Getting children involved with meal prep helps them become more adventurous"
If you have a fussy eater in your house, you are not alone. As frustrating as it can be we urge you not to cave in and give them a completely different meal as this will not serve you well in the long run. Instead, maybe it's time to get them involved in meal prep?.
Leah says "My 4 year old has always been quite fussy with dinner, however, including him in meal prep and meal planning has really helped him become more adventurous".
We all know that as parents it is important to lead by example, especially when it comes to making healthy choices with our food.
Leah says "I have found that family meals are a chance to introduce your children to new foods and to be role models for healthy eating".
How to keep the kids happy
At The Healthy Mummy we offer thousands of family friendly meals on our App.
We also understand that kids can be picky, so how you serve up the meals can make a difference. Here are some other tips for how to feed fussy kids.
Mum Leah, shares how she keeps her three children happy while she follows The Healthy Mummy 28 Day Weight Loss Challenge meal plans.
Healthy Mummy gingerbread pancakes
Who doesn't love pancakes for breakfast? A favourite for adults and children alike.
Made from scratch, with simple ingredients means you are fueling your kids with the good stuff.
Leah says "Today I made the delicious 'Gingerbread Pancakes' recipe". Click for recipe.
I've been making the boys pancakes every Saturday for the last few weeks and today they had emoji pancakes.
I'd been umming and ahhing about buying the emoji pan from Aldi then I saw it reduced so I snapped it up!  The boys LOVE them, even Rocco.
Breakfast smoothies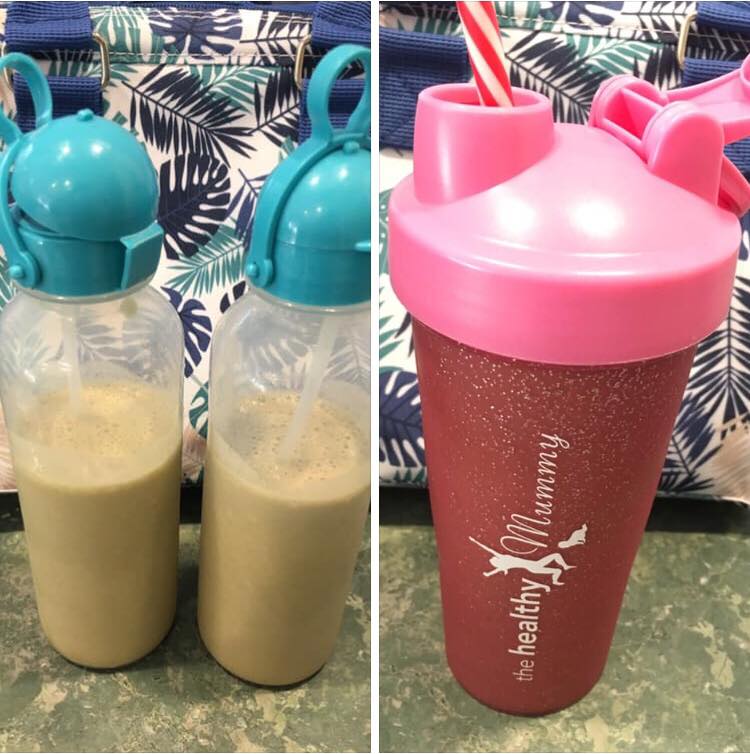 Another quick, easy and nutritious breakfast meal in Leah's house is a Healthy Mummy smoothie with some small modifications for the kids.
She says "the boys smoothie contained milk, ice, pear, baby spinach, oats, dates, Healthy Kids Chocolate Smoothie mix plus cacao.
For herself she included water, ice, frozen banana, baby spinach, oats, Healthy Mummy caramel smoothie mix, cacao and dates".
While the ingredients are very similar Leah's will keep her under her recommended calories for the day.
Sticky Chicken Drumsticks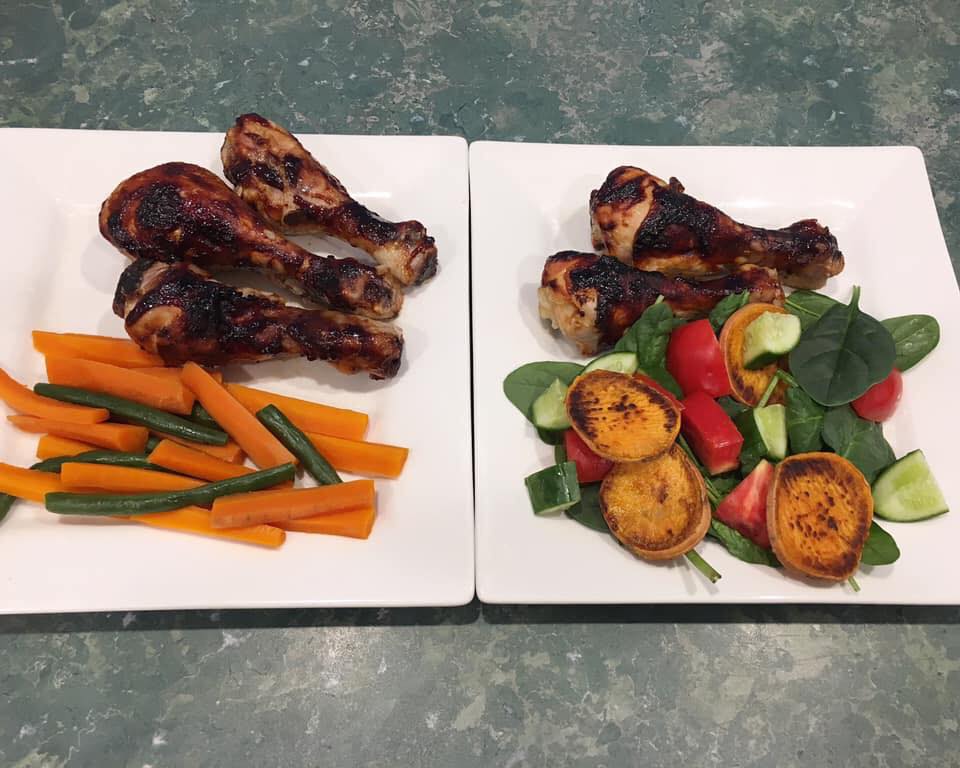 Another no-fail healthy meal for all ages. Leah says "Sticky chicken drumsticks are a family favourite. Even my fussy 4 year old eats this meal.
I take the same meal and modify it slightly for each family member. 
I had: 2 x drumsticks plus a salad with sweet potato
Hubby had: 3 x drumsticks plus steamed carrots and beans"
"Mr 6 had: 1 x drumsticks plus sweet potato chips, carrots, beans, cucumber and pear
Mr 4 had: 1 x shredded drumstick, sweet potato chips, pear plus carrots which he ate before I took the photo!
Mr 9 months had: 1/2 shredded drumstick, sweet potato chips, carrots, beans and cucumber".
Salmon cakes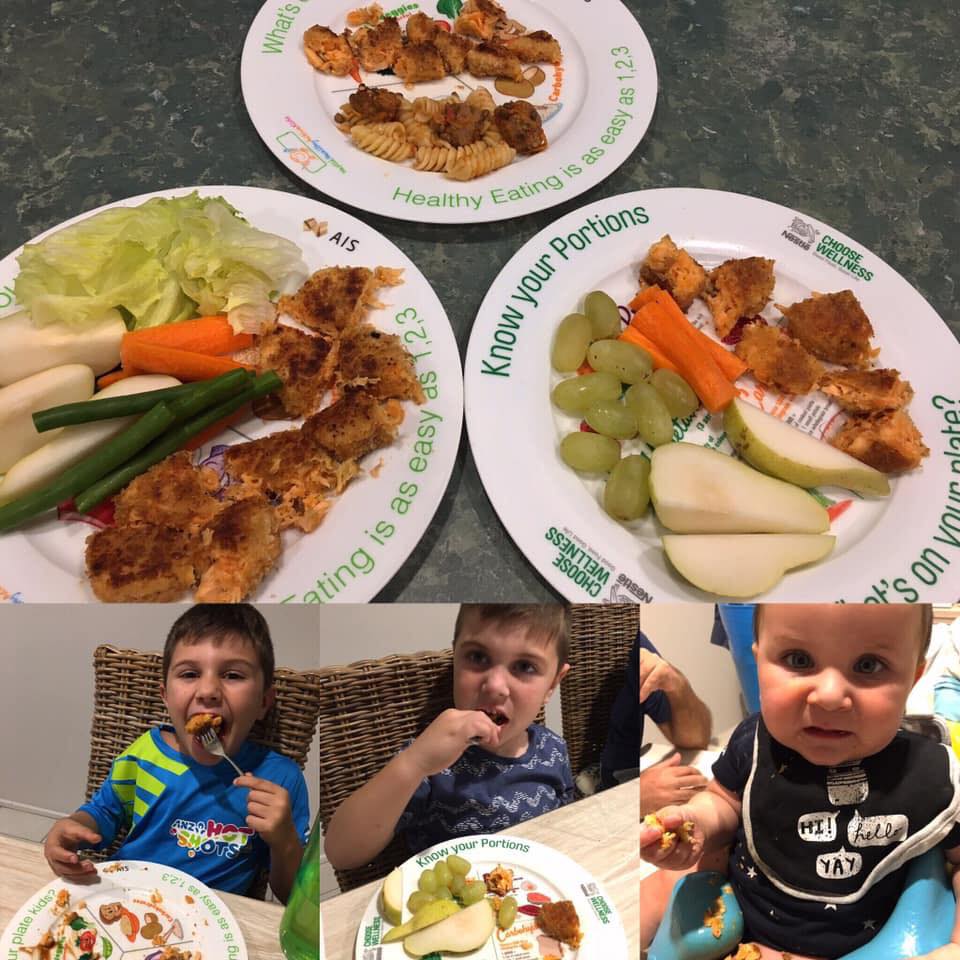 Leah says "Tonight all 3 of my boys had Salmon Cakes for dinner… and they all LOVED them!
My 6 and 9 month old eat everything but my 4 year old does not. This is a HUGE win and I couldn't be happier.
I 100% recommend adding this to your meal plan for your WHOLE family.
Pork Schnitzel Wraps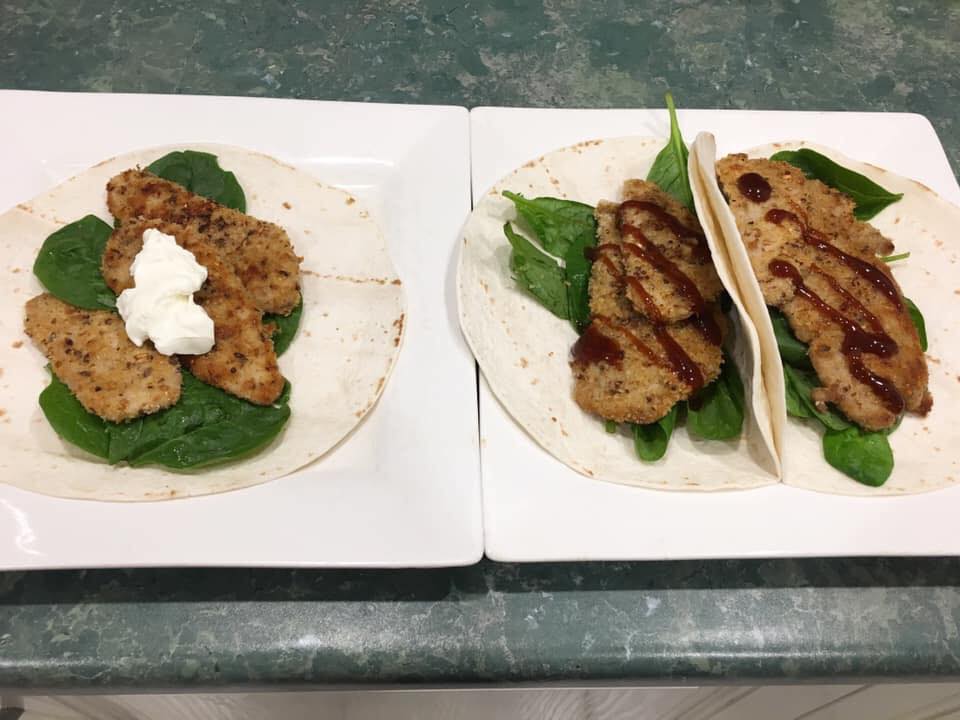 While the kids ate Salmon cakes Leah and her husband had Pork Schnitzel Wraps. She says "I had the Schnitzel in my freezer so all I had to do was defrost it, cook it then eat it! Easy".
Dad-friendly beef burgers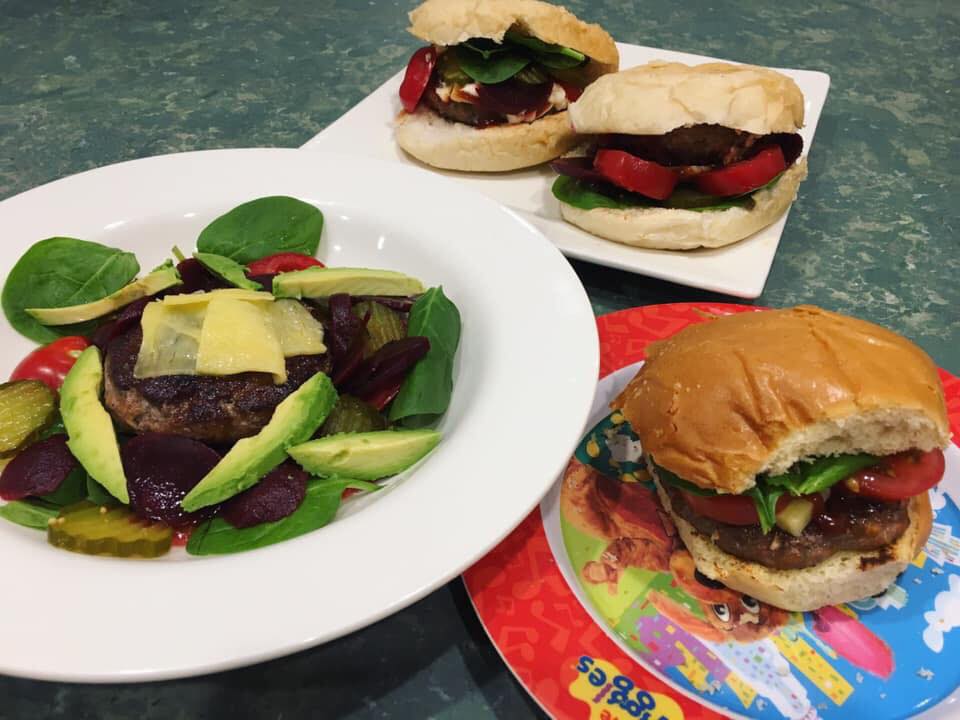 Here Leah shows us how she makes a simple burger meal work for the whole family.
She says "A bunless burger for me, two burgers for Joe, a small burger for Leo and Rocco had half a pattie with avocado, cheese and corn.
Roman's still not eating a lot so he had some plain pasta".
Get the burger recipe here.
As you can see, eating healthy doesn't have to be complicated or time consuming.  With a few simple modifications on how you serve your meals you can keep your entire family happy and eating healthy!.
The Healthy Mummy team would  like to thank Leah for sharing how she makes the Healthy Mummy lifestyle work for her whole family.
We love the positive role model that she has become to her entire family when it comes to fueling their bodies with healthy food.
Are you ready to become a Healthy Mummy?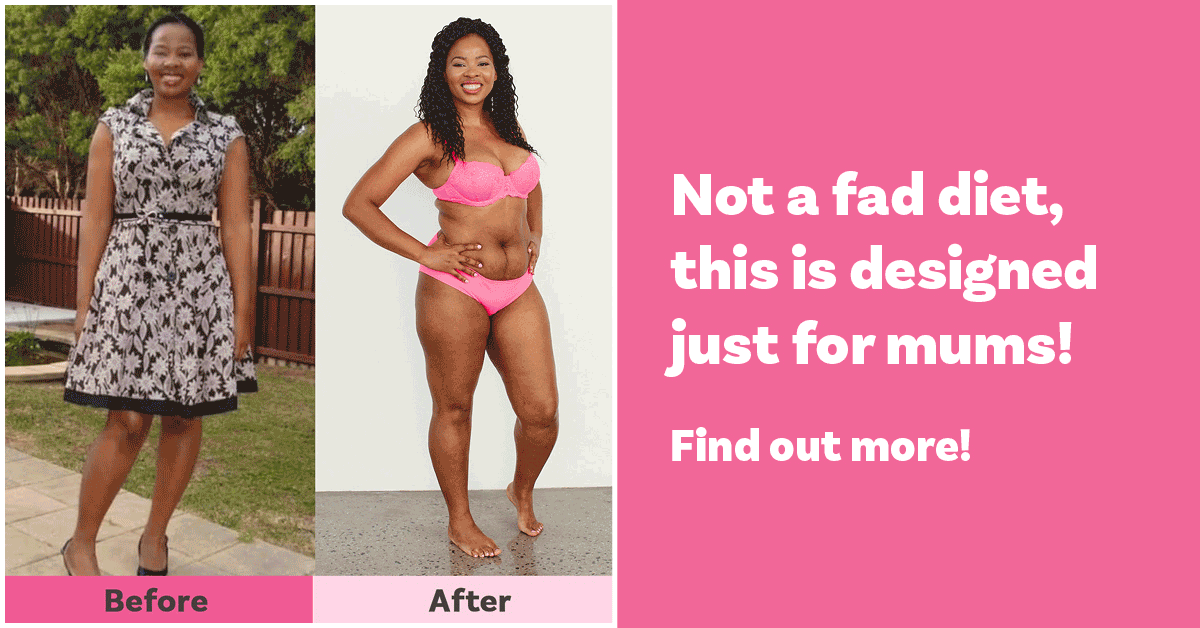 If you are wanting to lose weight and improve your energy – not to mention – help improve your overall health and wellbeing – our 28 Day Weight Loss Challenge is an awesome program to check out.
Our 28 Day Weight Loss Challenge includes:
28 days of at home exercise routines (no gym needed) – with video instruction
Customisable and breastfeeding friendly meal plans (including 7 Day Cleanse)
Time-efficient exercises for busy mums – under 30 mins
Challenge combines Pilates exercises with interval and circuit training (HIIT)
Suitable for basic to advanced fitness levels
Home to thousands of EASY-TO-MAKE recipes!
To learn more about our 28 DAY WEIGHT LOSS CHALLENGE CLICK HERE or purchase our Smoothies.