The NEW Kids smoothie & the differences with Milo
We are VERY excited about the launch of The Healthy Kids Smoothie.  Available in Chocolate, Vanilla and Strawberry.
You can now order The Healthy Kids Smoothie today and get this AWESOME product to use. SHOP HERE
The creation of this product has been created based ON your, the customers feedback.
Mums wanted a healthy snack alternative and a drink that was high in calcium, free from artificial preservatives, sweeteners and colours and provided kids (and fussy eaters) with a nutritious milk drink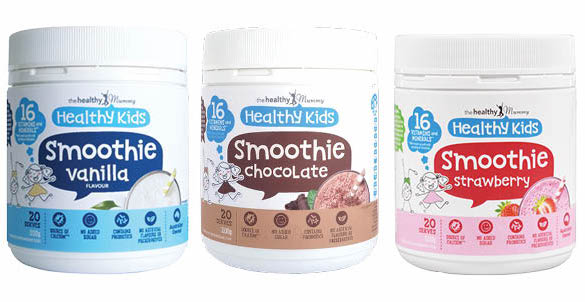 Here are the answers to the most commonly asked questions
Is it high in sugar?
It contains NO added sugar at all. The sugar content in The Healthy Kids Smoothie is from NATURAL sugars from the lactose in the milk and is FREE from added sugars. The WHO (World Health Organisation) recommend aiming for 5% added sugars in the diet and this product provides NO added sugar. They do not recommend reducing natural sugars found in food.
The sugar in the smoothies is entirely NATURAL – so treated very differently to added sugars that we all need to try and avoid – as it comes entirely from the dairy in the smoothies.
How is Healthy Kids Chocolate Smoothie different to Milo?
The difference with The Healthy Kids Chocolate Smoothie and most commercially bought chocolate drinks is that THEY do contains lots of added sugar.
Other brands also do NOT contain the vitamins and minerals that we do.
For example – Milo has 9 vitamins and minerals and we have 16 vitamins and minerals. Milo also has added sugars and is 44% sugar – with a high proportion of this being added sugars – not lactose. Milo also does not have pro-biotics. Milo provides 170mg of calcium per 20g serve (without adding milk) and The Healthy Kids Smoothie provides 188mg of calcium per 10g serve (without adding milk).
Order your tub here – SHOP
Will you make a dairy free version
Yes we will. We totally understand that many children have dairy allergies and after the current version has launched, the team will begin work on a DAIRY FREE version
Do you need to blend it with other foods?
This is completely optional. It has been created to be healthy alternative to milk shakes or drinks and it tastes delicious when mixed with milk. But it is also great to mix with any fruits or veggies for a thicker smoothie style drink
Does it taste the same as the Original Healthy Mummy Smoothie?
The Kids Smoothie is a completely different formula with different ingredients so it does not taste exactly the same but both taste DELICIOUS. The Kids Smoothie is very creamy (it contains full fat cream milk) and in our testing EVERY child LOVED it – even the really FUSSY ones.
What age is it for
We don't recommend for use in under 1 due the differing nutritional requirements in under 1's. There is no maximum age for use
Why do my kids need it?
We have created this range based on feedback from consumers wanting a healthy kids smoothie. We have created a healthy version of the many of the kids drinks on the market. We have also created a kids smoothie with the RDI needs of a child – we have listed the RDI of a standard adult as well as a 1-3 year old on the label and hopefully this provides a good guide on the nutritional guide for your children.
What nutritional benefit does it give kids?
The Healthy Mummy Kids Smoothie is rich in carbohydrates and protein and is a natural energy packed smoothie made for kids.

It contains 16 essential vitamins and minerals and when combined with milk, provides children with 50% of their Calcium RDI. 

It also contains probiotics needed for healthy guts and is free from fructose.
Allergy information
The product contains dairy (the base of the smoothie) and  a small amount of soy (within d-alpha-tocopheryl).
The product does not contain any ingredients derived from gluten, fish, eggs, nuts or sulphites. However the factory in which the product is made does store and manufacture these products but they are not produced on the same line.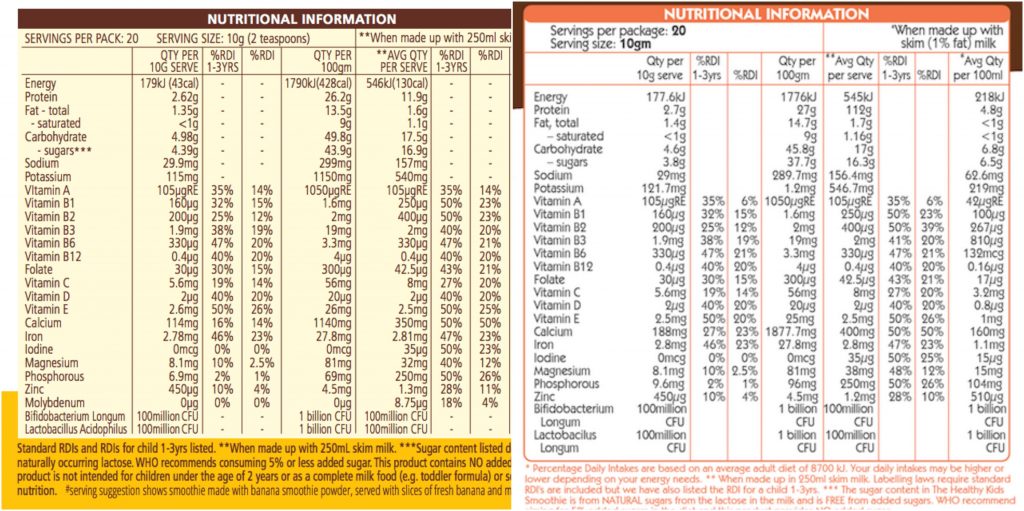 Can I make it into a Hot Drink?
Yes you can – you can have it cold – as a milk shake – or warm, whichever you prefer!
Do I need a blender to make it up?
No – you can just, mix or shake it- or if you want to make into a thick smoothie with other fruits or veggies you can use a blender
Is it a meal replacement?
No – not at all. It is intended as a healthy snack for kids which is full of great nutrition. Please note it is not intended as a toddler formula replacement. It is intended as a healthy snack for kids which is full of great nutrition.
What are the ingredients?
CHOCOLATE Ingredients: Full Cream Milk Powder, Skim Milk powder, Organic Cocoa powder, Natural Flavours (a variety of natural compounds sourced from all natural ingredients), Calcium carbonate, Magnesium phosphate, Natural sweetener (Thaumatin), Ferrous fumurate (Iron), Ascorbic acid (Vit C), d-alpha-tocopheryl acid succinate (Vit E), Zinc oxide, Nicotinamide (Vit B3), Vitamin A, Pyridoxine hydrochloride (Vit B6), Riboflavin (Vit B2), Thiamine hydrochloride (Vit B1), Folic acid,Potassium iodide, Cholecalciferol (Vit D), Cyanocobalamin (Vit B12). 
The product doesn't contain any artificial flavours, colours, preservatives, added sugars or MSG

BANANA Ingredients: Full Cream Milk Powder, Skim Milk Powder, Organic Banana Powder (4.5%), Natural Flavours, Calcium Carbonate, Magnesium Phosphate, Anti-caking Agent (Silicon Dioxide), Natural Sweetener (Thaumatin), Ferrous Fumurate (Iron), Ascorbic Acid (Vit C), D-alpha-tocopheryl Acid Succinate (Vit E), Nicotinamide (Vit B3), Vitamin A, Bifidobacterium Longum, Colecalciferol (Vit D), Zinc Oxide, Lactobacilus Acidophilus, Pyridoxine Hydrochloride (Vit B6), Riboflavin (Vit B2), Thiamine Hydrochloride (Vit B1), Folic Acid, Cyanocobalamin (Vb12).