Can't afford or don't use your gym membership? Try these 15 exercises at home to save money
Looking to get rid of that gym membership to cut costs? Or just need to exercise on a budget. Try these 15 at-home exercises without breaking the bank.
Here at The Healthy Mummy, we know that most mums are on a tight budget so we don't want you to waste a cent.
A survey commissioned by News.com.au found that Aussies are wasting $1.8 billion on unused gym memberships which is why we have compiled a list of 15 exercises that can be done at home without any equipment or money spent.
All these exercises are ones our mums do at home and as a part of the 28 Day Weight Loss Challenge which has hundreds of workouts for all fitness levels that can be done at home.
15 budget-friendly exercises you can do at home
1. Squats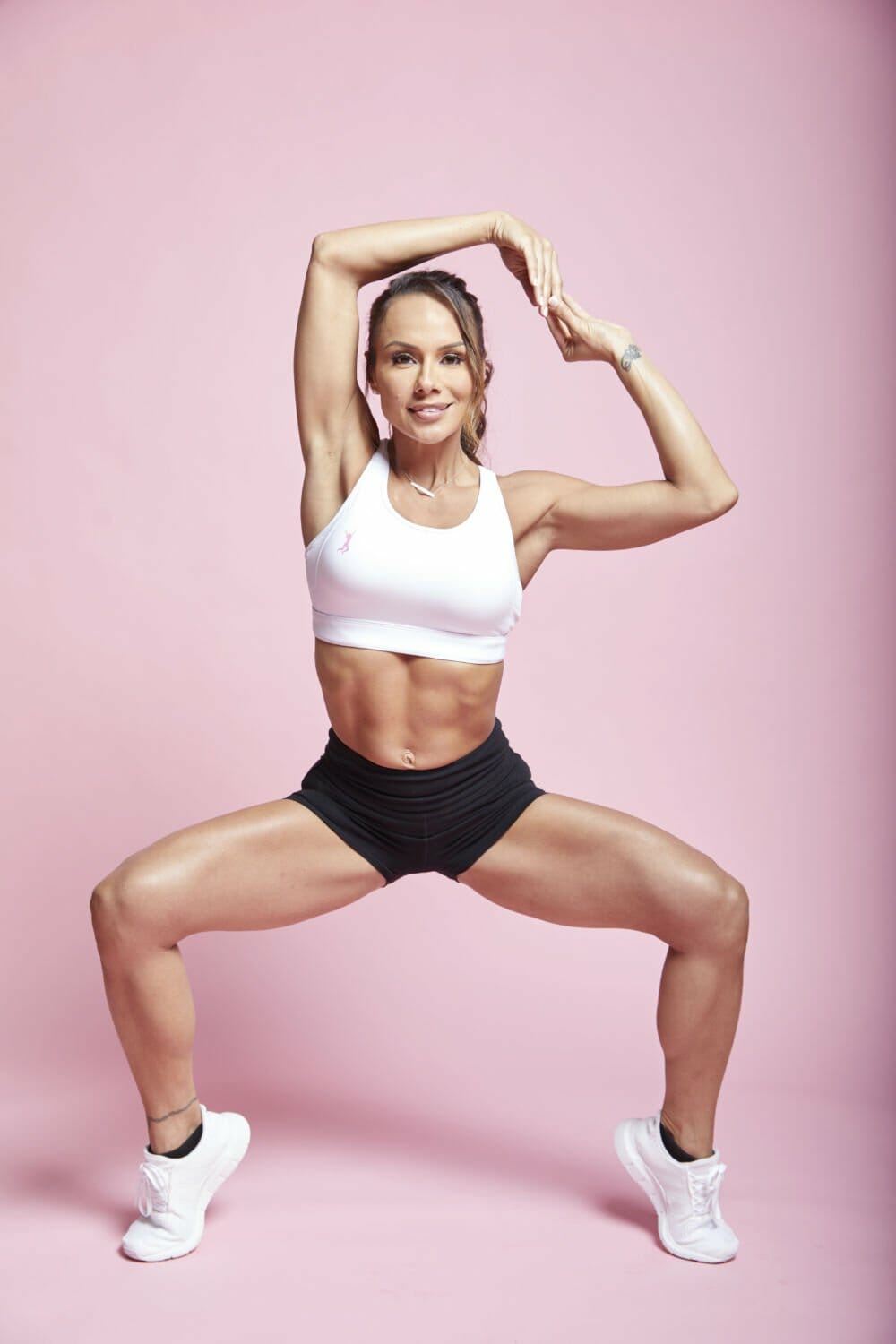 There's a reason why we often have squats on the 28 Day Weight Loss Challenge exercise plan. They work! Tone that butt and tighten those thighs just by adding squats to your daily routine.
You can squat anywhere – while you're feeding the baby their Weet-Bix, while you're hanging clothes on the line, or even just while you're stir-frying your veggies for dinner.
Read how you can sneak 100 squats into your day HERE.
Watch Nat's 5 favourite squats HERE.
2. Tricep Dips
Stronger arms with more definition can really help you feel good in a singlet top! Tricep dips can be done anywhere, so why not slip a few tricep dips in while the kids play at the park, using the benches?
Multitasking at its best!
BUDGET TIP: Use your pantry staples as weights to increase the intensity of your dips. Grab your flour, rice or some cans and get dipping.
3. Lunges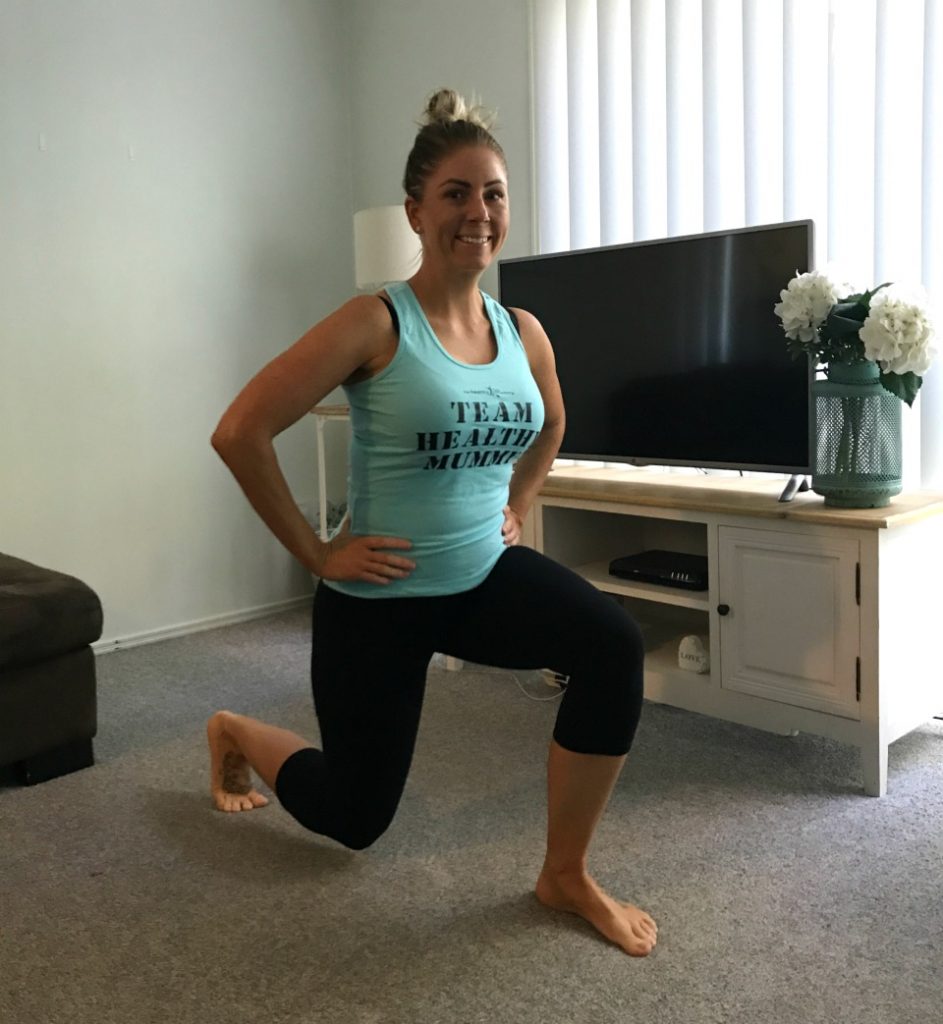 Lauren da Silva loves that she can do lunges from the comfort of home. They're great for your legs, thighs, and butt.
Read her five favourite exercises to do in the lounge room HERE.
4. Push-ups
Kristy Mead has lost 30kg with the help of the 28 Day Weight Loss Challenge. She shares her advice for squeezing in some push-ups – while you watch TV!
"Simply commit to doing as many push-ups as you can during the ad breaks!'
Read her 10 tips for exercising HERE.
You can also do this Healthy Mummy HIIT workout which incorporates push-ups in a 5-minute workout.
5. Plank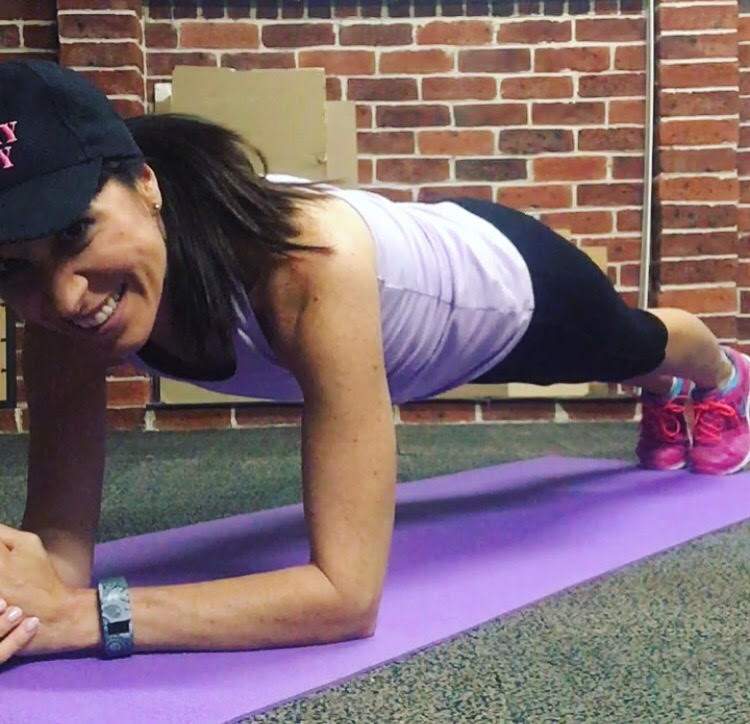 Whether you do this in the lounge room, the backyard, or at the end of an outdoor training session – planks get results for your core and stomach!
Here's our tip for performing the perfect plank with Nathalia. PLUS you can read about how Leah Romiti got her flat stomach (using planks!) HERE.
6. Burpees
These can be tricky at first, but they really do give your body an all-over workout. Lots of mums on the 28 Day Weight Loss Challenge use them as a way to measure their fitness.
For instance, mum Melanie found that once she joined the 28 Day Weight Loss Challenge and started the exercise program, she could do things that weren't possible for her 6-7 months ago.
"I now can successfully run 5km without stopping, do push us on my toes, do more than 10 burpees in a row and run multiple laps of the basketball court. I cannot wait to see what my body is capable of in another 6-7 months," says Melanie.
7. Box jumps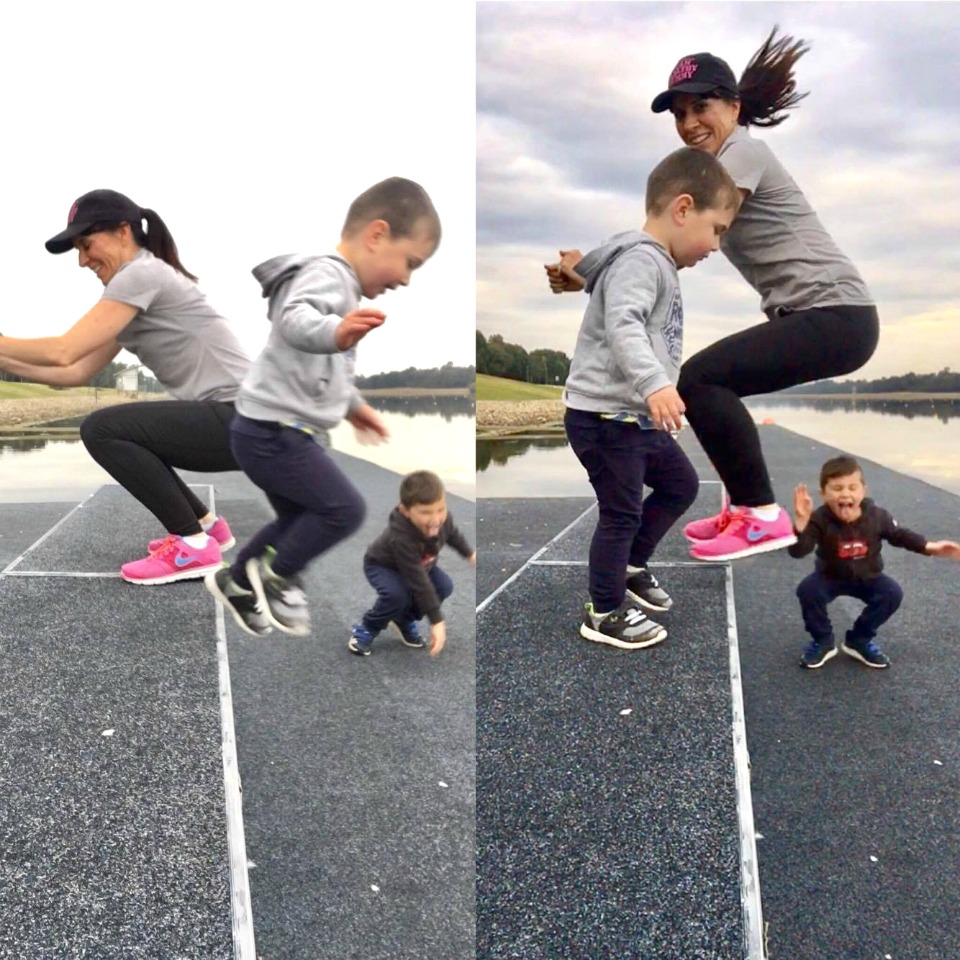 Box jumps are great to get your heart rate up and are a full-body exercise.
It doesn't matter if you can only jump 20cm, or if you can jump upwards of 60cm. Every box jump gives you a sense of accomplishment. Keep your eyes on your landing area, squat down and propel yourself up onto the box/step with your arms. Perform 15 reps, 3 times.
WORKOUT TIP: All the workouts, like the box jumps above, from the 28 Weight Loss Challenge can be done at home with things you can easily find around the house.
8. Curtsy lunge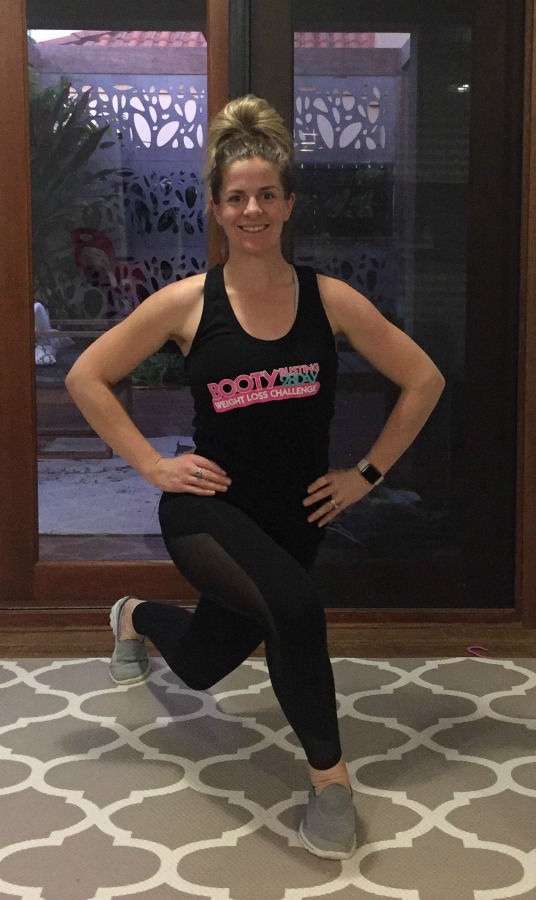 Curtsy lunges are one of Healthy Mummy Stephanie's favourite exercises. They target your outer and inner thigh muscles, as well as your butt. Take your time, control the movement, and don't forget to brace your core to keep you balanced.
9. Hip thrusts
Hip thrusts are a super versatile exercise. You can perform these laying on the floor, you can add a weight on to your hips, you can also do these with your upper back resting on a bench or the lounge to make it even more of a workout.
To target your outer booty, place your heels together, fold your knees out, and then perform the hip thrust. Do 20 reps, 5 times over.
If you are working on getting your booty in shape for summer check out our booty-busting workout below.
10. Pause Squats
Pause Squats are a booty burner for sure. Take a normal squat stance, feet just past hip width, squat down, squeeze your glutes, and pause for 3 seconds.
Drive back up to the starting position. Perform 20 reps, 3 times. Use a resistance band to make sure you're activating your glutes.
11. Walking weighted lunges
Walking weighted lunges are just that. Grab yourself some weights, brace that core, and slowly perform walking lunges. Do 20 lunges in total, 3 times over.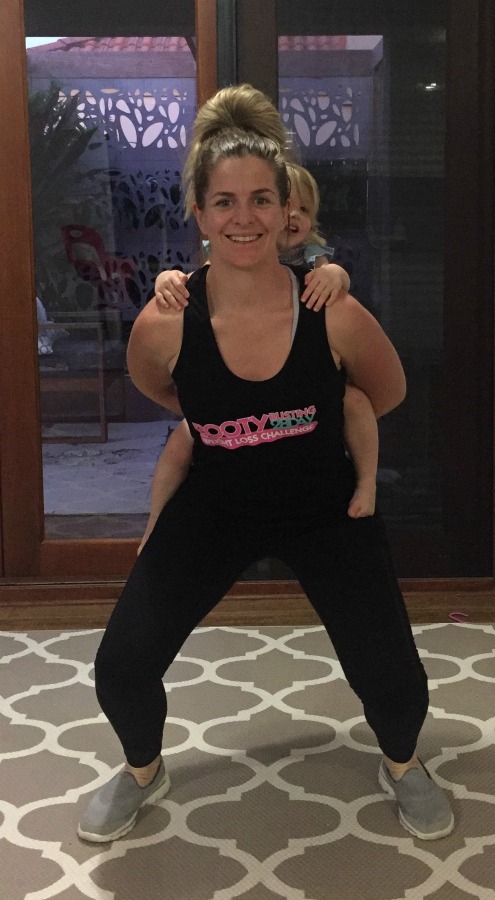 Read more of Stephanie's exercise tips HERE.
BUDGET TIP: You don't have to go out and buy weights you have things around the house that work as weights, look in the pantry for some canned goods or fill up some bottles with water and use them. Or even pick up your kid and use their extra weight.
12. Walking workouts
This may be an obvious budget-friendly exercise as we all generally do some sort of walking during our day but just increasing the number of steps you take per day and the efficiency of your walk may be more simple than you realise.
Walking is one of the best exercises on the planet as it costs nothing and is readily available to most people.
Simply walking for just 10-15 minutes increases cardiovascular function, aids muscle strength in the hips, legs and core and may help to reduce stress.
TIP: Simply add in a few walking lunges or a short jog every 10 steps to spice things up by actively creating your own personal lower body and/or cardiovascular workout.
13. Abs Workout!
Who doesn't want a flat tummy!? It's a problem area for many mums, but thankfully there are great exercises and workouts to target your core and make it super strong.
Try these FAB ABS Work out with Nathalia!!!
14. Lower Body and Arms Workout with Nathalia!
The 28 Days Stronger program features Nathalia in a series of strength training videos designed for mums to gain strength and cardio fitness. The new 28 Days Stronger program provides full-length workouts for Beginners (20) and Advanced (20), along with a demonstration of the Fitness Test for the 28 Day Weight Loss Challenge.
Get your FREE lower body and arms workout HERE.
15. Lower Body Work Out
Want to up your fitness level and get strong legs, glutes and core?!! Check out this Lower Body Workout from our new 28 Days Stronger Fitness Coach Nathalia!
Check out more free exercises on The Healthy Mummy YouTube channel.