8 must-try healthy and delicious recipes with Chia Seeds
Looking for inspiration incorporating one of the greatest SUPER FOOD ingredients into your diet? See Healthy Mummy's 8 must-try chia seed recipes.
Gone are the days when excited school children would fill their clay figurines and stockings (decorated with hand drawn faces) with chia seeds and anxiously await the grass like hair that would sprout from them.
Today chia has been given the recognition it deserves. As one our our great super foods. These tiny edible seeds from the mint family are thought by many to be the most nutritious food in the world. So if you  haven't tried it, maybe it is time you did!
Here are 8 must-try recipes containing this powerful little seed.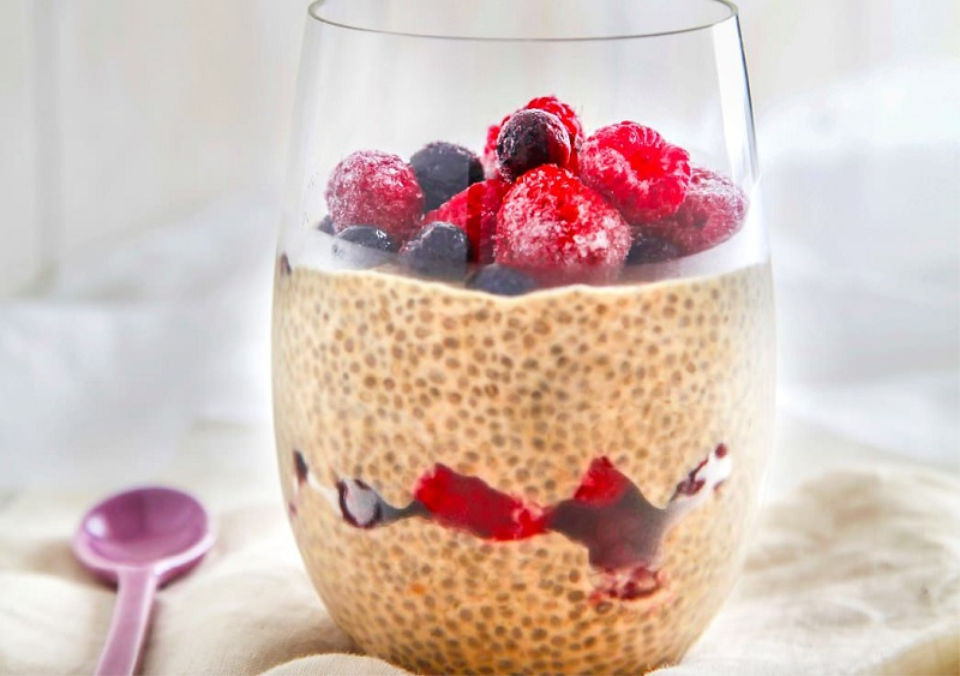 Chia seed benefits
Chia are deemed a super food. Full of omega 3, 6 and 9, antioxidants, protein, calcium, protein, magnesium and fibre, these little miracle seeds are anti-inflammatory, blood sugar balancing, satiating and great for detoxing the gut and bowels.
How to incorporate chia into your diet
They're easy to throw into your Healthy Mummy Smoothie or sprinkle on top of salads.
Soaked overnight they can be made into delicious and satisfying puddings which can be enjoyed any time of day. They are also ideal in baked goods and bliss balls.
There are many chia based recipes available to Healthy Mummy 28 Day Weight Loss Challenge members but here are a few to get you started.
Coconut chia seed pudding with almond maple granola

Who could resist a breakfast bowl like this. Packed full of goodness, it's the perfect start to the day. Get the recipe.
Kid friendly Healthy chia choc chip pancakes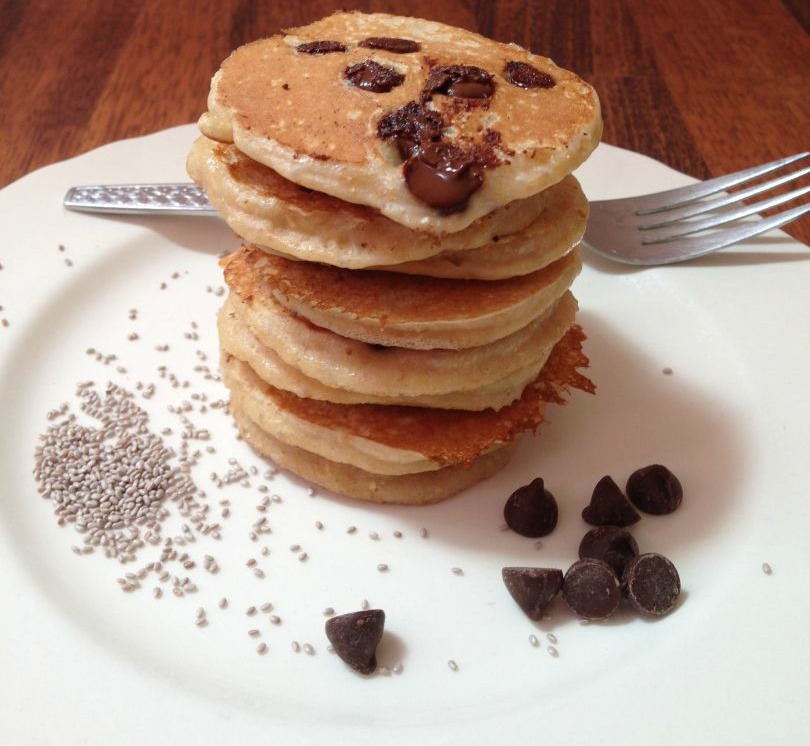 Kids and adults alike will love these chia choc chip pancakes. In fact, the chia are so tiny, your fussy children won't even notice them.
Chocolate Berry Chia Pudding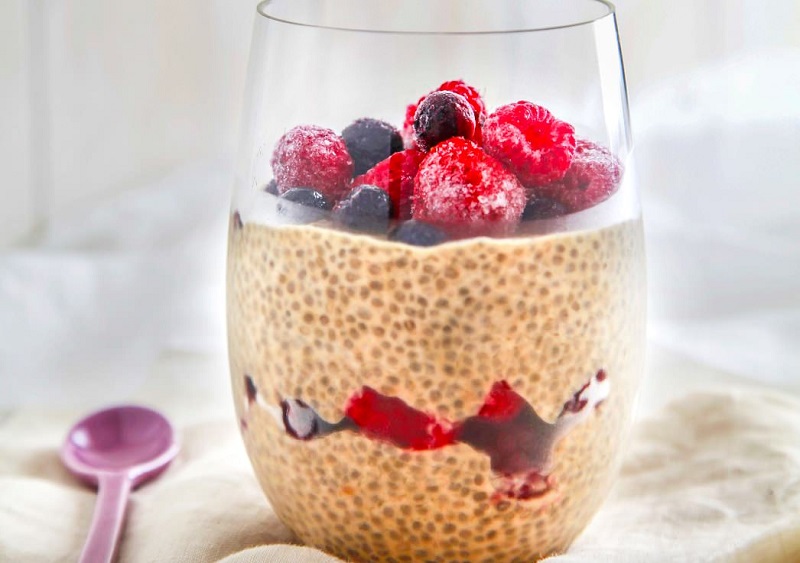 This recipe for a Choc Berry Chia Pudding is packed with antioxidants and essential fatty acids that comes from chia seeds and is made without refined sugar or white flour, getting its sweetness from honey, cocoa and cinnamon instead.
Raspberry chia seed jam muffins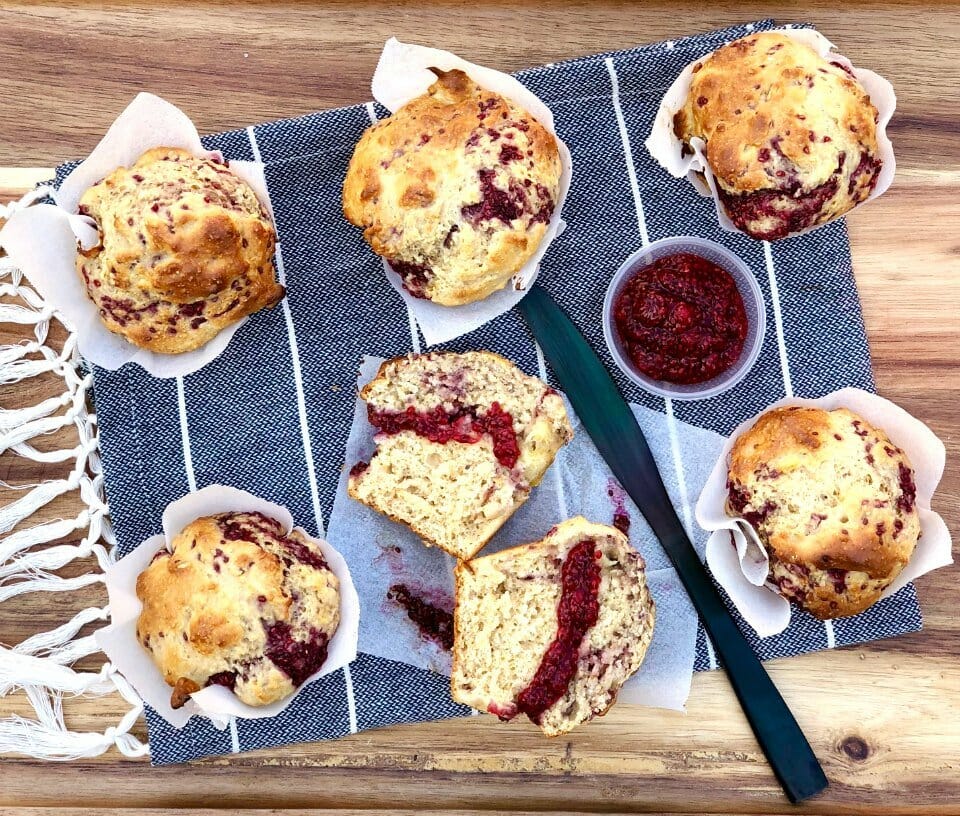 These mouth-watering Raspberry Chia Seed Jam Muffins are only 180 calories per muffin and have less than 2g fat.
They're also high in protein with the help of The Healthy Mummy Vanilla Whey Protein.
Chocolate chia breakfast mousse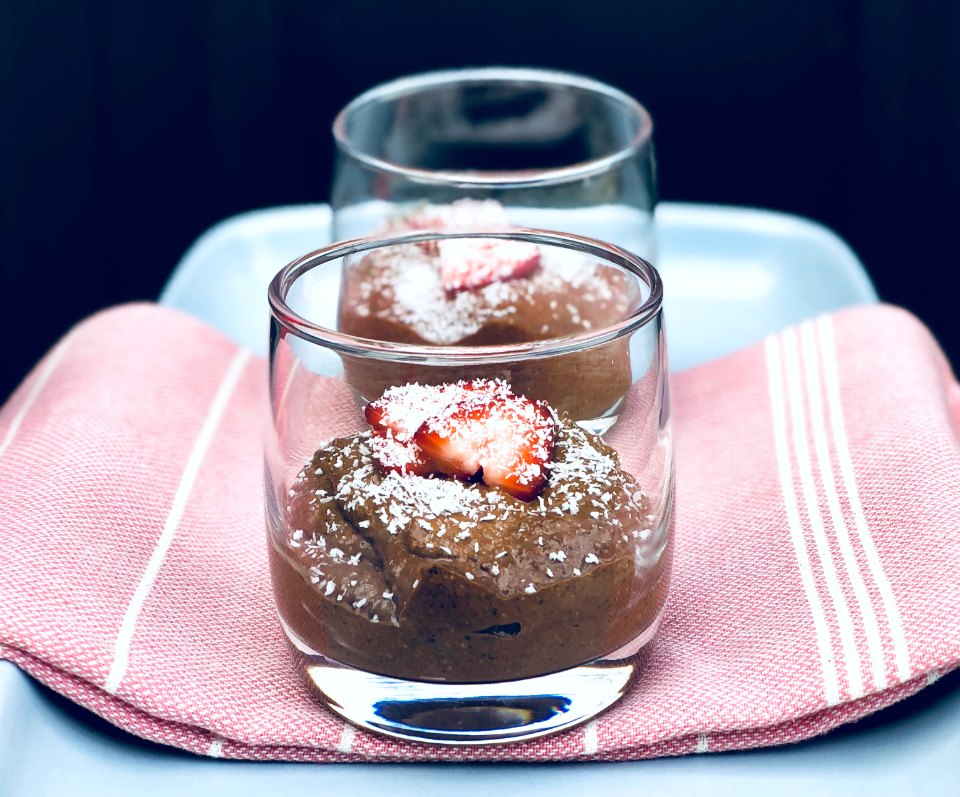 This Chocolate Chia Breakfast Mousse is packed full of natural antioxidants and omega-3! Whether it's for breakfast, snack or dessert this won't disappoint.
Peanut Butter Chia Bliss Balls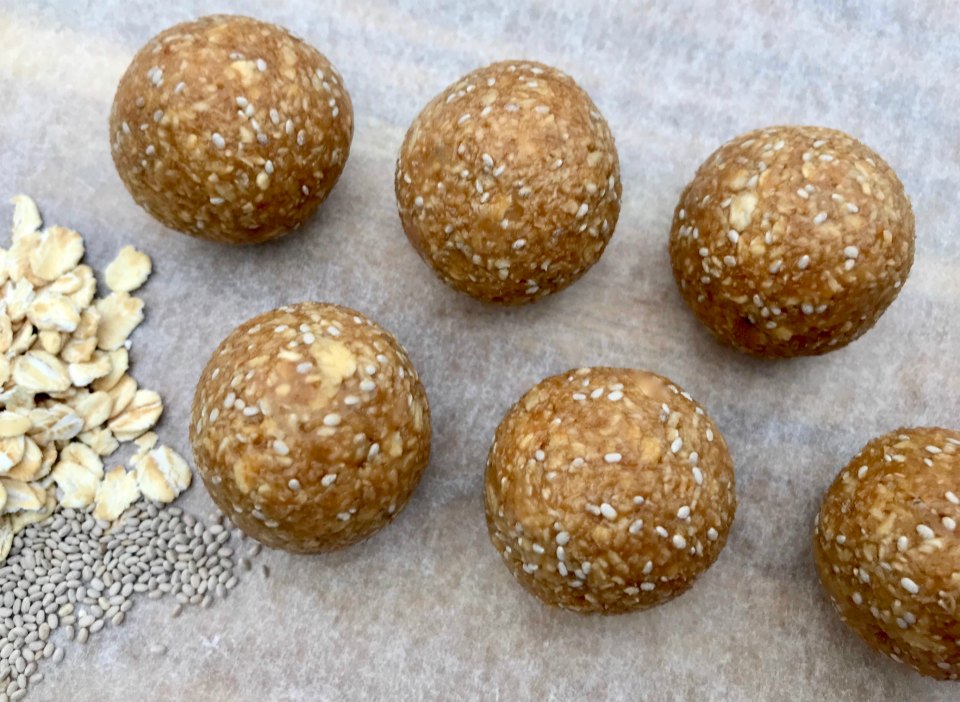 These bliss balls have just five ingredients and can quickly be made in the food processor.
The goodness of oats and chia seeds, combined with the peanut butter, give you a big kick of protein – meaning you'll have loads of energy to power through until your next meal.
Glowing skin breakfast bowl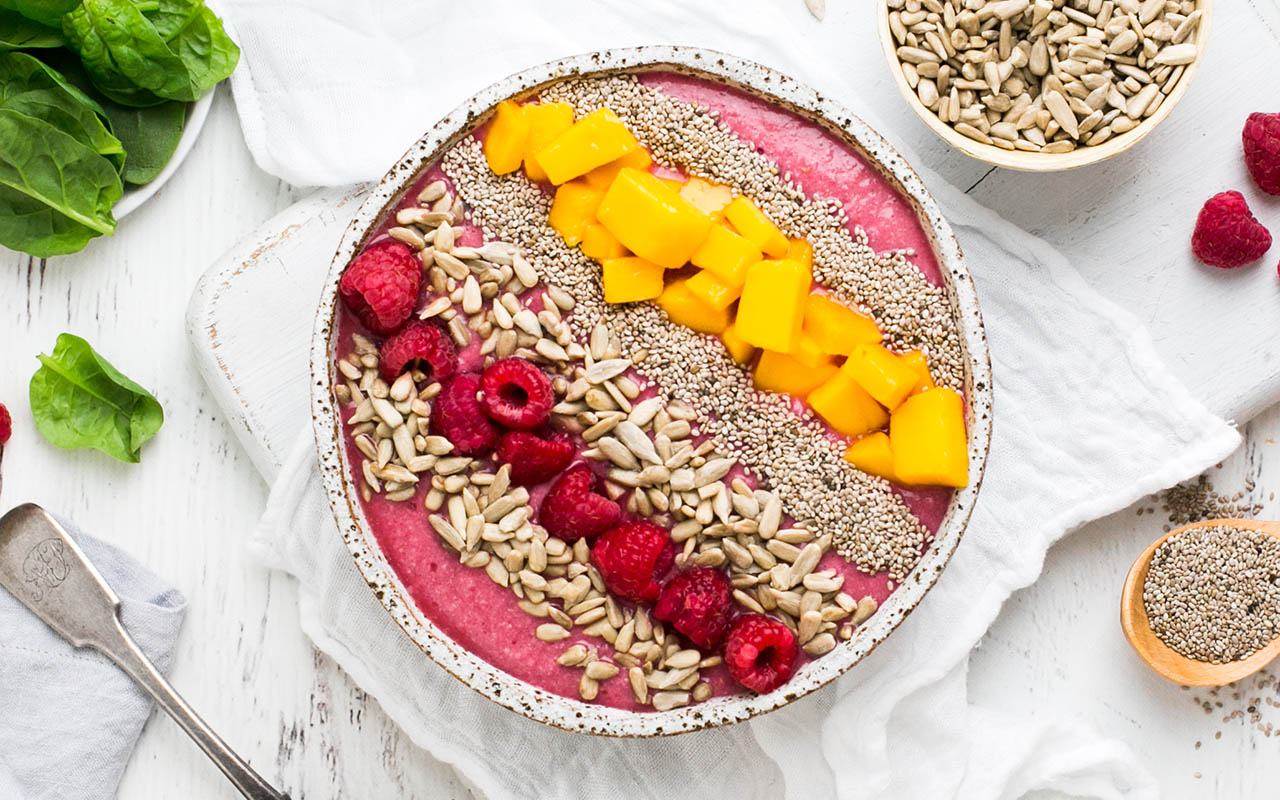 We've all heard the saying 'eat your way to glowing skin' well this breakfast bowl will definitely help with that!
Filled with delicious raspberries and bananas plus the extra punch of spinach you have all the ingredients to give you a great start to your day.
Raspberry and Chia Jam Slice
This recipe was sent in by 28 Day Weight Loss Challenge member Cassie.
She says 'This gooey raspberry chia jam slice tastes too good to be true!
This slice is absolutely packed with natural antioxidants from the raspberries and cacao powder. This is a must try!'
Interested in super foods?. Check out these 10 Super Foods to include in your diet.
Want more recipes?
Join the Healthy Mummy 28 Day Weight Loss Challenge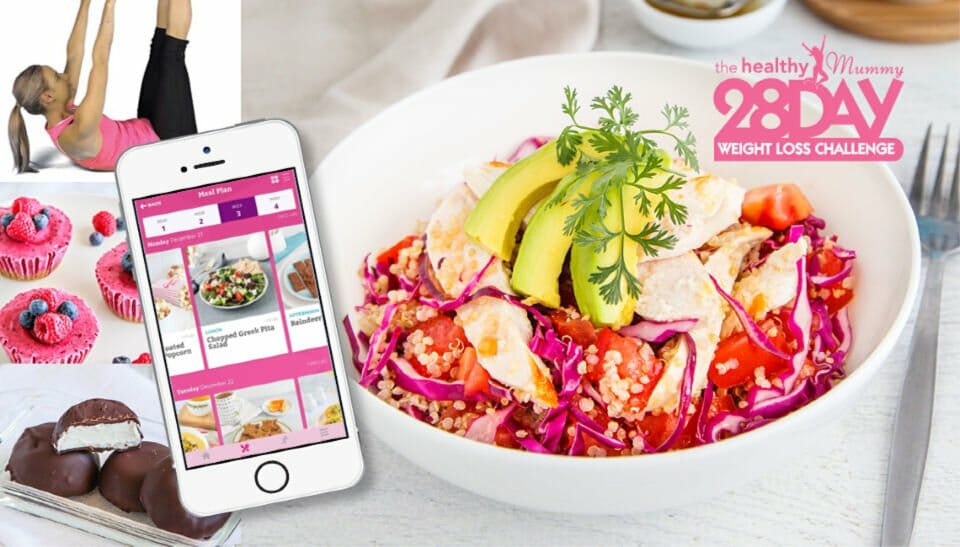 If you are wanting to lose weight and improve your energy – not to mention – help improve your overall health and wellbeing – our 28 Day Weight Loss Challenge is an awesome program to check out.
Our 28 Day Weight Loss Challenge includes:
28 days of at home exercise routines (no gym needed) – with video instruction
Customisable and breastfeeding friendly meal plans (including 7 Day Cleanse)
Time-efficient exercises for busy mums – under 30 mins
Challenge combines Pilates exercises with interval and circuit training (HIIT)
Suitable for basic to advanced fitness levels
Home to thousands of EASY-TO-MAKE recipes!
To learn more about our 28 DAY WEIGHT LOSS CHALLENGE CLICK HERE or purchase our Smoothies.