7 Nutritious and Seasonal Salads Perfect for Spring
Spring brings with it an abundance of fresh produce and a great way to enjoy it is in a delicious and healthy salad.
The weather is warming up, the days are getting longer and it's time to start thinking about delicious spring salads that are lighter and cooler and nourish us in a different way.
So say goodbye to starchy, heavier winter ingredients like potatoes, and hello to spring's plethora of brightly-coloured fruits, veggies and leaves.
Salads don't need to be boring! Spring brings with it some amazing fresh produce, and one of the best ways to enjoy it is in a lovely fresh and tasty salad. Think avocado, baby beets, spring greens and snow peas, all tossed in a delicious dressing.
With salads like this, eating your greens has never been easier. What's more, you'll be making these all season long. Find these and thousands of healthy recipe options on the 28 Day Weight Loss Challenge.

7 Nutritious and Seasonal Spring Salads
1) Cleansing Spring Salad
With a delicious combinaton of leaves, veggies, avo and chia seeds, this salad packs a nutritional punch and is sure to cleanse and satisfy. Just 284 calories per serve.
2) Roasted Beetroot and Chicken Super Salad
This vibrant Roasted Beetroot and Chicken Super Salad is packed full of flavour, thanks to the roast beetroot and avocado with a delicious crunchy kick from the dukkah and almonds. Pair it all together and you've got one yummy meal!
3) Tasty Asian Chicken Noodle Salad
This nutrient-dense salad is packed with warm chicken, rice noodles, lettuce and snowpeas, making it filling as well as delicious.
4) 5 Ingredient Steak with beetroot walnut and feta
This is a hearty main meal salad is low on the carbs but high on the taste! Plus with mininal ingredients it's super quick and easy to make.
5) Rainbow Quinoa Salad with Thai Salad dressing
This multicoloured salad is packed with veggies and flavour! The dressing is delicious – peanut butter, cashews, honey, ginger, soy and sesame oil! YUM!
6. Grilled Chicken and Pineapple Salad
Grilled Chicken and pineapple make a wonderful flavour combo and work perfectly in this lovely warm weather salad. Just 290 calories per serve.
7) Tuna and Green Bean Salad
Simple yet oh so tasty, this flavoursome salad can be whipped up in no time making it a great mid week lunch option.
How about making up your own combination with an AMAZING dressing?
Try these 5 Totally Tasty (And Healthy) Salad Dressings
Get more recipes like these on the 28 Day Weight Loss Challenge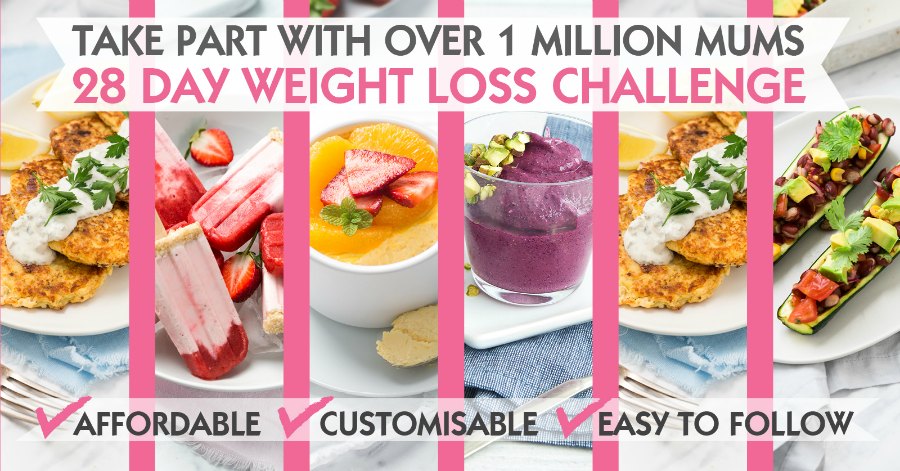 Love the sound of this delicious recipe? Want access to thousands and thousands MORE healthy recipes just like it? Then be sure to check out our 28 Day Weight Loss Challenge.
Our 28 Day Weight Loss Challenge is a family-friendly, breastfeeding-safe program designed FOR MUMS to help them tackle their health and lose the baby weight.
Our Challenge entails:
28 days of at home exercise routines (no gym needed) – with video instruction
Customisable and breastfeeding friendly meal plans
Time-efficient exercises for busy mums – under 30 mins
Challenge combines Pilates exercises with interval and circuit training (HIIT)
Suitable for basic to advanced fitness levels
Home to thousands of EASY-TO-MAKE recipes!
To find out more on the 28 Day Weight Loss Challenge click here.
NEXT CHALLENGE STARTS SOON!