8 lunch box snacks that should be AVOIDED
Turns out, peanut butter and nuts are not the only two no-nos when it comes to school lunch box etiquette. Here are eight more snacks to avoid.
Peanut butter and nuts aren't the only things you should avoid putting in your child's lunch box.
It turns out, there are more snacks that schools are asking mums to add to the banned list.
Keep reading to find out what NOT to pack in your little one's lunch.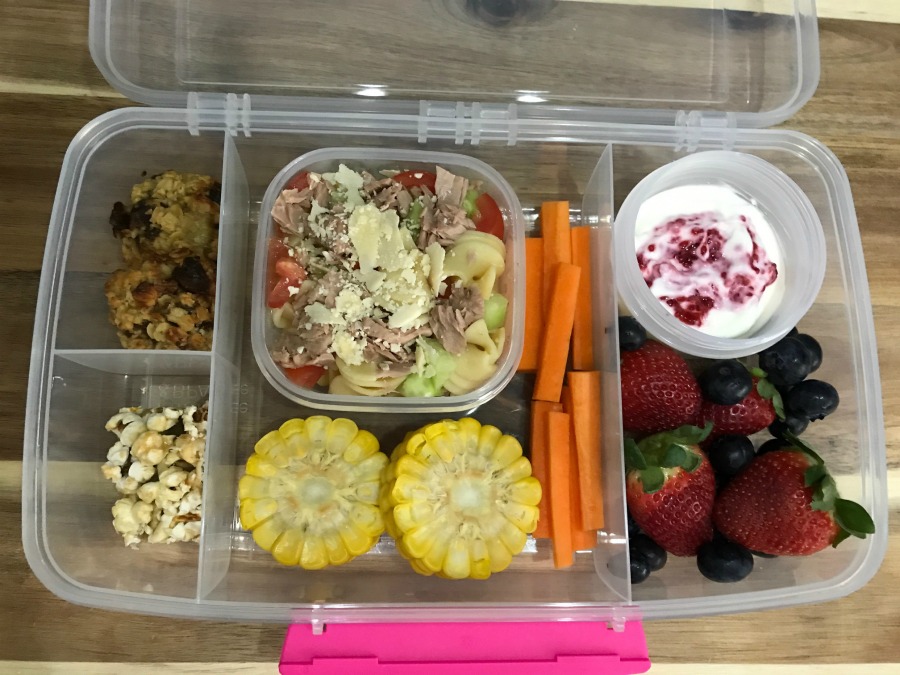 The epidemic of unhealthy lunch boxes
A school lunch box can potentially make up to 30-50% of our child's daily food intake.
According to a study published in the Journal of Human Nutrition and Dietetics, most parents are not quite getting it right when it comes to healthy school lunches.
Researchers at the University of Adelaide tracked the food consumption of 430 children, who were aged between nine and 10, over a period six months.
The study uncovered a number of issues and confirmed that almost half of a child's daily energy requirements came from "discretionary" or junk foods.
What to put in a lunch box?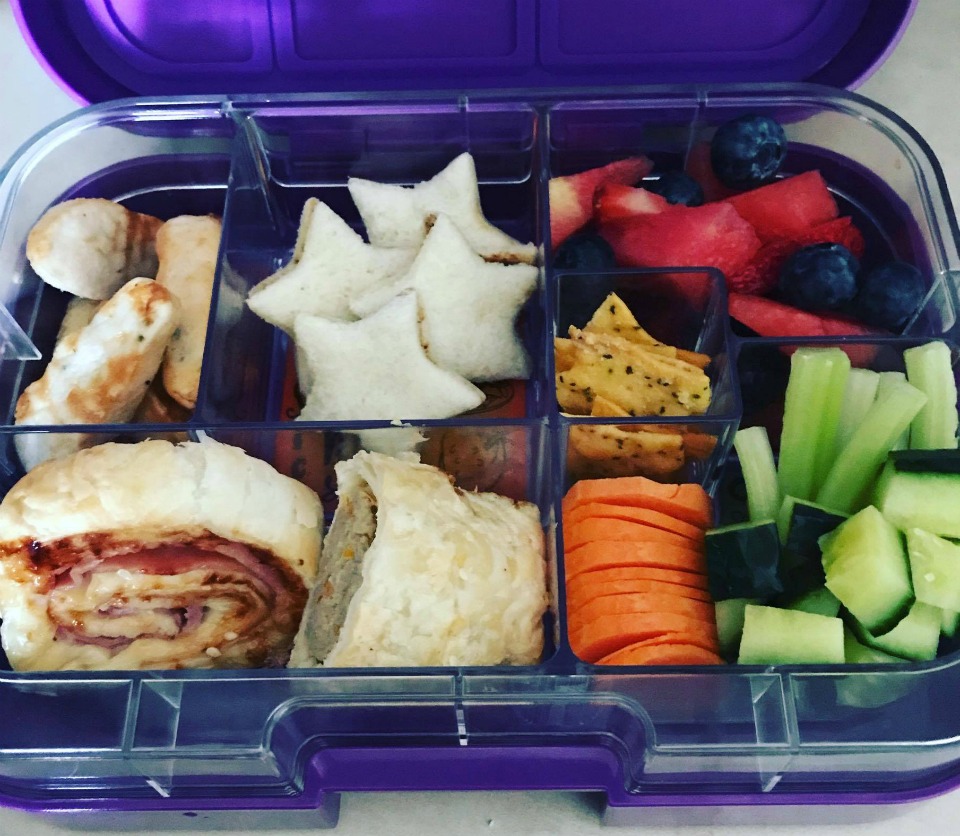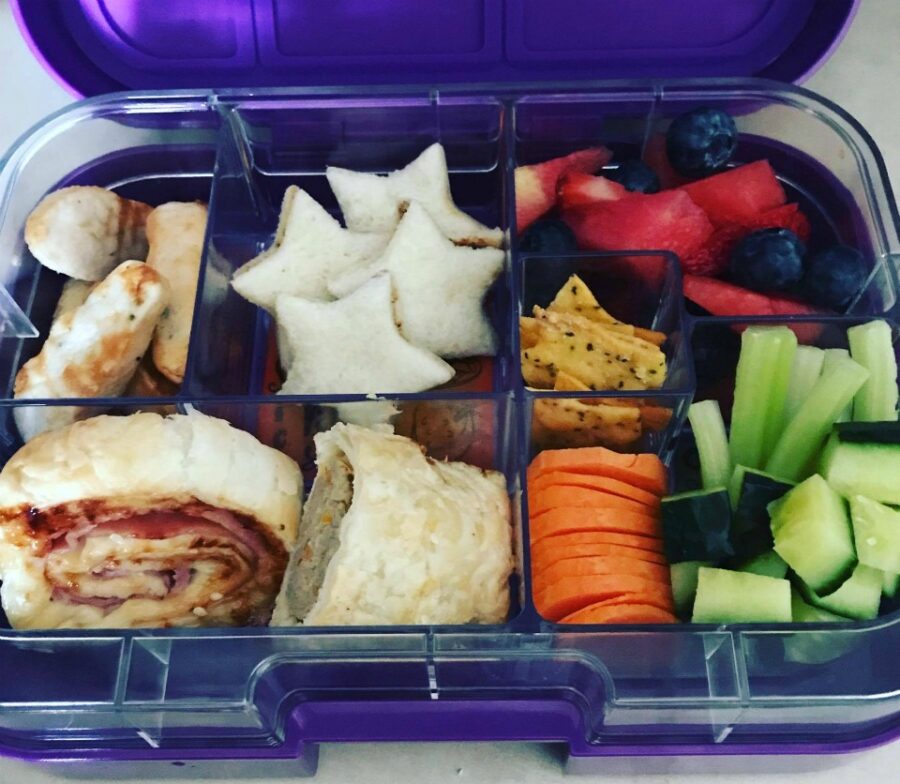 To pack nutritionally balanced lunchbox, aim to include something from each of the five food groups each day: fruit, vegetables, grains, dairy / calcium, protein.
For fruit, you could try putting in apple, berries, banana, grapes.
In the vegetable section, you could try corn on the cob, capsicum, slices of cucumber and grated carrots.
For grains, you could try wholemeal bread, wraps, brown rice, crackers, pasta salad.
As part of the calcium, sugar free yoghurt, cream cheese and cheese.
In the protein section, you could roast meat, eggs, tuna, seed crackers and chickpeas.
Here are 8 lunch box snacks to avoid
1. Packaged fruit juice and poppers
It's fruit, right? No. It's a sugary fruit drink. Most store-purchased fruit juices are loaded with added sugars (on top of the naturally occurring ones).
While fruit juice is okay as a 'sometimes snack', it is best to be avoided at school. Opt for water and a whole piece of fruit instead.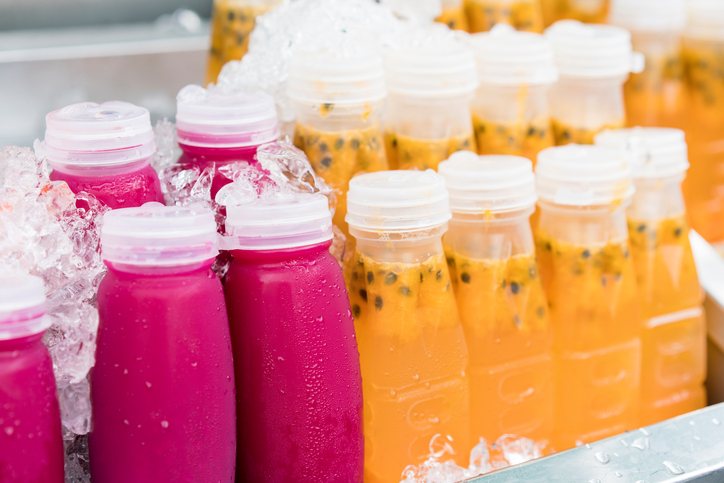 2. Pre-packaged muesli bars
Wrapped in easy-to-open individual packaging, it seems like muesli bars are designed especially for school lunches. And it's so easy to grab one out of the pantry and add it to the lunch box for extra padding. But, turns out, many muesli bars are just jam-packed with added sugar, refined starch and fat.
Not all muesli bars should be treated equally – look for ones that are high in oats, barley, nuts and seeds. Or, we suggest making your own.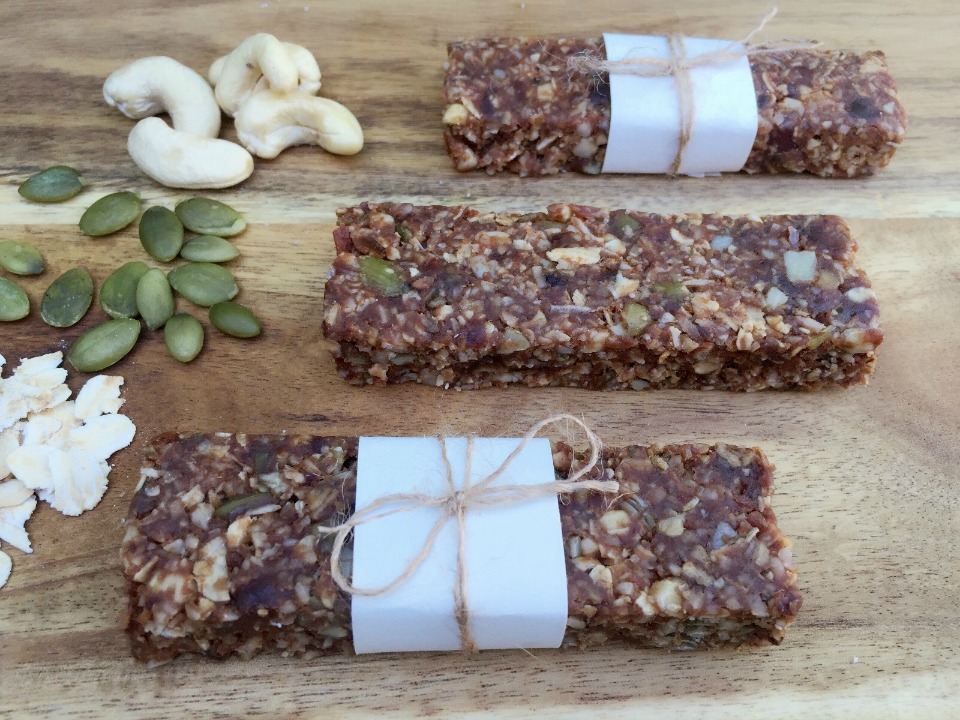 Here's how you can make our Chewy & Healthy Chocolate Muesli Bars (pictured above).
3. Savoury crackers
Many of the savoury crackers out there contain just as much salt and fat as regular chips. Again, not all do so look for the crackers that are made from whole grains. Crispbread or rice cakes are healthier options too.
You could even try making the Healthy Mummy's Rosemary And Flaxseed Crackers.
4. Flavoured milk
Milk is good for kids, right? Yes, but not when it's flavoured with tablespoons and tablespoons of colourful sugar.
And drinking milk that has been sitting in an esky or lunch box all morning probably isn't that great of an idea either, especially during the summer months. Stick to water for a school lunch box drink.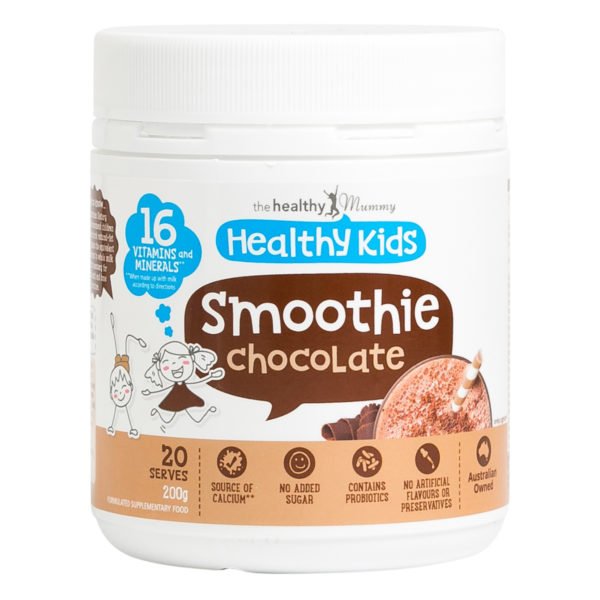 For a healthier, chocolatey at-home snack for kids – check out our Healthy Kids Chocolate Smoothie. Our Kids Smoothie contains 16 essential vitamins and minerals, NO added sugar and is free from hidden nasties.
Not only will kiddies fall in love with the cocoa-goodness – parents can be reassured their children are sipping on a nutritionally loaded snack. You can BUY the KIDS SMOOTHIE here!
5. Snack packs
Snack packs seem like a school lunch staple (or they are at least marketed to mums this way) but they have no place in your child's lunch box. Why? Because they are loaded with processed carbohydrates, salt and fat. Make your own snack pack with whole grain crackers and your own slices of cheese.
6. Packaged dried fruit straps
Dried fruit isn't always a bad choice but it's best to make your own fruit straps if you can. Packaged fruit leather tends to be high in sugar and can lead to oral health problems in kids.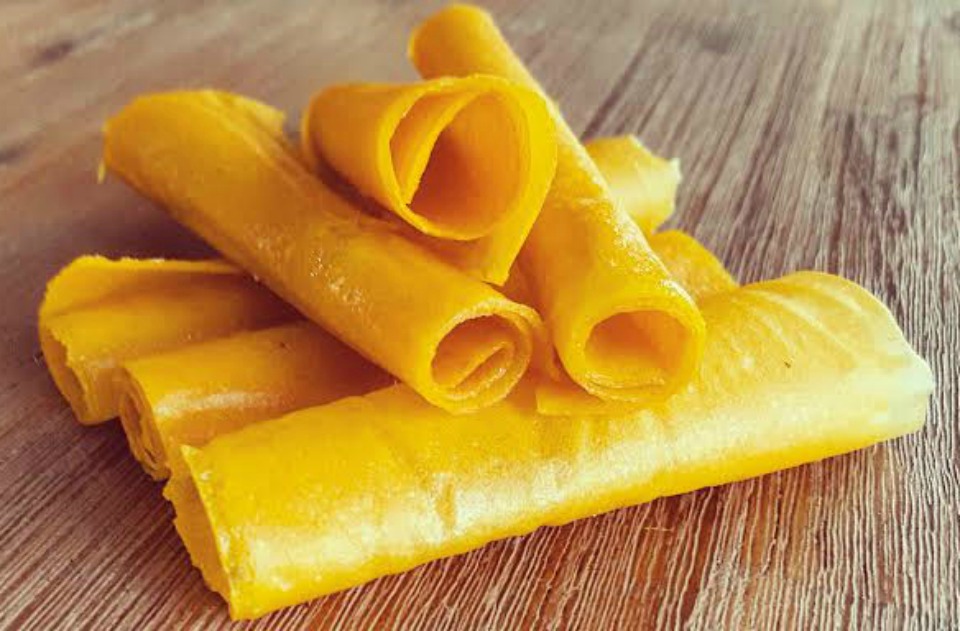 7. Packaged chocolate spread
Traditional packaged chocolate spread contains very little nutritional value. Although delicious, many are loaded with teaspoons and teaspoons of added sugar. When it comes to lunch box spreads, it's best to stick to dips and spreads that pack nutritional substance such as avocado spread, hummus, cottage cheese and tzatziki.
You can still give your little ones their dose of chocolate spread but try our healthy hazelnut chocolate spread instead. It's easy to make and packs a nutritional punch.
8. Processed meat
If your kids are anything like ours, they get sick of sandwiches around week three. Mini sausages seem like a fun alternative (with a little dollop of salsa on the side). But these processed snacks are no good. To beat the sandwich rut, try wraps, veggies and dip, wholemeal pikelets or mini pizzas.
Check out these awesome lunch box hacks!
1. Empty and wash the lunch boxes on Friday night
There's nothing worse than opening a lunch box on Monday morning to find leftover food. Get into the habit of giving the lunch boxes a wash in soapy water on a Friday evening so that they are ready to roll come Monday.
2. Freeze dip in ice cube trays
Kids love to dunk, so instead of giving them a Le Snak with its dubious health claims (and cheese from a shelf, what's that all about?) offer them a healthy homemade dip instead.
You can freeze homemade dip in ice cube trays and then just click out one or two cubes into a small container in the morning, with some carrot sticks or brown rice crackers in another container for dipping. The dip will be defrosted in time for morning tea.
3. Prepare what you can at night
Not everyone likes to give their kids a sandwich made the night before, and that's fair enough. But much of the lunchbox can be ready-made the night prior. Pop in a piece of fruit, fill water bottles, add tubs of yoghurt – then just add the fresh items in the morning.
4. Double batch then freeze cakes and slices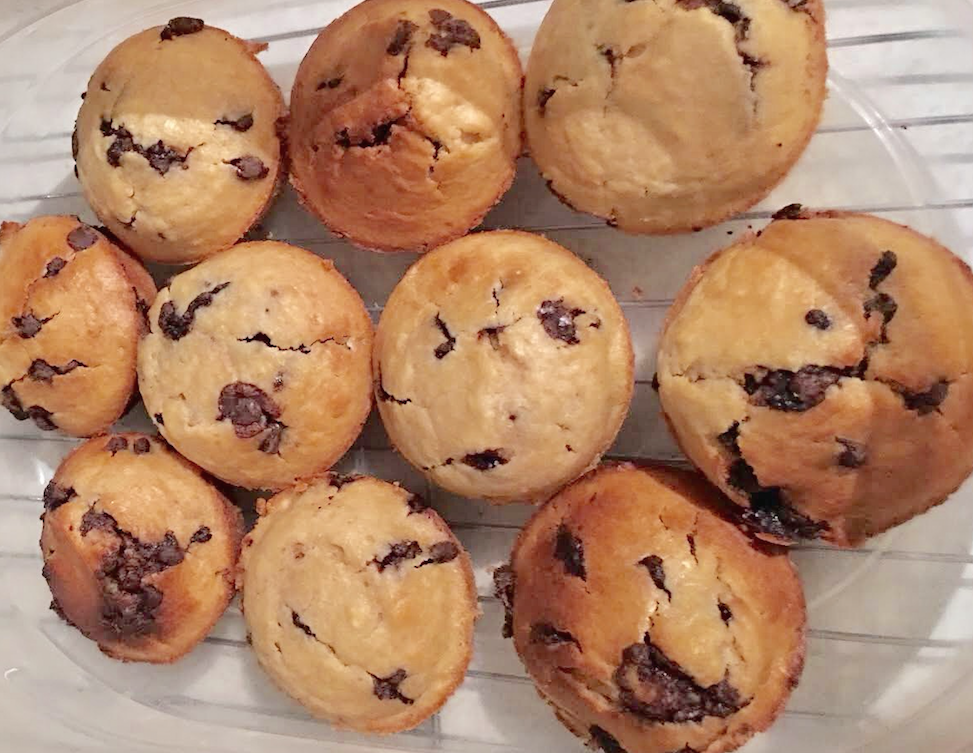 Bake a big batch of morning tea and wrap individually then freeze. The night before, take it out of the freezer to defrost overnight and they'll be ready to pop into a lunchbox. Think Raspberry and Coconut Slice or a Choc Chip Muffin.
5. Try different shapes and sizes
For some reason, crinkle cut carrots seem much more exciting than regular carrot sticks. You can also use them for cutting sweet potato into wedges and baking in the oven with your dinner, then popping some in the lunchbox for a tasty snack the next day. If you are struggling to get your kids to eat sandwiches, try cutting them into fun shapes using a cookie cutter.
6. Make these two and three-ingredient treats
Let's face it, anything where you just throw a handful of ingredients in a food processor is going to be ideal for a busy mum.
These Coconut and Date Balls have just two ingredients (can you guess what they are??) and need no oven time either. We also love these 3 Ingredient Apricot Squares. Keep some aside for your own morning tea!
7. Get the kids to make some no-bake snacks
If you've got little ones that love to help in the kitchen, encourage them to help prepare food for school lunches for the week. Try a no-bake recipe such as these nut free Choc Banana Bliss Balls so that you don't have to worry about kids near the hot oven.
8. Try reusable pouches
You can buy reusable yoghurt pouches quite cheaply these days, and fill them with your own healthy yoghurt mix (we love thick Greek yoghurt with honey and cinnamon). But you can also use these to send the kids off with a 'thickie' – it's like a smoothie but much thicker (which kids love). Make the night before and freeze, then it will be defrosted and cool for lunch.
Try this recipe for a Chocolate Thickie, replacing the Healthy Mummy Smoothie mix with 2 tbsp cocoa/cacao. 
9. Pre-chop food for the week
If your kids love cheese and crackers, or slices of watermelon, there's no need to chop up the cheese and watermelon fresh every day. At the beginning of the week chop up enough cubes of cheese and watermelon slices for the week and keep them in a separate container so that you can just grab them out each morning.
10. Make a healthy popcorn trail mix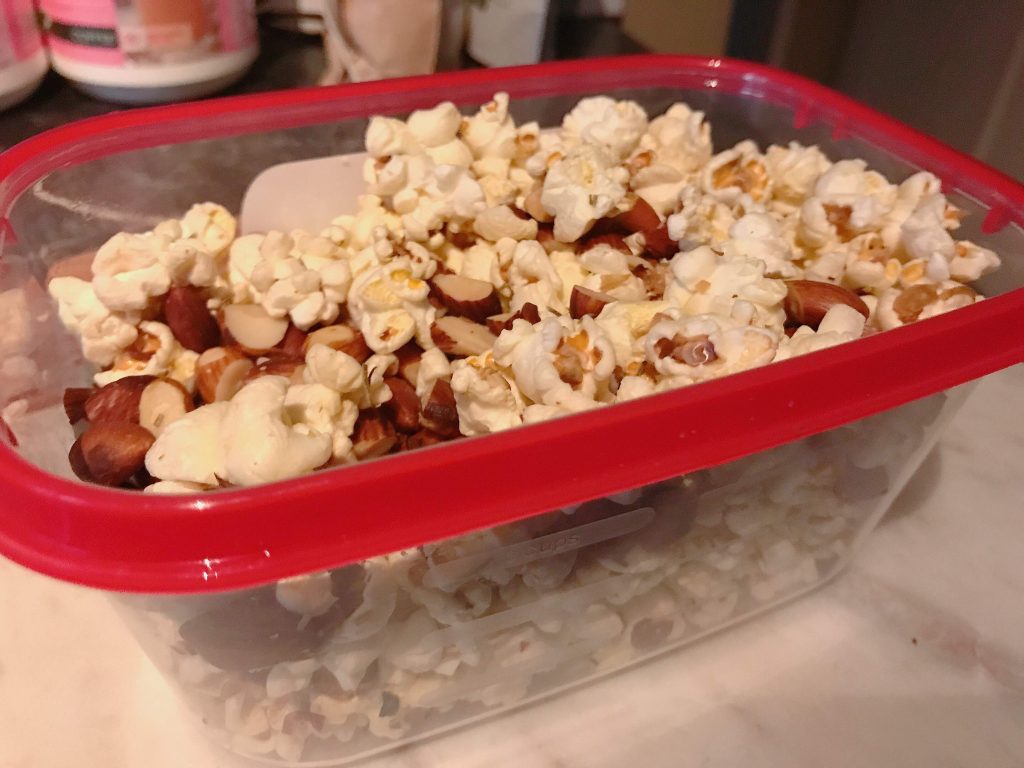 Think air popped popcorn, sultanas, pumpkin seeds, dried apricots and chunky shredded coconut. Keep this in a large jar that you can just scoop out into a container for a healthy snack to go.
11. Store wraps in the freezer
Many mums have known the feeling of dread as you realise at 7am that you're out of bread for school lunches. This is why we recommend that you keep a pack of tortilla wraps in the freezer. They click off the pile really well without breaking, and then you can just defrost on the bench (or in the microwave for 20 seconds) and use as normal.
12. Cook extra at dinner time
If your kids will happily tuck into a cold sausage or chicken drumstick, always prepare more of these when you have them at dinner time. You can also throw a leftover slice of quiche or pie into the lunchbox for a change to the usual sandwich. Or turn leftover pasta into a quick pasta salad with some tinned corn, avocado chunks, tuna, or kidney beans added.
So which of these lunch box hacks will you try first?
Healthy Kids Lunch Boxes eBook
Ensuring our children's lunch boxes are filled with healthy, easy to prepare foods that the kids will actually eat is really important.  A school lunch box can potentially make up to 30-50% of our child's daily food intake so, we want to make them count.
Our Healthy Kid Lunch Boxed eBook makes preparing lunch boxes a breeze.
Buy your copy today OR access ALL 40 of our Healthy Mummy books from just $10/month with our eBook membership – get more details here.