10 recipes mum says her fussy eaters (and hubby) will eat NO MATTER what!
Eek! Trying to find healthy, yummy food for a fussy eating child to eat (or at least pick at minus the tantrum) can be one tough journey. A recent Healthy Mummy survey revealed a whopping 70 per cent of mums worry about their fussy eating kiddies not getting adequate nutrition.
This is a concern Healthy Mummy community member Vanessa is all too familiar with. Well, was familiar with.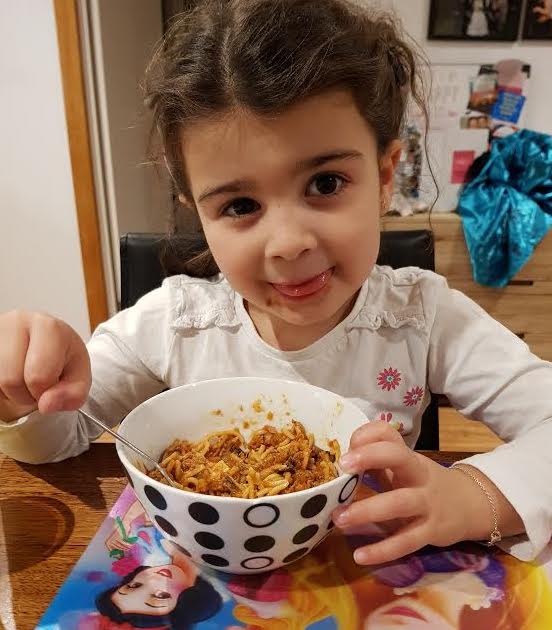 Vanessa on managing fussy eating kiddies
Vanessa reveals, "Getting my kids to eat some days is like scratching a blackboard.  No amount of bribing or begging works. It is very frustrating and stressful and ends in tears. For us all."
We hear you Vanessa! So many of us mums are in the exact same boat. What's more, our Healthy Mummy Fussy Eating Survey revealed 36 percent of mums say they end up having to make separate meals for their fussy eaters. 
The good news is there are tips, tricks and ways to help entice your picky-eaters to try something new.
For Vanessa, it was the 28 Day Weight Loss Challenge recipes and getting her children to help prepare these meals.
Vanessa reveals, "Since starting the Healthy Mummy 19 Challenges ago, we have transformed our lives and my kids are eating better than ever.
"The best change I made was getting them to help me in the kitchen. Whether it's helping me chop up mushrooms or stir a cake – they love it! They love helping me cook my Healthy Mummy meals."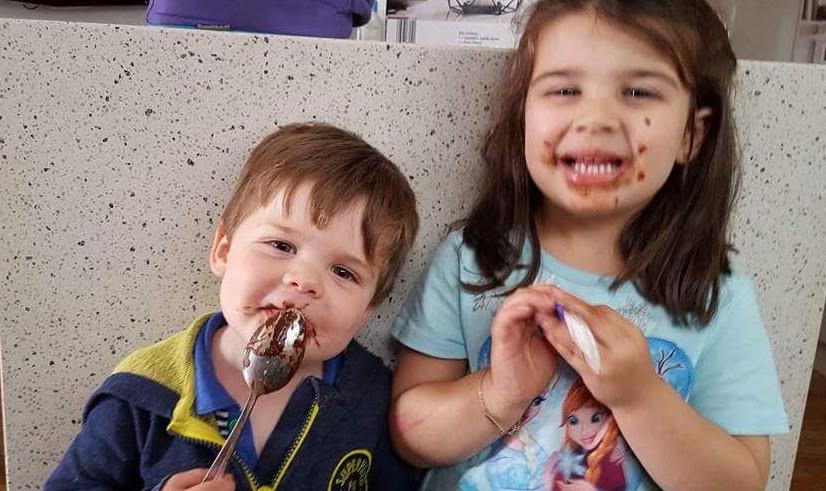 "It seems they are more likely to eat food when they have helped make it."
10 recipes Vanessa says her fussy-eaters (and hubby) will eat NO MATTER what!
Along the way, Vanessa has discovered the kiddies will eat (and love) the following 10 recipes no matter what! They are her go-to family-friendly, fussy-eater approved meals!
1.One pot spaghetti bolognese
This is a GREAT one pot meal that can feed a family of up to six (or provide delicious leftovers). And yes, even the pasta is cooked in the same pot!
Our One Pot Spaghetti Bolognese recipe is ready to go in 30 minutes and can save you time on washing up.
You can find this recipe on our website HERE.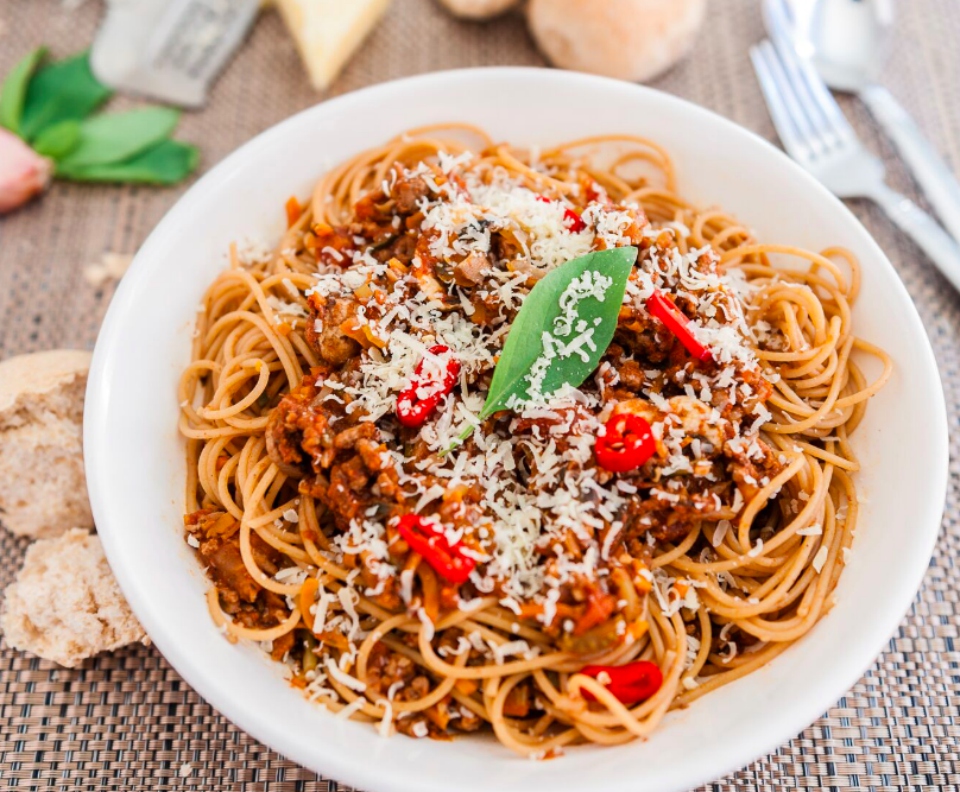 2. 2 ingredient pizza (with ham and pineapple)
Who doesn't love a good ham and pineapple pizza? Especially one that is warm, yummy, and not dripping in oil, fat, and loaded with sugar like other traditional take-out purchased-pizzas.
What's more, for busy mums like Vanessa, to make this pizza base all you need is TWO INGREDIENTS! yep, this pizza dough recipe needs only 2 ingredients, Again saving on time and money.
You can also find this recipe on our website HERE.
3. Honey, soy chicken and rice stir fry
Our 28 Day Weight Loss Challenge offers many, many delicious stir fry creations for mums to try. A favourite – our Honey, Lemon And Ginger Chicken Stir Fry. Although Vanessa loves this dish – to make it a little more enticing (and taste bud sensitive) for her kiddies – she leaves out the ginger, ditches the lemon and goes for basics.
Plain old honey, soy chicken and rice…and it's a hit!
You can get our traditional Honey, Lemon And Ginger Chicken Stirfry recipe HERE. 
4. Hidden veggie chicken nuggets and chips
Hiding veggies is a GREAT way to sneak vitamins and minerals into your child's diet. And as Vanessa has learnt, kids really do eat their dinner (like nuggets) WITHOUT even noticing all the extra ingredients.
This recipe can be found on our 28 Day Weight Loss Challenge. It serves four and takes less than 30 minutes to prepare and cook.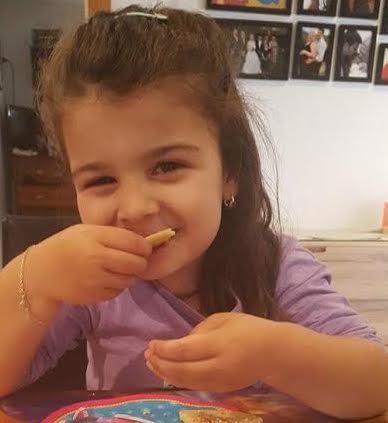 5. Lamb and cheese meatballs
These meatballs are a great family-friendly recipe. Serve them with wholemeal spaghetti or even something like couscous or rice. Another delicious meatball recipe!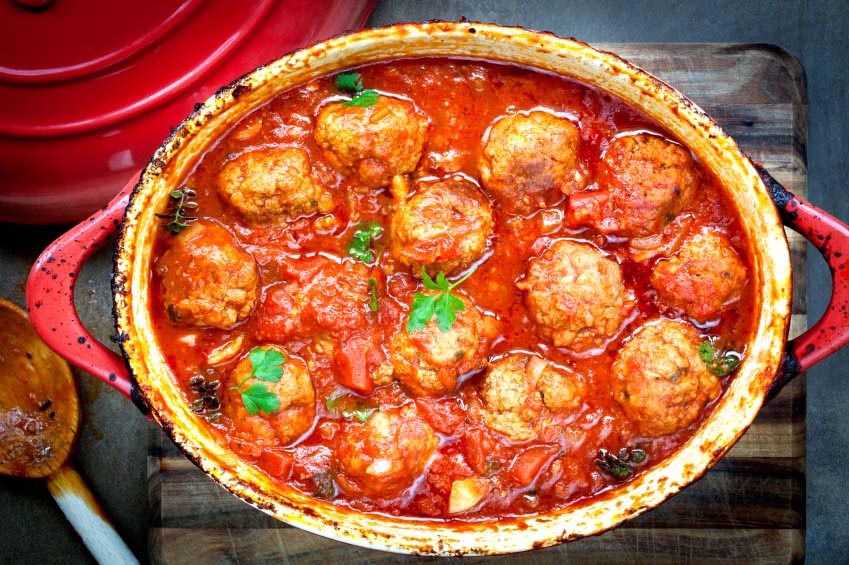 6.30-minute autumn minestrone soup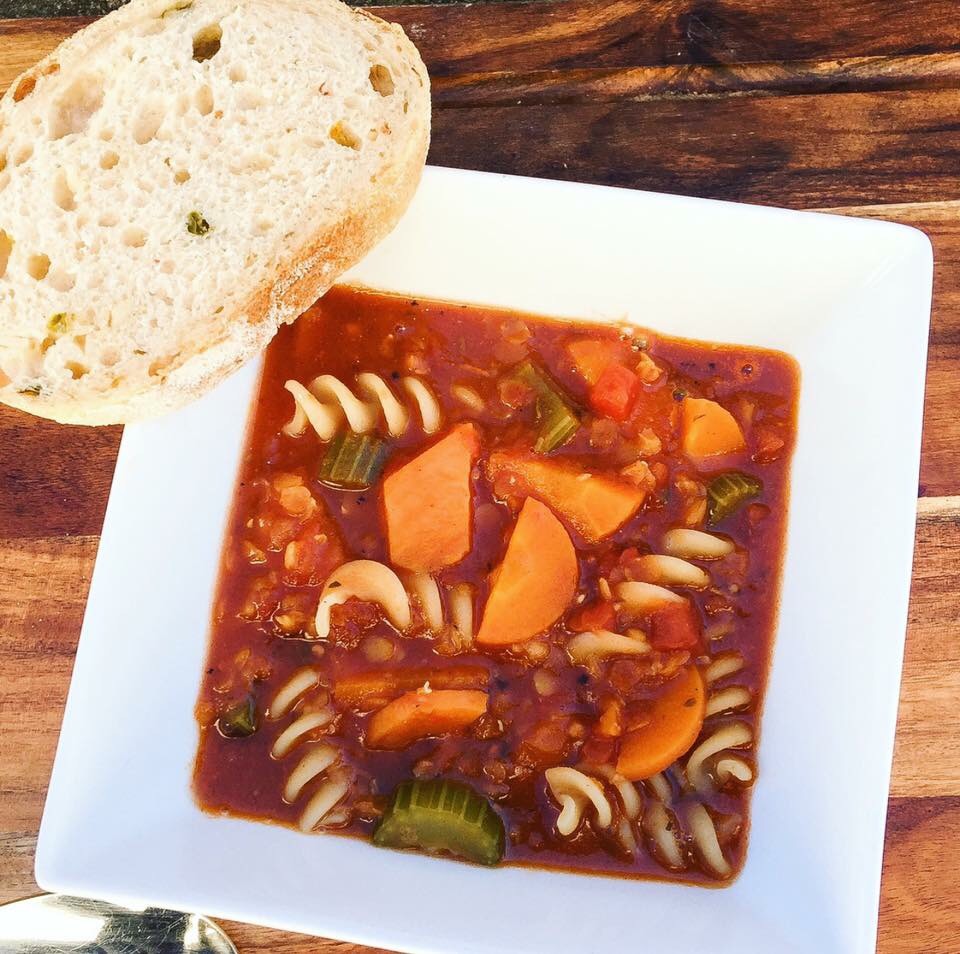 This recipe is amazing as it features plenty of veggies, is packed full of flavour, and is low in free sugars.
It's perfect to make in a large batch to enjoy leftovers for lunch throughout the week. It also freezes well if you feel like making a double batch, then just defrost for another family meal when you're too busy to cook.
You can find this recipe on our website HERE.
7. Salmon cakes
Kids often enjoy burgers and meatballs. So salmon cakes often pass as something 'a little less new looking' – especially if you pop it in between buns. This recipe is also really easy to prepare and sneak additional veggies in them.
This recipe can be found on our 28 Day Weight Loss Challenge.
8. Mushroom and bacon ravioli
For a hearty dinner, this creamy mushroom and bacon ravioli can be prepared in around 20 minutes.
Using just a few key ingredients means it isn't hard to have a healthy meal on the table that the whole family will love.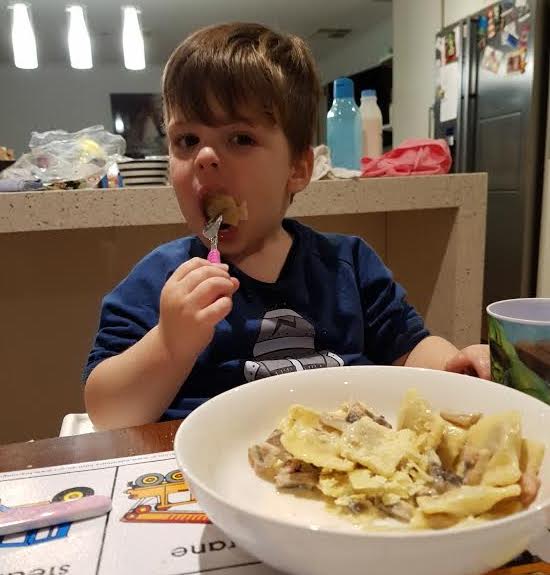 You can find this recipe on our website HERE.
9. Mexican lasagna
So far, we have never-ever-ever stumbled across a mum, hubby or kiddie who doesn't love this dish. It's certainly a Healthy Mummy fave.
It's a perfect dinner for parties and freezing leftovers for later. You can get this recipe on our blog HERE.
10. Healthy mac and cheese
This healthy macaroni and cheese recipe has become a sensation in our Healthy Mummy community. It's everything you could possibly imagine from a classic mac and cheese but without the high calories.
Totally delicious and bound to be a hit with the whole family (and a great way of sneaking some extra veggies in for the kids).
You can find this recipe HERE.
The Healthy Mummy can fit into any lifestyle and suit all families
Vanessa says, "The Healthy Mummy is an easy fit into any lifestyle and my kids love it as much as I do.
"I am so glad they do as I would hate to have to make seperate meals. I do modify them for my kids, but generally, if I serve them any of the above meals they will wipe their plates clean."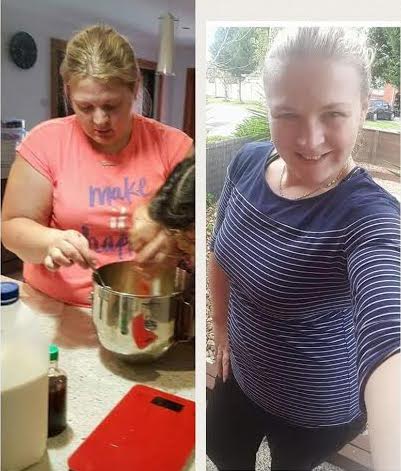 Vanessa goes on further to add, "On top of the kids eating well, I have lost 25 kilograms following the Healthy Mummy's 28 Day Weight Loss Challenges.  It has changed my life for the better and I'm thankful to have found it."
The Healthy Kids FUSSY EATERS Cookbook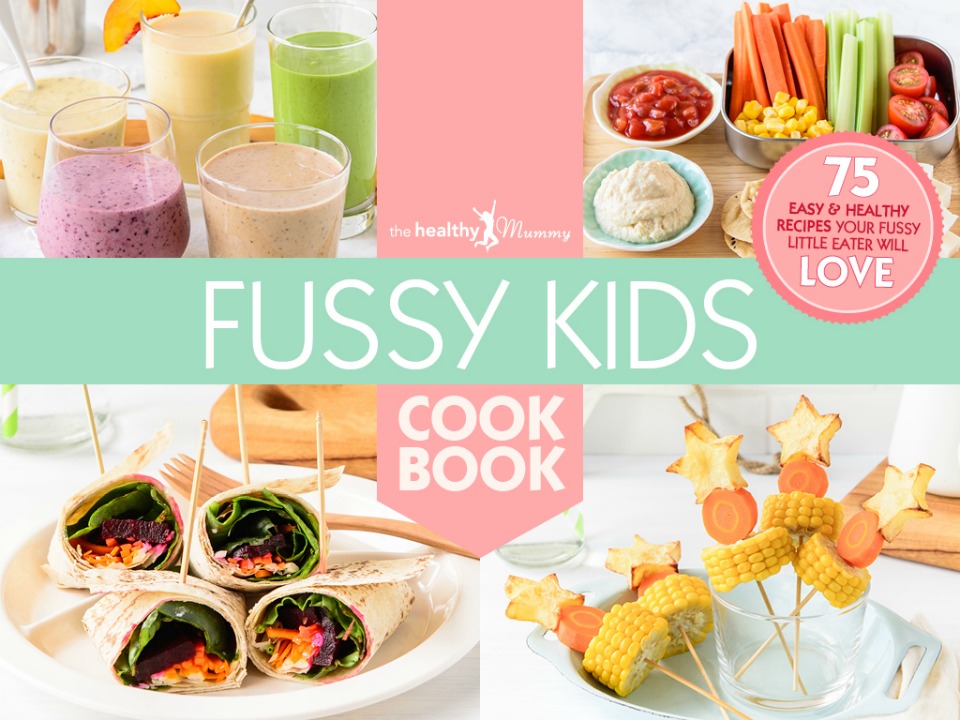 As well as helping mums lead healthy lifestyles with our amazing range of smoothies and our incredible 28 Day Weight Loss Challenges, we are also very much focused on helping kids eat healthy too!
This is why we launched our Healthy Kids Fussy Easter Cookbook and it's JAM-PACKED full of healthy recipes that even the fussiest eaters will LOVE!
How the 28 Day Weight Loss Challenge can BENEFIT the entire family
Our 28 Day Weight Loss Challenge is a weight loss program designed to help mummy's shift the belly fat and lose the baby weight.
Here at Healthy Mummy HQ we understand how busy the life of a mum is (not to mention expensive) so our Challenge is designed to make healthy living EASY!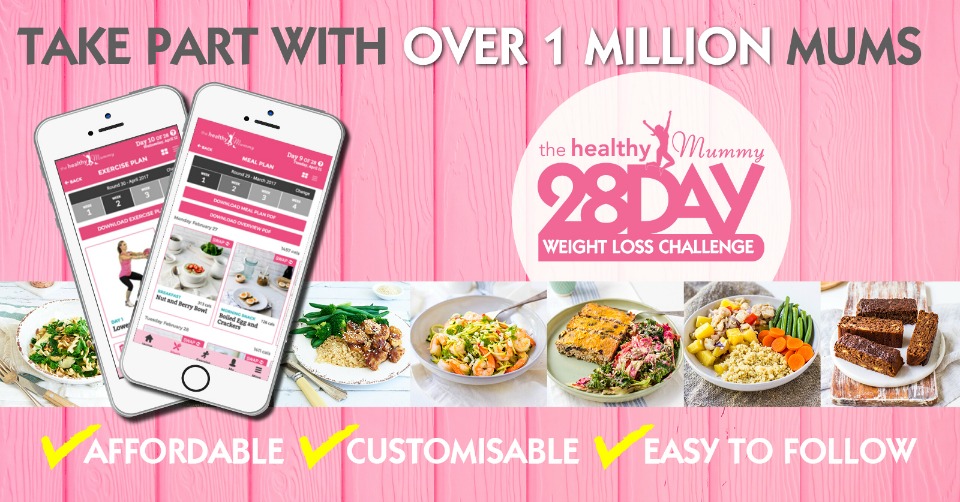 Our Challenge includes:
Customisable meal plans & a personalised shopping list
The Challenge has over 3,000 exclusive recipes plus 100 NEW ones each month
Realistic menus – no food groups cut out.
Budget & family-friendly – option to increase the number of serves for each meal
You can learn more about the 28 Day Weight Loss Challenge HERE.