Are breastfeeding photoshoots the next big thing in documenting motherhood?
At The Healthy Mummy we have seen various stages of motherhood commemorated in photos, whether it be gender reveals, pregnancy bumps, birthing photos, and newborn photos.
But are breastfeeding photoshoots the next big thing in documenting your motherhood journey? We think so!
Mum-of-two Jypsie Cronan shares the ups and down of her breastfeeding journey and why she decided to commemorate the near end of it with a stunning breastfeeding photoshoot.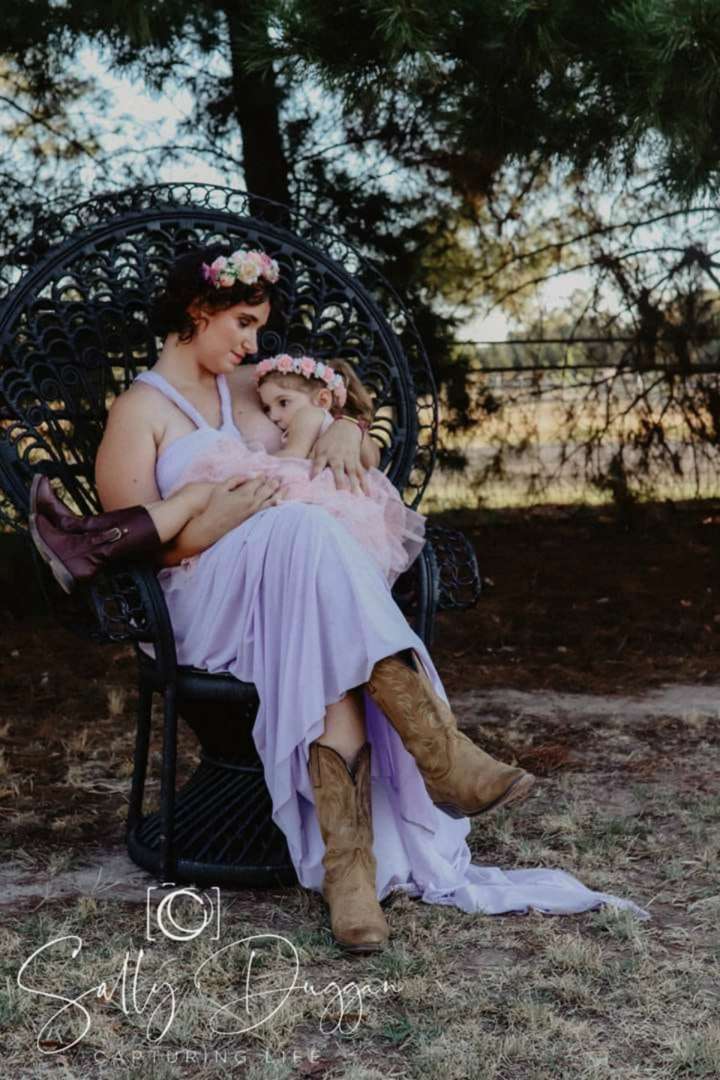 Breastfeeding is the most natural thing in the world but for many mums (including Healthy Mummy mum Jypsie), it was anything but smooth sailing.
Thankfully with determination and perseverance, Jypsie was able to work through her challenges and has been able to successfully breastfeed her daughter up to age 3.5 years.
With her daughters breastfeeding journey coming to an end she decided to celebrate the amazing capability of her body and commemorate those precious moments with her daughter with a breastfeeding photo shoot. And the photos are beautiful!
Here is Jypsie's story.
Jypsie's breastfeeding journey
"I had my son in Feb 2014, at the age of 20, breastfed him until I fell pregnant with my daughter in Feb 2015.
He continued to feed during my pregnancy until about halfway and weaned himself."
Breastfeeding challenges – latching issues and mastitis
"When Matylda was born, we discovered she had a limb difference (brachydactyly affecting her toes) and I was worried if she needed regular specialist care that I wouldn't be able to breastfeed for as long as I wanted.
But that all went well and it's just an annual checkup, so I focused on establishing our breastfeeding journey.
We had latching issues when she was born, the hospital pushed for formula top ups before my milk even came in."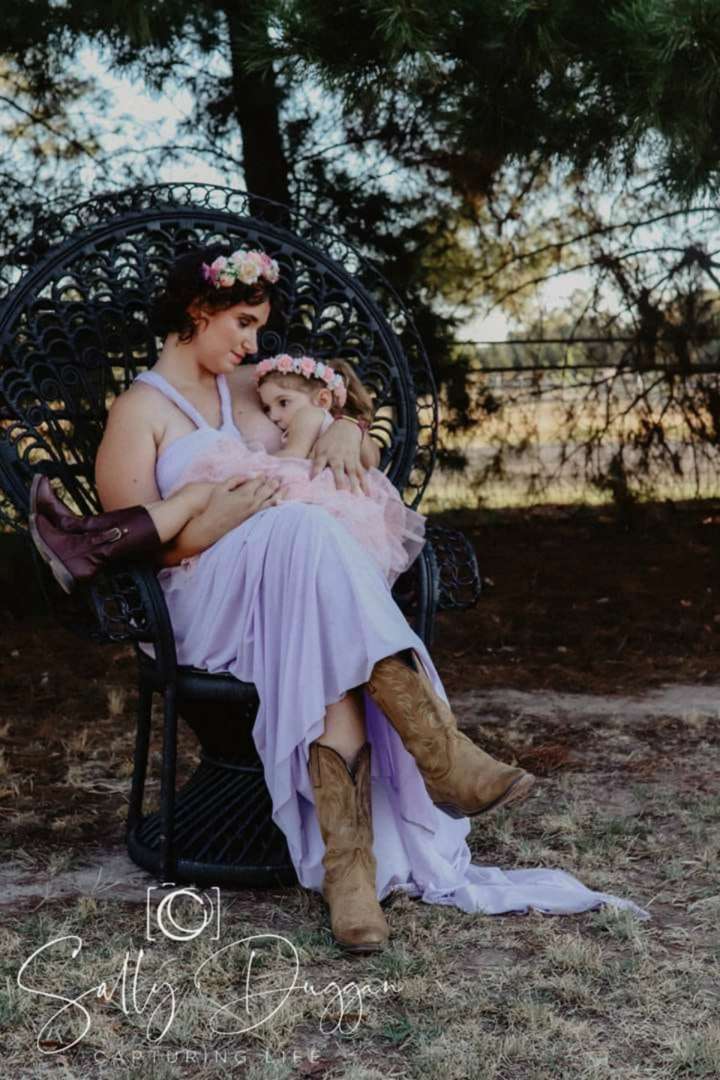 Jypsie declined and kept researching. Convinced of the benefits of skin to skin, she persisted with breastfeeding.
Her daughter lost 300g before she was discharged so they had a checkup 48 hours later. Thankfully Jypsie's milk came in overnight and her daughter gained double what she had lost!
Also suffering mastitis 8 times in a short few months Jypsie says "there were so many nights I wanted my husband to go to the shops and buy formula but we got through each night and did it all again.
Nursing aversions and nursing strikes were our biggest hurdles and we got through them slowly but surely, just going back to basics, skin to skin, offering breast etc."
Commemorating the end of her breastfeeding journey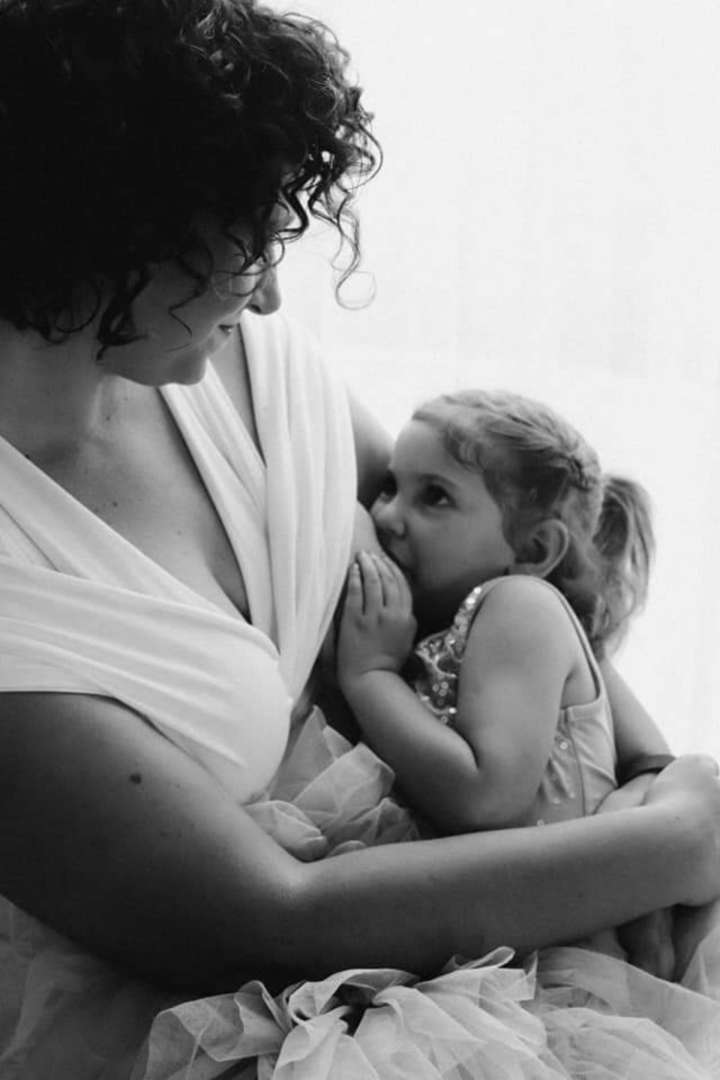 Jypsie says "I'm still nursing my 3.5 year old (judge away I couldn't care less)."
Now that her daughter is down to one feed a day at bedtime she says "we are nearing the end of our breastfeeding journey and today we got breastfeeding photos taken.
I am bigger then I want to be. I do have a lot to lose – it is going to take time.
I've been trying for the last year and haven't lost more than 5kg.
But right now I am celebrating what my body can do.
I have given birth to 2 babies in under 2 years!
I haven't had a break from breastfeeding in 5 years except for 2 months in my 2nd pregnancy.
And right now I am so happy I got these memories captured forever because one day, photos are what we will be looking back on and I WILL be in them, no matter my size."
We couldn't agree with you more Jypsie!
Weight loss and breastfeeding
"Since discovering The Healthy Mummy a few years ago, I have changed my eating and kept my milk supply strong. Check out milk supply boosting smoothie recipe.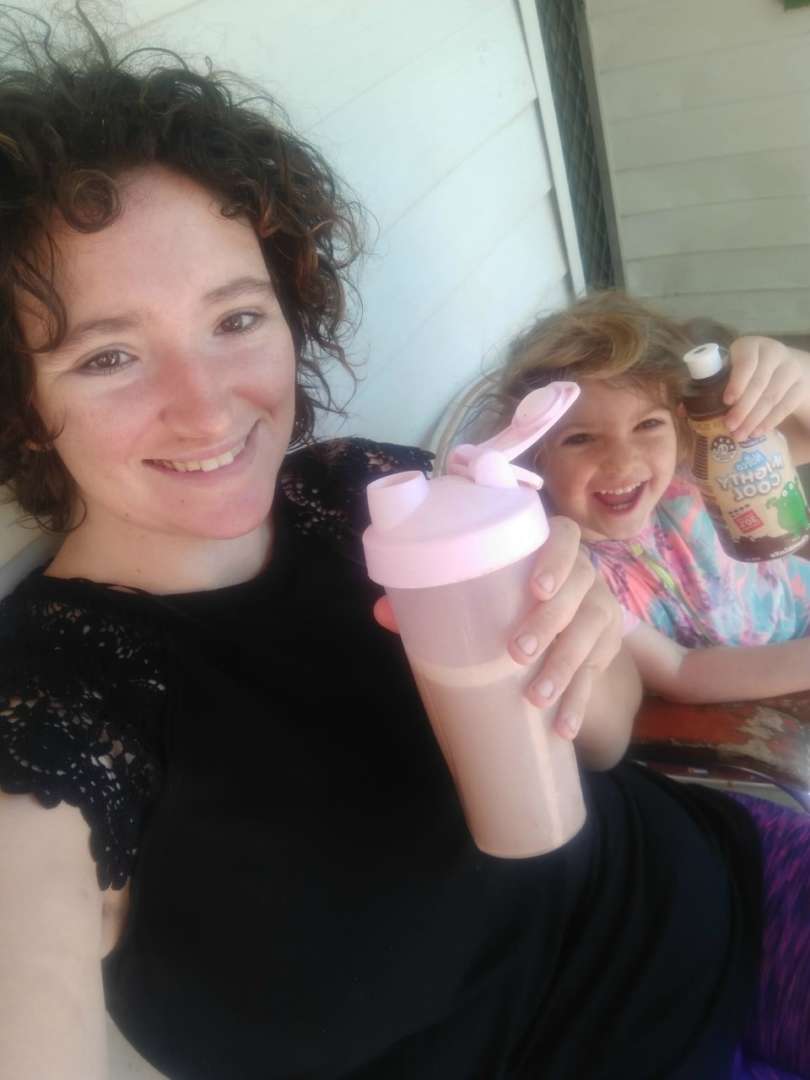 "I have been using The Healthy Mummy products (smoothies, super greens and metabolism support tablets) for the last 12 months roughly and it helps when I am time poor as I can make a smoothie and keep going."
45cm lost
"I have lost over 45cm with The Healthy Mummy and hopefully some weight will be next."
Read Breastfeeding doesn't always guarantee weight loss. Here is what you need to know.
Jypsie's advice to mums who want to breastfeed:
"Do your own research – join Facebook groups, look up your local ABA group, and talk to other mums
Try not to worry about what others think. Feed wherever you are comfortable – it is a right that breastfeeding mothers can nurse wherever baby is allowed, so don't let anyone tell you otherwise!
Ask your hospital if you are having trouble to get in contact with an IBCLC and get as much help as you can.
Get bub checked for lip and tongue ties! It makes a huge difference to nursing and so much more.
Do what works for you. Focus on you and bub and go with the flow.
I also highly recommend capturing your journey in photos, it's such a beautiful keepsake.
The nights are long but the years are short, and time flies when they are so little."
They certainly are Jypsie. Thank you for sharing your breastfeeding journey and beautiful photos with us.
Read how Serena Williams had an emotional reaction when she finished breastfeeding her bub.
Breastfeeding pods are popping up in airports to help mums.
Did you know our smoothies are breastfeeding friendly and help boost milk supply?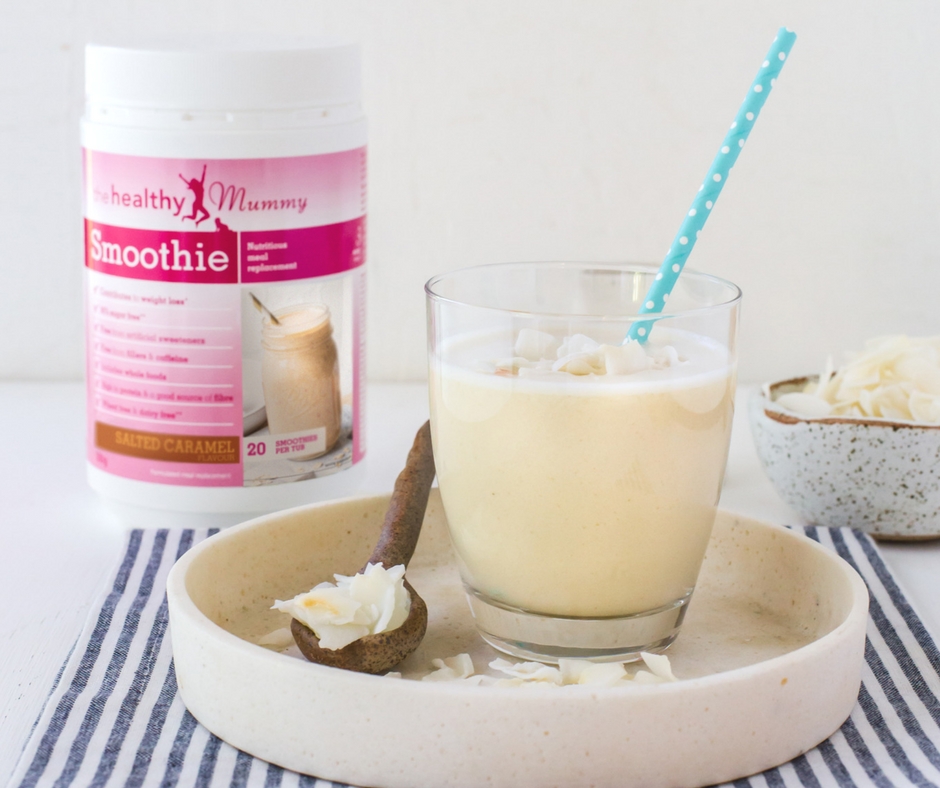 The Healthy Mummy Smoothie offers an excellent source of essential vitamins, minerals, nutrients & important antioxidants. It does not contain any weight loss accelerants, caffeine, no gluten and is dairy free. It is also a non Genetically Modified product!
Our smoothie range is also 96% sugar-free,  breastfeeding safe and is designed to help to support milk supply!
If you would like to learn MORE about our smoothie range download our smoothie information fact sheet here OR you can download the smoothie label and ingredient list here.
We have ten delicious flavours. To purchase your breastfeeding smoothie, click HERE.