Healthy Tortilla Nachos Cups
Healthy eating doesn't have to be boring or bland and by using fresh ingredients you can make delicious meals like these tortilla nachos cups.
These delicious and easy to make tortilla nachos cups are a fun way of dressing up an old-time favourite in a healthy and contemporary way. You can add different ingredients like jalapenos or fresh corn kernels to differentiate and surprise.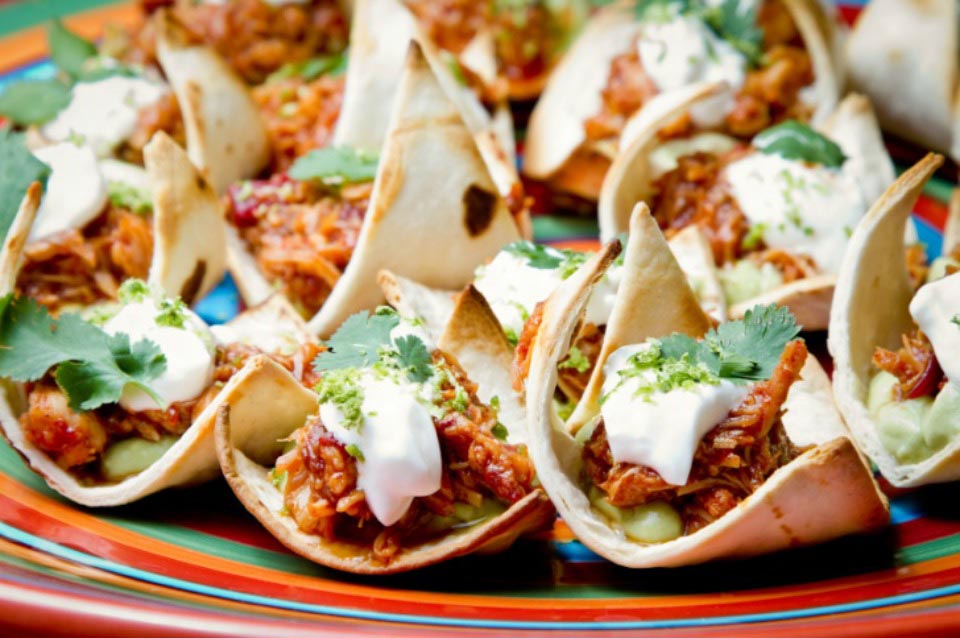 The added kidney beans decrease the cost but also increase the fibre making this dish a fabulous addition to a healthy eating diet plan.
Prep time: 15 minutes
Cook time: 25 minutes
Serves 4 people or 16 appetisers
Ingredients
1 tbs of oil
1 brown onion
2 cloves of garlic
2 cans of kidney beans
200grams of mince or other meat like shredded chicken or shredded turkey (leftovers!)
2 tomatoes diced
2 tbs of red tomato paste
Coriander
8 tbs of reduced fat greek yoghurt
4 large tortillas cut into 4 quarters each
Directions
Heat up the pan with oil and add in the chopped garlic and onion and pan fry until soft.
Add in the mincemeat and break up and brown the outside.
Drain and rinse the kidney beans and place them into the pan. Using the back of a fork, mash some of the beans in the pan.
Add in the tomato and tomato paste and heat the mixture until it is simmering. Cook for 15 minutes.
While the mixture is cooking, cut the tortillas into 4 quarters and place them into a muffin tray, slightly convex. Place the in the oven for 5 minutes at 180 degrees to cook and 'set' them. Leave them to cool before serving.
Ensure the meat mixture is not too wet when you want to serve. Dish around 2 tbs of mixture per tortilla and a dollop of yoghurt on top. another delicious nachos recipe!
300 calories per serve
Get access to more amazing healthy recipes like these Tortilla Nachos Cup by joining the 28 Day Weight Loss Challenge or purchasing one of our cookbooks.