Midwife and mum-of-two has put together the ULTIMATE labour bag list
Midwife, Lactation consultant (IBCLC), Child and Family Health Nurse, Babywearing consultant and mum of two, Bel Moore, has put together the ultimate labour bag list. She has tried out and reviewed each of the awesome and innovative products to ensure you've got everything you need for your upcoming birth!
As a midwife, I have seen every type of labour bag, the plastic bag with a few essentials to the 5 suitcases with everything but the kitchen sink.
Prior to having my first baby three years ago, I thought I had a pretty good idea of what I needed to pack. I had big plans of waltzing into the hospital, popping out a baby and heading back out again, so I packed my bag accordingly.
Unfortunately, a nasty case of pre eclampsia at 38 weeks, meant staying for 3 days with only 2 pairs of undies and no hairbrush. This past experience and my time as a midwife has led me to create, what I think, is the ultimate labour bag list.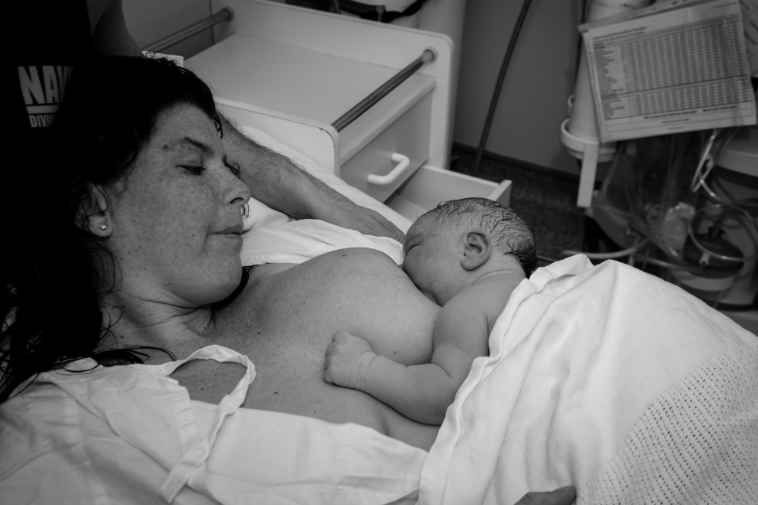 Please note: All products were kindly donated to me for the purpose of this review, all opinions are my own and not those of The Healthy Mummy. 
Bel's ULTIMATE labour bag list
Although it may seem excessive (to husbands and maybe some grumpy midwives), I suggest packing three separate bags (labour, mum and baby) by about 34 weeks.
I have seen one too many bewildered dads searching through a giant bag to find what their partner is yelling at them for and mum's forgetting about something they had packed to help through labour because it was buried at the bottom.
I have to say, The Healthy Mummy tote works great as a labour bag, as it is big enough to chuck everything in at the last minute when heading to the hospital.
Labour bag #1
The birth environment has a huge impact on a women's feeling of safety and satisfaction and can either hinder or support the birthing process.  Creating a home like environment in a hospital can make a big difference to your labour.  
Flameless candles – Bright, artificial light stimulates the neocortex, provoking the release of adrenalin and inhibiting the natural physiological process of birth. Enjoy Lighting's Flameless Candles, for example,  can be used to create a calming and relaxing birth room. I used the three candles to create a lovely environment in early labour and popped them in my labour bag to take to hospital to recreate the home-like environment. I loved having the low light around the bath, the midwife was still able to see what she needed to see and it made the birth pictures look great. Due to fire risk, you're not allowed to have real candles and anything electrical (like a lamp – as it really should be checked and tagged safe for usage by the hospital) in the hospital, so the flameless candles are a great flame-free, smoke-free option to provide low lighting.Remember to pack spare batteries just incase.
Affirmation cards –The Soul Shine pack includes 28 beautiful affirmation cards to help prepare for pregnancy, birth and beyond. I placed these around my lounge room ( with kmart light pegs) and packed a few of my favourite, in my labour bag, which I put up in the birthing room. The cards were uplifting and empowering, helping me through transition and gave my partner some easy catch phrases to encourage me to push through another contraction.
Fitball- If your baby is in an optimal position (baby's spine against your belly and a little to the right) it gives the baby the smallest head circumference and can shorten your labour as it allows the baby to pass through the pelvis easier. Sitting on a fitball can help baby adopt an optimal position and bouncing or doing hip circles can move the baby down the birth canal and put pressure on the cervix, causing it to thin and open, progressing the labour.  The Healthy Mummy exercise ball is perfect to have a home for late pregnancy and early labour (and take to hospital if they don't have them) to get baby is the best position.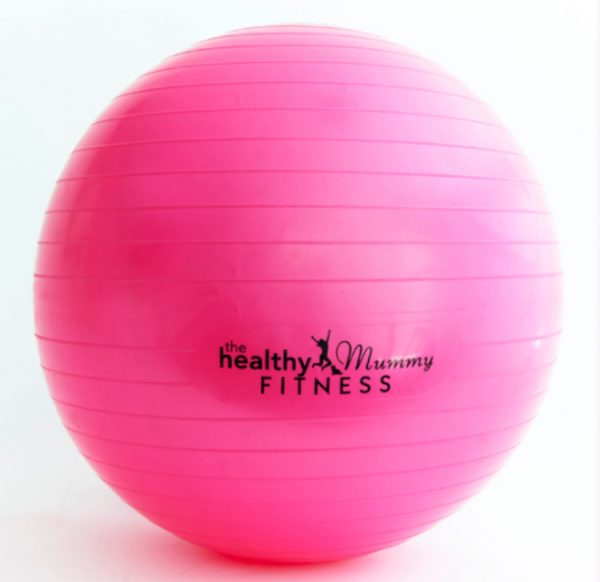 Having natural pain relief options on hand for early labour will help you cope with the contractions, letting you stay at home longer and therefore limiting the amount of interventions that may occur once admitted to hospital.
Heat packs- Heat is a simple but effective pain relief option. Heat stimulates the sensory receptors, blocking the transmission of pain signals to the brain and therefore providing pain relief. Wheatbags Australia's 'closing neck bag' was perfect for my pregnancy, labour and postpartum pain. I used it throughout my pregnancy to help with back pain (usually after a long day at work) and the lavender smell (optional) was beautiful, helping me drift off to sleep each night.
A TENS machine- A Transcutaneous Electrical Nerve Stimulation machine is a small, portable, battery operated device that sends pulsed electrical stimulus (feels like a tingling sensation) to nerves via electrode pads placed on the skin. It assists with reducing back pain associated with labour in two ways, by causing the body to release endorphins and by blocking the pain messages being sent to the brain. They are safe, highly effective and non-invasive, you're able to keep active and you can still use other pain relief methods (such as gas or morphine) while using it. The Elle TENS+ is the ultimate TENS machine as it's a 3 in 1. You can use it in labour (has a bonus contraction timer and boost button), general pain mode (post birth pain, migraines, shoulder pain etc.) and also in pelvic mode (with a SensaTone vaginal probe) to assist post delivery with pelvic floor concerns such as incontinence.As you can use it safely for a long period of time, I put it on as soon as I started getting uncomfortable at home and used up until where I got in the bath. I kept a tight grip on the machine so I could push the magical boost button each contraction, being able to step up the pain blocking during a contraction gave me a great sense of control. The inbuilt contraction timer (same button as boost button) came in handy and enabled me to let the midwife know what had been happening. Some health funds will cover the cost of purchase (usually under medical appliances) so check with yours, some hospitals also do have a supply (brand unknown) to use on admission to hospital or you can hire them (usually only a 4-6 week hire period).
Magnesium- Magnesium helps to maintain normal nerve and muscle function, relaxes muscles, reduces cramping and is great for pain relief. There is ongoing research into the role of magnesium in preventing and managing disorders such as preeclampsia and diabetes. Magnesium is best absorbed transdermally (through the skin). I used Amazing Oils Magnesium flakes in my bath throughout my pregnancy and in pre labour to relax my body and help me get some sleep.
Massage oil – Massage releases endorphins and can ease pain and tension. I packed a homemade mix of lavender essential oil and coconut oil.
Acupressure bands –I suffered terrible morning sickness for both pregnancies and it is very common to experience nausea and vomiting while in labour. Psi bands are a BPA-free acupressure wristband that wards off nausea and vomiting by pressing on the PC 6 point on the wrist. The band is adjustable (like a watch), waterproof, reusable and affordable. I wore them to my diabetes test (that disgusting drink on an empty stomach!) and also put them on about half way through my labour to help with the queasy feeling. I liked that they were waterproof, so I didn't have to take them off in the bath/shower and I was able to adjust how tight I needed the pressure by winding down the dial.
Aroma diffuser and essential oils- I packed oils that are known to assist in labour. Clary sage, lavender, orange and peppermint were a few of my favourites.
Own pillow– Pillows are a hot commodity in a hospital.  Put a waterproof protector and colourful cover on it so it doesn't get mixed up with hospital ones.
Clothes for labour–I packed swimmers, crop tops, old large t-shirts, warm socks, old knickers and tracksuit pants.
Spray bottle- for cooling down my face and also for the perineum area post birth (I added a little witch hazel for a cooling effect).
Food and drinks– The uterus is made up of mostly muscle tissue, which needs energy to work as required, therefore enough nutrition to meet these energy needs is needed. Not everyone feels like eating in labour or you may experience nausea that limits what you feel like eating, but I think being prepared with low GI snacks is the best idea (and a few naughty treats). I packed an array of Healthy Mummy Bliss Balls that I had prepared the weeks before and frozen, home made musli bars, porridge, dried fruit, lollies, powerade and Healthy Mummy Energy Boosting Super Greens to mix with my coconut water for that extra boost.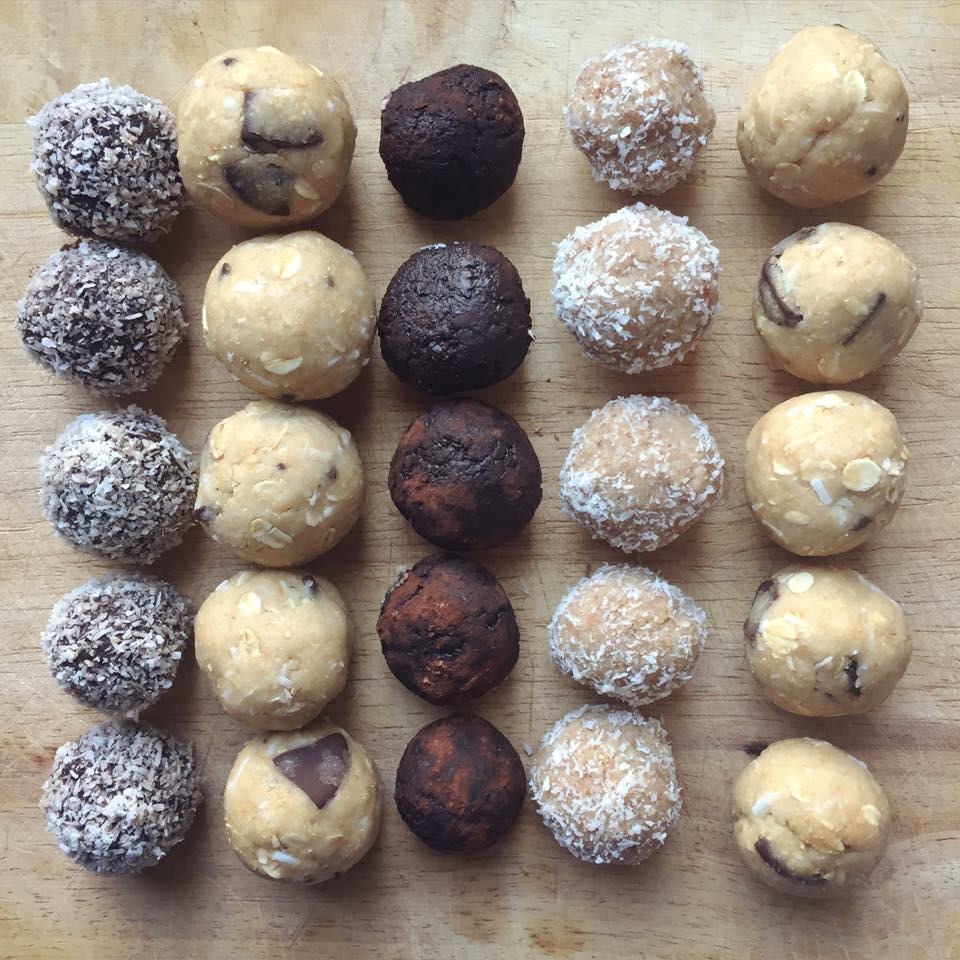 Large water bottle- It isn't called labour for nothing! It's hard work! Keeping hydrated is important to ensure your muscles are working at their best.  Your uterus can't contract efficiently if you are dehydrated.  Healthy Mummy's BPA free 750ml water bottle is perfect.
Plastic bags- for all the wet/ dirty stuff
Bendy straws- its not always easy to drink in some laboring positions, sipping from a straw can also reduce feelings of nausea.
A good lip balm- Dermal Therapy lip balm is ultra moisturising, has no colour and limited smell. I used it throughout my pregnancy, as I seemed to spend my pregnancy, mouth breathing at night, causing the most shocking chapped lips. It was perfect for keeping my lips moist when labouring, without that sticky lip-gloss feeling.
Items for your support person- Change of clothes, Boardshorts/swimmer etc (so they can get involved around the bath or showers), snacks for them- no one likes a hangry support person.
Miscellaneous extras: 

Camera and charger
Bluetooth speaker and a good spotify playlist
Phones and chargers
Birth plan – Check out https://www.healthymummy.com/birth-plan/
Antenatal card
IPod/charger/ earphones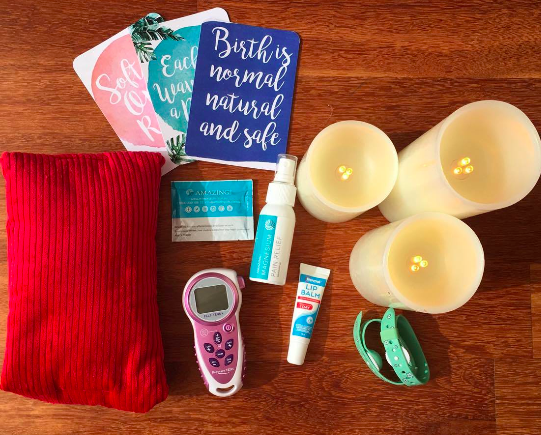 Mum bag #2
The essentials – Having a toddler meant going to the shops to buy all the extra things for my bag would have been worse than labour itself, so while late night googling (thanks pregnancy insomnia!), I found the perfect solution, The MaternityBag. The MaternityBag "Weekender" is jammed packed with the essentials you need to get you through a 2-3 day hospital stay. The good quality tote bag packed with a breastfeeding friendly dress, pjs, slippers, socks, undies, maternity pads, note book and pen, lip balm, stretch mark cream, eye mask, tissues, protective car seat sheet (for all the hubbies who are worried about your waters breaking on their "baby"), nipple cream, disposable breast pads and all the toiletries that a girl needs to make her feel more human after birth.  The quality of all the products was great, it was all ready to go and actually worked out to be great value. I used this as the basis of my bag and added in all my must have extras.
Extra undies- ModiBodi have created leak proof undies! The undies have a breathable, super slim, moisture wicking, absorbent, antimicrobial, stain resistant, leak proof lining to ensure that any bleeding, discharge or light bladder leaks are contained in the undies!
Shoes– to wear home. You may still be a bit puffy, I went with thongs.
Clothes– Depending on how long you're staying- a few sets of comfy, loose, and easy to feed in clothes. Think leggings, buttons up shirts and zip up jumpers. Aircon is usually set hospital wide in public hospitals, so have some warm options.
Breastfeeding friendly bras– The Movemami breastfeeding bra is a supportive, super comfortable, wireless breastfeeding bra. When breastfeeding, underwire can cause blocked ducts and lead to mastitis so being able to have great support without the worry of causing damage was great.
Recovery shorts – After living in my SRC pregnancy leggings for six months, I knew I had to pack the recovery shorts for my hospital stay. The unique SRC technology uses gentle compression / light pressure to the pelvis, back and abdominal to stimulate and activate the muscles. It made it feel very secure and as I'd had issues with ab separation in pregnancy and I felt the much-needed support kick in when picking up my toddler post birth.
Maternity pads- Post birth bleeding can be heavier than a normal period in the first few days but does taper off during the next 4-6 weeks. Last pregnancy, I packed a pack of disposable maxi pads but this pregnancy I started to research cloth pads due to the extensive list of synthetic fibres and chemicals used in disposable pads. Bare and Boho's cloth pads were soft and comfortable to wear (regardless of how easy the baby 'popped' out its going to be a little tender down there), they snapped on to my undies, so didn't slide around or get bunched up and they were super absorbent. I had a wet bag so I just popped them in after changing and washed them when I got home from hospital. The website has great care and washing instructions and I feel better knowing I'm doing my bit for the environment (also saving $$).
Going home outfit- Finding an affordable but stylish jumper seemed impossible till I came across Mama Clothing.  Their super comfy hoodies are under $50 and are lined with this beautiful fleece/velour-feel lining which kept me warm on the way home (if you have a mild winter, I'd go the lightweight version). The pocket was a good size and gave me somewhere to chuck my phone while I tried to remember how to hold a tiny newborn again.
Tea bags– After enjoying MaterniTea's delicious 'CapaciTea' in my third trimester to help tone my uterus (thanks to the red raspberry leaf), I made sure I had packed a few teabags of each tea from their post natal pack to enjoy post birth. The 100% organic and caffeine free blends help repair your reproductive organs, boost your immunity; ease muscular aches and post birth pains. It was super nice to have a delicious cup of tea packed full of vital minerals at the 3am feed instead of searching for whatever cheap black tea they had stashed in the patient lounge.  You can also make up a big jug of the 'Capacitea' into ice tea to sip during labour for a refreshing change.
Breast and perineum ice/heat packs- The Maternity Care pack from Body ice comes with two generously sized breast gel-bead packs, a perineum strip and disposable covers for both in a super cute gift box (great for baby showers).  The breast pads can be used cold (or frozen) for sore breasts and to relieve engorgement or warmed up for mastitis and assisting with the let down. I had massive oversupply with my first baby and lived with cabbage leaves in my bra, so having the body ice breasts pads on hand this time meant I could wear them all day without any funny looks.
Nipple compress/cream– Statistics reveal that 80-95% of breastfeeding women will experience some degree of nipple soreness. Multi- mam compresses are small, individually wrapped, gel-impregnated pads that can be placed on tender or sore nipples. It provided instant cooling relief to my sore nipples, provided a moist healing environment (which research is now showing is better than dry) and helps prevent any infections. I had big issues with chronic sore nipples that turned into a nasty dermatitis with my first baby but using the compresses this time, I didn't experience any issues and my nipple discomfort was very minimal. I kept a stash in the fridge and it was heavenly putting one on between night feeds in those first few days. The active ingredient (2QR) is completely natural and safe, meaning you don't have to wipe off before feeding baby.
If you're more of a Nipple cream kind of lady, Lansinoh HPA Lanolin soothes and protects sore nipples by creating a moisture barrier. Lanolin is produced in the sebaceous glands of sheep and removed from the fleece after shearing so it's natural, ultra pure, preservative free and safe for both mum and baby containing only one ingredient, Lanolin!
Its odourless and tasteless (apparently!) so won't interfere with breastfeeding and doesn't have to be washed off prior to feeds. As you only need to use a pea sized squirt each time, the tube lasted me ages and I had a few stashed around the house, in the car and nappy bag. Warm the tube in your bra/top before application as it makes it easier to apply.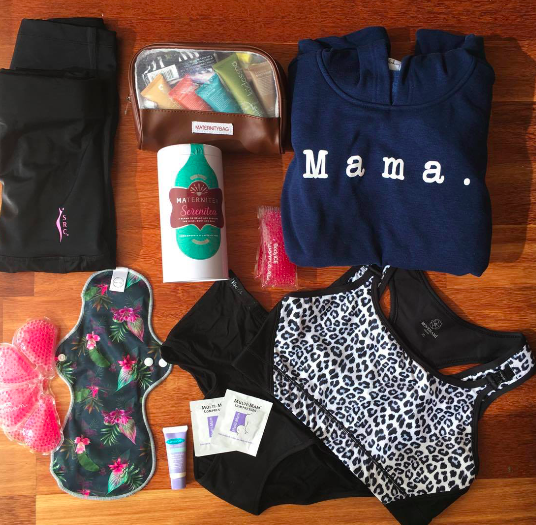 Baby bag #3
Nappies- Many disposable nappies are full of synthetic fibres and chemicals, cost near $20 for a pack (that will only last you a few days) and will fill up your bin faster than a drunk at a house warming. This baby, I decided to switch from the usual disposables and try Bare and Boho's cloth nappies. They are adjustable (so one size fits most from newborn to toddler) and the nappy shell has a waterproof inner lining, allowing for any mess (not caught by the liner), to be easily wiped clean instead of having to wash the shell. It comes with a hemp liner, which was highly absorbent, naturally anti-bacterial and anti-fungal so was great for baby's sensitive skin. The prints are super cute, it was hard covering them up with pants!!  Seeing as I was already washing the nappies, I chose to further reduce the chemicals I was exposing baby to help the environment a little more by using Bare and Boho's soft bamboo velour baby wipes. They are reusable, washable, super cost effective and can be pretty much be used for cleaning anything. I put all the used wipes and nappies in a wet bag while I was hospital and just washed when I got home.
Hand sanitiser– Being prone to dermatitis and changing 6-8 nappies a day meant a hand sanitiser that kills the germs but also is soft on the skin was a must for me. Squeakie is an Australian made, 100% natural, safe and effective hand sanitiser that removes 99.99% of germs from hands with no nasty chemicals.
Going home outfit – The going home outfit is a much thought about choice for most mums. You will always remember the exciting, but nerve wracking experience of taking home a tiny human (sans instruction manual) for the first time, so its nice to have them dressed in something super cute. Bespoke baby all-in –ones range has everything you need in a newborn outfit. The range is made from 100% pure super soft cotton, has enclosed feet and fold over mittens (for those face gouging nails), two-way zip for easy nappy changes and the cutest prints around.
Blanket/Swaddle- Having a baby in freezing August meant I had to search around for a great blanket to keep bub warm. Henry and Grace's baby wrap is made from Australian ultrafine Merino, so is softer than the average cashmere, itch free, MACHINE WASHABLE and super warm but also breathable. It was the perfect size for a newborn and the little bit of stretch made keeping the octopus (baby) swaddled for a peaceful sleep was easy.
Bath products- Research shows that delaying the first bath is beneficial for the baby, so we waited at least 24 hours to bath our newborn to ensure all that vernix goodness was absorbed. My tick list for bath products for kids is organic, no chemicals and smells great. ChamonixRain organic baby skincare range fitted the bill perfectly! The baby pack comes with a good-sized bath wash and moisturiser (with extra cute packaging- great for a gift) and are both full of coconut oil, which has anti-inflammatory, antioxidant, anti-bacterial and hydrating properties. It's completely free of any parabens; formaldehyde, petrochemicals or synthetic fragrances and my baby came out of the bath smelling good enough to eat (but it's not too overpowering!). The moisturiser wasn't too thick, and rubbed in easy after the bath so I could get him changed into his clothes much quicker.
Extras for baby – I also included some hand me down (the bonus of having another boy!)  0000 and 000 singlets and onesies, beanies, mittens and socks incase my stay was longer than expected. Some hospitals will provide singlets for baby for your stay, but you're welcome to dress bub in its own clothes.
Babywearing wrap or carrier – My first baby never slept, so spent his first 2 years in a wrap or structured carrier being bounced to sleep (the fitball came in handy here too!).Chekoh wraps are an Australian designed, stretchy, lightweight, breathable wrap that comes in the most beautiful range of designs. They have a little pocket on the end to make storage easier (and also come in a cute little leather bag). Once you get the hang of wrapping, its super easy and you can pop baby in and out all day long. If wrapping is not your thing (or you have a hubby like mine who won't even try) but want the benefits of babywearing (hello hands free!), then Ergo have exactly what you need.The Ergo Adapt carrier can be used from birth (without a newborn insert!) to toddlerhood. By using the easy velcro tabs at the waistband you can alter the base width making it super ergonomic, comfortable and cost effective (as you don't need to buy an additional insert or bigger sized carrier when bub grows). Both the waistband and padded shoulder straps are highly adjustable so fitted both my partner and myself well.As a second time mum, being able to keep baby safe and secure while still looking after my energizer bunny was a must. I was able to breastfeed on the go in both the Ergo Adapt carrier and the Chekoh wrap, he was happy, cried less, I was able to keep an eye on his breathing and he slept beautifully in both of them, meaning I got to eat my dinner in peace a few times!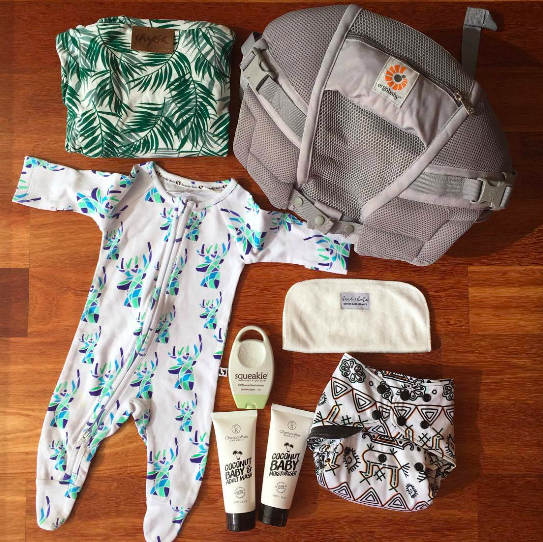 To read MORE of Bel's articles – be sure to look up The Healthy Mummy's Pregnancy and Breastfeeding Archives.