10 AMAZING Desserts all under 200 calories in the NEW Healthy Mummy Magazine!
The New Healthy Mummy Magazine is OUT NOW in newsagents and supermarkets and is packed full of inspirational stories about women who have transformed their lives, AMAZING new recipes, exercises, practical health features to help you smash your goals and stay on track. 
Check it out below!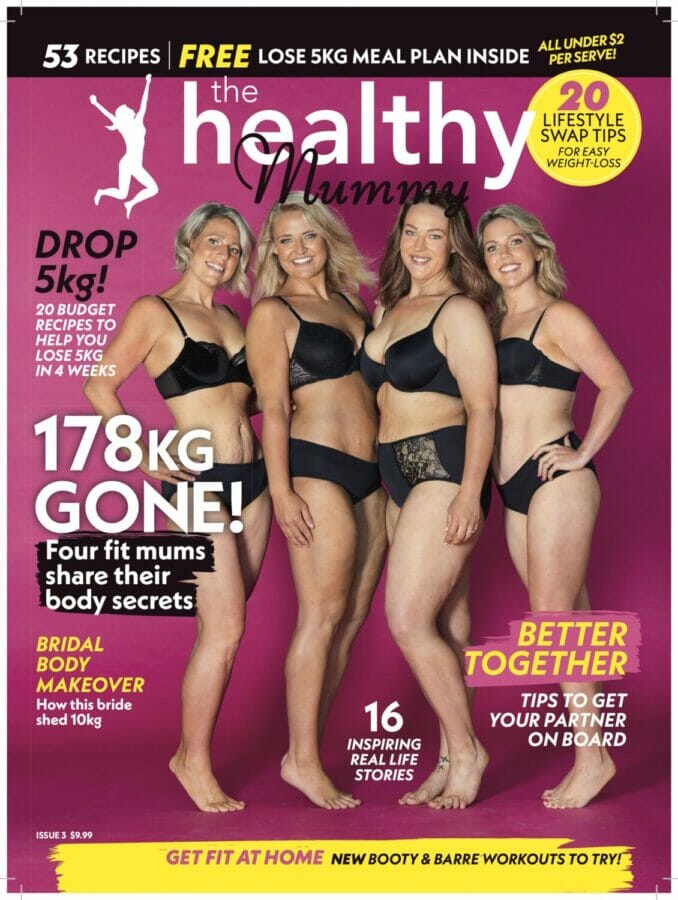 FULL OF AMAZING RECIPES
Along with all the features, the Healthy Mummy magazine is jammed packed with 53 easy-to-do healthy recipes the whole family will love!
We've also got a fabulous recipe feature about desserts. The truth is, desserts can be a real weak point especially for people watching their weight.
The beauty of these 10 Dessert Recipes, is that they are ALL under 200 calories and are absolutely delicious! Guaranteed to satisfy any after-dinner sweet craving, without ruining your weight loss plans!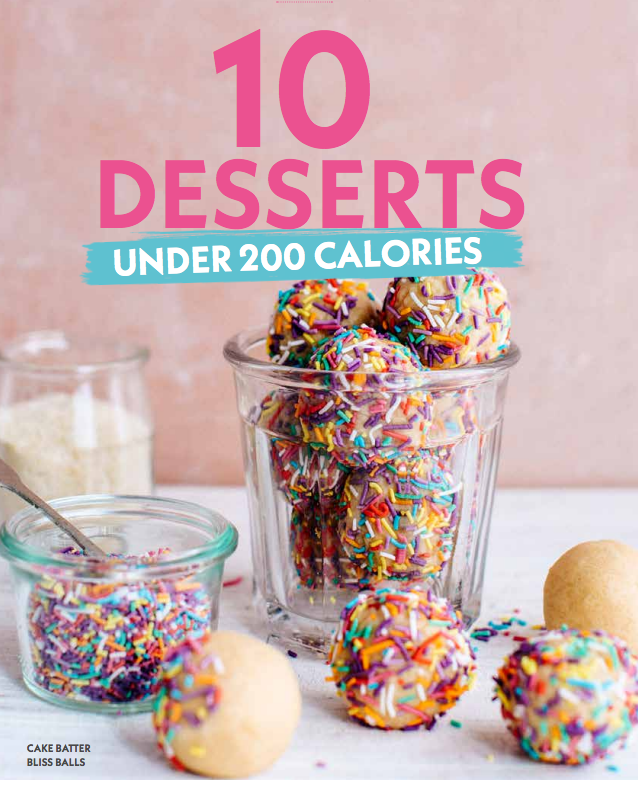 With recipes like Slow-Cooked Lemon Pie, Peanut Butter Pies, and Triple Chocolate Cheesecake, you will not be disappointed! All of these recipes come straight from the 28 Day Weight Loss Challenge and the Healthy  Mummy App, which has over 4500 healthy recipes at your fingertips!
Get a Sneak Peek of some of the 10 Delectable Dessert Recipes in the Healthy Mummy Magazine!

Cake Batter Bliss Balls – 149 calories per serve (2 balls)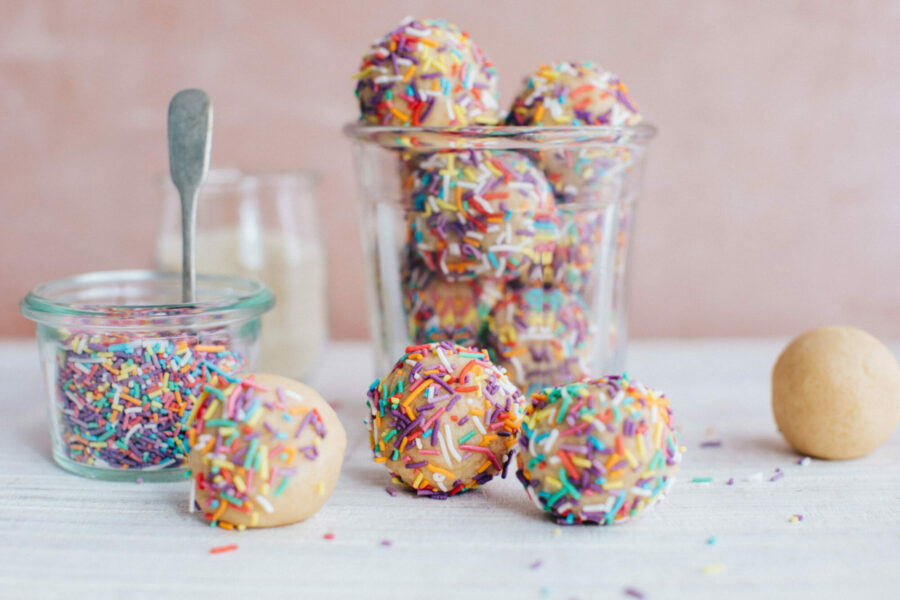 Bliss balls make the PERFECT snack, and these sweet gorgeous morsels need just six ingredients to make and taste just as delicious as they look. Plus they are super quick and easy to knock up.
If you prefer, roll your bliss balls in some extra almond meal, cacao powder or even coconut.
Ingredients
Serves 12, Prep time 10 mins + setting time
1 cup almond meal
2 tbsp Healthy Mummy Smoothie Mix
Vanilla, or protein powder
3 tbsp maple syrup
2 tbsp coconut oil, soft
5 tbsp light cream cheese, softened
3 tbsp decoration sprinkles
Method
Place almond meal, smoothie mix or protein powder, maple syrup, coconut oil and cream cheese in a food processor and process until all ingredients are well combined.
Roll the mixture into 24 teaspoon-sized balls then roll in sprinkles.
Two balls is one serve. Store leftovers in an airtight container in the fridge for 3-4 days or freeze for
up to 2 months.
Hot Banana Caramel Creams – 190 calories per serve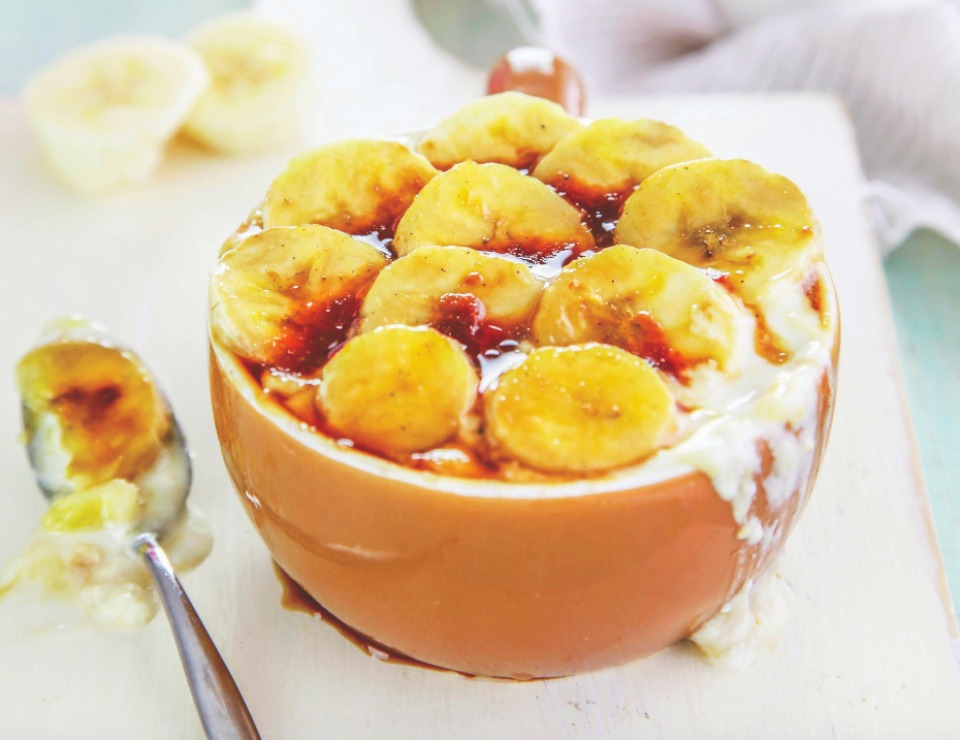 A creamy, banana treat with a caramel top. One of the most popular points about the 28 Day Weight Loss Challenge is that the food is realistic, family friendly and that it includes yummy desserts too. Just like this recipe for Hot Caramel Banana Creams – and you will love them!
Ingredients
Serves 4, Prep time 10 mins, Cook time 2 mins
1 1/2 cups reduced-fat Greek natural yoghurt
1 tbsp maple syrup
4 small bananas
3 1/2 tsp coconut oil
2 1/2 tsp Natvia
Method
Preheat the grill to medium high.
In a mixing bowl, combine the Greek yoghurt and maple syrup.
Halve two bananas and mash, then add to the yoghurt mix and stir in well.
Spoon the yoghurt mixture into a small heatproof ramekin per person and level out the top (the mix should come almost to the top of the dish).
Thinly slice the remaining banana and arrange on top of the yoghurt mixture in the ramekin.
Melt the coconut oil in the microwave for 10 seconds on medium. Brush the melted oil over the top of the banana slices and sprinkle the sugar on top.
Place the dish under the grill so that the top is about 3cm from the heat and grill for approximately 1-2
minutes or until the sugar melts and caramelises.
You can eat this straight away or leave for a few minutes, by which time the sugar topping will have
hardened into a firm caramel.
Choc Toffee Bark – 134 calories per serve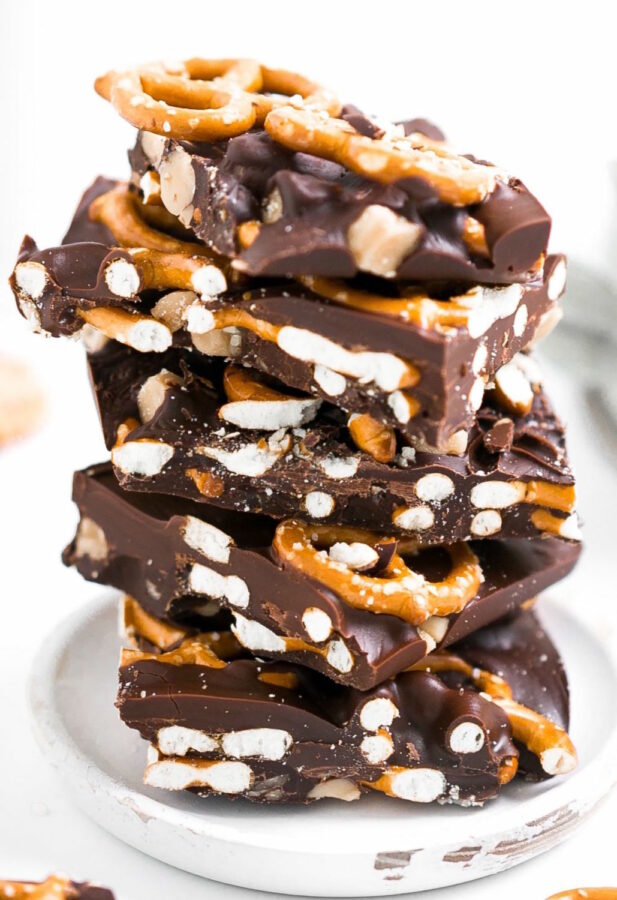 This unbelievably delicious snack only has three ingredients and is just 134 cals per serve!
Having healthy treats is an important part of sticking to your weight loss plans. If you don't feel deprived of the things you enjoy, you're less likely to give up on your health goals.
Ingredients
Serves 12, Prep time 10 mins, Setting time 10 mins
1 packet sugar free butterscotch candy
1 1/2 cups pretzels, chopped
1 3/4 cups dark chocolate chips
Method
Line a square cake tin with baking paper.
Unwrap the butterscotch candies then place back inside the bag, wrap the bag in a tea towel and
gently hit the bag with a rolling pin to smash the lollies into little shards.
Scatter the candy shards and pretzels evenly across the tray.
Melt the chocolate in the microwave for 30 seconds at a time until chocolate is smooth
and melted.
Pour the melted chocolate evenly over the prepared baking tray. Place the tray into the freezer to
set for 10 minutes.
Using a HOT sharp knife, cut it into 12 pieces. One piece is one serve.
Store in the fridge in an airtight container for up to a week.
Raspberry Ripe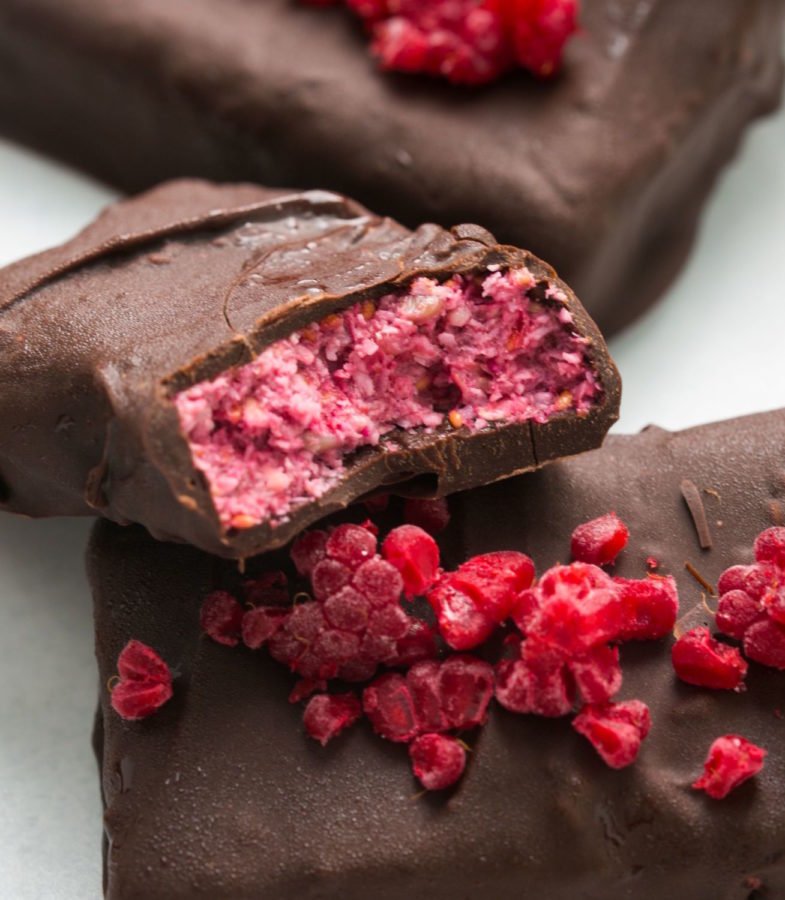 If you find yourself hankering after a certain chocolate bar after dinner, here's a great option! This healthy dessert is packed with good quality ingredients and comes in at just 156 calories per serve.
Ingredients
Serves 10, Prep time 260 mins, Cooking time: 5 mins
1/2 cup rolled oats
1/4 cups sunflower seeds
1 cup fresh or frozen raspberries
1/2 cup desiccated coconut
1 tbsp maple syrup
1/2 tsp vanilla extract
100 grams dark chocolate (70%)
Method
Line a loaf pan with baking paper.
Place oats and sunflower seeds in a food processor and process for 3 seconds until they resemble
coarse crumbs.
Add raspberries, coconut, maple syrup and vanilla and process again until well combined.
Press this mix firmly into the prepared pan and place in the freezer for 3-4 hours or until firm and set.
Line a baking tray with baking paper.
Remove the raspberry mix from the freezer, slice into 10 pieces and return to the freezer while you melt the chocolate.
Melt the chocolate in a double boiler on the stovetop or in the microwave until runny.
Using two forks, lower the raspberry pieces into the melted chocolate and coat well.
Quickly tap off excess chocolate and place on the prepared tray, then return to the freezer to firm up
the chocolate.
One raspberry ripe is one serve. Store leftovers in the freezer for up to 3 months
All Ten Recipes are in The Healthy Mummy magazine! Out on 25th March 2021 for just $9.99!
TThe Healthy Magazine is jammed packed with inspirational and practical content and is available in Newsagents and Supermarkets.
Don't miss out! Get your copy today!