10 Fun Ways To Exercise As A Family
Little ones often spend the majority of their time swaddled in blankets, sitting in car seats or lying down. There are many ways to help instil healthy habits in children from babies and toddlers and the health benefits of their activity can extend far beyond their physical health.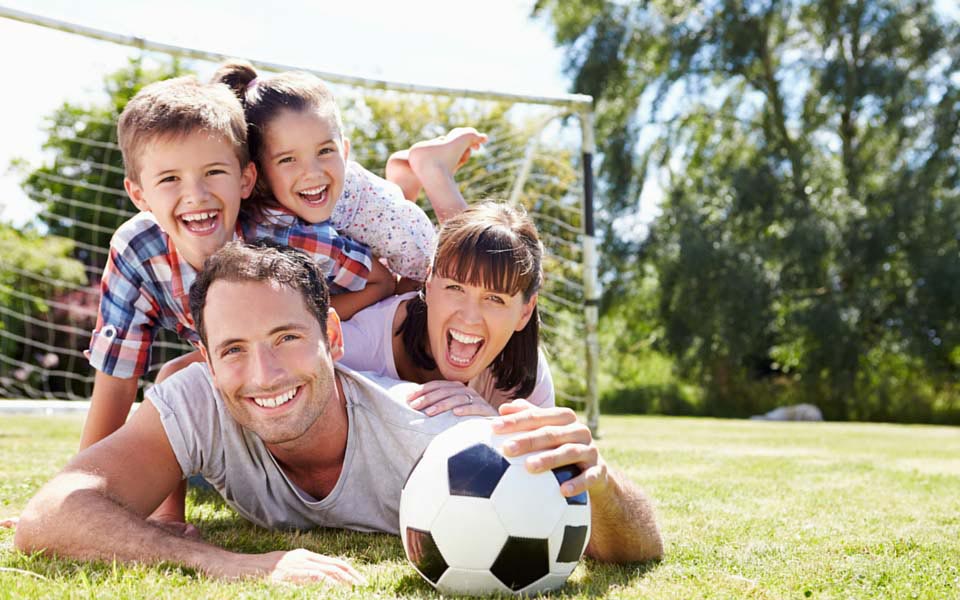 According to researchers, fit children tend to:
develop better motor skills,
be more social,
psychologically balanced, and
emotionally mature.
In addition, inactivity in younger children may actually instigate health issues in later life such as weight gain, high blood pressure, high cholesterol, respiratory issues, heart problems and/or decreased bone health.
Helping children adopt fit habits from a young age will give them a headstart on a healthy lifestyle that will move with them through the years.
If you're thinking you barely have enough time and energy for your own workouts and are wondering how will you find a way to help your family create a fit lifestyle, you are not alone! This is why it is so important for us to start rethinking our approach to exercise and develop new habits for ourselves that can in turn be passed onto our children and family.
Child health experts suggest that young children's natural activity patterns are intermittent, with short intense bursts of activity, followed by periods of rest or lower intensity activity. This makes finding time for exercise easy.
With these 10 simple active play ideas, exercise can be both fun and rewarding for the whole family!
10 Fun Ways To Exercise As A Family
1. Pre or post dinner walks
Scheduling in a quick 15-20 minute walk prior to or just after dinner is a nice way to bring the family together and talk about the day. If you have a toddler, you can alternate time in and out of the pram for them too!
2. Commercial contests
If TV is on your evening activity list, try creating a fun fitness habit out of the television commercials! Each time a commercial comes on, it's time to jump up clap 5 times and do 5 push ups. Even the young ones will be excited by the energy shift in the living room.
3. Disco nights (or mornings)
Start your morning with a 10 minute dance. Dancing not only gets the blood flowing and helps to eliminate toxins from the body, but also moves the mind into happier thoughts. Begin the morning with a dance and the whole family will start their day on a high.
4. Swimming 
Simply swimming in the backyard pool or at the local recreation centre can be great fun and an easy way to get the daily family dose of exercise. Add in some pool toys and a game like Marco Polo and no-one they will know they are exercising.
5. Helping around the home
Making housework fun is a great way to share the chores and do some family bonding at the same time. Many hands make light work! Take turns with different tasks and allow a different person to choose the music each time around (of course, there must be music!).
6. Backyard circuits
Take your Healthy Mummy workout outside with the kids. Have them bring their mats or towels and join in with you or use the Healthy Mummy Exercising with a Clingy Baby ebook to bring your baby into your workouts.
7. Sports games
You may like to ask your children what they would like to play (the list will be endless). There are many children's games that are fun for adults too, from tag and hide and seek to backyard cricket and handstands. Your kids will absolutely love that you want to join in too! If inside games are your choice, you may like to create your own fit cards or opt to purchase a deck of cards such as Fit Deck which have a great assortment of exercises.
8. Hiking 
Taking a day to go and explore new terrain can be a very enjoyable way of performing sometimes even the most intense workouts. Sometimes, simply being out in nature and seeing new things is enough to forget that you're exercising, and children don't even realise they are wearing themselves out until they fall asleep in the car on the way home.
9. Gardening
Gardening can be a great workout without even realising it. Try digging, planting and pruning using different tools on different days and encourage everyone to learn new fun facts about the garden.
10. Walking the dog
According to science, dogs make the best personal trainers. They are not only loving and loyal, they are always excited to perform their workouts and will never call you with an excuse to not go walking.
Remember that simple daily habits will help you take leaps and bounds toward your goals and exercising with your family can be an enjoyable road to better health for everyone.