My name is Alana and I'm 29 years old with 3 young children and I have lost 15kg on the Healthy Mummy weight loss plans
Before my kids I was very fit and healthy, after falling pregnant with my first babies (Twins) I put on alot of pregnancy weight, I have no idea how much pregnancy weight gain I gained as I didn't step on the scale before but my weight ballooned up to 90kg during my pregnancy.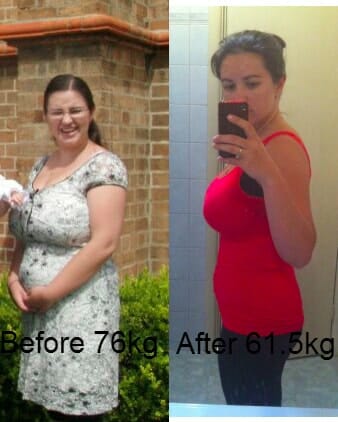 After the twins arrived, some of that weight did come off through breastfeeding but not lots like I was told to expect.
I then fell pregnant again when my twins were just 1yr old, so up my weight went again but only by 10kg during this pregnancy. After I had my third little girl and got back down to 76kg almost straight away I knew I had to do something to get back to my pre baby body and I needed a little helping hand.
So I found the Healthy Mummy weight loss plans and saw all these mums losing weight and I thought yes I can do this and they were a safe breastfeeding weight loss plan. So I ordered my first healthy mummy smoothies and waited to start, it arrived so fast I was shocked and thought well it's all or nothing.
So I started by having smoothies for breakfast and lunch and a healthy dinner plus doing what exercise I could with 3 children under 2.5yrs old. Within the first week I noticed the weight start to drop off and it kept dropping of week after week. I made it to my first goal of 70kg, then my next goal of 65kg and finally hit 60kg.
My weight stayed at that for some time even after I stopped having the smoothies as long as I still ate healthy, but I still liked to have one for lunch or breakfast a few days a week. I still managed to lose some more weight and got down to 57kg, I couldn't remember the last time I weighed this or the last time I was this fit and this has been the best way to lose weight I have ever found
Alana Willliams
GET YOUR 10% DISCOUNT
If you are ready to lose weight then The Healthy Mummy plans offer a healthy and safe exercise and diet plans that are safe if you are breastfeeding and you can use code LOYALTY for a 10% DISCOUNT at the checkout. Plus we have Cookbooks, Calorie Bibles, Exercise DVD's, Meal Replacement Smoothies and Our 28 Day Plan in our shop.