I actually personally resonate with Sarah's brief story. My pregnancy weight was harder to move with my second baby than with my first. Less time and energy. Here is Sarah's story, and smoothie recipe.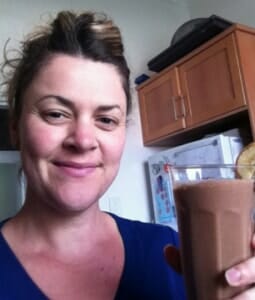 " I wanted to write in and say hi and to let you know that I love your Healthy Mummy Smoothies, range and program.
After my first baby, the weight flew off and was easy to lose. Now after my second baby, it has been that much harder and it feels like it is sticking like glue. Until of course, I found the Healthy Mummy Smoothies.
I have been on the pregnancy weight loss program and have been subbing in the Healthy Mummy Smoothies and in 3 weeks I have lost 5kg!!!! I am finally looking forward to summer!!!

I also wanted to share my favourite smoothie at the moment.
My smoothie is..
Morning Mudslide
Blend and enjoy.
The fibre from the quinoa makes it super feeling and doesn't taste as healthy as it is!!!
Love it! Sarah Harrison
If you are ready to lose weight then the Healthy Mummy plans offer a healthy and safe exercise and diet routine. Have a look at our 2nd birthday celebration promotion this week, a beautiful Weleda cream AND 15% off!!! Wowza, read more here.