9 (surprising) health benefits of dark chocolate
Chocolate falls into the 'treat' food category, and there's no doubting its comforting ability, but it's got health benefits too- hoorah! Dark chocolate gets the most marks – here's how to indulge healthily.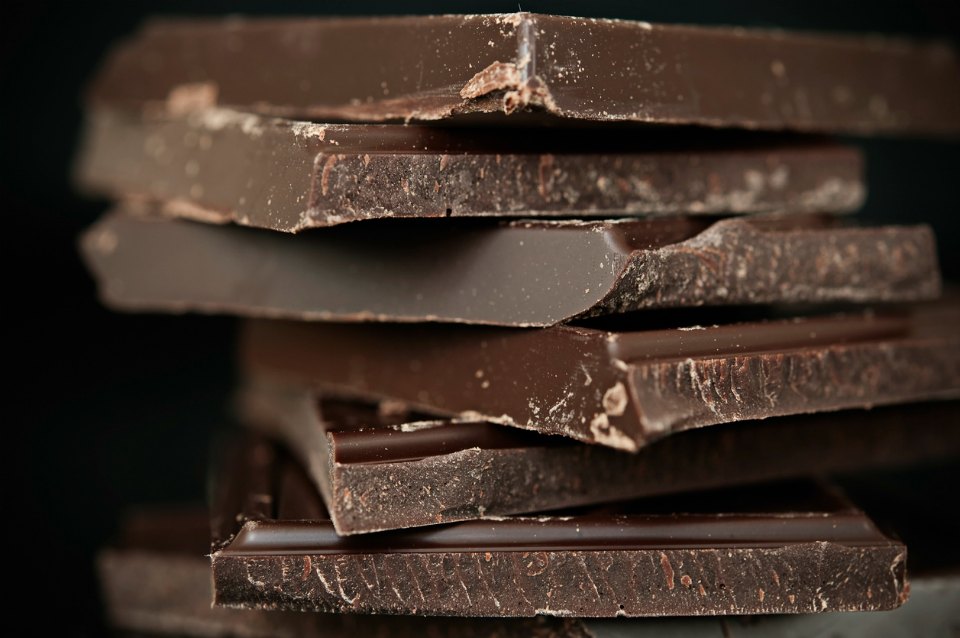 Swap to dark chocolate
Dark chocolate, rather than milk or white chocolate, can be your go-to chocolate treat in moderation.
Not a dark chocolate lover? Making the move for milk chocolate devotees can take some taste bud adjustment. Healthy Mummy nutritionist Nikki Boswell has this tip: 'If you aren't accustomed to dark chocolate, start with something that is around 50% cocoa (known as semi-sweet) and build up to darker (85%) from there. You could also try varieties with nuts or dried fruit, which help to cut through the bitterness'.
9 AMAZING health benefits of dark chocolate 
1. It has less sugar
Dark chocolate that's at least 70 per cent cocoa/cacao content has less sugar than milk chocolate. Always read the label and compare brands for the least amount of sugar. PS, white chocolate isn't really chocolate – there's no beneficial cocoa/cacao in it, but lots of fat and sugar.
2. It makes you feel good
'Having a healthy relationship with food is key to health and this means eating foods we love without guilt or shame', says Nikki.
'One of the reasons we all love chocolate so much is that it stimulates dopamine, the feel good chemical, as well as serotonin, a calming or relaxing chemical. But of course it is important to keep our portion size in mind.'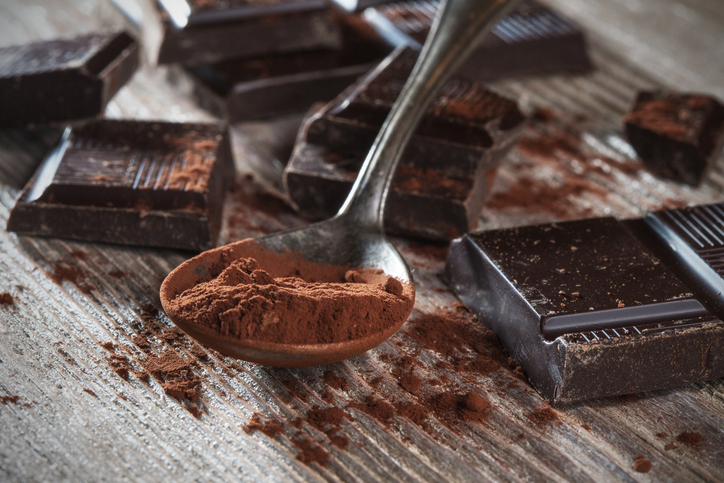 3. Helps portion control
'Another great benefit of dark chocolate; whist still tasting delicious and boasting many health benefits, the richness of dark chocolate means it is easier to enjoy a small piece and feel satisfied, rather than devouring the entire block, which is where the shame and guilt starts', explains Nikki.
4. You'll eat less junk food
A small study found that participants ate less junk food after having dark rather than milk chocolate. It also discovered that dark chocolate is far more filling than milk chocolate, lessening our craving for sweet, salty and fatty foods.
5. It's more calming than energising
Who knew beneficial magnesium outweighs caffeine in dark chocolate?
'There's about 12mg of caffeine per serve versus 40mg of magnesium per serve', says Healthy Mummy nutritionist Elisha Devine.
'Dark chocolate is a great addition to the diet. It contains naturally occurring magnesium, which is needed for relaxation, muscle contraction, and normal cardiovascular function. You may need to start with a really small amount to get your tastebuds used to the bitterness of dark chocolate, but as you continue to consume it, it tends to become more and more appetising'.
Other food sources high in magnesium are pumpkin seeds, boiled spinach and boiled swiss chard, so 70-85% dark chocolate is an attractive and, er, tastier way to eat it!
6. Feel calmer during pregnancy, and have a calm baby
A Finnish study found that women who ate a small amount of chocolate weekly or daily during pregnancy felt calmer, and also discovered a link with the baby's positive temperament at aged six months. Although there could be other factors, it's thought the mood boosting effects of chocolate's ingredients also benefits baby.
7. It helps boost metabolism
Dark chocolate contains catechins, an antioxidant that raises resting metabolism.
8. It can help you lose weight
According to neuroscientist and author Will Clower, melting a small square of dark chocolate on your tongue for about 20 minutes before you eat can trigger hormones giving you the 'I'm full' memo. Combine this with a small square after a meal, and you'll find the advice in 'You'll eat less junk food', above, comes into play, making you feel satisfied and snack less.
9. Stop the sugar spike
Because dark chocolate contains healthy fats, it slows the absorption of sugar into your blood stream. This can help prevent the usual sugar spike associated with milk chocolate or other high sugar treats. When this insulin spike 'turns off', it can make you hungry again later on.
There you have it! 9 AWESOME health benefits of dark chocolate! Make sure you try these dark chocolate-using delicious recipes: Healthy Gooey Chocolate Brownies, Chocolate And Raspberry Bark, Delicious Chocolate Truffles Only 30 Calories Each. 
For more AMAZING recipes, join our 28 Day Weight Loss Challenge!
Healthy Mummy Chocolate Smoothie!
ATTENTION CHOCOLATE LOVING MUMS – Have you tried our Healthy Mummy Chocolate Smoothie? We've worked on the flavour to make it even more rich and chocolatey…YUM!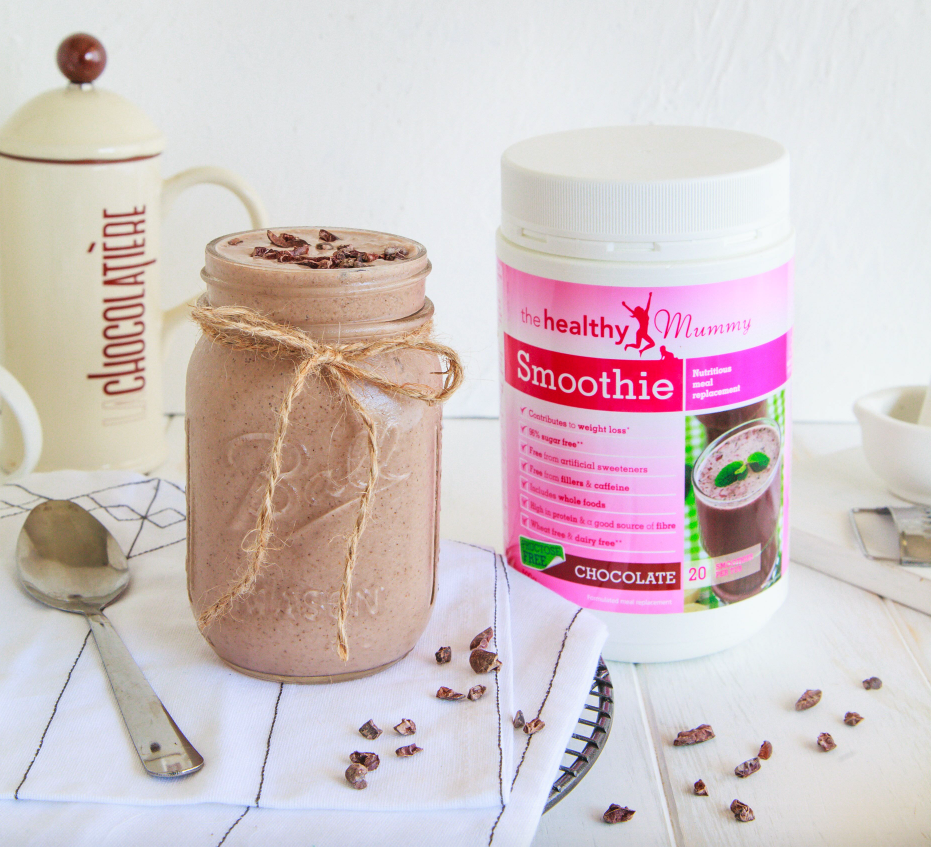 The Healthy Mummy Smoothie offers an excellent source of essential vitamins, minerals, nutrients & important antioxidants. It does not contain any weight loss accelerants, caffeine, no gluten and is dairy free. It is also a non Genetically Modified product!
Added bonus? It is 96% sugar free and 100% fructose free!
Be sure to download our smoothie information fact sheet here. You can also Download the smoothie label and ingredient list here.