Earlier on, one of our Nutritionists shared a photograph of her families' weekly shop.
Quite a few of you were interested as to what her family breakdown is, was that her full weekly meal plan, what does her family eat each night, and do her children eat the same foods?
So we asked her to answer some questions for you.
Healthy family eating for everyone!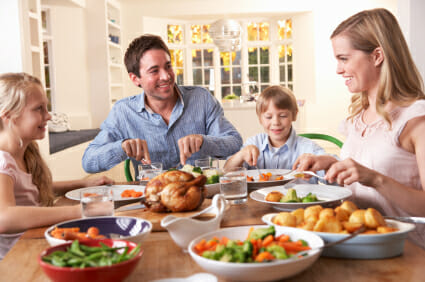 Was this your whole weekly shop?
Yes and no. I try to do one main shop each week but am always supplementing it with additional fruits, vegetables, milks and yoghurt. We run out of fruit quite quickly in our house.
I also keep a good stock of the basics such as rice, pasta and legumes so that there is quick meal in the making if I am tired or if I am out at night and my husband has to cook.
What is your family make up and do your children eat the same foods?
I have two young girls, 2 and 4 years old, and a husband. I am a strong promoter of one family, one meal and have never cooked any differently. Therefore yes, my children do eat the same meals as us.
Of course, that does not mean that they eat every single food or eat all of their food, or it doesn't mean it is prepared in the same manner. Sometimes I 'deconstruct' salads for them or separate out the ingredients to make it a little less confronting.
For example. We had Vietnamese Prawn Rice rolls. We made them together and then they had one on their plate all rolled up, and the second one had all the ingredients spread on the plate so they could try them individually so the flavours and textures were not as intimidating.
We as parents are the strongest motivators for our children to try new foods. It might take 15 times or even 90 times, but if you keep supporting the child and calming reinforcing and praising their efforts you will get success.
We have the saying in our house, "You don't have to like it, you just have to try it". Trying it can simply kissing the food.
What do you cook this week from that shop?
When I menu plan I incorporate:
At least one meal around fish or a rich source of omega 3 fatty acids
At least one vegetarian meal
One meal of protein (such as chicken)
At least one meal with red meat (or an iron rich food)
Therefore this week's menu plan consisted of:
Butter chicken made from scratch. I do not use the jar sauces or packet mixes as although they are convenient, they are often very high in sodium, sugar and the flavours are dulled by the processing. I prefer to use some basic herbs and spices to make up a mix and use my own cream or yoghurt as the base.
In the photo of the weekly shop you can see there is garam masala, bay leaves and ginger – all which were used in my butter chicken. As was the organic chicken thigh meat.
Vietnamese Prawn Rice Paper Rolls.
This is what the frozen prawns were for. I often keep frozen prawns in the freezer as a quick paella dish or stir fry. The kids love them and they are an alternate source of omega 3 fatty acids to fish. We also used the rice noodles in this dish (pictured), wrapped inside the rolls.
Fish Burgers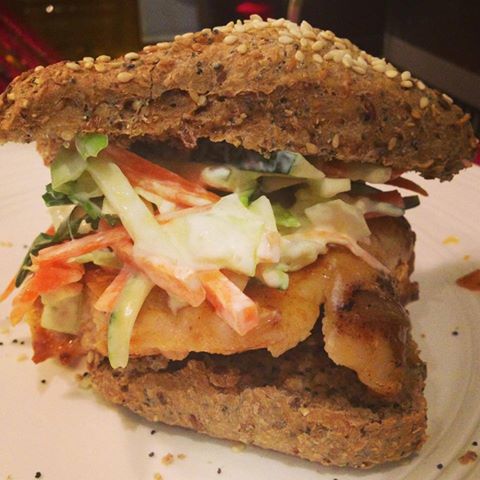 Inspired very much by the recipe this week featured on the Healthy Mummy, we made fish burgers. Instead of a fruity salsa, we made a coleslaw side dish consisting of carrots, zucchini, cabbage, lemon juice and yoghurt. It was delicious. And because the veggies were finely sliced, the girls found them easier to eat then say a whole piece of the vegetable.
We also had the corn with some butter on the side. Yum!
Black beans and rice
This is a staple go to for our family. Although there is no meat in this dish, it is high in protein because of the legumes and the two complementing foods give you a full spectrum of the essential amino acids. Black beans are also a source of iron.
Eggs on toast
A few nights a week, I work late so this is one of our meals which we eat. There is nothing wrong in having breakfast for dinner. It in fact is a quick an easy meal and far better than getting takeaway.
Often I make the eggs into a frittata and include vegetables such as baby spinach, sweet potato or pumpkin and peas.
Easy, quick cheap and nutritious.
BBQ
As good lean cuts of beef can be expensive, we buy rump in bulk and my husband cuts it up into individual serves, wraps and freezes it. We save quite a bit of money this way.
Most weekends we have a BBQ or something a bit more slow cooked.
We have a coal BBQ and my hubby loves to get on there and slow cook the meat. Delicious.
And then the last meal (or even 2) are always leftovers!!!
If you are ready to lose weight then The Healthy Mummy plans offer a healthy and safe exercise and diet routine that are safe if you are breastfeeding and you can use code LOYALTY for a 10% DISCOUNT at the checkout