Almond & Date Protein Balls
These all-natural Almond and Date Protein balls make a healthy eating snack and are sweetened with dates and a little bit of honey, instead of a typical protein bar that is usually packed with added sugar – so they are great to include on your healthy eating plan or weight loss plans and make a great weight loss recipe to use time and time again.
If you don't have any almonds you can really substitute freely.
Coconut oil is great for recipes like this. It is liquid when warm and solidifies when cold, so when you chill the energy balls the solidified coconut oil helps to bind them together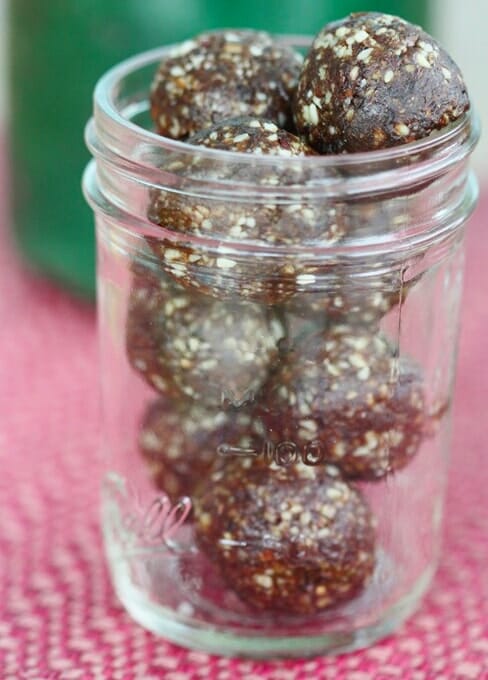 Almond and Date Protein Balls Recipe
Do be sure to use a food processor for this. A blender tends to leave you with everything stuck together in the bottom (as there isn't a lot of liquid).
Ingredients:
1 cup of raw, whole almonds
1 cup of fresh dates (or soak dried dates for 2 hrs prior to using)
1 tbsp natural peanut butter (or any nut butter)
3 tbsp coconut oil
3 tbsp cacao (or good quality cocoa)
2 tsp cinnamon
1 tbsp honey
Method:
Process the almonds until they are like crumbs.
Add the rest of the ingredients and process until well combined.
Using wet hands, roll the mixture into balls and place on a plate.
Chill in the fridge for an hour to set (if you can wait that long) and enjoy as a healthy eating snack
Makes: 20 balls. Calories per ball: 100.
Another delicious protein ball recipe!