'I Will Always Come To Her': The Heartbreaking Story Behind This Image
It's not the first time we've come across a photo of a parent cuddled close to their unsettled infant.
But it is the first time we've come across an associated story so heartbreaking that it brought a tear (okay, a waterfall of tears) to our eyes. After reading WHY this woman climbed into her daughter's cot, you will most likely be doing the exact same thing.
*Warning: Tear Jerking Content*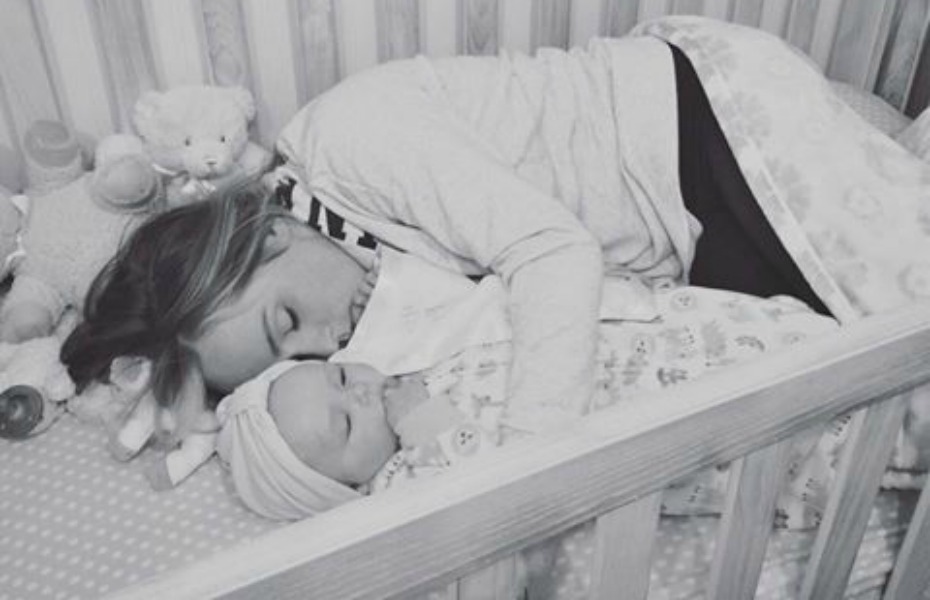 Babies need to be cuddled. Babies need to be loved. And babies need to know that you will always be there for them. No matter what.
If one story proves these points, then it's this one.
Mums, This is WHY We Give Our Children Our EVERYTHING
Shared by mum, Dayna Mager, the new mum admits that yes, like many of us, she has succumbed to climbing into her daughter's cot in an attempt to help soothe her. But she will never apologise for it. And neither will you after reading her "why". 
As Dayna explains, one of the first times she and her husband left their daughter, Luella, was to attend a worship concert where a missionary shared a story about his visit to an orphanage.
The story, as Dayna puts it, "would forever be burned in my fragile, hormone raging, new mummy heart that had already become 100xs more fragile."
The Heartbreaking Sound Of Silence
The missionary was visiting an orphanage in Uganda filled with over 100 cots and babies. However, there was not a sound. Not a single cry, a single coo, a single murmur. Just silence.
The missionary asked his host why the nursery was so quiet. The response shook Dayna (and us) to the core:
"After about a week of them being here, and crying out for countless hours, they eventually stopped when they realised no one is coming for them…

They stop crying when they realise no one is coming for them. Not in 10 minutes, not in 4 hours, and maybe, perhaps, not ever…" 
Dayna admits that the story broke her.  "I literally could have picked up pieces of my heart scattered about the auditorium floor." 
This story is Dayna's "why". It's the reason why she chooses to crawl into the cot to soothe her daughter; why she chooses to cuddle her to sleep; to bypass the exhaustion and frustration; and to focus on being there for her daughter, night after night.
"We Will Always Be A Safe Place, And We Will Always Come To Her"
Dayna came home that evening and, as she rocked her daughter back and forth, she made her baby a promise.
"A promise that I would always come to her. Always."
Through fear and frustration, in the middle of the night or in the middle of nowhere, through their first falls and their first heartbreaks, we will always come to our children.
We Will Always Be There For Them
This is our promise as parents. And it is one that we will never break!
So, to all the mums who are beyond exhausted, who are about ready to crack, please remember this story.
Your baby needs you. Your baby adores you. And your baby is so lucky to have someone who will come to her, no matter what.
Thank you Dayna, for giving us this powerful reminder and allowing us to share your story with our community.
New research also suggests that we shouldn't be leaving our babies to cry. To read more, click here.