The Healthy Mummy Smoothie range is great way to get jam packed nutrition into a hectic Mummy's day quickly.
It has many other benefits, but one is in which it helps time poor mothers lose weight.
A weight loss diet as a mother is sometimes the last thing on our mind when everybody else's agendas seem to come first. Below is an example of how it has helped Amy lose a whopping 28kg which is absolutely amazing. Congratulations on all your hard work Amy!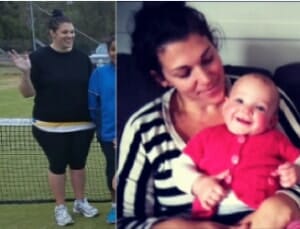 Amy says:
"The Healthy Mummy Smoothies make the day run smoother, it's one less thing I have to think about and I feel so much better for having them, I know I'm getting all the goodies and it definitely works with the whole change to my world.
Combined with the smoothies and exercise, I'm losing it slowly but I'm doing this in a way I can maintain. I now know I can't always be perfect but I can move forward and not give up.
I am not going back to my old self and I'm a better person for it, not only for me but for my family".
You go Amy. So inspirational!