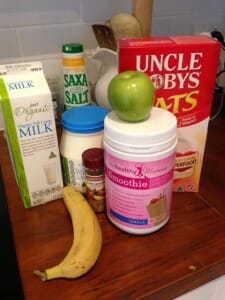 Apple Crumble is one of our favourite desserts so to drink it in a Healthy Mummy Smoothie is a dream.
This smoothie has some added banana for smoothness as well as the yoghurt.
The trick with this one is to GRATE the apple so you do not have to cook it. Quick, easy, fresh tasty and delicious.
What you need is:
2 tbs of vanilla (or chocolate) Healthy Mummy Smoothie mix
1 apple grated
1/2 banana (frozen if you like)
2 tbs of rolled oats
1 large tbs of yoghurt (natural/plain/greek)
1 shake of cinnamon
200ml of your choice of milk
Blitz it together and enjoy this thick, luscious and comforting smoothie for breaky on the run, a snack or lunch! Another delicious apple crumble recipe Recipe!
If you are ready to lose weight then The Healthy Mummy plans offer a healthy and safe exercise and diet routine that are safe if you are breastfeeding and you can use code LOYALTY for a 10% DISCOUNT at the checkout