Going on a healthy eating plan or weight loss diet, does not mean cutting out the flavours you adore. It is about rethinking how you can create the flavours.
Have a look how you can recreate a Apple Crumble Healthy Mummy Smoothie on a cold morning or day.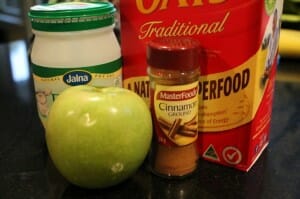 What you need is:
2 tbs of vanilla Healthy Mummy Smoothie mix
1 apple (either cut and stewed or easily grated for a quick smoothie)
1 tsp of cinnamon
2 tbs of natural yoghurt
2 tbs of rolled oats
200 ml of milk (a nutty milk will give additional cues to an Apple Crumble)
Blitz it altogether and enjoy your dessert inspired Healthy Mummy Smoothie. Another delicious apple crumble recipe Recipe!
Special Offer & 10% Discount
If you are ready to lose weight then The Healthy Mummy plans offer a healthy and safe exercise and diet routine that are safe if you are breastfeeding and you can use code LOYALTY for a 10% DISCOUNT at the checkout