Autumn Fruits and Vegetables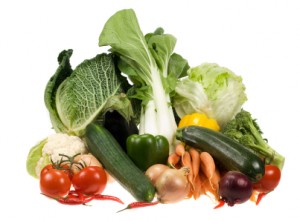 Healthy eating is much easier when you can stick to a budget.
Sticking to a budget, is even easier when you buy your fresh produce in season and locally.
Today I wanted to share with you six Autumn and Winter fruits and vegetables you should have in your house this season.
Fruits
Apples are a great source of vitamin C and dietary fibre and the phytonutrients present help lower LDL or bad cholesterol. This can lead to reduction in risk of heart disease.
Banana is the best fruit source of vitamin B6 and is also a fabulous source of potassium.
Kiwifruit is high in vitamin C, K and even E are abundant in this sour delight. It is also abundant in dietary fibre.
Imperial mandarins are high in vitamins A and C. They also contain calcium, magnesium and potassium. The fruit is also a good source of dietary fibre.
Packham pears are high in vitamin K, C and fibre.
Rhubarb are a powerhouse of B vitamins, vitamin A and K.
Vegetables
Asian greens such as bok choy which is a brilliant source of vitamin A and C. It is also a source of iron and calcium like other green leafy vegetables.
Beetroot is a great source of folate but also has a compound called betaine which is thought to protect against liver disease. It has also been thought to reduce blood pressure.
Broccoli is known as the "Crown Jewel of Nutrition" since it possesses vitamin C, vitamin A, folate, vitamin E, along with significant amounts of minerals such as potassium and iron. It is also a brilliant source of fibre
Carrots are high in vitamin A, B and C, fibre and low in kilojoules
Mushrooms are a terrific source of the range of B vitamin as well as the essential minerals selenium, copper and potassium.
 Zucchini although it is not orange like carrots, it is still a great source of vitamin A as well as potassium and folate which is important in a pregnancy diet.
Here is a little bonus recipe for some broccoli soup
Creamy broccoli and cauliflower soup.
Prep time: 10 mins
Cook time: 25 mins
Serves 4
Ingredients:
1 tsp oil
1 1/2 tsp cumin seeds
1 diced large onion
2 crushed garlic cloves
500g broccoli (only the florets)
500g cauliflower (only the florets)
4 cups of reduced sodium vegetable stock
1 1/2 cup milk
Season with salt and pepper
Directions:
1. Saute the cumin seeds, onion and garlic in a large pan with oil. Once aromatic, add broccoli, cauliflower and the stock/water. Bring to boil then reduce heat, cover and simmer for 15 minutes.
2. Remove from heat and let rest for a moment. Place the mixture in a blender and puree until smooth. While blending add the milk slowly until mixed.
3. Serve hot or place in freeze safe container and freeze for later.
Each serve is 156 calories or 657kilojoules.
Special Offer & 10% Discount
If you are ready to lose weight then The Healthy Mummy plans offer a healthy and safe exercise and diet routine that are safe if you are breastfeeding and you can use code LOYALTY for a 10% DISCOUNT at the checkout
PLUS our BEST SELLING 28 Day Diet & Exercise Plan has now launched as an 84pg Printed Book and you can get your copy here – with free express postage if you order the book on its own