Autumn Pearl Barley Risotto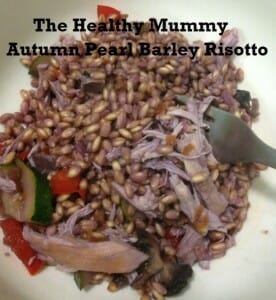 Pearl barley is a great alternative to use to rice in a risotto dish.
It is high in fibre which is great for any healthy eating plan but also for people who are trying to feel fuller for longer or lose weight.
This is an Autumn inspired recipe and is delicious.
Prep time: 10 minutes
Cook time: 30 minutes
Serves 4
Ingredients
2 cups of pearl barley
8 cups of reduced sodium chicken stock (additional water if need be)
1 tbs of oil
1 onion diced
2 cloves of crushed garlic
1 chicken breast
2 carrots grated (I used purple carrots)
4 button mushrooms
1 zucchini
½ capsicum
4 tbs of parmesan cheese
1 handful of fresh parsley
Directions
Cook the pearl barley in the stock as per the instructions on the packet
In a separate pan, pan fry the crushed garlic and diced onion with the oil.
Dice the chicken and add to the pan.
While the outside of the chicken is browning, grate up the carrot, chop mushrooms, zucchini and capsicum. Add them to the chicken and add around 4 tbs of water or stock to the mixture.
Cook the chicken and veggies for about 10 minutes and then add in the cooked pearl barley when it is ready (if the pearl barley is not ready yet, turn off the chicken and let it sit for a few moments while waiting).
Stir it all through and serve with some shredded parmesan and chopped fresh parsley. Another delicious risotto recipe!
390 calories per serve
Special Offer & 10% Discount
If you are ready to lose weight then The Healthy Mummy plans offer a healthy and safe exercise and diet routine that are safe if you are breastfeeding and you can use code LOYALTY for a 10% DISCOUNT at the checkout