If you are looking for a weight loss recipe for a healthy eating chocolate mousse – then this Avocado & Peppermint Chocolate Mousse is a great one for you here.
We are sharing a YUMMY chocolate recipe from our BEST SELLING Chocolate Treats and Baking Book  (as seen on The Today Show).
You can buy the book here  OR if you join the 28 Day Weight Loss Challenge you get an ecopy of the book for FREE!!
It tastes delicious and no one will ever know that it is a healthy eating recipe that is ideal for your weight loss plan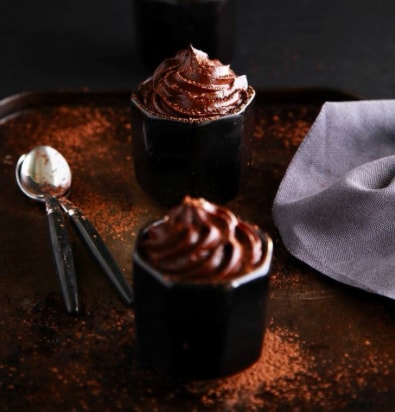 Avocado & Peppermint Chocolate Mousse
Ingredients
1 very ripe avocado, mashed
1/2 can light coconut cream (use the thickened part on top)
1/2 ripe banana, mashed
1/3 cup cocoa powder
1/4 cup rice bran syrup, raw honey or maple syrup (if you want the recipe to be mainly fructose free, choose rice bran syrup)
1 tbsp chia seeds, soaked in water till a gel forms
1 tsp vanilla extract
1 tsp pure peppermint essence (make sure it's food grade not just an essential oil for burning)
1/2 tsp ground cinnamon
Directions
Place the avocado, coconut cream, banana, cocoa, vanilla, peppermint and cinnamon in a blender or food processor
Switch on to low and gently start combining
Drizzle in the rice bran syrup/honey/maple syrup slowly as the mixture begins to thicken
Remove from blender/processor and either divide amongst serving dishes or place in a larger bowl and refrigerate. Another delicious chocolate mousse recipe!
Makes 10 servings (serving size 3 tbsp) – Cal per serve 45
If you love our recipes, why not try this avocado smoothie recipe and join us on the next 28 Day Weight Loss Challenge which is full of healthy recipes – including sweet treats too!
As a member you can jump on the Challenge hub which has over 1600 exclusive recipes in (all created by nutritionists and chefs and you can get access to all the Challenge tools, recipes, meal plans and exercises here – and the bonus news is that mums lose an average of 4-6 kg over 28 days).