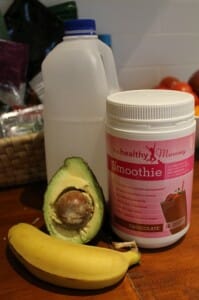 Need something creamy and indulgent for a smoothie this morning.
Avocado is often used in many sweet dishes around the world and is becoming more common in smoothies here in Australia now too.
Try this simple and delicious recipe as part of your healthy eating plan.
What you need:
2 tbs of Healthy Mummy Smoothie mix (this one is using chocolate)
1 banana frozen
1/2 avocado
200ml of your choice of milk
Blitz it together and enjoy the indulgent smoothness. Yep, you could even lose weight drinking these, yes!
If you are ready to lose weight then The Healthy Mummy plans offer a healthy and safe exercise and diet routine that are safe if you are breastfeeding