Prepping for baby number 6 means a pre-baby meal prep for this Healthy Mummy!
This mum has a pre-baby meal prep tradition, so 36 weeks along with baby number 6 means meal prepping for mum Jess!
Jessica May Magill has been part of The Healthy Mummy community for 6 and a half years, during which time she had 3 Healthy Mummy pregnancies and used the 28 Day Challenge to help her get back on track after each.
She has learnt that The Healthy Mummy recipes are a great tool to help prepare for a new bub she has done meal prep before all of her Healthy Mummy pregnancies. She's now prepping for baby number SIX! Part of her prep for welcoming a new bub is meal-prepping lots of food.
See how Jess prepares for a new baby with meal prepping below…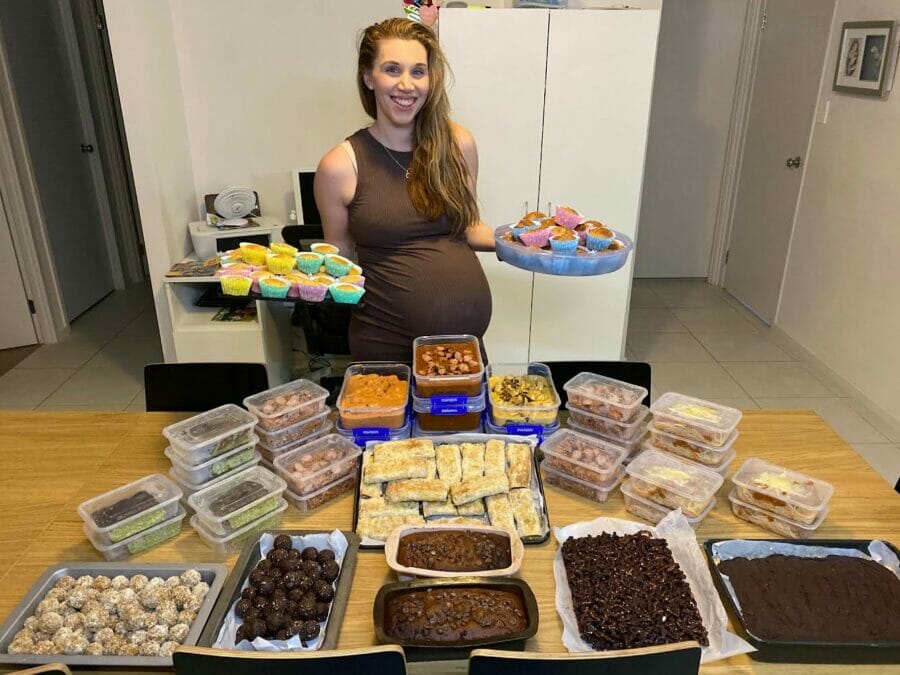 36 weeks pregnant this Healthy Mummy prepares for a new baby with massive meal prep!
Meal prepping when pregnant isn't something new for Jessica May Magill. This 28-year-old mum of 5 is expecting baby number 6 and before her last few pregnancies she has done the same thing that has really helped her prepare for managing the new bub and her other kids – MEAL PREP!
"I know life with a newborn and 5 young kids is going to be HECTIC and having a freezer full of healthy snacks and meals is going to make my life so much easier!"
What did Jess make?
To prepare for what will be a crazy time Jess made 295 serves of snacks, 71 serves of lunches or dinners (they can be used for either or both) which totalled 366 serves. Even better all of this only cost $244.87 for food, what a way to budget and prepare for a new baby.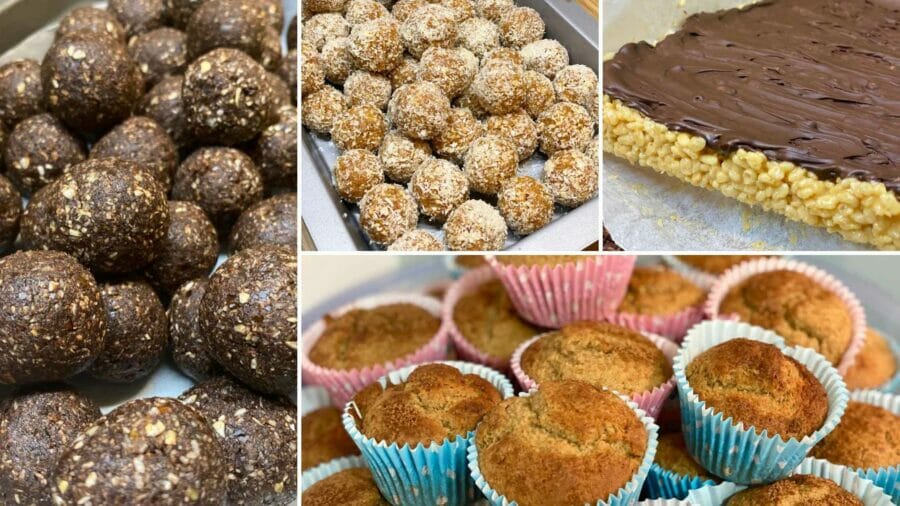 Snacks – 295 total serves
34 x Wholemeal Choc Chip Muffins
32 x Serves Wholemeal Choc Chip Banana Bread
30 x Serves Banana Cinnamon Loaf (as muffins)
36 x Serves Choc Toffee Bark
40 x Serves Peanut Bubble Crunch
58 x Apricot Almond Balls (these are two per serve so 29 serves if you want to calculate that way)
47 x Salted Caramel Balls
18 x Spinach Pesto Rolls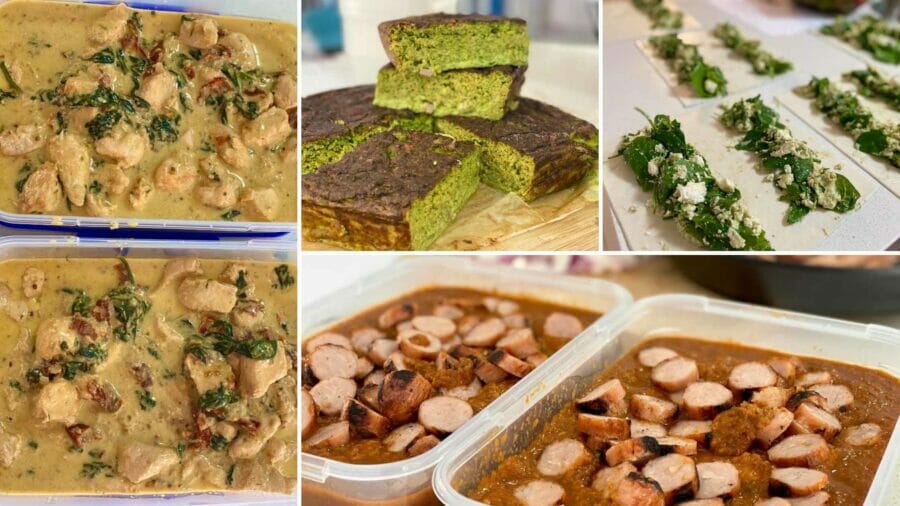 Lunches/Dinners – Total 71 Serves
12 x Sausage Veggie Pasta Bake (6 serves to a tub for our family)
12 x Spicy Sausage Cous Cous
14 x One-Pot Bolognese (8 individual serves + 6 serves in a tub for our family)
13 x Chicken Tikka Masala Koftas (1 individual, 2 x 6 serves in a tub)
8 x Zucchini Slice
12 x Sundried Tomato Chicken (6 serves to a tub for our family)
A total of 366 serves all up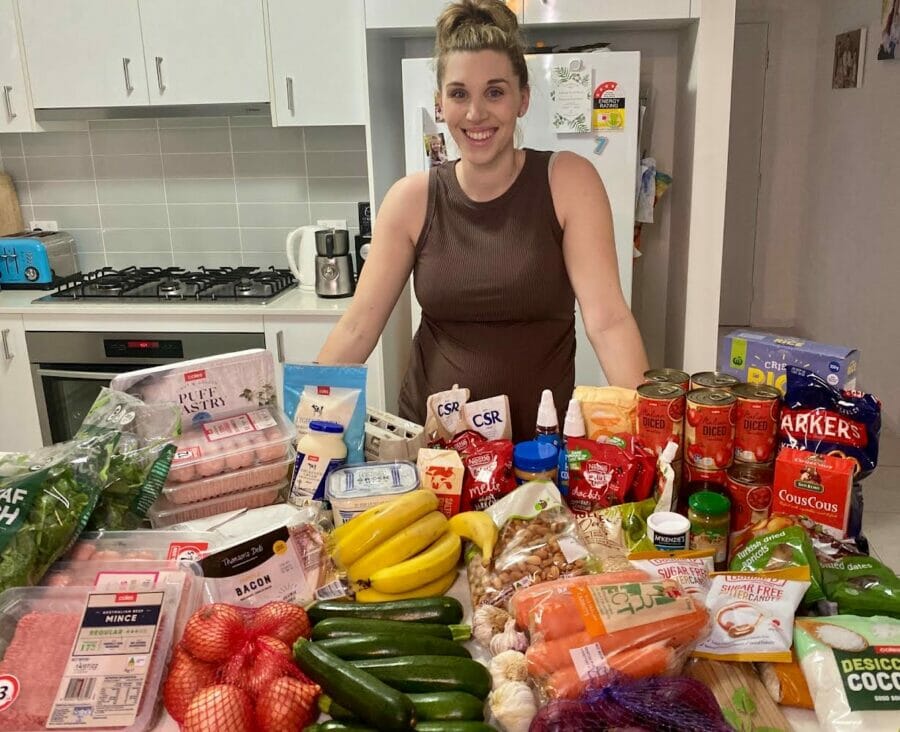 You can find all the recipes Jess used in her fantastic cook-up in The Healthy Mummy app.
"It took me about 8 hours to make all this food and I was able to buy all the ingredients for just $244.87 total, actually $229.87 with a discount. This was without any of the containers which will cost a bit more if you need to buy them."
Jess's top tips to other mums looking to meal prep pre-baby!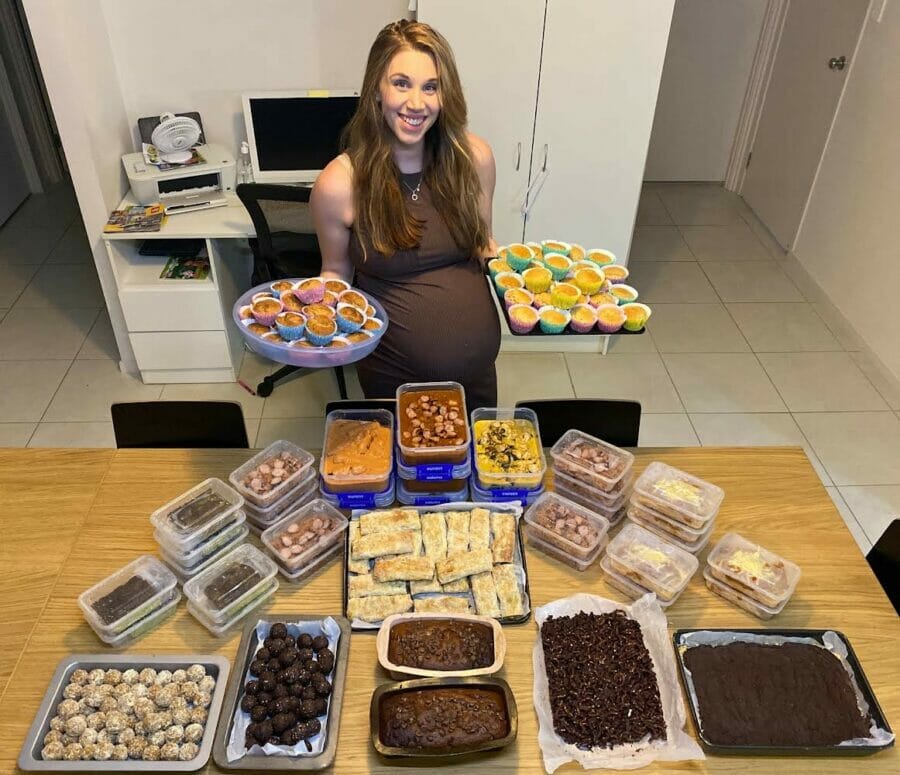 Here are Jess's top tips to help mums do a meal prep before the bub comes:
"Clean as you go, dishes and rubbish everywhere make it super overwhelming and no one wants to clean a huge mess after all that cooking."
"When making family-sized meals, freeze pasta/curry sauces on their own and serve with freshly cooked pasta or rice to save freezer space."
"Stick to recipes you've made before when cooking so many things at once, it's too time-consuming to learn a new recipe mid-prep."
"I make sweet things first and line up the muffin/bread batters for the oven, then start on savoury while everything takes turns baking."
"Prep as many veggies as you can at once – Eg if 4 recipes need carrots peeled just do them all at the same time"
Pre-baby meal prep helps Jess and her whole family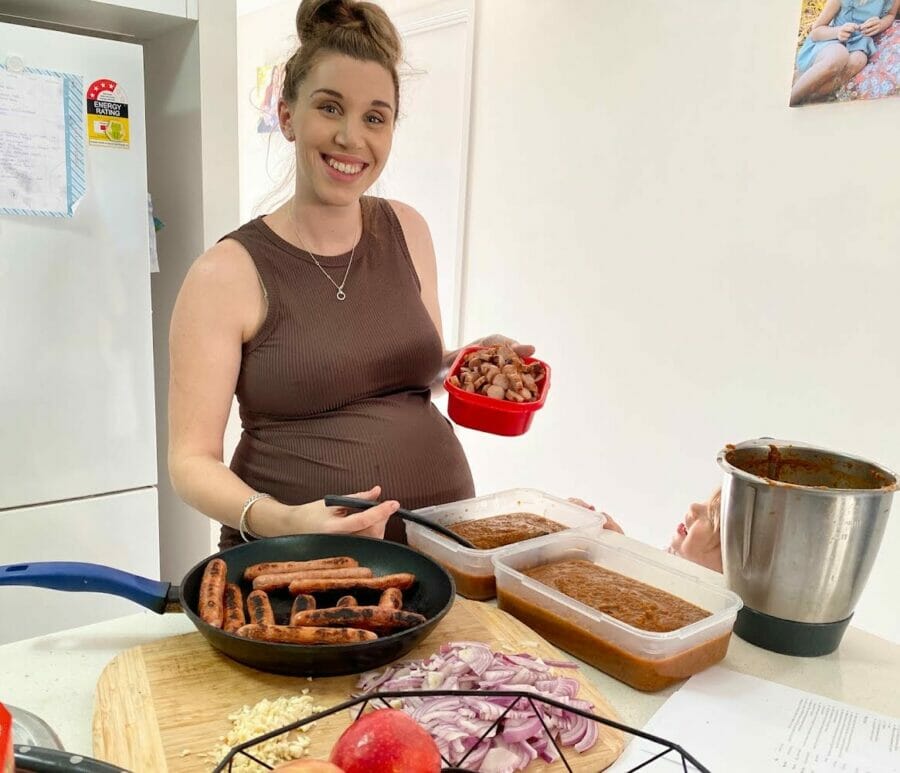 Meal prepping before the baby helps Jess and her family continue their healthy lifestyle when a new baby can make things a little chaotic.
"The meal prep will mean I have nutritious lunches and snacks ready to grab one-handed while I'm feeding bub or chasing after the other kids, so I won't skip meals or reach for packaged crap!"
"Having healthy kid-friendly snacks prepped is a huge help too, to save time packing school/preschool lunches. It means I know what's in the food they're eating, as well as saving money as I'm not buying packaged foods."
Jess relies on the Healthy Mummy app to not only plan her meal prep but also keep track of her favourite recipes in preparation for the times she does these massive meal preps.
"To plan my meal prep I always flick through my 'favourite' recipes and pick a few. It's easy then to search the recipe hub for recipes based on the ingredients I'm already buying, to help reduce costs. I love that I can increase the serving size as needed for my fam before I print all the recipes I'm making!"
Meal prepping not only helps keep the family fed but also helps the budget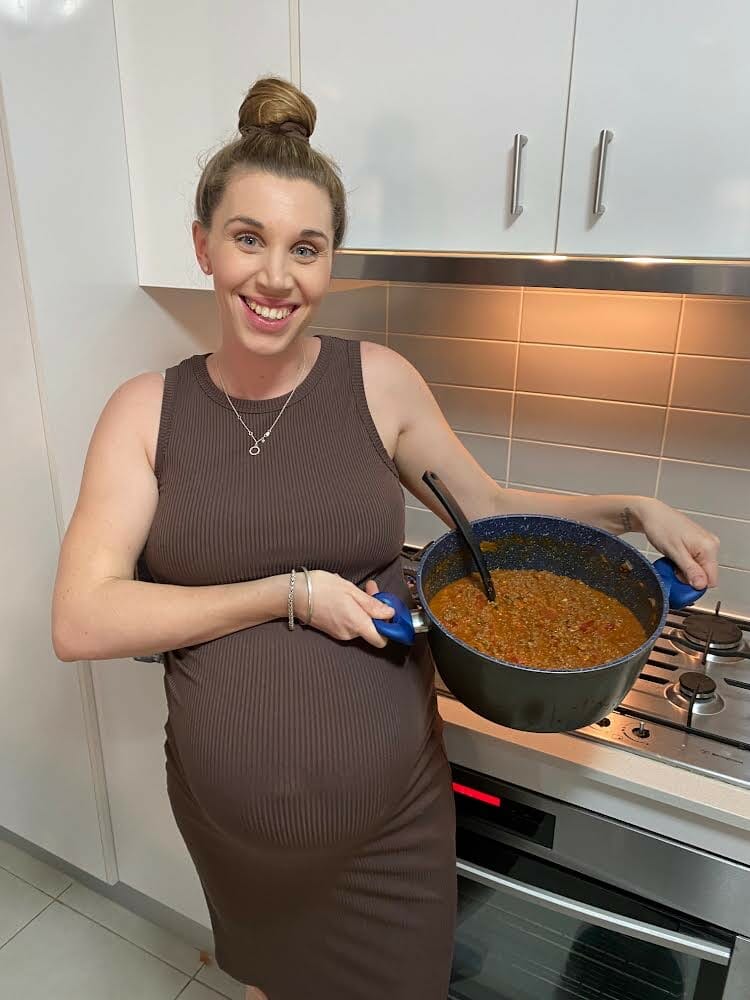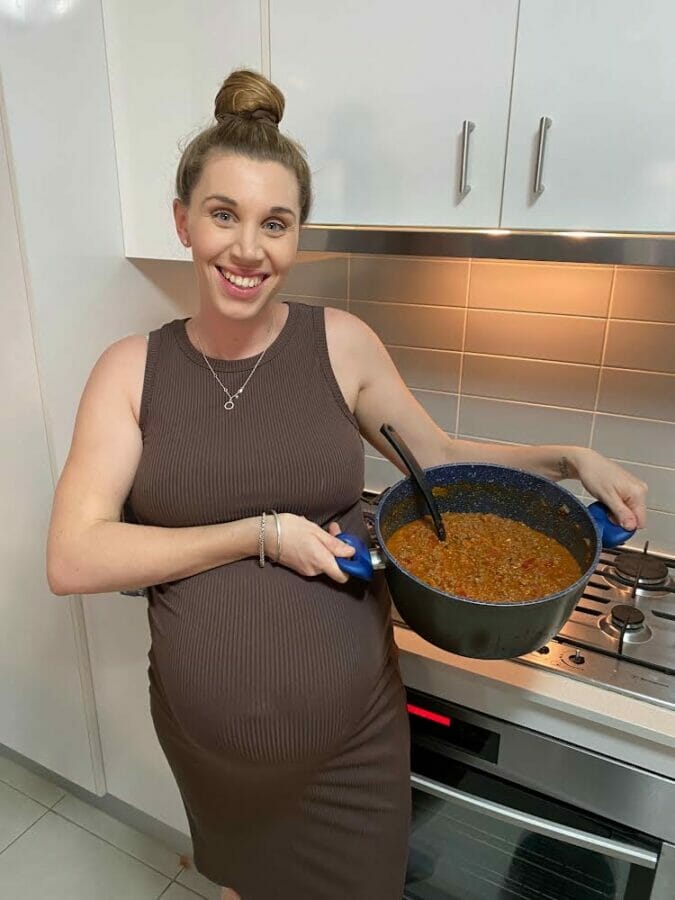 Jess's best budgeting tips when doing the massive meal prep.
"Bulking meals out with extra veggies or beans is a massive one in our house! It's healthier and half of my kids prefer beans to meat anyway! I also hate food wastage so try to utilise every leftover ingredient in another recipe."
"I plan my meals around which veggies are in season/on special and try to buy frozen veggies when fresh is too expensive."
"Shopping online really helps as you can see the total add up and avoid impulse buying, and there are quite often discount codes online."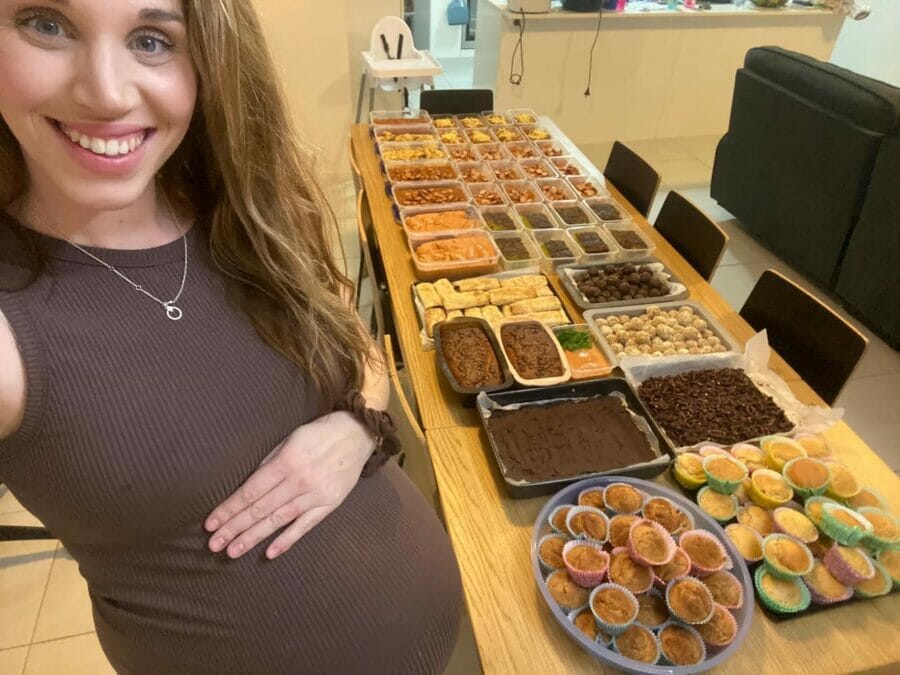 With an ever-growing family, it's hard for Jess to see how much using the Healthy Mummy has helped the family budget. But given she always preps and plans meals she's convinced it has definitely helped stop her budget from blowing out as the family grows.
"It's hard to say as my family has grown so much while following Healthy Mummy so I don't know what our groceries would be like without meal planning and prep!"
"A quick Maccas run because we're running late for dinner time and we're unprepared can easily cost $50-$60 though (that leaves everyone hungry 10 mins later), as opposed to a meal I've got prepped in the freezer that costs under $10 to make!"
"If we were having takeaway once a week and buying all premade snacks weekly, I would think we'd spend at least $300-$400 a month more!"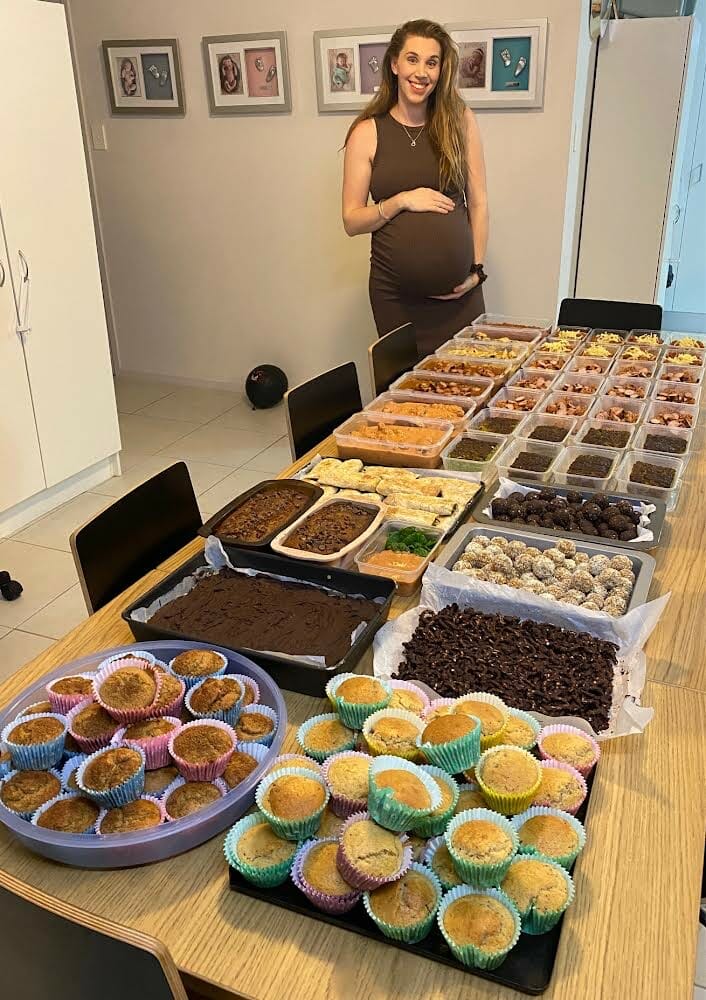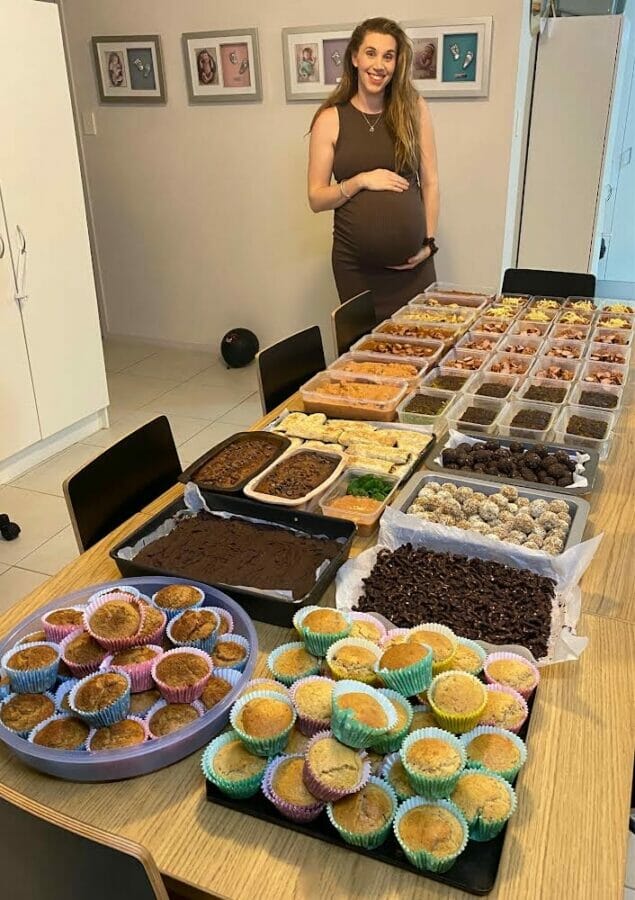 Jess does think they're saving each week thanks to meal planning and prepping with The Healthy Mummy.
"I would estimate we'd spend at least $50-100 more a week on pre-packaged snacks, food wastage and extra last-minute trips to the shops if I wasn't organised with meal planning and prep."
Healthy Pregnancies and Healthy Mummy results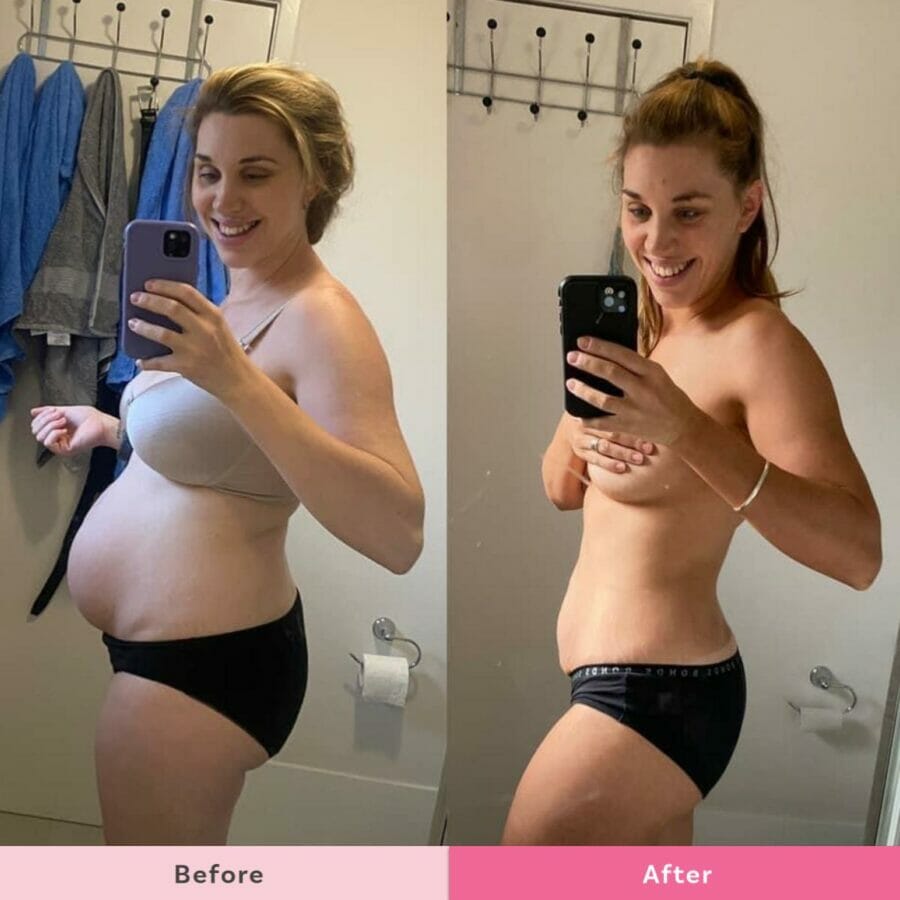 Beyond using The Healthy Mummy to prepare for a baby and keeping her budget under control with her amazing family, Jess has also used the 28 Day Weight Loss Challenge to healthily get back into shape.
"My kids are 8, 6, 5, 3, a 22-month-old and I'm 36 weeks pregnant."
"My original start weight for Healthy Mummy (back in 2015) was 85kgs, I lost 20kgs in 6 months and got down to my lowest adult weight of 65kgs."
Since originally joining the Healthy Mummy and getting amazing results Jess has been able to utilise the healthy recipes to have 3 Healthy Mummy pregnancies and then continue the work to lose weight in a healthy and sustainable fashion after the babies are born.
"I had a Healthy Mummy pregnancy for baby #3 and lost 17kgs in 10 months after her.
I then had a Healthy Mummy pregnancy for baby #4 and lost 16kgs in 8 months after her.
I then had a Healthy Mummy pregnancy for baby #5 and lost 12kgs in 8 months after him.
So many kids hahaha"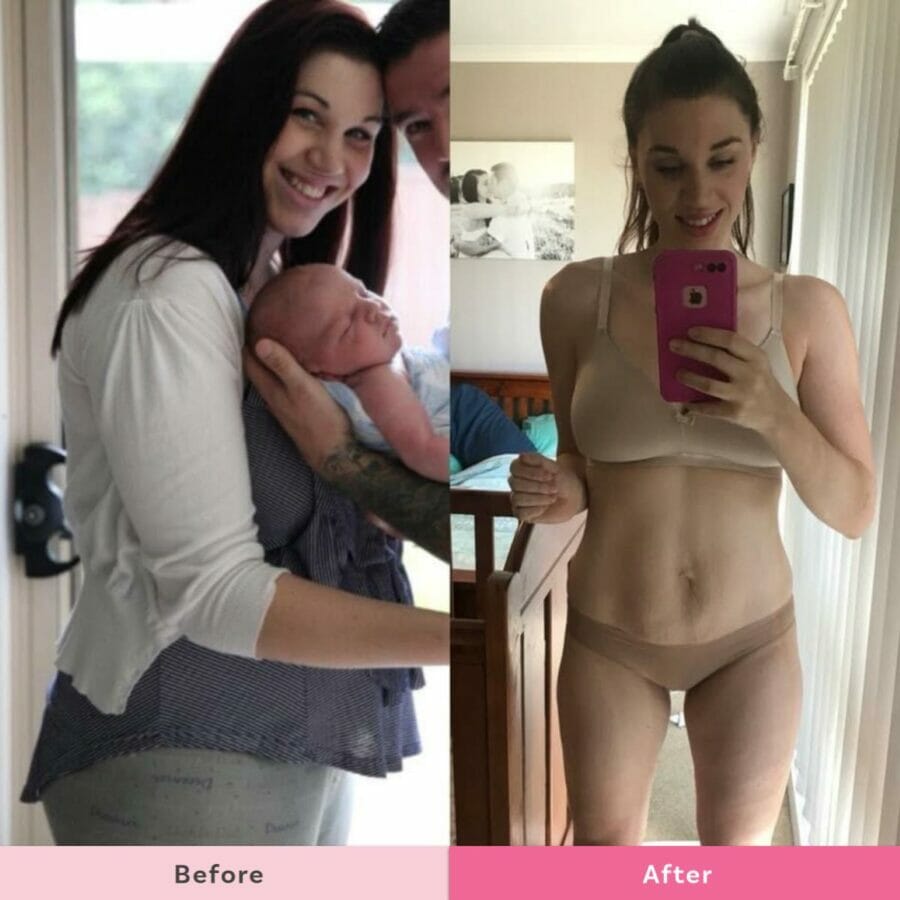 Check out some of Jess's previous meal preps and post-pregnancy results: