9 Quick & Easy Baby Brain Breakfasts
If you're following a healthy pregnancy eating plan, you'll know that it's important to start the day on the right foot and eat a healthy breakfast even when you have baby brain.
Whether you're following a healthy pregnancy eating plan or just want to eat well every day, you'll know that it's important to start the day on the right foot and eat a healthy breakfast even when you have baby brain.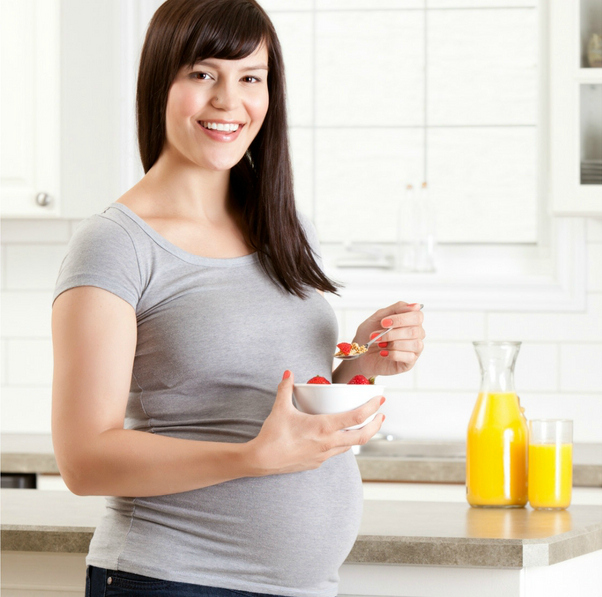 Breakfast is a hard time of the day as we're often trying to do so many things – get ready for work, get the kids ready for school, make lunches, fit in some exercise, drag everyone out of bed etc!
Here are some great ideas for breakfast from one of The Healthy Mummy Pregnancy Nutritionists, Cheree Sheldon, that are not only delicious and healthy but also really easy to make when you're short on time.
You know that morning baby brain feeling when you stare into the fridge for ten minutes waiting for inspiration to strike??
9 delicious, nutritious breakfasts for when baby brain hits
1) Chia Seed Pudding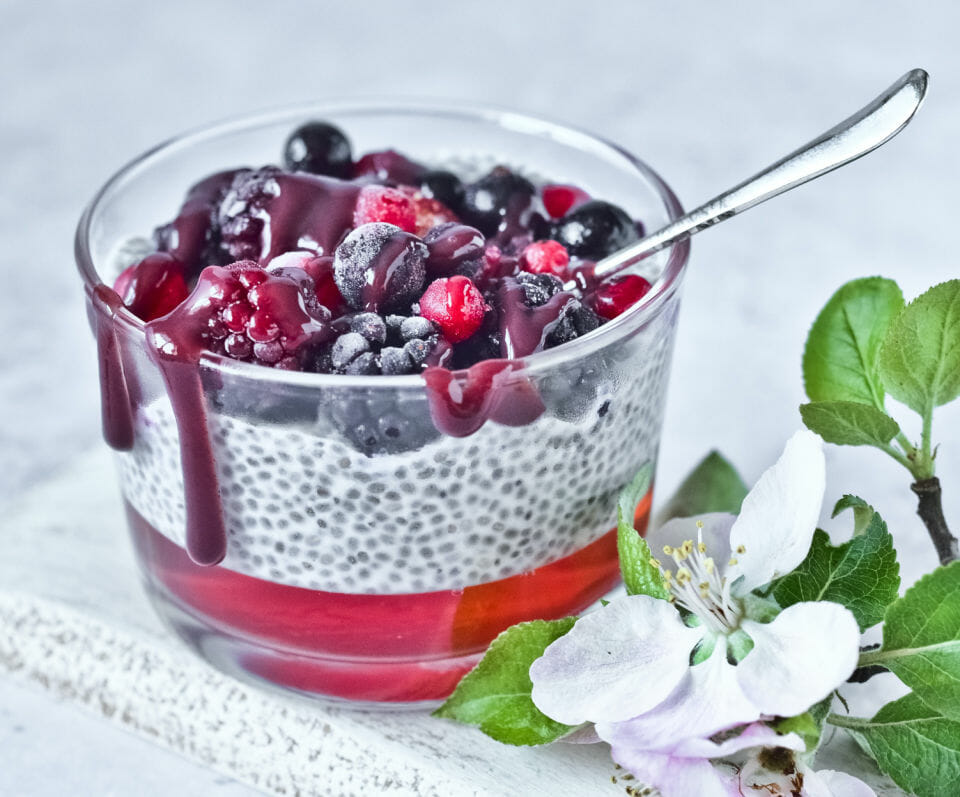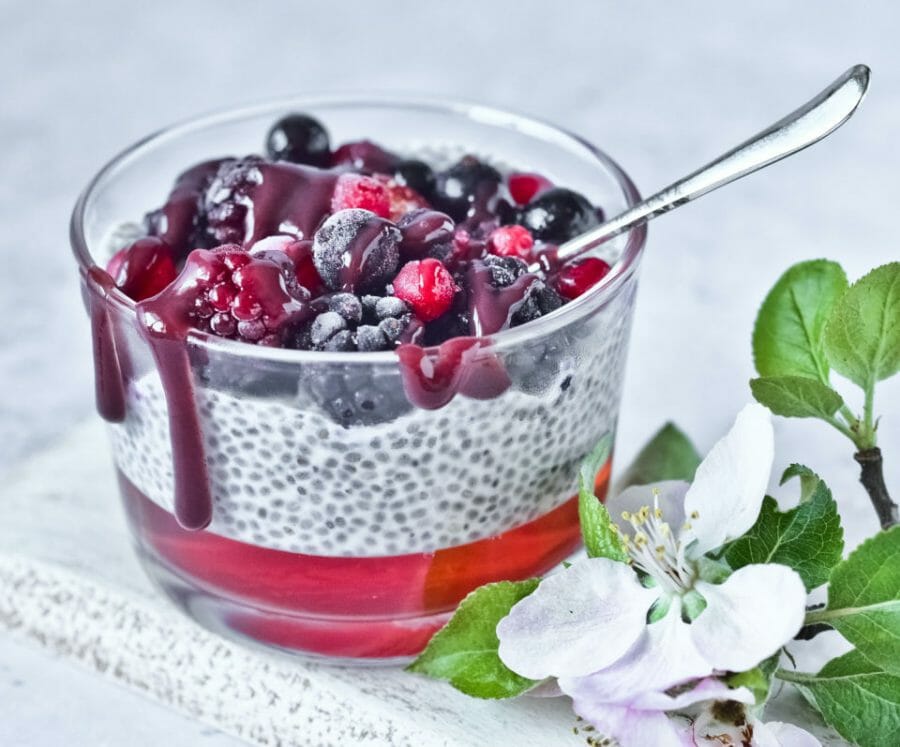 If you find you are a bit slower in the morning than usual (and this is totally normal!) then having breakfasts that are already made is a fantastic idea.
Combine 3 tablespoons of chia seeds with approx 200ml of water. Add natural yoghurt, some milk of choice (delicious with coconut milk) and your favourite fruits. Combine everything together and allow to soak overnight in the refrigerator so it's ready first thing in the morning.
Adjust levels of water and other liquids you add to get the consistency you desire i.e. you might want to soak the chia seeds separately and then add the other ingredients once seeds are plump. Approx 200 – 300cal.
2) Bircher Muesli
This is another easy, cold breakfast that you can start the night before so it's ready to eat when you open the fridge. Combine some oats with apple juice (no added sugar) and some grated apple. Leave overnight in the fridge. Serve with a dollop of natural yoghurt and some chopped nuts of choice if you like. Delicious with berries as well. Approx 200 – 400cal.
3) Apple and Rhubarb Breakfast "Crumble"
This is an easy version of a crumble. Place some apple pieces and rhubarb (you could use other fruits e.g. pears, peaches, apricots, nectarines etc) in a small saucepan and almost cover with water. Allow to simmer with the lid on until the fruits are really tender and stewed.
Top stewed fruit, (keep the juices too), with un-toasted muesli and a dollop of natural yoghurt if you like. Approx 200 – 300cal.
4) Breakfast Muffins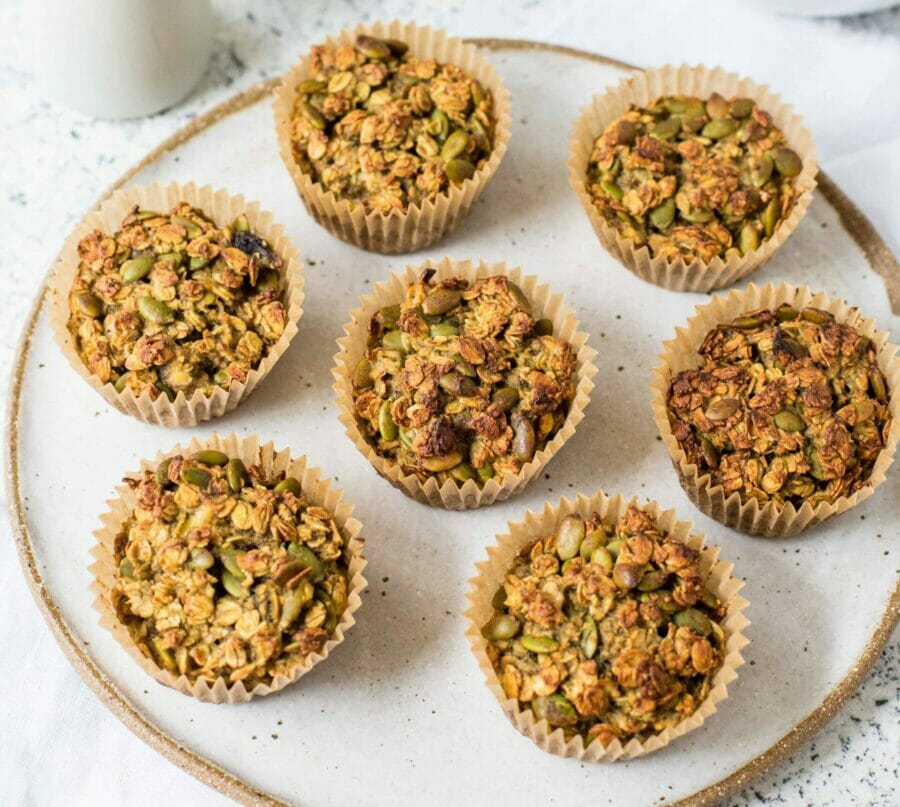 Whether you make sweet versions like apple and sultana, or blueberry, or savoury versions like cheese and chives or spinach and tomato you can cook up a big batch of muffins and keep in the freezer for easy breakfast options.
Just take out of the freezer the night before to defrost in the fridge and reheat in the microwave when ready to eat. Approx 200cal per serve depending on ingredients.
5) Frittata
Preheat the oven to 180C. Steam some sweet potato, layer in slices at the bottom of a small, lightly greased baking dish or ramekin. Sprinkle some baby spinach on top, then have a layer of grilled zucchini and tomato slices (you can choose the vegetables you like really). Pour two whisked eggs over the top and bake for about 30mins, until golden.
This is a great pre-made breakfast option as it's delicious warm or cold. If you've made it the night before, store in the fridge and reheat quickly in the microwave if you'd like a hot breakfast. Approx 400cal depending on ingredients chosen.
6) Fruit Loaf or Banana Loaf
Either choose a wholemeal, homemade-style fruit loaf from a health food store or similar or make your own favourite banana bread recipe. Slice in the morning, then toast. Eat on its own or great spread with some butter or serve with some natural yoghurt on the side. Approx 300cal
7) Scrambled Eggs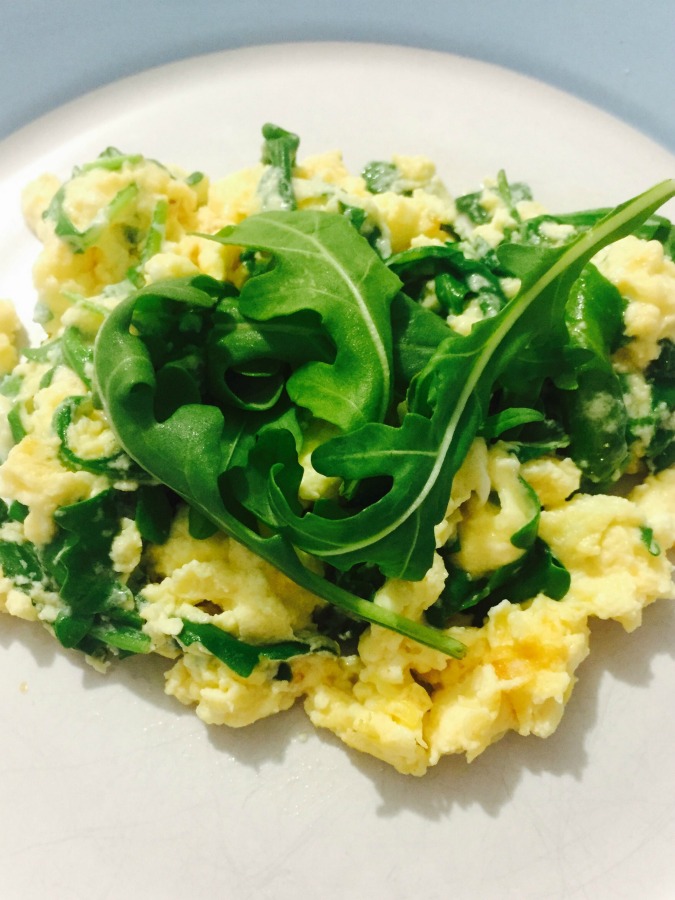 Scrambled eggs are really quick and easy. Crack two eggs in a jug, whisk together with a fork, pour in a hot fry pan with a bit of butter or olive oil, and then continually stir in the pan, pulling away from the edges until cooked. This takes less than 5 minutes.
Things to make your scrambled eggs more interesting include:
Add some sliced smoked salmon and dill and place on top of rye toast.
Serve with sliced avocado and a grilled tomato.
Toast a tortilla in the oven until crunchy and serve eggs with a dollop of pesto and a sprinkle of grated tasty cheese.
Serve eggs in a wrap with some tomato chutney and baby spinach.
Serve on a slice of fresh wholegrain bread with a sprinkle of curry powder, dollop of Greek yoghurt and some crisp lettuce.
Approx 200 – 400cal.
8) Oats
Oats made into porridge are a great breakfast option as they're low GI, can lower cholesterol, and help keep blood sugars balanced. But having the same old same old everyday can get a bit tedious, so here are some ways to mix it up with porridge:
Substitute a portion of oats with quinoa flakes to make it higher in protein and more nutritious.
Sprinkle LSA and cinnamon on top.
Add psyllium husks for more fibre.
Flavour options can include apple and currant, banana, blueberry, pear, stewed prunes, cranberry and pistachio, and carrot cake flavour- grated carrot with mixed spice.
For sweeter options add a little maple syrup, raw honey, coconut sugar or stevia and mix through your porridge.
Approx 200 – 300cal.
9) Toast
Toast has to be the easiest option for breakfast, so here are some ways to add more variety and nutrition to your toast. Avoid white bread and go for the wholemeal, darker, whole grain options. 100-300cal
Spread with avocado then sprinkle with dukkah and a squeeze of lemon juice.
Top with honey and a sprinkle of cinnamon- adding the spice will help balance out your blood sugars a bit when you get a sugar craving.
Add a slice of tasty cheese and top with some grilled asparagus.
Spread with chutney then top with a slice of ham and a poached egg.
A favourite for many – spread peanut butter over the toast and then top with sliced banana. Sprinkle some cacao nibs on top for the ultimate decadence!
Leftover mince on toast with a fried egg. Use leftover San Choy Bow mince or spaghetti bolognaise mince – delicious!
For a special treat dip your slice of toast in some lightly whisked egg. Cook in a fry pan on both sides until golden and serve with slices of banana and a grilled rasher of bacon.
Enjoy a slice of your favourite topped toast with a Healthy Mummy Pregnancy Smoothie and boost your morning with some extra nutrients.
Approx 200 – 400cal.
And if you feel really terrible in the morning from lack of sleep, morning sickness or just feeling "blah", then try some sliced fruit with natural yoghurt or a Healthy Mummy Pregnancy Smoothie, as getting something into your tummy will make you feel a lot better.
Disclaimer: Always speak to your doctor before changing your diet,taking any supplements or undertaking any exercise program in pregnancy. The information on this site is for reference only and is not medical advice and should not be treated as such, and is not intended in any way as a substitute for professional medical advice..
Our plans promote a health weight gain in pregnancy to benefit the mother & baby and you can read more on this here 
The owners of The Healthy Mummy do not make any representations or warranties, express or implied and shall have no liability or responsibility to any person or entity with respect to any loss or damage caused or alleged to be caused directly or indirectly by the information contained herein and nothing in this disclaimer will limit or exclude any liability for death or personal injury resulting from negligence, limit or exclude any liability for fraud or fraudulent misrepresentation, limit any liabilities in any way that is not permitted under applicable law or exclude any liabilities that may not be excluded under applicable law.