Six ways to get baby to sleep in eight minutes or less
There is absolutely nothing wrong with rocking, bouncing and feeding your baby (or toddler) to sleep. But if you are looking for sleep solutions, here are six tried and trusted methods that just might work for your infant.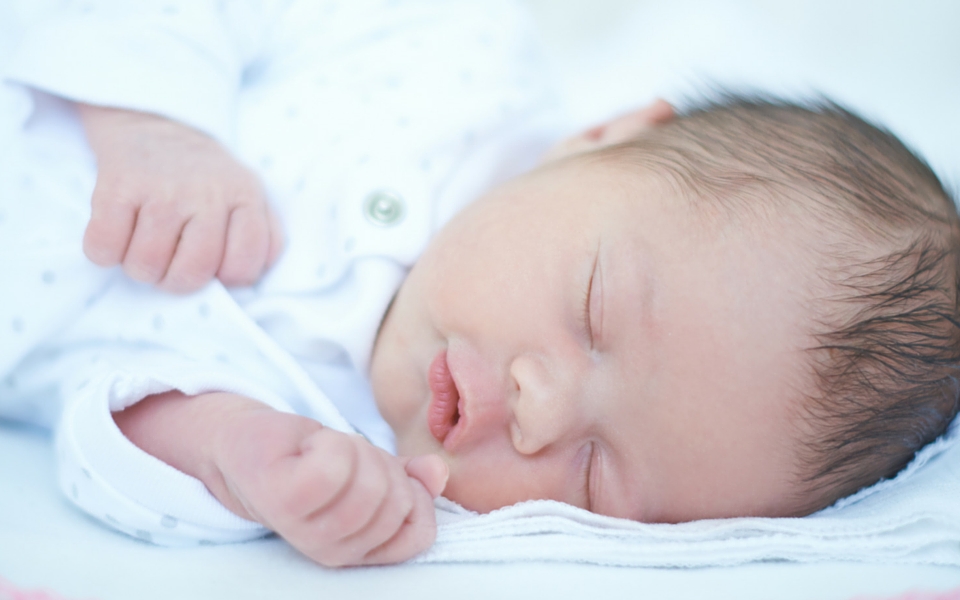 Sound sleep – no rocking, bouncing or feeding required
Every family has a different technique when it comes to putting their infant to sleep. Some babies fall asleep on their own while others need a little more help. In addition to our five baby sleep routines that mums swear by, have a look at these six sneaky tricks to help teach baby to self settle and sleep better.
1. The tissue trick
This video, posted by a father, has gone viral and it's easy to see why. By simply using a piece of tissue paper, gently stroking his son's face, the dad is able to get his son to sleep in just 40 seconds. It's definitely worth a try!
2. The magical sleep doll
Lulla Doll is one of a kind and she has been an absolute life saver for many parents of infants, toddlers and even preschoolers. What makes Lulla so special is that inside her soft body is a device that imitates the real life heartbeat and breathing of a mother. And for eight blissful hours.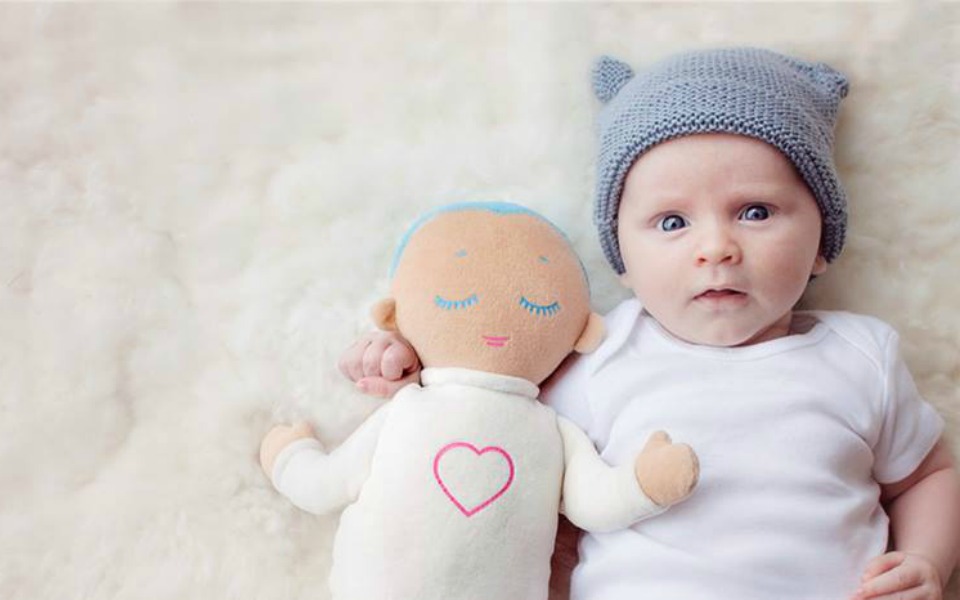 Rather than having to cuddle your infant to sleep, you can rely on Lulla. Hopefully having Lulla's heart beating beside bub all night will provide bub will the reassurance that you are close.
3. The scientifically proven bedtime book
Titled, The Rabbit Who Wants to Fall Asleep, this book is so soothing it actually puts kids to sleep. Or so the author and several parents tell us. How does it work?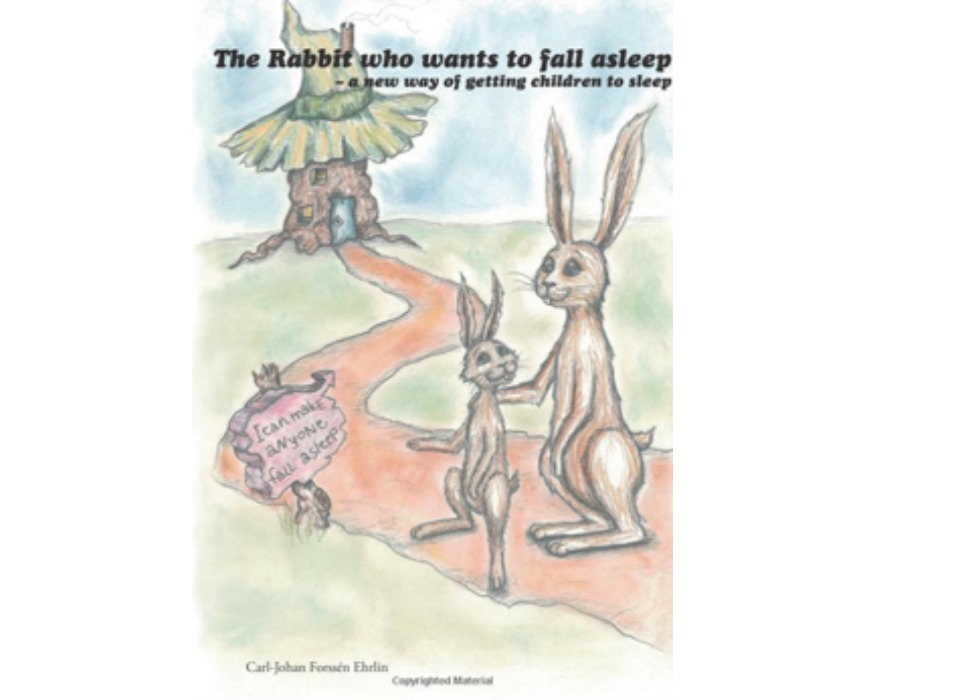 The book, written by a Swedish psychologist named Carl-Johan Forssén Ehrlin, uses a series of "powerful psychological techniques" to encourage drowsiness through language, sentence structure, highlighted print and 'yawning' at certain times in the story. Plus, it encourages reading in children. Double win!
4. The rocking bassinet
A cradle that rocks your baby to sleep? It does exist!
But if comes with a hefty price tag ($1600 USD) as well as the problem of getting it to Aussie shores. Designed by American paediatrician Dr Harvey Karp and created by Snoo, the bassinet gently rocks side-to-side and plays white noise to help soothe a fussy baby.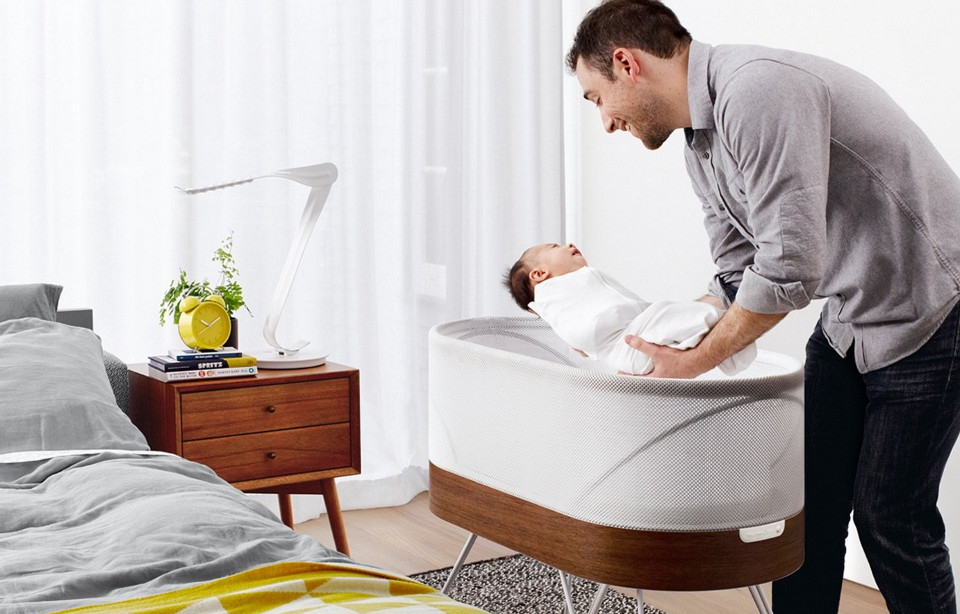 Combined with the clever Snoo sack (a swaddle that clips to the bassinet preventing bub from rolling over), the rocking motion is supposed to lull bub to sleep within minutes.
5. The most relaxing song in the history of ever
Some songs are designed to soothe you. And Weightless is certainly one of them.
Hailed as the most relaxing song in the world, neuroscientists at Mindlab International have confirmed that this song helps put babies to sleep, reduces anxiety and promotes drowsiness. The eight minute song combines low pitches, sounds from nature and manipulated instrumental tones to help lull anyone (including your little one) into a blissful sleep.
6. The colourful noise
White noise has been used as a sleep aid for years but sleep specialist Elizabeth Pantley recommends switching to pink noise.
Pink noise, according to Elizabeth, "is a variant of white noise that sounds deep, rich, and monotonous." Sounds like a beating heart, ocean waves, the pitter patter of rainfall or the rustling of leaves on a tree all fall under the pink noise umbrella.
While there are a number of other ways to help teach bub to sleep, hopefully one of these tricks will help! Just remember, every baby is different. Finding a sleep solution that works for you and your family is what matters the most, regardless of whether this involves a book, a doll, a piece of tissue paper or anything else.
Are you a tired new mum in need of an energy boost?
As busy mums we're all about healthy shortcuts. As such we've created a way for you to get a shot of energy-boosting superfoods into your body by barely lifting a finger. You're welcome!
We've managed to pack 37 ingredients from real food sources into our amazing Super Greens. Our ultimate aim is to give busy mums an energy lift. Most of all, breastfeeding mums don't miss out because it's one of a few on the market that's breastfeeding friendly.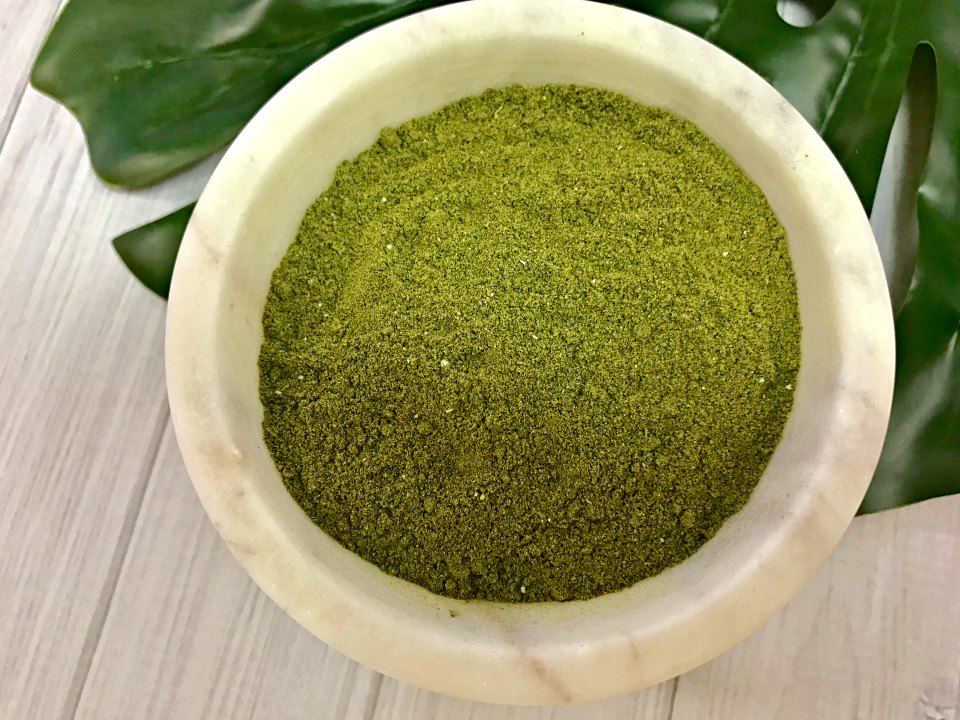 Made in Australia for our mums
Super Greens is made in the laid-back NSW town of Byron Bay. It's been put together using some of the world's most incredible superfood ingredients.
This product is high in spirulina; which has been labelled the most nutrient dense food on the planet. Super Greens also contains probiotics.
The whole foods that go into Super Greens are natural sources of vitamins and minerals and are an easily digestible blend.
What it doesn't contain is any dairy, sugar or gluten and it's vegan friendly.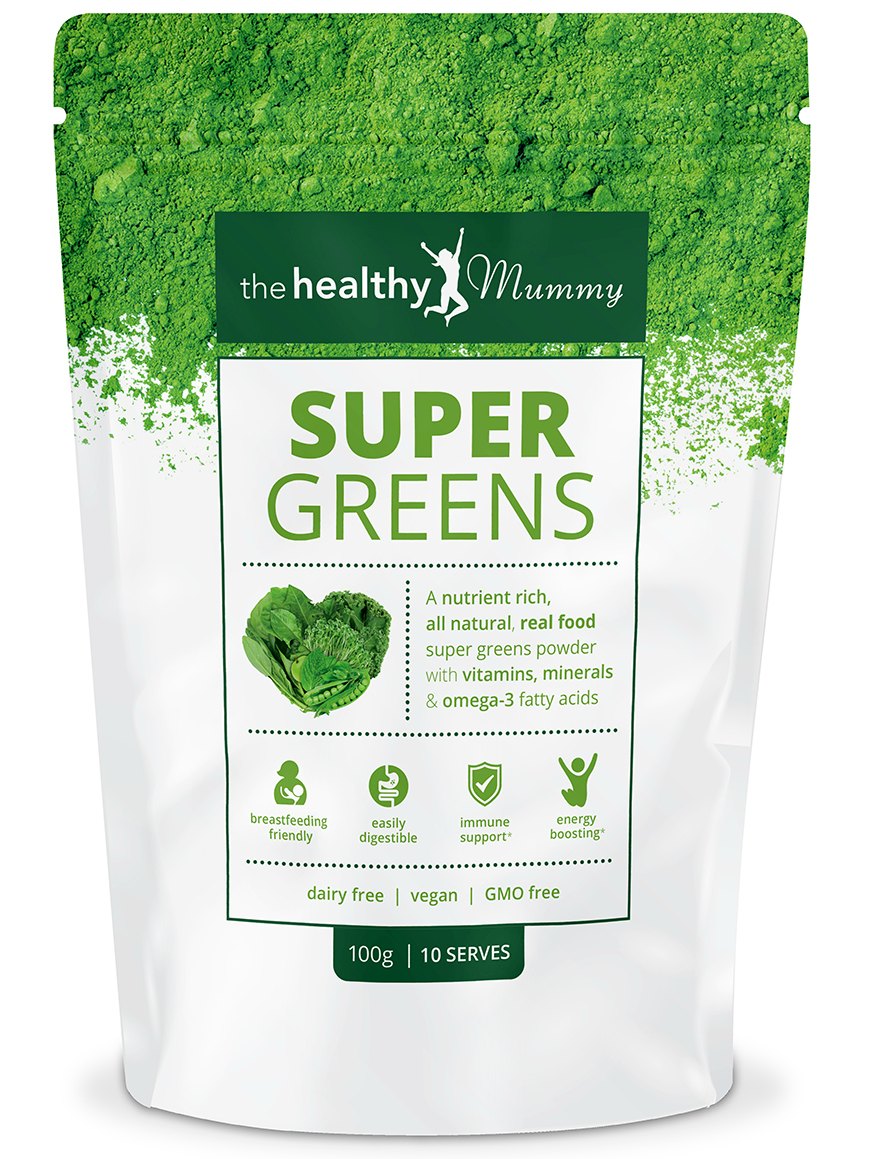 A powerful energy boost
When you're conscious of what you're putting into your body, you need to make every mouthful count. This is why this amazing powder punches well above its weight.
A snapshot of how powerful Super Greens is, this product…
has 56 more times the vitamin B12 of a beef steak.
contains the same calcium as three serves of cheese.
contains the iron of 12 cups of spinach.
has the vitamin C equivalent of 1.4kgs* of oranges.
has 11 times more iron than red kidney beans.
contains 50 times more vitamin B12 than an Atlantic salmon.
has 11 times more vitamin C than 100ml of orange juice.
contains as much calcium as one litre of milk.
has the same vitamin C as half a kilo of red capsicums.
has as much B12 as 77 eggs.
contains four times as much calcium as almonds.
Super Greens Can Help Keep Immune System Strong
Dr Ross Walker says spirulina is one of the most potent natural stimulants of the immune system.
"Not only does it help fight infections, it also keeps your immune system strong and functioning normally in all situations," he says.
And getting this much goodness into your diet is as easy as adding a 10g serve of Super Greens into water or your favourite The Healthy Mummy smoothie.
Busy mums, now is the time to stop making excuses and make sure you're getting your greens! Get your Super Greens mix here.
*Images and references to kilograms lost are as supplied by the individual in the story. The Healthy Mummy assumes information and photographs supplied to be true in nature and is not responsible for any false misrepresentations or claims relating to their programs or products.