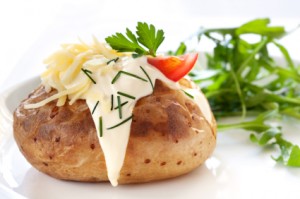 Do you need an easy, healthy, vegetarian option for a Monday night meatless meal?
Why don't you try this high fibre healthy eating recipe which all the family will enjoy. It is also incredibly budget friendly as well.
Prep time: 10 minutes
Cook time: 30 minutes
Serves 4
Ingredients:
4 large potatoes
4 tbs of low fat natural yoghurt
1 tbs of mustard
1 can of beans (red kidney/butter bean/cannelloni)
1 onion diced
2 tbs of crushed garlic
1 handful of spinach
2 tomatoes chopped
4 tbs of shredded cheese
Oil spray
Directions:
Clean your potatoes but keep the skin on
Steam the whole potatoes for 15 minutes
While they are steaming chop up your tomatoes, onion, spinach and avocado
Pan fry you garlic and onion until softened and add in the beans to heat through.
Take out the beans and pop in the spinach to wilt.
Mix the yoghurt and the mustard together.
When the potatoes are partly cooked, cut them as if you are about to cut them into quarters but do not follow the cut through all the way to the bottom.
Place them on a lined baking tray and spray with oil. Cook them in a preheated 200 degree oven for a further 15 minutes.
Once cooked, top them with the bean mixture, spinach, chopped tomatoes, yoghurt mix and shredded cheese! another delicious healthy baked potato recipe.
380 calories per serve depending on the size of the potato
Special Offer & 10% Discount
If you are ready to lose weight then The Healthy Mummy plans offer a healthy and safe exercise and diet routine that are safe if you are breastfeeding and you can use code LOYALTY for a 10% DISCOUNT at the checkout