Baked Zucchini For The Whole Family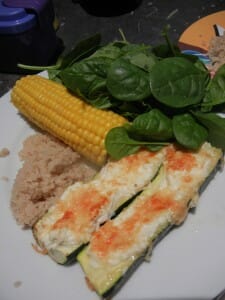 Baked zucchinis!
This is a new one for my repertoire. Delicious and nutritious. Healthy eating has never been so fine…hahaha!
I also wanted to extend this recipe into a post so you could see how I incorporate our dinners for the whole family meal.
After the age of one year, it is important that your children are consuming the family meal. This is not only due to ease, but also to incorporate all food groups and textures into their diet.
So tonight we had baked zucchinis, corn, wholemeal cous cous and the adults had a simple baby spinach salad.
Baked Zucchinis
Serves 4 adults
Prep time 10 minutes
Cook time 20 minutes
Ingredients
4 zucchinis
250grams of light ricotta cheese
8tbs of grated reduced fat parmesan cheese
Salt and pepper to season (do not season your child's with salt)
Directions
Cut the zucchinis in half with the base slightly cut lengthwise so that they lie flat. They are also slightly scooped to have more ricotta cheese
Put approximately one tbs of ricotta cheese on each half
Sprinkle approximately one tbs of grated parmesan on the top
Season with salt and pepper
Bake on a lined tray in a preheated oven of 180 degree celcius for approximately 20 minutes or until the cheese is golden brown.
Per serve 150 calories
Serve with whatever you like but we had it with corn on the cob, salad and cous cous.
Above is how the adults ate their meal. Below is how my 3 year old ate it.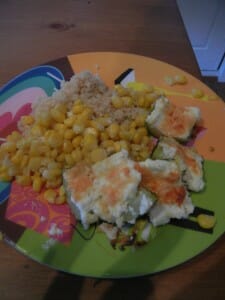 Don't think she is a fan of everything I cook. But we now have a rule. A firm one. You don't have to like it, but you do have to try it and have at least three mouthfuls.
This is how my 9 month old ate it. She has been baby led weaned so I had to mush a bit of the ricotta around with the cous cous and corn so that when she grabs the spoon from me, it stays there for a second. I also placed some corn and some zucchini onto her table so she could work her pincer grip and her finger feeding skills.
Hope you have had a great night and that the kids ate their meals without too much fuss!!!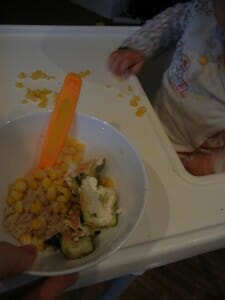 Cheers, Mandy x
For more recipes check out our site here as we have heaps of healthy recipes online.
Plus make sure you have a look at our fabulous promotion this week. If you spend over $72 you will receive a gorgeous Weleda cream (all natural!!!) and 15% off. The Healthy Mummy and Lose Baby Weight are turning 2 this month and we want to celebrate it with you. For more information look here.