Dieticians claim BANANAS melt tummy fat! Here's how…
Want to blast your tummy fat for good? Then dietiticans say that you should try to include bananas in your diet!
Want to blast your tummy fat for good? Then include bananas in your diet, say dieticians.
Experts at the Mayo Clinic claim including bananas in your diet is one of the easiest ways to lose weight, especially around your midsection.
Bananas are high in fibre and this helps keep you regular. They also have a lower GI impact than many other fruits, boost your metabolic rate and keep you fuller for longer. Incredible!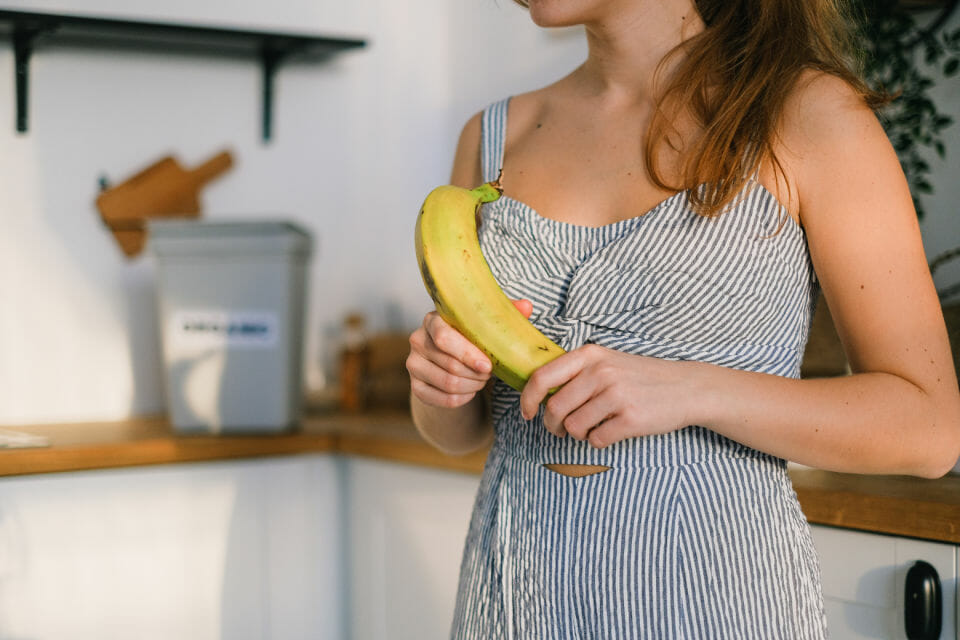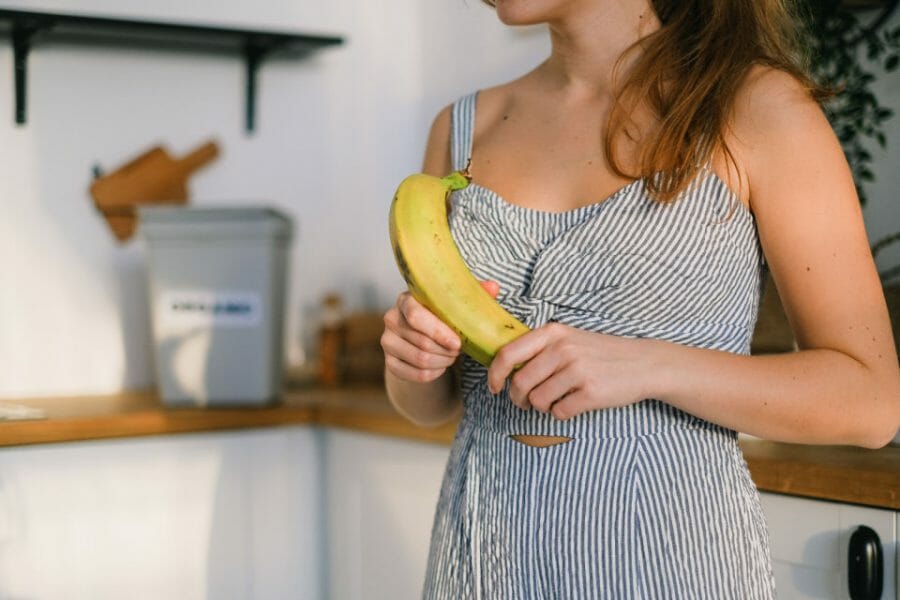 How bananas help blast tummy fat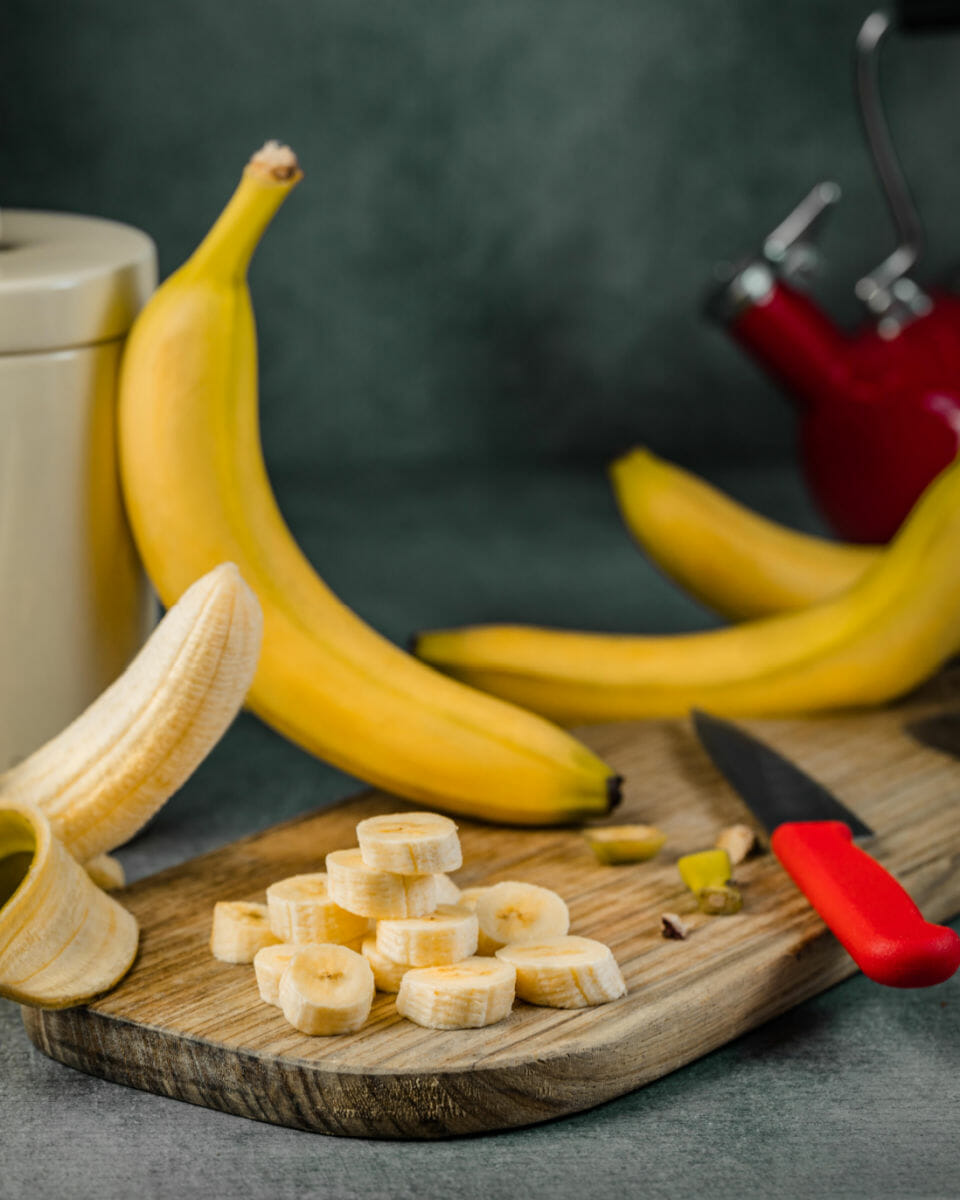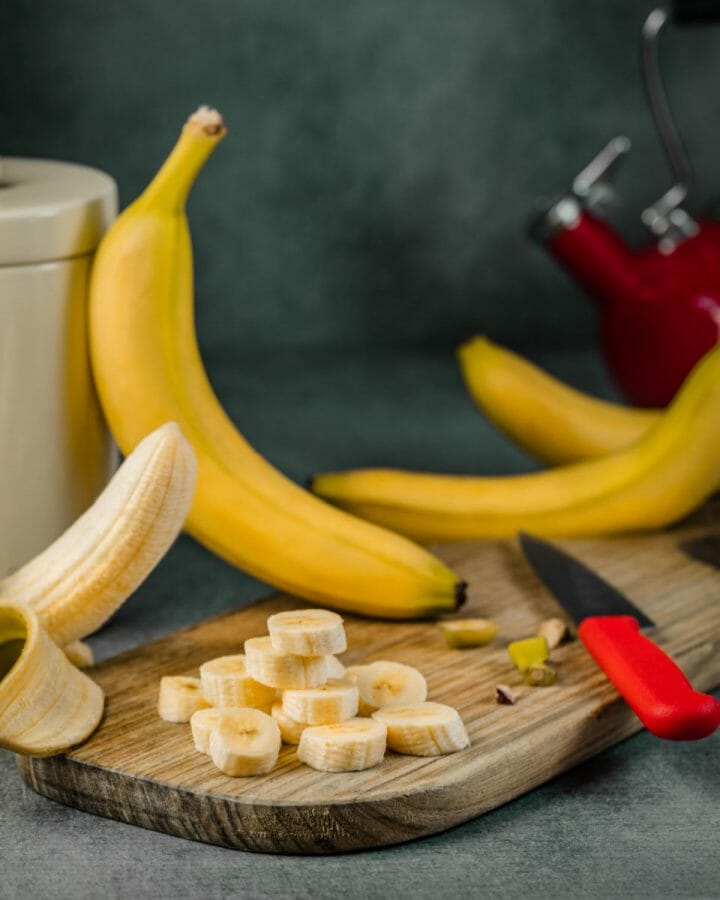 Bananas are one of the best super fruits out there, and just one medium-sized banana a day will help you see results.
On the 28 Day Weight Loss Challenge, we believe that bananas are actually very good for you. Like any fruit, they are fairly low in calories, containing around 108 calories in a medium banana, and they are very low in fat.
This yellow fruit is also packed with vitamins and nutrients that can actually help you to lose weight when eaten in moderation.
Health benefits of bananas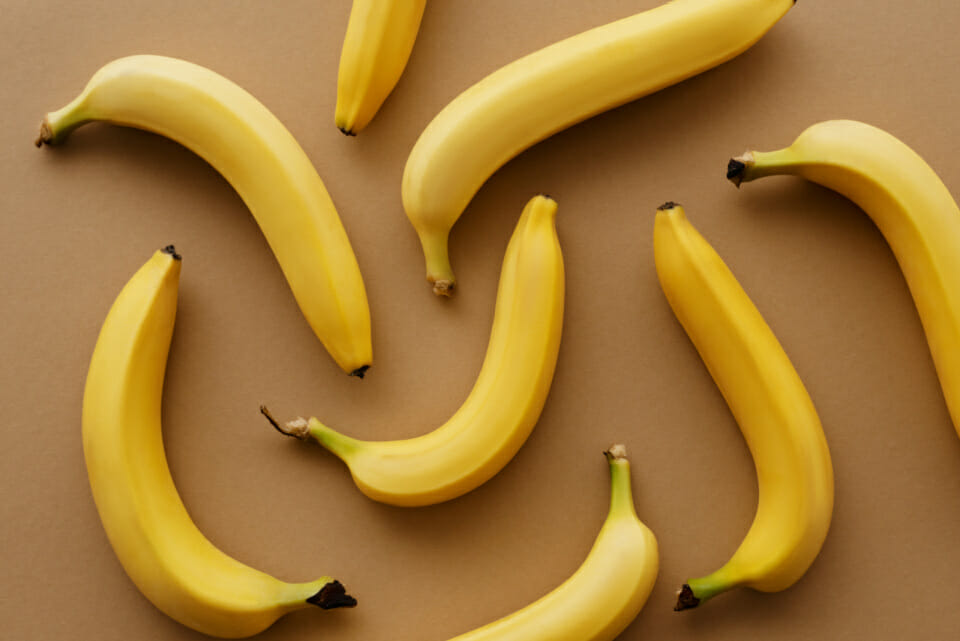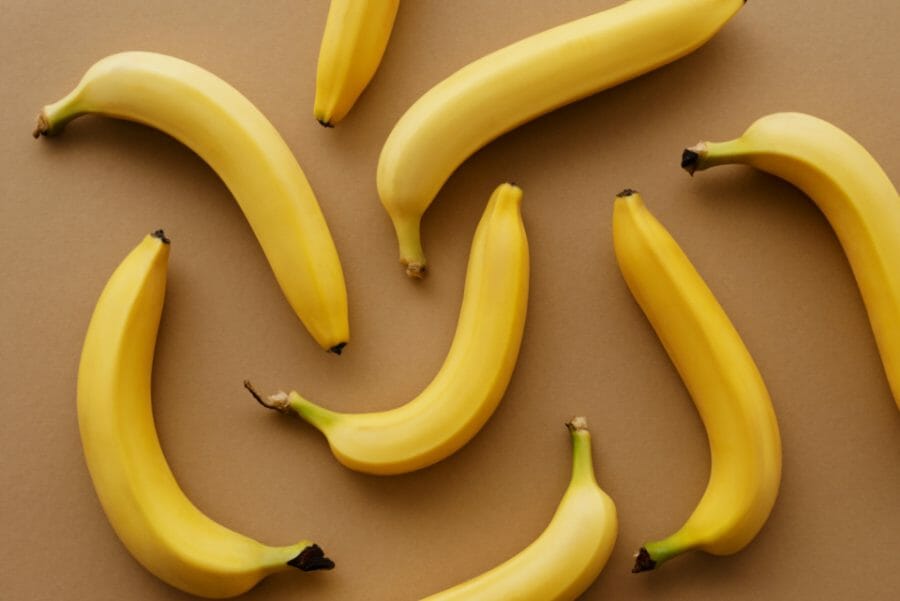 When eaten in the right quantities, bananas can help you to lose weight.
1. They're high in fibre
Around 11 per cent of your recommended daily intake (RDI) of potassium is in one medium banana. Dietary fibre is known for aiding weight loss – it boosts bowel health, keeping your bowel movements regular.
Dietary fibre is indigestible, meaning that when you eat it your body has to get rid of it – foods that are rich in dietary fibre will fill you up, but as your body has to get rid of the fibre, you won't take in many calories from it. It also aids in digestive health, meaning that your food gets digested much more easily – preventing that bloated feeling.
2. They're high in potassium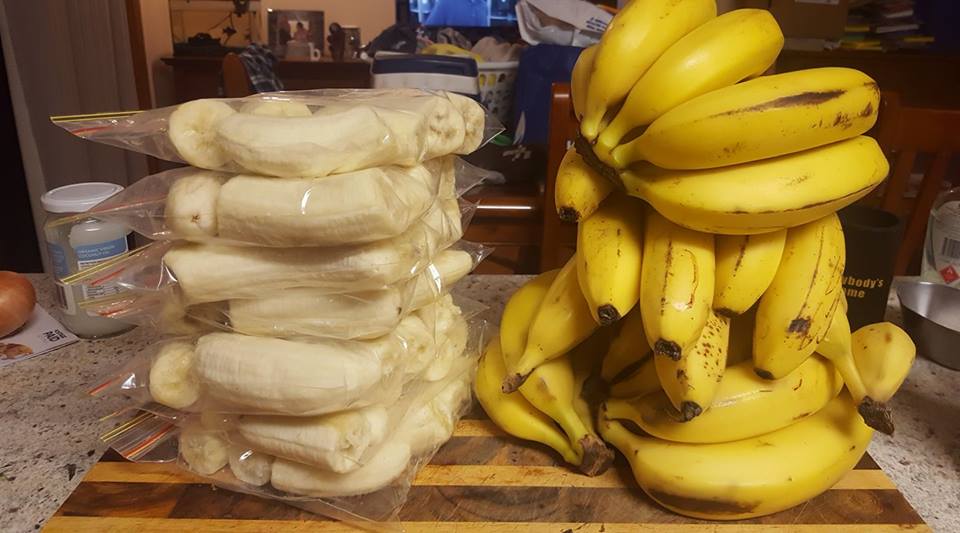 One medium banana contains 13 per cent of your RDI, meaning that a banana a day could be a great boost to your diet, particularly if your potassium levels are naturally low.
Potassium can help with a multitude of health problems and including it in your diet can help to reduce your blood pressure, which in turn can help to reduce your risk of associated illnesses such as heart disease.
3. They can help neutralise high sodium levels
High sodium levels can also be neutralised and reduced by including potassium in your diet, reducing your risk of diseases associated with high sodium levels, such as brittle bones.
Excess sodium also causes water retention, so neutralising those sodium levels by eating potassium could help you to shed water weight.
4. They're high in FOS (Fructooligosaccharides)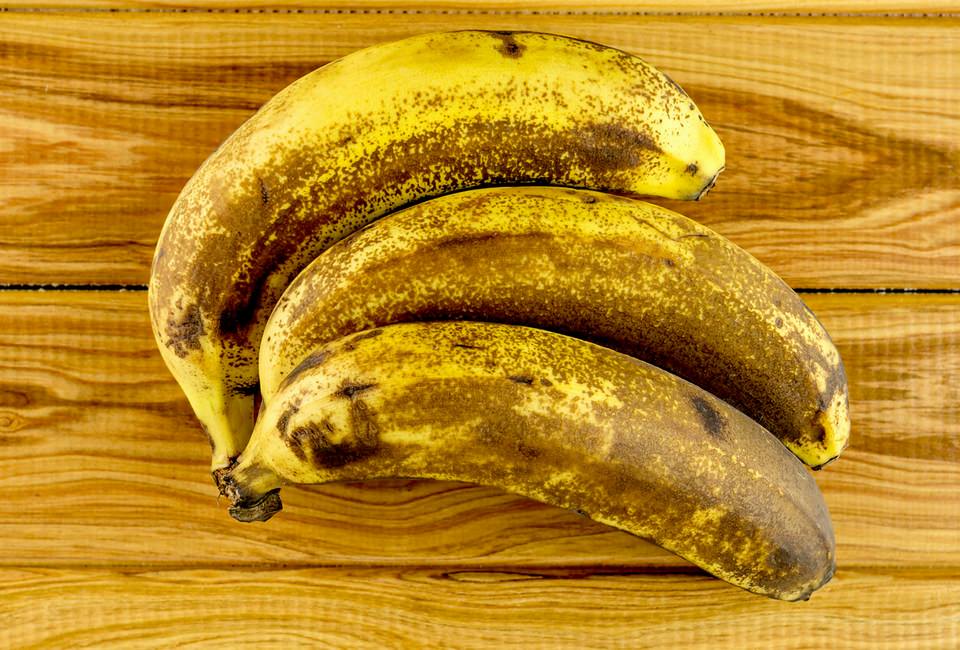 This nutrient is vital, as it ensures that other nutrients, such as calcium, are properly absorbed into your body.
Including foods such as bananas in your diet that contain FOS means that you will naturally absorb more vitamins and nutrients from your diet, which will boost health. FOS works by boosting healthy bacteria in your stomach, which will boost the health of your dietary tract – in turn allowing you to take in more vitamins from your food.
5. They're high in vitamin B6
One banana contains 34 per cent of your RDI. Vitamin B6 is widely considered to be very important in overall health – it can prevent things like cardiovascular disease and diabetes, and it is also anti-inflammatory, meaning that it can actually reduce aches and pains and the symptoms from any existing inflammatory conditions.
6. They're high in resistant starch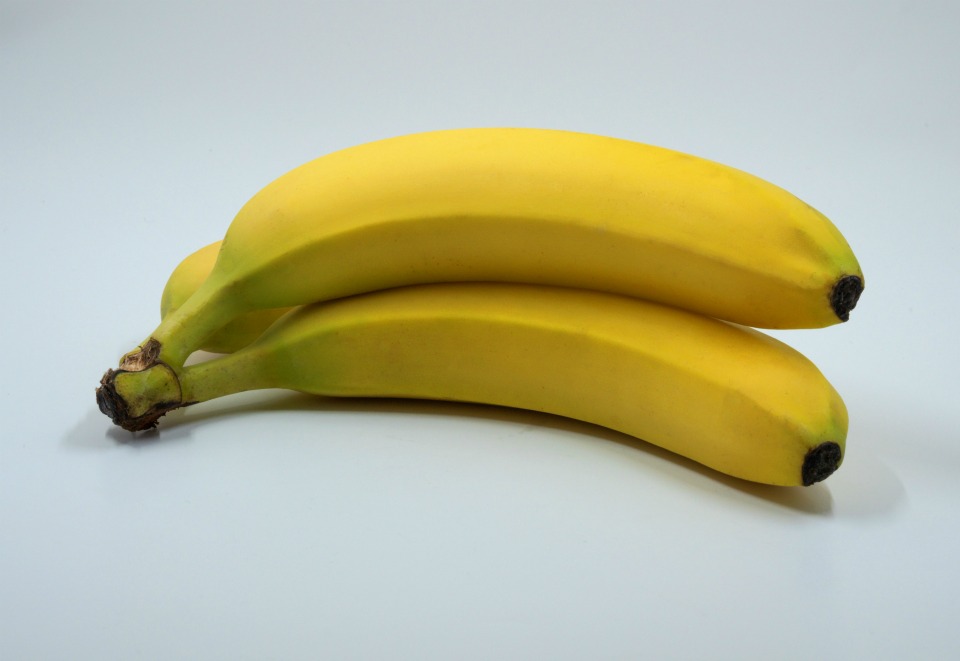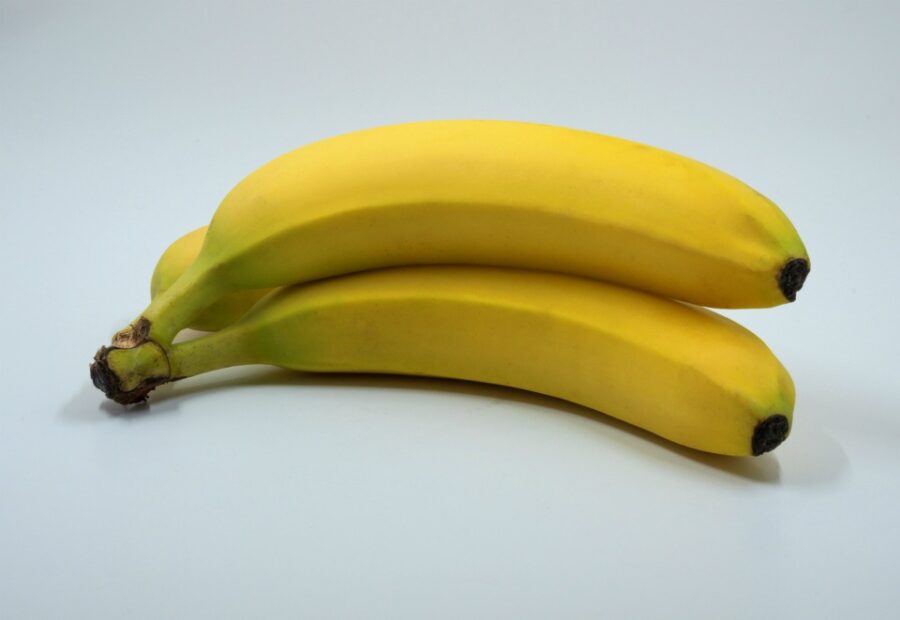 Bananas are also rich in resistant starch, which is an insoluble carbohydrate. Recent studies have suggested that resistant starch could boost your body's fat burning power – so eating a banana for breakfast could boost your calorie burn throughout the day – helping you to lose weight.
To benefit from the health properties of bananas, keep things in moderation. A banana a day, alongside a healthy diet containing lots of fruits, vegetables, complex carbohydrates and lean protein could boost your weight loss and make you feel healthier.
Add it your TUMMY smoothie!
Our breakthrough Tummy Smoothie contains our unique Healthy Mummy Tummy Complex
It is scientifically designed for gut health, digestion, stomach and weight loss. It will aid with digestion and bloating and it tastes DELICIOUS – it is a creamy vanilla flavour. It is also high in fibre and protein and will help you feel fuller for longer!
This smoothie is also free from artificial sweeteners, fillers and caffeine. Check it out here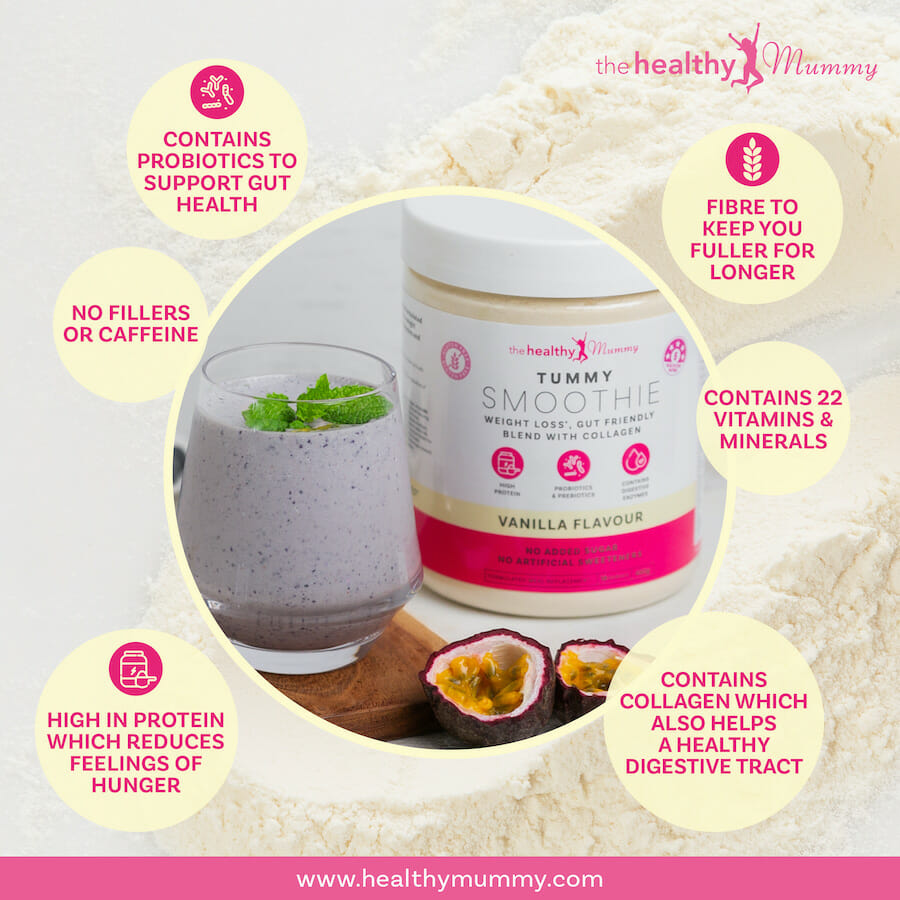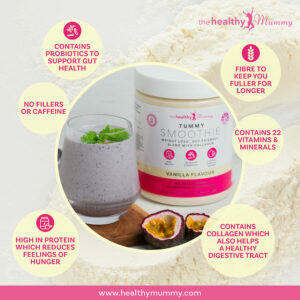 Real Mums TUMMY SMOOTHIE Reviews
Amy Atkinson, Tasmania
"I'm snacking less as it's keeping me fuller for longer," she says,  "I'm excited to see some massive results while using this."
Lauren Kolstad, ACT
"I liked that it has so much goodness in them to help with bloating and digestive function and I was definitely less bloated, fitting into my pants easier within a week and it tastes amazing."
Sascha Farley, NSW
"Without a doubt it helped with boating which I struggle with! My tummy felt more settled and flatter which is a huge win. "
Samara Syed, NSW
"The Tummy smoothie was absolutely delicious! It was very smooth in texture and goes well with all smoothies and snacks! 10 out of 10 for sure!!"
Emily Rose, QLD
"Bloating has been my biggest issue since forever! So I was excited to use the new Tummy Smoothie. I am so happy with the results after 2 weeks and my muffin top in my jeans has massively reduced – I will definitely be using long term"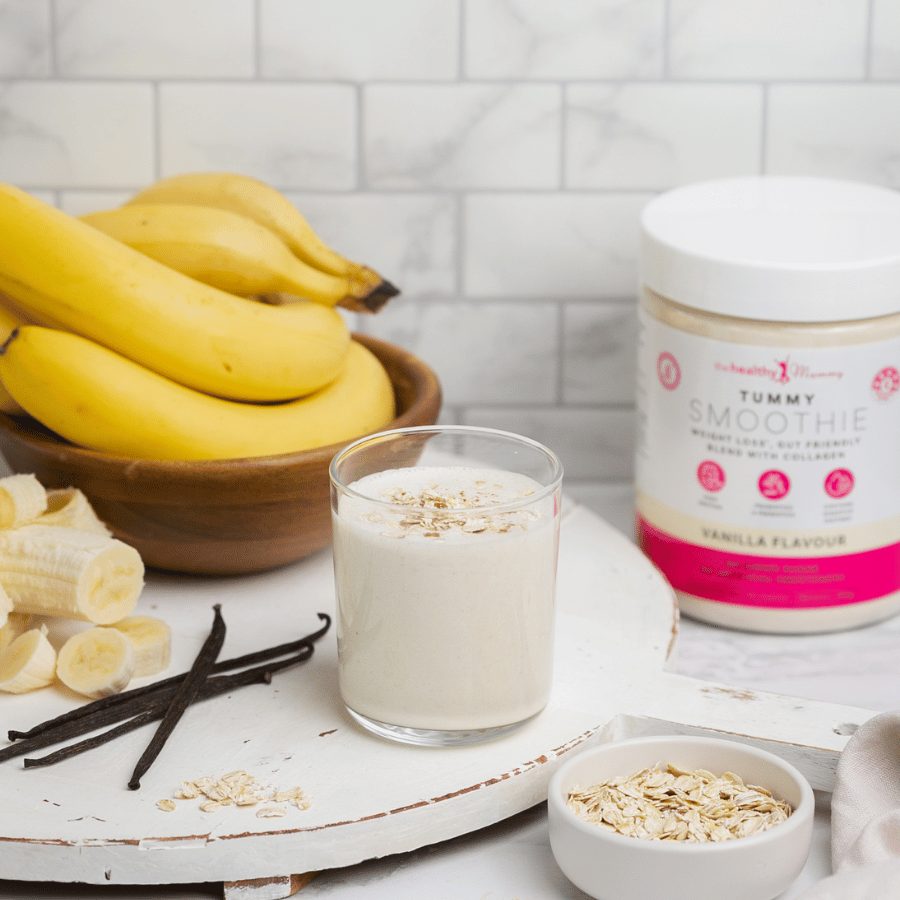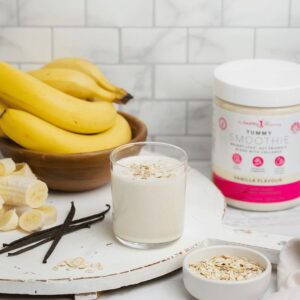 10 of the BEST healthy banana recipes
1. No Bake Choc Banana Fudge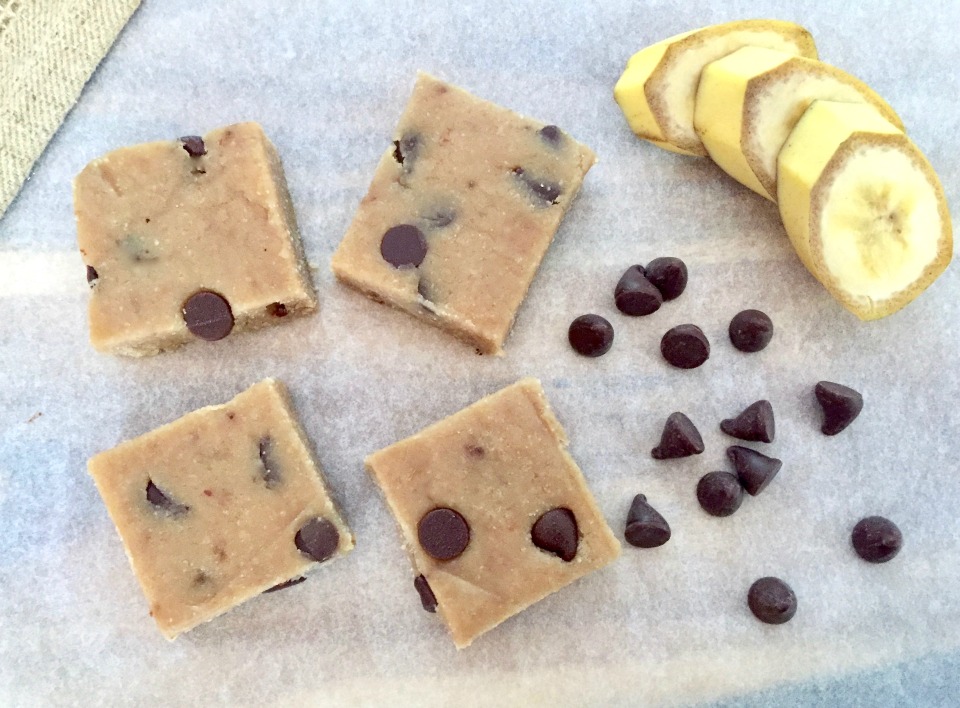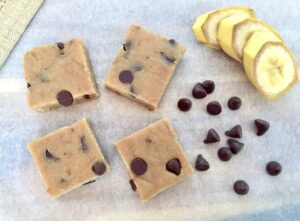 Get the RECIPE HERE.
2. Hot Caramel Banana Creams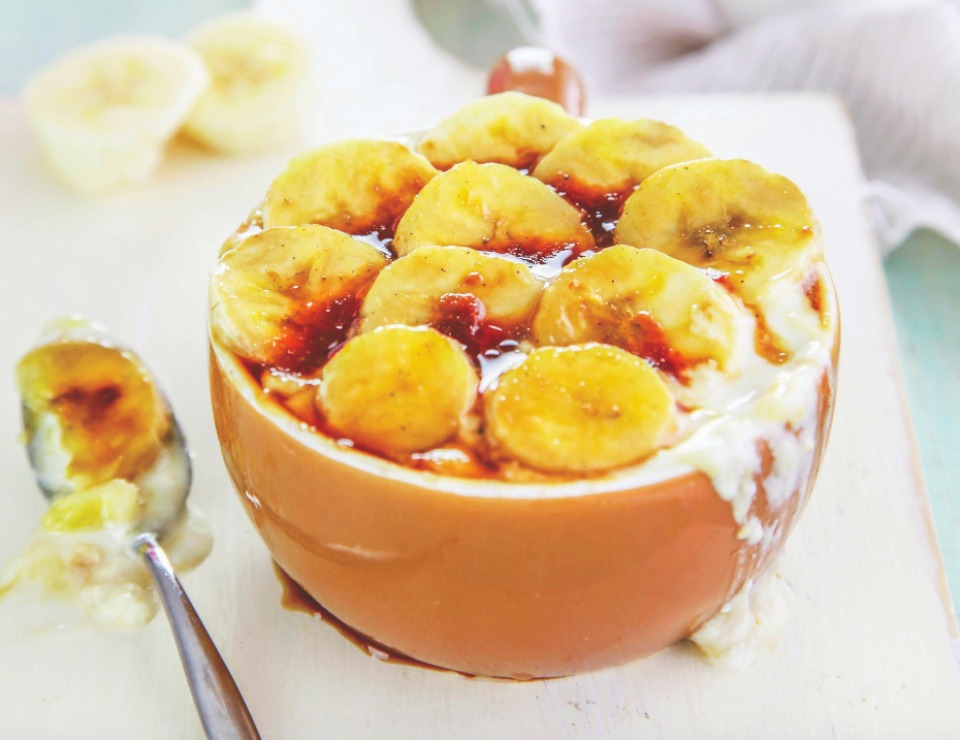 Get the RECIPE HERE.
3. Banana Cinnamon Mug Cake
Get the RECIPE HERE.
4. Coconut Banana Oat Lactation Smoothie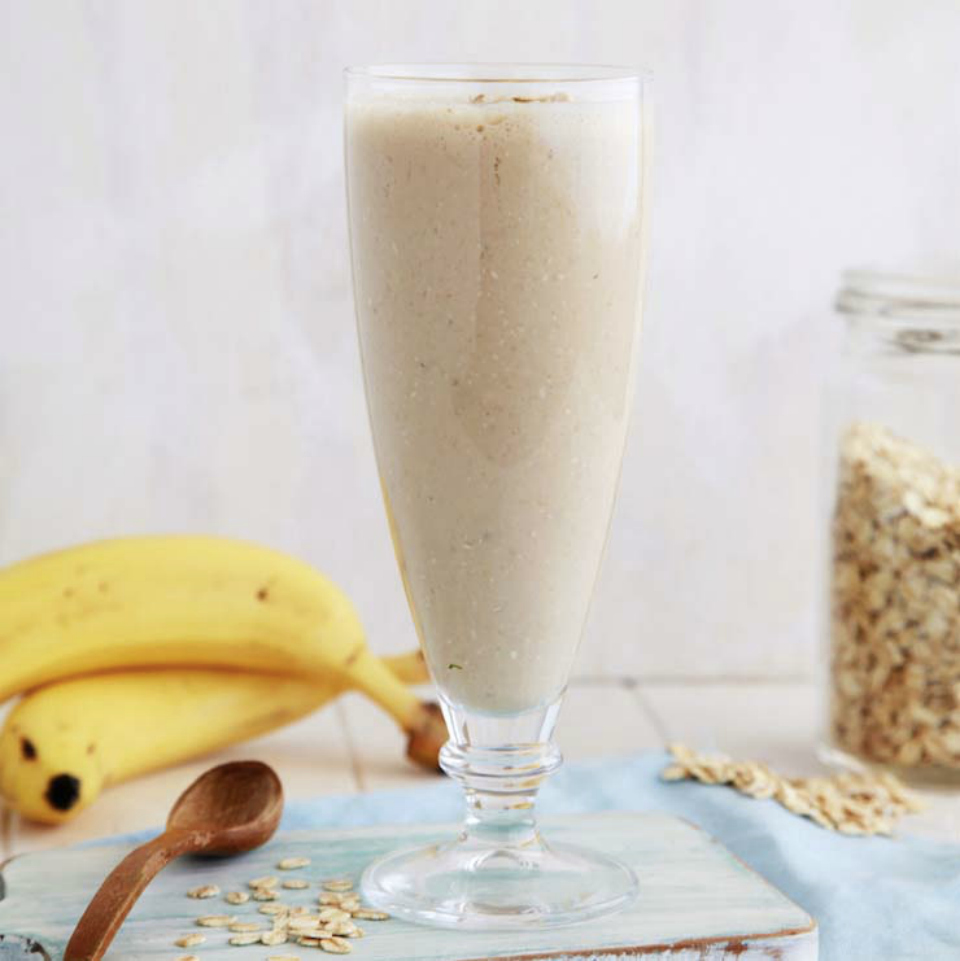 Get the RECIPE HERE.
Buy our Healthy Mummy smoothie mix here.
5. Chocolate Banana Loaf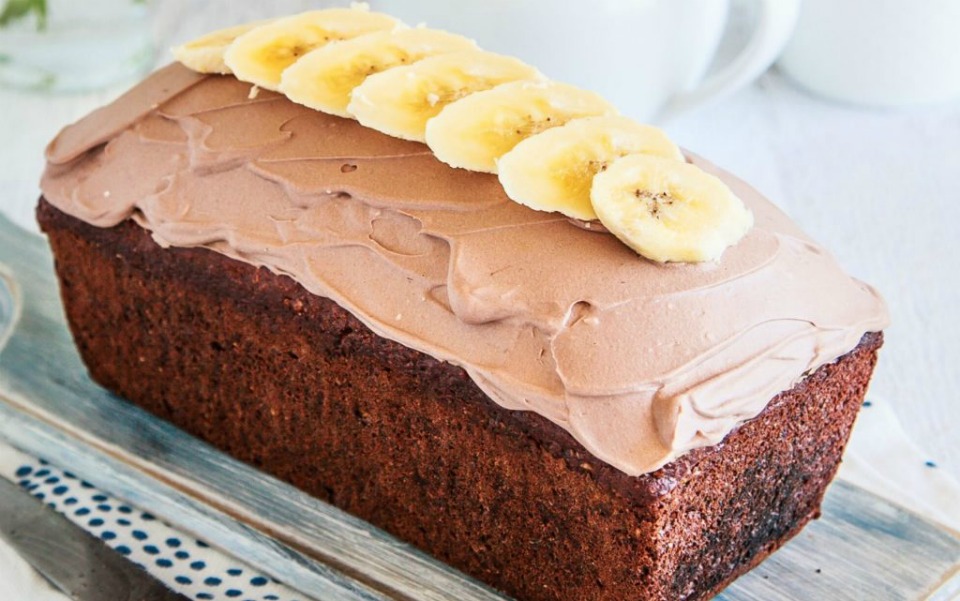 Get the RECIPE HERE.
6. Banana Berry Breakfast Muffins
Get the RECIPE HERE.
7. Banana Bread Bliss Balls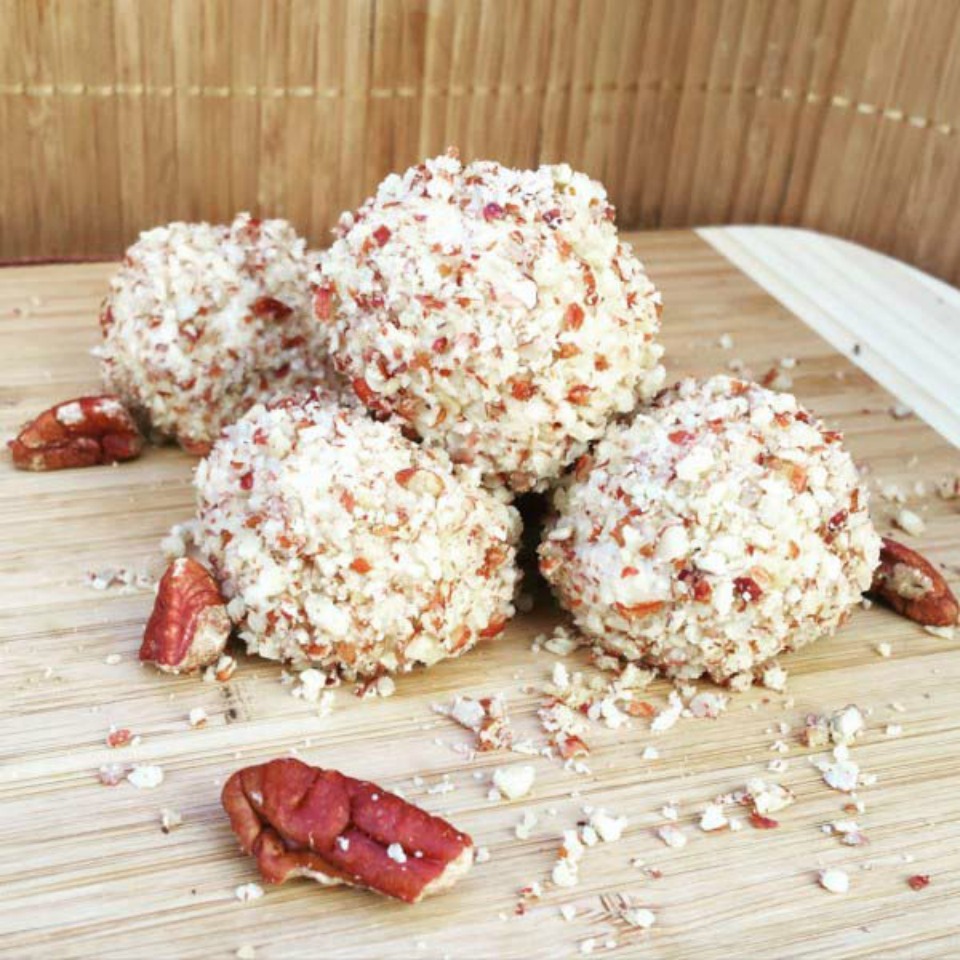 Get the RECIPE HERE.
8. Four Ingredient Banana Cashew Ice Cream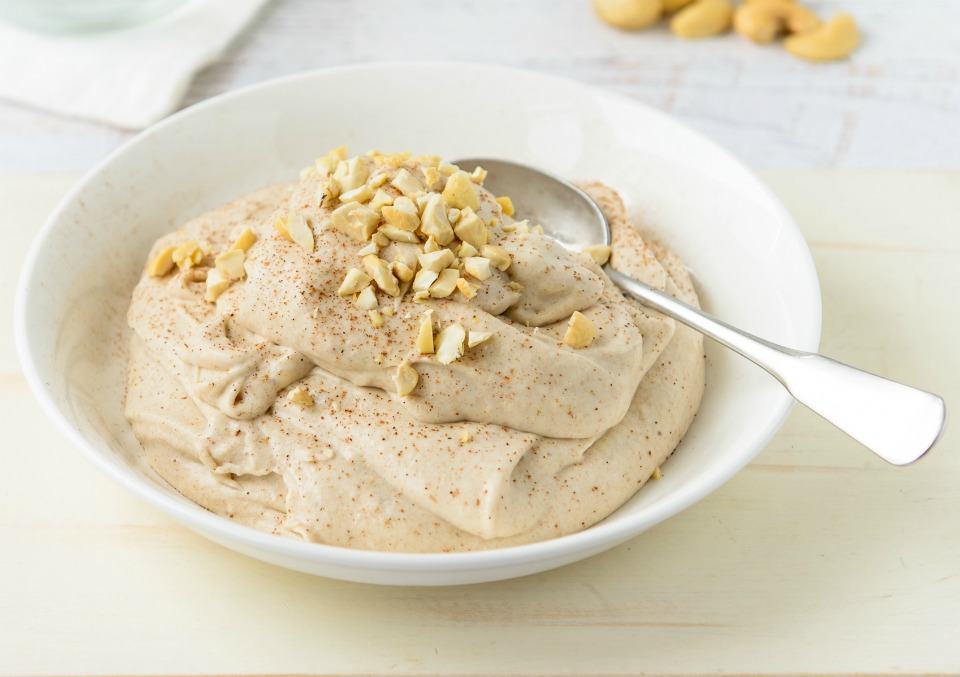 Get the RECIPE HERE.
9. Banana Frozen Yoghurt Sundae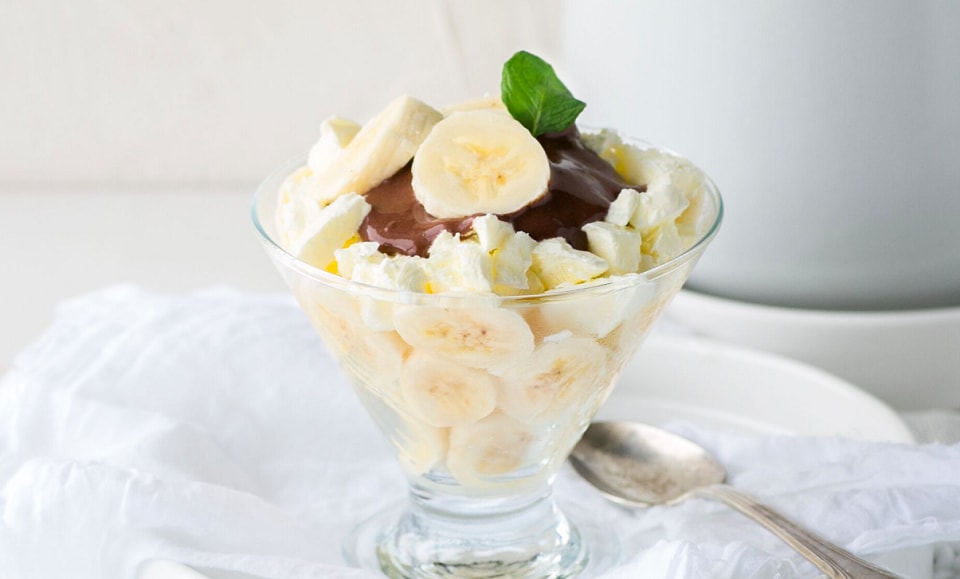 Get the RECIPE HERE.
10. 5 Ingredient Choc Banana Split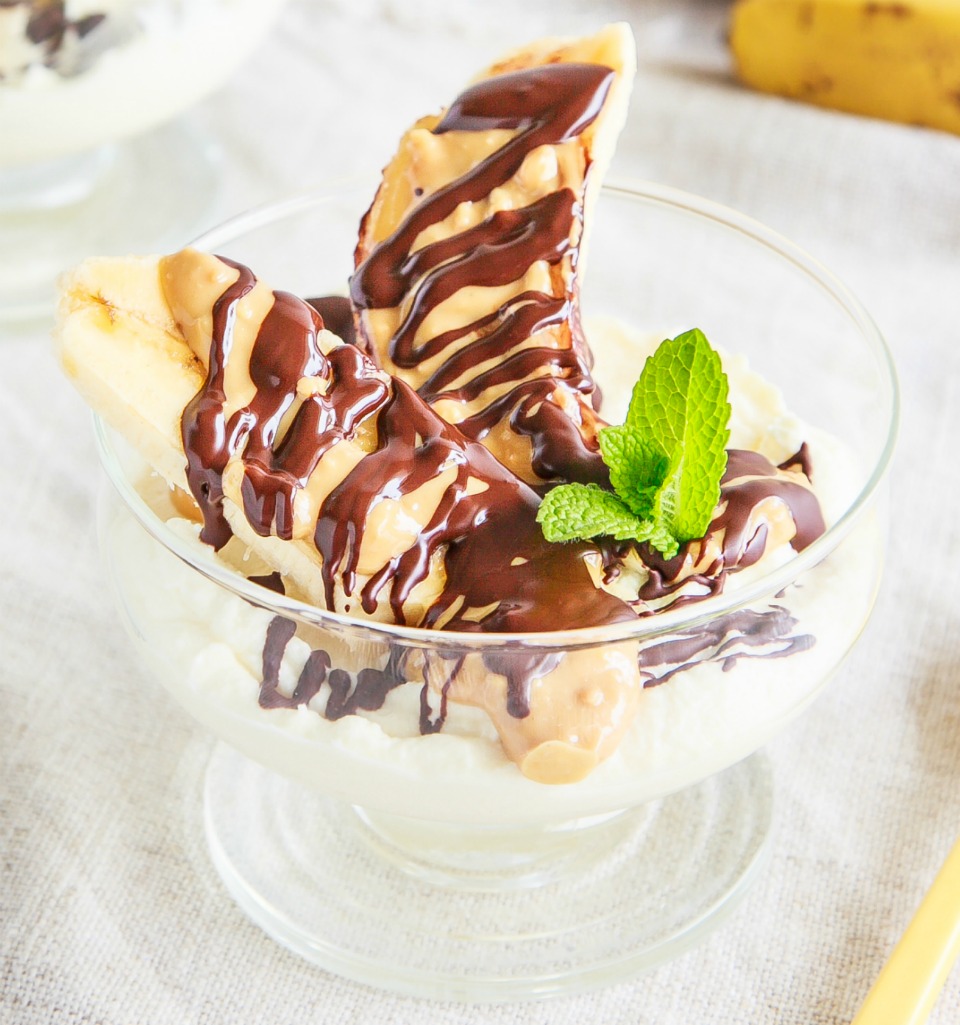 Get the RECIPE HERE.
How can we look past banana bread?! Check these 6 Healthy Banana Bread Recipes you HAVE to try
And if you're completely bananas about banana, check out our 9 Fun Things To Do With Bananas.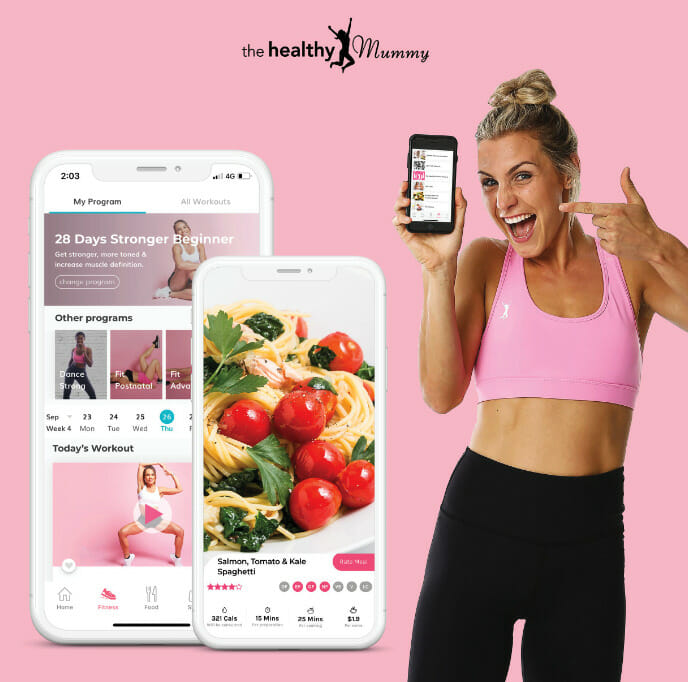 Are you ready to become a Healthy Mummy?